As satellite phone airtime prices have fallen and lower cost phones have been introduced, the market for satellite phones has grown substantially. With the introduction of Inmarsat's low cost IsatPhone Pro and the likely coming revival of Globalstar's duplex voice services, selecting the appropriate provider and hardware is more complicated than ever. Of course, low priced services and hardware that do not fit the user's needs are never a bargain. Deceptively low pricing can be a dangerous allure to the unwary, in particular, for those who have not properly analyzed their needs to determine which products are the best fit. While the new services do offer lower cost terminals, each is distinctly different, making a careful comparison of features and coverage essential. Consequently, an accurate analysis of how and where the phone will be used — U.S. only, +70 to -70 degrees north and south, globally (including Polar and Far North) and for what purpose — exclusively voice, long calls, short calls, email, data — is essential.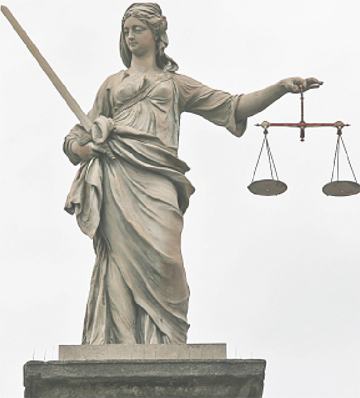 For those in search of a new satellite phone provider, Gottlieb International Group analyzed the choices by user type and application and found that the new services have tended to enlarge the SatPhone market by opening new, less mission-critical segments. Based on the type of user and their requirements, here are the advantages, and disadvantages, of each SatPhone offering as we see them:
The Iridium Phone
With more than 500,000 subscribers, Iridium is the dominant player in the satellite phone (SatPhone) market. They offer true global coverage (including extreme northern and southern latitudes and the Polar regions), rugged handsets, location-based services that enable tracking in near-real-time, SMS and email capabilities as well as an unmatched selection of docking stations and industry-specific accessories and applications. Recently, the Company announced its Iridium Force Initiative that includes:
– New handsets that meet military standards (Mil-Spec 810F) for ruggedness that feature one-button SOS capabilities and Location Bases Services with full GPS tracking ability

– Iridium Core, a flexible device platform around which partners can build industry specific applications

– An Open software platform that Partners can use to develop web portals for a variety of personal and asset tracking applications

– A WiFi Access point that allows laptops and smartphones to connect to the Iridium constellation using either an Iridium Extreme or 955 phone

– A Call Center emergency response support service linked to the dedicated SOS feature on the Iridium Extreme phones
While Iridium is the recognized leader in this space, all satellite phone services have their own unique disadvantages, and Iridium is no different. As Iridium is an LEO constellation, the satellites move constantly, making reception a function of satellite positioning. At times, mountains or other near horizon objects may obscure the satellites and cause interruption of service — a problem that tends to be experienced only on excessively long calls of 15 minutes or longer. Of course, GEO satellites can also experience similar call disruptions if the user is moving. For most users, however, this issue is manageable.
The Inmarsat IsatPhone Pro
With the introduction of its new IsatPhone Pro, Inmarsat offers a possible alternative to Iridium for more cost conscious users and those who can do without global coverage or a wide-variety of value add services. So far, the service has captured 30,000 users, largely due to Inmarsat's excellent reputation as a satellite service provider, and the lower cost of its phones (U.S. $500.00 range). While low-priced handsets and voice quality are positives, the new Inmarsat service has several notable disadvantages:
– No "ruggedized" phone models

– Excessive wait time for GPS fix and network registration: (Up to five minutes or more)

– Inability of the phone to receive calls without the antenna extended

– Questionable connectivity above 60 degrees North — especially on the deck of a pitching and rolling vessel — and no Polar coverage

– Lack of a one-button SOS feature

– No location-based services that allow GPS tracking of the phone. Limited accessory availability: In addition, accessories are available from only one supplier, Beam Communications of Australia
While questionable far North coverage and no Polar coverage is not a major issue for most users, we believe that excessive waiting time for satellite connectivity is a serious shortcoming and, under certain circumstances, could be a life threatening issue. At the very least, having to maintain the satellite antenna in an extended position is an inconvenience.
What's Up At Globalstar?
Those users considering Globalstar need to be aware of the Company's ongoing efforts to reconstitute their satellite constellation and upgrade their infrastructure. While Globalstar phones are priced in the same $500 range as the IsatPhone Pro units, uncertainties regarding the coverage areas and functionality of the new constellation have yet to be determined as only two of the four launches have been completed.
In reconstituting the constellation, four launches of six satellites were planned and two have occurred, one in October 2010 and the second in July of 2011. Those launched in October 2010 experienced problems with their momentum wheels and their longevity is questionable (five are currently operational, and one is in Safe Hold due to malfunctioning momentum wheels). Thales is providing Globalstar with a software fix to ensure the satellites provide service and complete their planned 15-year mission.
Of those launched in July 2011, three are currently in service, and three more will go online during the next three months. However, according to Thales, the July series of satellites could also experience the same momentum wheel problems as those launched in October 2010. If this occurs, then the same software fix will be used for those satellites.
Currently, of the two final launches in the series, one was launched December 28th and the other for the first half of 2012. However, whether Thales will build additional satellites, and at what price, remains an item of contention and is currently under arbitration — with a resolution expected in early 2012. As coverage is an important issue for the user, the number of operational satellites aloft needs to be considered. As both Globalstar and Iridium are in the process of launching new satellite constellations, potential customers need to follow their progress closely.
Another issue of importance is the transition of the Globalstar platform from Qualcomm to Hughes infrastructure. Globalstar has signed a contract to upgrade its network to the Hughes platform. According to Anthony Navarra, "When we put the new services into place in each of the ground stations, we will be advising all our subscribers how they can either transition their service to the second-generation service, or for what period of time they can continue to use their current products and services."
Consequently, users purchasing the existing handsets need to be aware that their hardware will become obsolete in the near future, unless, of course, they will use their phones in a region or area where the gateway, or gateways, are not upgraded to the Hughes infrastructure.
Another issue is whether, in actuality, all of Globalstar's third party, international Gateway operators, will undertake the expense to upgrade their regional gateways to the Hughes platform is yet unresolved. At this point, other than in areas where Globalstar owns its own gateways, global compatibility under one platform cannot be assured. In addition, when Qualcomm discontinues support of their platform, Globalstar services may only be available in regions where the platform is upgraded to Hughes. Of course, those users under the Hughes platform should have the option to use the newer Hughes compatible handsets and faster data speeds as soon as the HNS platform is available.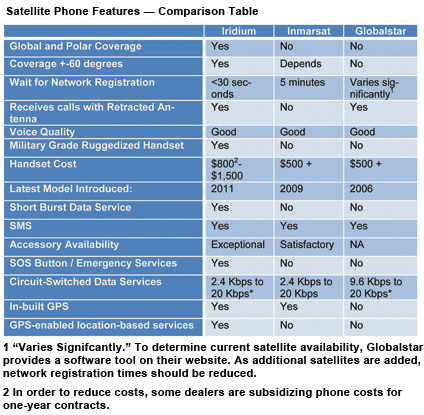 Data Services Compared
Inmarsat and Iridium both offer basic circuit switched data speeds of 2.4 kbps. Using a direct Internet feature, Iridium offers compressed speeds of up to 9.6 Kbps. However, using XGate software from Global Marine Networks, both Iridium and Inmarsat are able to achieve data speeds of up to 20 Kbps. Globalstar offers the fastest regional uncompressed data service at 9.6 Kbps and can also reach higher speeds with similar data compression software. Essentially, all services are priced by the minute and the minimal differences in data speed and price are largely irrelevant.
Iridium handsets are also able to take advantage of Iridium's Short Burst Data (SBD) service, a packet data service ideal for small messages. Iridium SBD provides a highly reliable and cost effective method of delivering location reports and messages from the new Iridium Extreme.
In Conclusion
If we carefully consider the strengths and weaknesses of the three offerings, we find; the excessive satellite acquisition delays, characteristic of the IsatPhone Pro; and limited and uncertain coverage areas associated with Global-star's transition to the Hughes platform, represent significant barriers to adoption of these phones in the high-end, mission critical market.While the Inmarsat and Globalstar handsets are less expensive alternatives in the short run, Iridium's offering of a tough, ruggedized handset, global coverage, continuity of service under a single platform, and availability of numerous, industry and application specific accessories will continue to make it the service of choice for all but the most casual, cost conscious users.
About the author
Mr. Gottlieb is Managing Director of Gottlieb International Group Inc. Established in 2001, his firm specializes in the application of VSAT Technology in Maritime and Oil & Gas Markets. Gottlieb International's mission is to provide vendors with the "hands-on" information and contacts needed to structure product and service offerings, and to assist Maritime VSAT buyers in selecting the appropriate service and vendor.