After attending so many CES (Consumer Electronics Show) events, you'd think we'd resist being swept away by the buzz. Sure, after last year's show, all we saw was 3D.

'They' swore all the pieces were in place. And we believed it.

Darn!!!!
Realistically... we knew better.
We're still as optimistic and enthusiastic about the long-term success of 3D TV as we were before; but this time, we're going to be a little cautious.
The motion picture industry is really all over 3D.
Some good, like
Avatar
and
Megamind
.
Some a real waste of time, money — theirs and ours — like
Clash of the Titans 2010
,
Saw 3D
or
Jackass 3D
,
Piranha
.
Last year, Hollywood produced twenty-five 3D movies. This year, they expect to double that number. 3D screens worldwide have gone from 6,700 last year to nearly 20,000 this year. And, according to
NATO
(
National Association of Theater Owners
), that number should quadruple by the end of 2011 to eliminate the strain on available 3D screens and scheduling.
Recent releases such as
Tangled
,
Dawn Treader
,
Yogi Bear
,
Tro
, and
Gulliver's Travels
all revealed that 3D works in the closed/controlled Hollywood environment — production/viewing.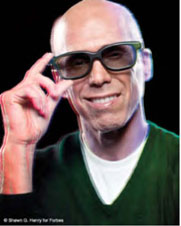 Lookin' Good
Dreamworks
CEO
Jeffrey Katzenberg
thinks glasses for viewing 3D movies are great. He should — his video masterpieces have consistently brought in millions of viewers and hundreds of millions in ticket sales this past year. With more screens available and 3D sets becoming more popular, the future looks rosy — with or without glasses.
No wonder
Katzenberg
loves his glasses so much!
But we were kinda' expecting the stuff to be ready for the home by now.
O.K., we drank too much Kool-Aid.
We forgot the basic fundamentals of the content industry. Penetration requires:
– Technology — device, infrastructure components; processors
– Devices — V, PC, smartphones, cameras
– Infrastructure/networks — broadcast, Hollywood/ theaters, cable/wireless, storage
– Service providers — business models/revenue
– Content — movies, sports, user content, series
– Users -— what they want, how they want it, where they want it, what they're willing to pay
Yeah, we glossed over "a few things'" last year.
This year, we put down the cup, stepped away from the bar and thought about what we saw. Don't give us that "Hey, you shoulda' known better!" routine.
You're right, and there were still a few things that needed to be ironed out:
– A bigger investment had to be made in content production/distribution
– Standards for distribution/viewing had to be finalized
– Sufficient quantity of 3D TV sets had to be installed
– Viewer pricing had to be worked out
– A real 3D consumer video solution would appeal to lots of people

Back to Screens
When the brother-in-law decided he needed to upgrade from his four-year-old HD projection screen, he looked at the new flat screen iNet connected TVs. But he decided it was better to leap forward two improvements and get a premium 3D set (and two pair of glasses).
Why?
ESPN
had the events he wanted in 3D and
Discovery
is cranking out several show series. Everyone is trying to figure out how/when they can do it and make money.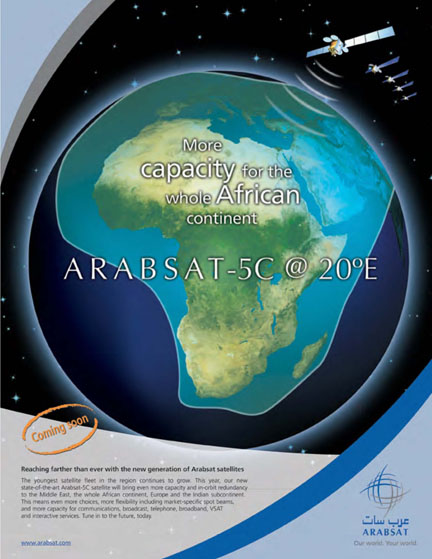 Good, Not Great
As with most 'new' technologies, fortune tellers saw 3D TV set sales taking off like the proverbial hockey stick. They overlooked the fact that we just invested in a new HD screen and there was only a minimum volume of decent 3D content available to watch at home. But over the next two years, the picture will change.
Source
-
ABI Research
We 'might' have been one of the 3.4 +/- M folks who paid the premium, but didn't see that many 3D TV shows that interested us (O.K. — ZERO).
We're just not into watching disc movies over and over.
Golf and football won't win us over.
We're going to wait for our 3D set until 2014.
Why?
Quite obvious — there's a new
3D Godzilla
movie in the works and it will be available in... 2014! The early, badly dubbed, B&W Godzilla movies were masterpieces. The new one? We can hardly wait!!!!
Not enough to convince you to go full 3D? The new
Avatar
movie will be released then, too, and will be even more spectacular than
Cameron
's original.
All of the 3D heavyweights were at
CES
to discuss the investments, improvements being made in every sector — production, post-production, programming, distribution and viewing. Content momentum is building:
– CGI (Computer-Generated Images)
• 10 percent of games last year, 20 percent this year, 50 percent in 2012
– Live action
• Prerecorded
– Real time
• 2D - 3D conversion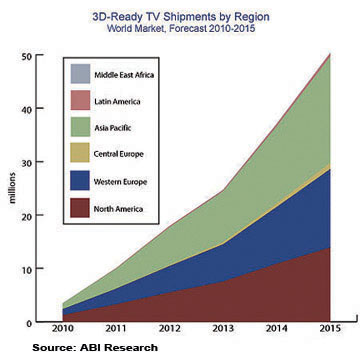 A lot of the research conducted is being done to understand how the mind handles, processes images in our 3D world.
It's similar to the work done in perfecting psychoacoustic sound.
Knowing there's a single audio source and yet 'feeling' the sound go in one ear, pass around your head to the other ear is mind-blowing.
The same is being perfected on how the mind processes, handles, and responds to stereo images.
The great thing is, every standards organization is developing their set of standards:
– SMPTE (Society for Motion Picture and Television Engineers)
– DVB (Digital Video Broadcasting)
– CEA (Consumer Electronics Association)
– ITU (International Telecommunications Union)
– And more... lots more
A big buying chasm, of course, is the glasses. Not that you have to wear glasses, but that folks offer you a choice:
– active shutter or polarized system
– manufacturer or universal shutter
– streaming or Blu-ray resolution
Each technology has its champions and its detractors. The problem is, people don't go to movies, buy TV sets or rent new smart devices based on technology. They make the decision based on the experience. No consumer wants to choose the wrong 'right' solution.
3D Photos, Home Video
Fuji
's stereo camera is a good first-generation solution, but it's not just the camera. Being the first, Fuji had to supply the total ecosystem — camera, processing and viewing frame.
It needs to be instant, universal like all of today's digital photos.
Personal 3D Video
A number of decent image quality, economic 3D cameras and camcorders have been introduced that require no glasses for viewing'... as long as you view the images/content on the unit's viewer. If you can get the content to your PC, 3D TV set, active or passive glasses will be required. There are technology reasons for this, so for the foreseeable future...
live with it!
There were some reasonably priced 3D camcorders introduced. You didn't even need glasses, as long as you used your camcorder's viewer or display.
Of course, it would be neat to play your 3D family movie on your 3DTV set. They're working on that... soon!
The 3D PC
Our youngster wanted the 3D TV to play his games on — but heck, he's already had real 3D platforms to burn.
He has his notebook, desktop, active shutter, passive polarized glasses, special gloves — more stuff than we ever dreamt of when we were his age.
And he's not alone. 3D computers are moving very well because other options are 'a little behind the curve.'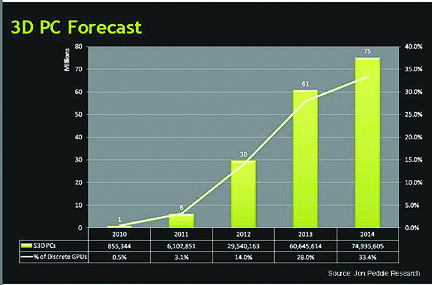 Game On
Most of the new single and multiplayer games are brilliantly executed in 3D with breathtaking action, photo-real play and everything the adrenalin junkie could ask for.
Source
-
Jon Peddie Research
Just as gamers lead the party in getting HD screens, more than 75 percent of the gaming systems fully support 3D.
Glasses don't bother gamers when they play stuff like
WoW
(
World of Warcraft
) for hours on end.
Gamers are actually better off than the rest of us, because they already have more than 425 games to immerse themselves in — and most are multiplayer.
This year, we'll see more games, more 3D screens in homes, more TV events/shows, more good/bad movies in theaters.
It will take a couple of years for all the parties to figure out how each is going to make a buck... or two.
Cutting Up The Pie
Content producers, providers and delivery services are all working hard to deliver a complete array of 3D content to the home user. The challenge is not technology but determining who gets paid how much for the materials you enjoy.
Source
-
InStat/DisplaySearch
But by 2014, everything will be in place/worked out and we'll be able to sit spellbound watching Godzilla on our even bigger 3D screen.
Dr.
Serizawa
was right in holding back, "If my device can serve a good purpose, I would announce it to everyone in the world! But in its current form, it's just a weapon of horrible destruction."
About the author
Andy Marken is the President of
Marken Communications