SkyFile® Video is an enhanced software application that allows you to capture, compress, edit and transmit video files over IP satellite terminals, no matter your location. Easy to use and offering a variety of versatile features, including a video editing tool, SkyFile Video from Vizada delivers the ultimate in video transmission performance and reliability.
Based on
SeaMobile Europe
's
ClipWay
software application,
SkyFile Video
is part of the portfolio of
Vizada Solutions
™.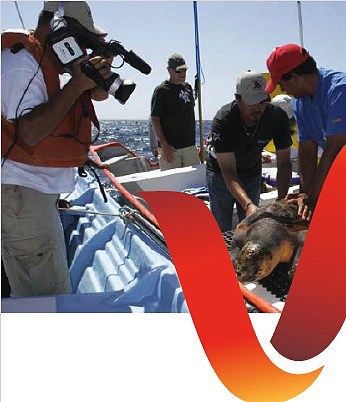 SkyFile Video is the ideal solution for sending videos over satellite terminals such as BGAN, FleetBroadband, SwiftBroadband, Iridium OpenPort, ThurayaIP and xDSL. A new editing capability developed by SeaMobile Europe makes SkyFile Video a complete video application.
Powerful: Enables to capture, edit, compress and transmit videos using maximum bandwidth to send broadcast quality video files
All-in-one: The editing function turns the software into a complete tool enabling mobile workers to create as well as transmit videos in a few clicks
Seamless: Provides seamless FTP access which can be fully managed via web interface, including private & public folder — obtain best quality service with one infrastructure
Secure: Benefit from secure transmission protocol. Files are saved when transmission has been interrupted
Cost-effective: Highly efficient compression codec standards ensure high level of compression
Simple: Allows you to record video directly from a DVCam or analog camera with converter
Reliable + Efficient
With SkyFile Video sending video files from any place to anywhere in the world is easy and often more efficient and quicker than placing a phone call or dispatching additional field staff to a remote site. SkyFile Video provides a unique solution tailored to meet the requirements of a wide range of users, including NGO correspondents, government and military units, and the maritime industry. The transmission protocol is completely secure and reliable. If disconnection occurs during transmission, your data will be saved. Automatic reconnection is initiated until the transmission is entirely complete. Even if your video transmission is not completed, a recipient can still play the video files.
Easy to install and easy to use, SkyFile Video does not
require IT knowledge or any other technical competences. In a few clicks mobile workers such as engineers, maintenance officers or NGO aid workers, equipped with a computer, any video source and a communication link can easily capture, edit, compress and send videos from anywhere on the globe.
There are no investment or maintenance costs associated with having your FTP service, as it is provided free of cost by Vizada. The SkyFile Video server is hosted on our SkyFile® Access, which offers you dedicated FTP space that can be managed remotely via web interface or FTP Client software. Together with SkyFile Video, it provides you a complete and seamless video service.
The high level of compression is one of the most important benefits of the software. It uses encoded Windows Media 9 file, encapsulated in Microsoft WMV file format, or PAL or NTSC standard. Customers can select among four compression pre-setting rates provided by the software.
Vizada's SkyFile Video works across most mobile satellite systems, including Inmarsat, Iridium, and Thuraya IP based terminals. SkyFile Video is even flexible enough to use over xDSL for even greater cost-savings. SkyFile Video powered by ClipWay is available in two versions:
ClipWay: compatible with TCP/IP services such as Inmarsat BGAN, FleetBroadband, SwiftBroadband, Iridium OpenPort™ and ThurayaIP
Compatible with TCP/IP services such as Inmarsat BGAN, FleetBroadband, SwiftBroadband, Iridium OpenPort™ and ThurayaIP, as well as with ISDN connections such as Inmarsat GAN and Fleet services. This version also offers the import of video files and the email preview features
To use SkyFile Video powered by ClipWay, you will need a PC with client-software installed and a minimum requirement of:
Pentium Centrino 1.5 Ghz
RAM of 2048 Mbytes
XGA display
Hard disk of 80 Gbytes
IEEE1394 Plug (Firewire)
Ethernet adapter or WiFi adapter
Windows Media Player 11
Windows XP SP3

Video source such as DV, DVCam or an analog camera with converter
Communication link such as Inmarsat BGAN, FleedBroadband, SwiftBroadband, Fleet 77/55, GAN, Iridium OpenPort™, ThurayaIP or xDSL
Compression protocol: WM9
To register as a SkyFile® Video user and to download the software, please contact
Vizada Customer Care
.