The annual Consumer Electronics Show (CES) in Las Vegas is always something of a technology show-stopper, with the latest gadgets and gizmos seeking – and usually finding – popular headlines amongst newspapers and web-forums. But few could doubt the impact that last week's CES had, and will have as this broadcasting year unfolds.
The biggest story, indeed some might justifiably argue the only story, was
3DTV
. 3D was on display at seemingly every stand, with the TV set manufacturers outdoing one another in size, image quality and versatility.
Helping drive this interest along was the US$1B of box-office revenues taken by Hollywood's latest 3D blockbuster, and speaker after speaker extolled the virtues of the new technology.
We know this is — on the whole — good news for satellite. The $64,000 question is — how much good news?
Major broadcasters and pay-TV platforms used
CES
to highlight their own 3D plans, not least sports giant
ESPN
and factual broadcaster
Discovery
(which is partnering with
Sony
and exhibitor
IMAX
), which both promised 3D channels sooner than later.
Sony is a main sponsor of this year's
FIFA World Cup
soccer-fest and is using the billion-eyeball event to push 3D television around the planet. "It is clear to us that consumers will always migrate to a better and richer entertainment experience, and together we are determined to be the leader in providing that around the world," says
Howard Stringer
, Sony's CEO. More than any other top-tier TV maker, Sony is betting big on 3D and has dedicated a big chunk of its huge 25,000 sq. ft. booth at this year's CES to 3D products and content. "We were aiming to make a big splash with 3D at CES," says
Christopher Fawcett
, V.P. of Sony's home audio and video group.
ESPN has signed up for some of this year's World Cup games from South Africa in 3D and is already highlighting a June 11th game which will kick off its 3D coverage. ESPN is promising at least 85 live sporting events in 3D this year. As far as ESPN is concerned, it says it will also transmit the
Summer X Games
(for extreme sports) in 3D as well as
NBA
games, plus college football and basketball.
U.S. pay-TV giant
DirecTV
says it will launch 3D with three dedicated channels this June, and has signed
Panasonic
to sponsor the activity. DirecTV, calling 3D "the next frontier of television entertainment," said its HD subscribers will receive a free software upgrade that will enable them to have access to three dedicated 3D channels through compatible 3D television sets, such as Panasonic's
Viera
Full HD 3D TVs. "We led the way with HD and we are excited to do the same with 3D," DirecTV Entertainment executive vice president
Eric Shanks
said in a statement.
DirecTV and Panasonic said they will "leverage current relationships" with programming partners and movie studios to procure new and existing 3D content. DirecTV is currently working with
AEG/AEG Digital Media, CBS, Fox Sports/FSN, Golden Boy Promotions, HDNet, MTV, NBC Universal and Turner Broadcasting System
, to develop additional 3D programming that will debut this year and 2011.
At launch, DirecTV will offer a 24-hour, 3D pay-per-view channel focused on movies, documentaries and other programming; a 24-hour, 3D video-on-demand channel; and a free 3D "sampler demo channel," featuring event programming such as sports, music and other content.
DirecTV also announced it is working with 3D technology vendor RealD to deliver high-definition 3D movies and TV programming to subscribers. The satellite operator said content providers will be able use RealD tools to format their 3D content; the RealD-formatted 3D content is compatible with DirecTV's current HD satellite broadcast and on-demand systems and works with its existing HD set-top boxes (STBs).
As part of the agreement, RealD has granted DirecTV a license to use the RealD Format and associated 3D technology patents. "We look forward to working with RealD and our programming providers to deliver 3D content later this year to owners of 3D-capable TV's — no new set-top boxes will be required," DirecTV's CTO
Romulo Pontual
said.
The RealD format uses a side-by-side 3D formatting technology to use channels in the existing HD broadcast infrastructure. DirecTV has decided to use the side-by-side method as its primary method of delivering 3D content, citing its ability to deliver high-quality progressive and interlaced video over existing infrastructure.
BSkyB
is using a near-identical system and has linked up with a raft of TV manufacturers, notably
LG, Samsung, Panasonic and Sony
, to back the introduction of '3D-Ready' sets this year.
Brian Lenz
, Sky's chief of product design and product development, said: "This is a great example of Sky and TV manufacturers taking the initiative to ensure there is no confusion over formats. By working together with set manufacturers, we want to provide a hassle free way for consumers to enjoy 3D TV".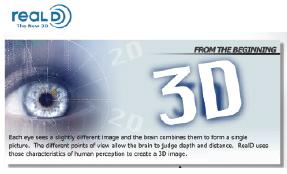 Michael Lewis
, RealD's CEO, adds, "I think 3D on the TV is going to be driven by studio content and gaming," he says. "What you are probably going to see over the next few years is a preponderance of active glasses rather than passive ones . . . then as time goes on, you will probably move to passive eye wear and ultimately to no glasses at all. We have the technology for [no glasses]," he says. "But if I had to guess it's probably five to seven years away — it revolves around a lot more processing power and faster refresh rates, but the good news is TVs are getting better and better."
If all goes to plan, the CEA estimates that this year about 4.3m 3D sets will be sold in the U.S. and by 2013, 25 percent of all televisions sold in the U.S. will be 3D.
Indeed, when the normally staid
Financial Times
devotes the best part of a page to extol the virtues of 3D, you know the technology is making a difference. "3D in the home is far and away one of the biggest stories at CES this year," says
Shawn DuBravac
, research director and chief economist for the Washington-based
Consumer Electronics Association
. "We have been talking about 3D at CES for many years, but this year we are taking the next step... we are seeing products that are ready for market, real products with real prices and release dates."
Time will tell. As with all TV technology introductions, we will see evolution, not revolution. This year is just the beginning for 3D — the process of converting a nation's homes from HD to 3D will perhaps depend more on how many teenagers there are in the home or how important live sport is to the viewing pattern. Roll on
NAB
and
IBC
for a closer look at 2011's developments, and their impact on the satellite operator side of the business.
Can anyone really want this 3D beast? Panasonic unveiled a massive 152" all-3D (full 3D), all HDTV, massive plasma display at CES in January – and it can handle 4k of image data – but at a price likely to need a second mortgage and the need to call in builders to strengthen walls and floors to support this beast of a machine.
First, the technology on offer is impressive — and it goes without saying that the end results are similarly impressive. It uses Panasonic's newly developed, super-efficient, quadruple luminous efficiency technology. Panel illuminating speed is ultra-rapid and this feature allows the 152-inch screen to display high-quality, rapid, 3D content in a resolution of 4,096 x 2,160 pixels (4k x 2k), which is four times the full-HD specification (1,920 x 1,080). Contrast ratio speeds of 5,000,000:1 are claimed.
Panasonic says it will make 2010 the First Year of 3D Television as a springboard to boost its popularity, capitalizing on the company's ability to offer complete end-to-end solutions from professional 3D camcorders and Blu-ray Disc authoring service to consumer use 3D TVs and displays and 3D-enabled Blu-ray Disc players. Panasonic has not unveiled the price just yet. But it will be expensive!!! Veerry expensive!! Eye-wateringly expensive!! And that's without the builders' bill.