Satellite has been the base infrastructure sustaining the media industry for decades. Either through a DTH (Direct-to-Home) offer or via video distribution to head-ends, the vast majority of broadcasts crossed, at some point or another, a satellite link.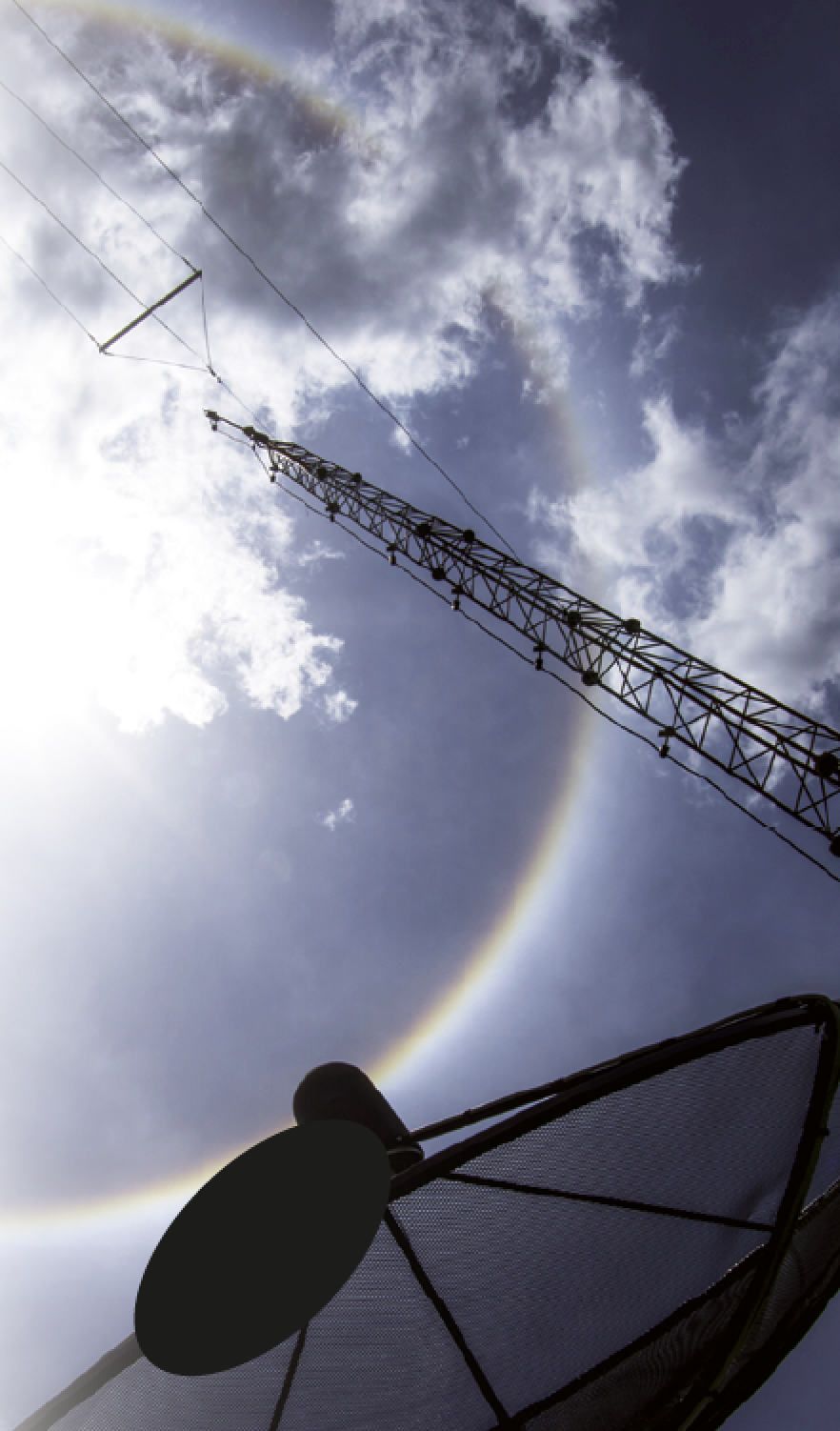 The core value proposition and distinct advantage of satellite point-to-multipoint economics allowed the industry to develop spectacularly and video still generates a dominant share of revenues for SATCOM.
This dominance is being challenged by new viewing habits. While broadcasting firmly dominated video delivery to the home's main screen, eyeballs are moving away from traditional TV sets to Smartphones and other IP-based devices.
These devices are conceived to receive content in unicast sessions, excluding traditional satellite broadcasting formats. Media platforms are adapting to this transition launching IP-based applications, reducing their reliance on satellite to reach end-customers. This ultimately translates into video platforms extracting less value from the use of satellite and, consequently, being less willing to pay for capacity leases.
While OTT (Over-the-Top) video delivery heavily leverages terrestrial infrastructure today, nothing precludes satellite from participating in the IP content distribution ecosystem. Actually, satellite key selling propositions including reaching large audiences, linking remote regions and offering an alternative where reliable ground infrastructure is not available, all still apply in the IP environment. Therefore, satellite has a lot of value to offer to (and capture from) the streaming ecosystem — it just needs to find ways to engage with IP-based devices.
Traditional Video Losing Momentum
Video has propelled growth in the SATCOM industry for decades. Today, the majority of the industry's capacity revenues still come from video, accounting for 61 percent of the total according to NSR's Global Satellite Capacity Supply and Demand, 15th Edition report. However, the forecast for video verticals is to decline with revenues (as forecasted in the same NSR report), falling at 3.2 percent CAGR in the next 10 years.
Viewing habits are changing as consumers rapidly adopt Smartphones and other IP-centric devices. Consumers want to have access to their preferred content anywhere, anytime. To respond to these new requirements from their customers, numerous video platforms, which traditionally heavily relied on satellite as the main infrastructure to reach their customers, are now launching Video-on-Demand (VoD) and streaming services.
The list of DTH platforms that now have an OTT play grows every day. This trend started in the U.S. with DirecTV NOW or Sling but has rapidly expanded into Europe with Sky Q and others and will eventually reach emerging markets, such as Claro NET NOW in Brazil. Emergence of new actors such as Amazon (who recently acquired Premier League rights in the UK) or Facebook (aggressively pursuing Champions League rights in Latin America) only adds more pressure to the environment.
Satellite, once a critical piece of infrastructure for these platforms to reach customers, is now just another tool in the box (sometimes not even the preferred option as convenience of IP goes unmatched). Consequently, willingness to pay a premium for satellite capacity is degrading and, matched with stagnant TPE leases (growth in channel count will be offset by adoption of more efficient compression standards), revenues will move downward.
Having said that, terrestrial networks won't be able to serve all use cases alone. In this paradigm of content "everywhere, anytime," satellite's broad coverage is an advantage that should be leveraged in the form of content multicast.
Land-based networks suffer from congestion, sometimes leading to service denial during the "Big game." Broadband speeds are not always high enough to ensure the desired quality of video and, as consumers increasingly demand UltraHD and eventually VR formats, terrestrial networks won't be able to serve the massive amount traffic that is generated by these demands. Satellite has a great deal of value to add in the IP content distribution environment if a way to create relevant solutions is found.
Matching the Best of Two Worlds
The good news for the satellite industry is that, despite migrating to new screens, viewers still favor linear content.
According to the Ofcom 2017 Communications Market Report, live TV remains the central component of TV viewing. Satellite multicast advantages are still unmatched by any other means of content distribution and, as the number of concurrent viewers increases, satellite rapidly gains an economic advantage.
The cost of streaming via unicast sessions grows linearly with the number of viewers. Conversely, given the multicast advantages of satellite, the bandwidth costs remain constant regardless of the number of viewers under the same footprint.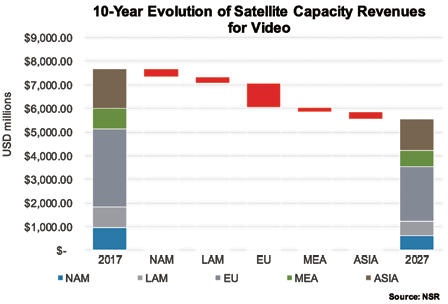 Even assuming aggressive pricing for terrestrial content delivery of 0.02 USD/GB and conservative pricing for satellite bandwidth of 1,000 USD/Mbps/month, the crossover point at which satellite is more cost effective than terrestrial can be as low as 900 average monthly viewers for an HD channel requiring 2 Mbps (considers four hours of daily TV consumption).
Given the opportunities emerging in the space, numerous actors are
launching services to capture growth. Territorial, a service launched by TricolorTV in partnership with Eutelsat, NEOTION and Broadpeak, has experienced an early success in this emerging vertical.
Based on ABR multicast technologies, consumers nearby one of the WiFi hotspots can access a set of 50 Tricolor TV channels without consuming their mobile data allowance, while owners of cafés and other commercial outlets attract more customers. Quadrille, another technology company in this space, owns a similar solution for IP multicasting. On the other hand, Sat>IP, an industry-wide alliance, follows a different approach retransmitting from DVB standards to IP.
While OTT over satellite offers to video platforms the cost benefits of multicasting, ubiquitous coverage and the high quality and reliability of satellite, through the adoption of the IP streaming paradigm, satellite can now capture customers that were previously out of their target audience.
In view of the future challenges ahead for traditional video, some satellite operators — including AsiaSat and Thaicom — are already launching their own IP content over satellite platforms pursuing new emerging opportunities.
Emerging Business Cases
The possibilities are wide and varied for IP Content Distribution over satellite and the market can grow spectacularly if the right conditions are given.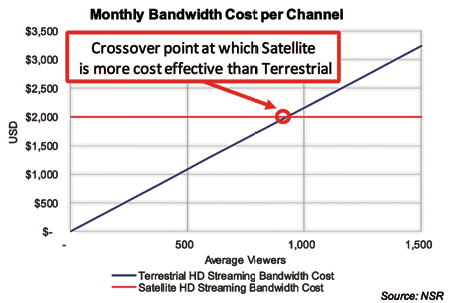 According to NSR'S Wireless Backhaul via Satellite, 12th Edition report, IP content distribution could see more than 1.8 million sites serving various use cases deployed by 2027.
The first use case witnessing rapid adoption of the OTT over satellite paradigm is streaming hotspots in public spaces. The content is multicasted to broadcast OTT hotspots, enabling consumers in public venues such as bars, coffee shops, and restaurants to access a set of channels.
In this model, satellite can capture on-the-go audiences using their mobile devices, far from the traditional home main screens, the traditional DTH platform enlarges its addressable market expanding into a B2B2C model, public venues offer an enhanced service to their customers and end-users get the convenience of streaming without consuming their mobile data allowances.
This model can be expanded into areas where terrestrial connectivity is of poor quality or unavailable whatsoever. Interestingly, some customers in emerging markets are leapfrogging traditional TV and consuming video with IP devices.
Ericsson ConsumerLab's TV and Media report for Nigeria shows that, even with poor mobile broadband coverage and expensive data packages, Nigerians are consuming more content on mobile platforms (Smartphones and Tablets) than TV. Similarly, entertainment is critical to offering a pleasant experience to passengers confined for hours and even days in aircrafts, ships, trains or buses. Wide adoption of IP devices mixed with the ubiquity of satellite makes IP streaming over satellite solid choice for delivering content to unconnected spots and mobility platforms.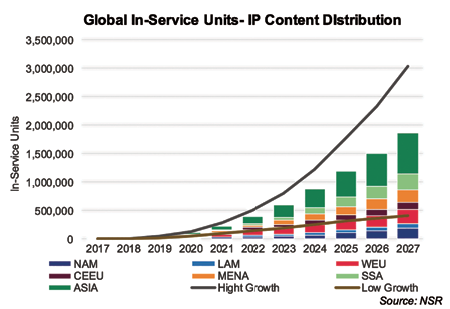 A new class of STBs capable of delivering content in IP-formats would solve key challenges for the satellite industry such as multiscreen or increased time spent on IP-devices. On the one hand, this would allow traditional DTH operators to engage with these emerging screens while ensuring quality standards for the viewing experience.
This could eventually be combined with land-based networks where the most popular content is multicasted over satellite and the most dispersed audiences are served over unicast sessions over terrestrial networks.
Bottom Line
Video has been the key pillar for growth in the satellite industry for decades. Even today, it still represents the majority of satellite capacity revenues.
However, this is being challenged by the adoption of IP devices (Smartphones, Tablets, Smart TVs, etc.). Media platforms are less dependent on satellite to reach customers and, consequently, they are less willing to pay the premium for capacity reducing revenues for the satellite industry.
However, terrestrial OTT has its own challenges. Inconsistent network speeds and reliability, network saturation or insufficient coverage, to name but a few of the challenges, restrain the quality and the reach of terrestrial streaming solutions.
No technical specification precludes satellite from participating in the IP streaming ecosystem. The multicast advantage of satellite is still unmatched by any other platform. Consequently, SATCOM must find its opportunities serving the most popular channels, linking hard-to-reach locations and/or concentrating in high-quality video delivery.
The business opportunities for satellite in the IP content distribution environment are wide and varied. From serving high-density locations (airports, sports venues, etc.) where bandwidth would otherwise exhaust, to expanding video streaming into areas where terrestrial coverage is poor, or creating a hybrid satellite-terrestrial service where the most popular channels are broadcasted via satellite, the industry still can find growth opportunities in the new video distribution paradigm.
www.nsr.com
---