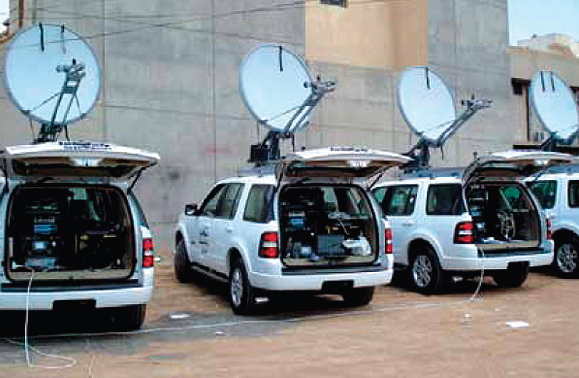 Alsumaria TV is an independent privately owned Iraqi TV broadcaster established in September of 2004. It has a highly skilled team of more than 500 working throughout Iraq, and includes Kurdistan, Lebanon, United Arab Emirates and Jordan. Since its inception, Alsumaria has established itself as the most dynamic and popular broadcaster in Iraq, broadcasting 24 hours a day with a line-up of entertainment, culture, politics, and news, in addition to social programs and live shows.
Part of their mission is the promotion of a unified Iraq and the Company aims to provide neutral coverage of all Iraqi affairs, regardless of political or religious viewpoints. Alsumaria reflects the call for reconstruction, progress, national unity, a better life and a brighter tomorrow. Catering to Iraqi viewers around the world,
Alsumaria
has finalized an agreement with
Jump TV
to distribute Alsumaria signal via home computers, laptops, and Internet enabled televisions.
In transition to IP operations for its DSNG and broadcasting operations, Alsumaria sought the most efficient and cost-effective way to maximize productivity and return on investment.
Their Solution + Advantages Gained
Alsumaria installed
Newtec
DualFlow
™ and FlexACM-enabled technology at its hub and into their fleet of DSNG vans, allowing support for IP and ASI operation. This resulted in outstanding bandwidth use efficiency and a return in investment in only six months.
DualFlow enables DSNGs to operate more effectively, with facilities to flexibly switch from traditional ASI to IP configurations for live broadcast or for file and content exchange with the production centre through email, Internet and VoIP
Optimization of the bandwidth usage substantially lowers costs plus increases revenue
FlexACM delivers optimization of modulation according to the location's conditions of the remote DSNG vans, giving a guaranteed level of service, regardless of adverse climate or other fading factors
Alsumaria broadcasts on
DTT
(
Digital Terrestrial TV
) and can be viewed on
NileSat
in the Middle East and North Africa, Southern Europe, Iran and Cyprus. Much of the same footprint is also covered via
HotBird 8
, while programming is also available to the Arab countries and North Africa via
Noorsat/Eurobird 2
.
Setting The Scene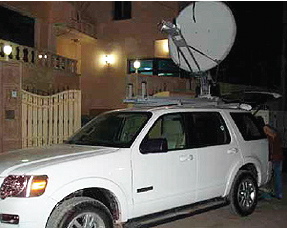 Alsumaria started broadcasting in 2004 and employs a fleet of DSNG vans to provide coverage from locations across the country. In the early years, the traditional tape-based workflow in combination with live broadcast over ASI were the starting points to deliver coverage to the newsroom and then to the customer through the digital terrestrial TV network. As a new and dynamic broadcaster, Alsumaria sought to upgrade its infrastructure. The broadcaster has now entered the final stages of a transition to file-based IP operation for its broadcast environment.
The Challenge
The quest for convenience and flexibility moved Alsumaria towards a fully file-based IP operation. To tackle the efficiency over satellite the DVB-S2 standard was selected. The next step aimed to blend the IP operation together with the legacy ASI network and take full advantage of the DVB-S2 standard. The total solution should bring: The requirements for a new solution were:
Cost efficiency on the operational (OPEX) and on the capital investment (CAPEX) level
Increased productivity from DSNG units and faster delivery of news content
Greater quality of service, extended reach in the footprint, and transparent interoperability with ASI where required
The Proposed Solution
DualFlow enables broadcasters and DSNG operators to easily migrate from a traditional ASI video satellite transmission network to an IP infrastructure and is based on the DVB-S2 standard, providing cost-effective and scalable implementation of IP operation while maintaining full compatibility with ASI legacy equipment.
Different stages in the migration effort towards IP over satellite are identified — ASI and IP hardware connectivity in the same modulation equipment, to simultaneous transport of live broadcast and IP data and finally two-way IP full interactivity over satellite, is implemented. These stages can be instituted progressively, or all at once, depending on the legacy and the objectives of the migration.
In the case of Alsumaria, the objective was clear: To enable full interactive IP communication between the DSNG van and the newsroom while still providing the capability to switch back to the legacy ASI configuration for occasional use of ASI based broadcasting transmissions. To allow this mode of operation, Alsumaria selected Newtec's
Azimuth DualFlow
equipment.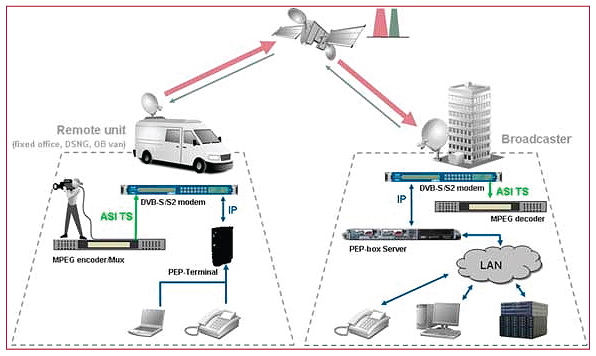 Alsumaria's DSNGs can now be considered as independent remote offices and deploy the satellite connection in three modes: Initially for live transmission of MPEG-4 over IP; secondly for file transfers and downloads to and from the production center plus other web-based services (email, Internet access, VoIP); and finally for occasional access to legacy ASI transmissions.
FlexACM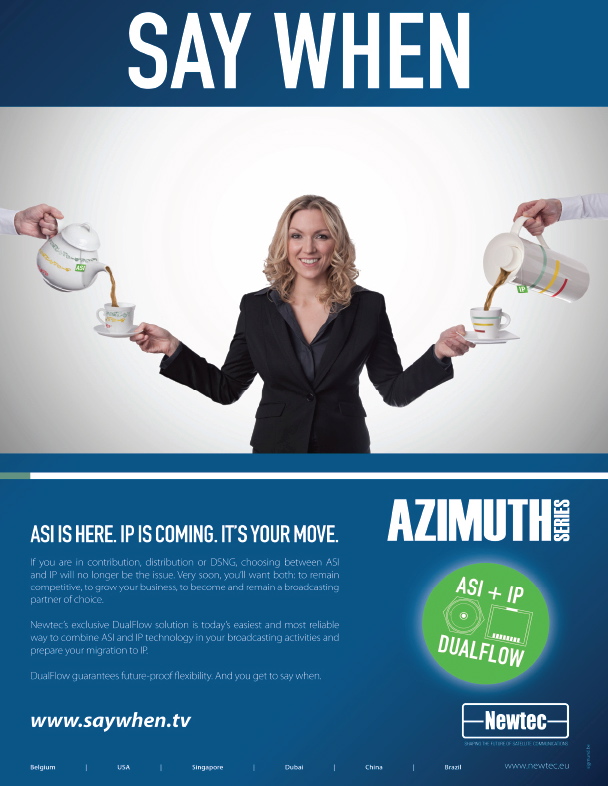 The second break-through technology embedded in the Alsumaria solution is Newtec's DVB-S2 FlexACM, which is the answer to efficiency improvement,
quality of service
(
QoS
), and general availability requirements in IP (broadcasting) networks over satellite. The IP share in Alsumaria's DSNG fleet is mainly reserved for live broadcasts over IP next to interactive IP services (web browsing, email, file transfers, VoIP) to boost the productivity of the remote team.
FlexACM targets the bandwidth efficiency to maximize the return-on-investment. In only 4Mhz Alsumaria can achieve five occasional use slots with a common forward of 400kHz 16APSK — and five concurrent slots of 970kbps for two-way IP operation to five DSNGs, or a throughput of 1.9 Mbps 16APSK 5/6 per channel using MPEG-4oIP video rate.
FlexACM also improves the Quality of Service. The modems with FlexACM functionality facilitate high speed file transfer between the DSNG and the studio/playout/editing site. Newtec
PEP-Box Terminals
(
Performance Enhancing Proxy
) were added to give DSNG staff accelerated file transfers at 1.9Mbps through superior data compression and TCP acceleration, to provide a high-quality broadband experience.
Finally, FlexACM protects the satellite throughput against adverse conditions (rain fade and other sources of interference) and guarantees 100 percent availability. In case of rain fade or other interference disturbance, the receiving site instantaneously reports the degradation of the conditions to the uplink. At the hub, the FlexACM system immediately modifies the parameters of all following frames, ensuring that no data is lost. In other words, even in the worst weather conditions, the IP broadcast or IP data transfers can be assured.
Newly equipped with DualFlow and FlexACM Newtec modulation units, together with IP appliances for Performance Enhancement, Alsumaria TV DSNG vans deliver MPEG-4 live streaming and are fully adapted to store and forward video files over satellite. The Newtec solution provides comprehensive control of the quality of service and higher dedicated throughput than traditional VSAT (shared MF-TDMA) systems, together with lower delay, higher availability and better throughput.
Advantages For Alsumaria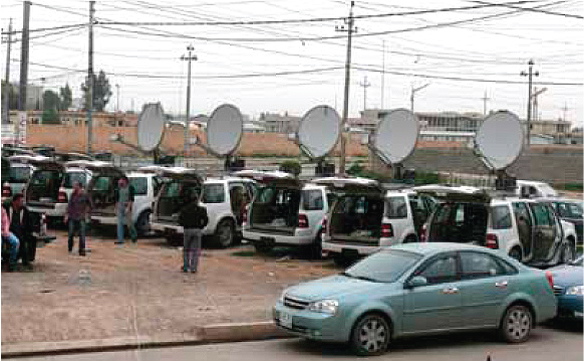 The implementation of Alsumaria's Newtec infrastructure delivers three key advantages, helping the broadcaster to achieve higher service quality, greater efficiency and responsiveness in its DSNG units, and very significant improvements in cost-effective use of satellite bandwidth.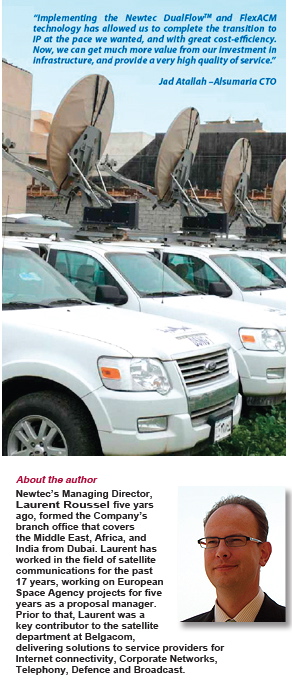 DualFlow fully enables two-way IP interactivity over satellite, making it possible to introduce new services into the broadcast workflows, such as real-time interviews, VoIP coordination channels, file upload and download, and remote access to tapeless production infrastructures. By turning DSNG vans into remote offices, DualFlow increases the productivity of Alsumaria's remote newsgathering teams.
DualFlow enables DSNGs to operate more effectively, with facilities to flexibly switch from traditional ASI to IP configurations for live broadcasts or for file and content exchange with the production centre through email, Internet and VoIP.
With FlexACM, Alsumaria can optimize the potential of DVB-S2 to make a quantum leap in efficiency through instantaneous frame-by-frame selection of the best modulation parameters to suit the conditions at the reception site. FlexACM increases the bandwidth efficiency, improves the Quality of Service and guarantees 100 percent availability thus maximizing the total return-on investment.
We now have a state-of-the-art operation that gives us an unparalleled ability to respond to events, cover breaking news more effectively, and deliver higher quality content to a wider range of viewers than ever before. The combination of Newtec's DualFlow and FlexACM means we can now get exceptional functionality and value from our DSNG fleet and our satellite bandwidth.
–
Jad Atallah
, CTO, Alsumaria.