USAF's GPS III satellite launched
On Sunday, December 23rd at 5:51 a.m. PST, SpaceX launched the U.S.A.F.'s first Global Positioning System III space vehicle from Space Launch Complex 40 at Cape Canaveral Air Force Station, Florida. Launch photo is courtesy of SpaceX.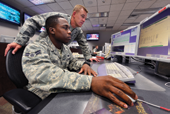 USAF 2nd Space Ops engaged in
satellite C&C
The Lockheed Martin-built satellite, known as "Vespucci" in honor of Amerigo Vespucci, the Italian explorer for whom the Americas were named, was carried to orbit aboard a SpaceX Falcon 9 Evolved Expendable Launch Vehicle, after previous launch attempts on December 18, 20 and 22 were thwarted by weather or technical issues.
GPS III's "Vespucci" separated from its upper stage at 10:47 a.m. EST (15:47 UTC, 7:49 a.m. Pacific), approximately two hours after launch. Engineers and operators at Lockheed Martin's Waterton facility will now begin on-orbit checkout and tests which are estimated to complete in six months. Operational use is expected to begin in about a year.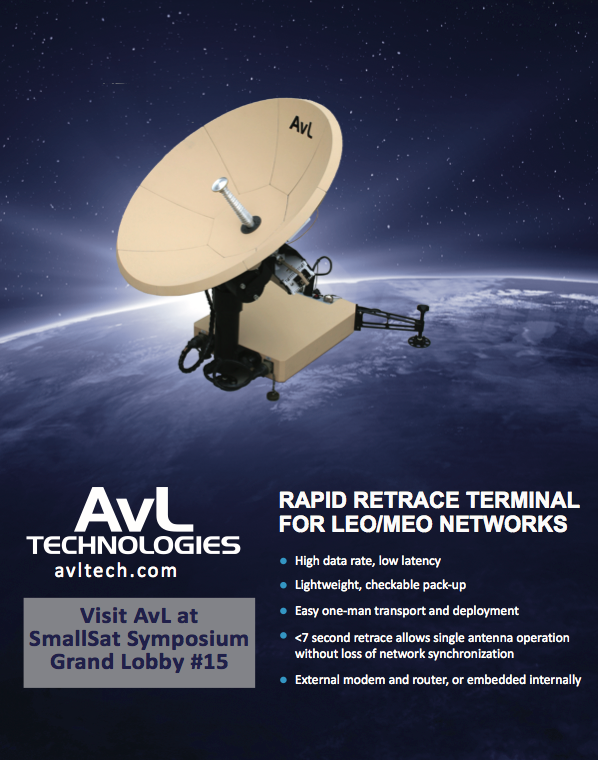 Vespucci will be vectored to augment the current GPS constellation comprised of 31 operational spacecraft. GPS satellites operate in medium Earth orbit at an altitude of approximately 20,200 km (12,550 miles) in six planes.
Each satellite circles the Earth twice per day. GPS provides the "Gold Standard" of position, navigation, and timing services for billions of users worldwide. GPS III, the newest generation of GPS satellites. It brings new capabilities to users, including three times greater accuracy, and up to eight times improved anti-jamming capabilities.
The GPS III Vespucci team is led by the Space and Missile Systems Center (SMC)'s Global Positioning Systems Directorate, located at Los Angeles Air Force Base in El Segundo, California. Lockheed Martin Space Systems Corporation is the prime satellite vehicle contractor.
The launch was led by Space and Missile Systems Center's Launch Enterprise Directorate, and was on the SpaceX Falcon 9 launch vehicle at Cape Canaveral AFS.
U.S. Air Force Space Command's 50th Space Wing and 2nd Space Operations Squadron operate the GPS constellation from Schriever AFB, Colorado.
SMC is the U.S. Air Force's center of acquisition excellence for acquiring and developing military space systems. Its portfolio includes the GPS, military satellite communications, defense meteorological satellites, space launch and range systems, satellite control networks, space based infrared systems and space situational awareness capabilities.
As the U.S. enters a new era with the declaration of space as a warfighting domain, SMC is undergoing re-architecting as part of "SMC 2.0" efforts which will manage other significant U.S. acquisition agility initiatives that seek to build new partnerships with industry, allies, and DOD partners, in order to drive innovation within the space enterprise and speed the delivery of new capabilities to warfighters.
Lt. General John F. Thompson, Commander of the Space and Missile Systems Center and Air Force program executive officer for Space, said that launch is always a monumental event, and especially so as this is the first GPS satellite of its generation launched on SpaceX's first National Security Space mission. As more GPS III satellites join the constellation, it will bring better service at a lower cost to a technology that is now fully woven into the fabric of any modern civilization.
He added that this launch keeps GPS the gold standard for positioning, navigation, and timing information, giving assured access when and where it matters. This event was a capstone, but it doesn't mean we're done. The USAF is going to run a series of procedures for checkout and test to ensure everything on Vespucci functions as it was designed."
Colonel Steve Whitney, director of the GPS Directorate, stated that this launch could not have succeeded without the teamwork of dedicated professionals. This launch is the beginning of the GPS III era, bringing greater capabilities for the nation's military and civilian users worldwide.
Colonel Robert Bongiovi, SMC Launch Enterprise director, added that the first GPS III launch marks a significant milestone for the GPS constellation as well as SMC's partnership with SpaceX. This launch demonstrated the successful teamwork and cooperation among all mission partners to deliver the capabilities the nation's warfighter demands.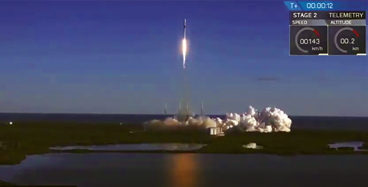 In support of the U.S. Air Force, The Aerospace Corporation (Aerospace) performed a complete independent verification of SpaceX's Falcon 9 rocket and the Global Positioning System (GPS) Block III-2 satellite.
This successful launch marks two major milestones for a national security space mission — the first newly certified rocket for the U.S. Air Force in 20 years — and delivery of the first national security satellite that will provide the next-generation of position, navigation, and timing (PNT) services.
"We have worked with SpaceX over the past six years to ensure the mission success of their first national security launch," said Steve Isakowitz, Aerospace President and CEO. "As demonstrated in this launch, Aerospace has pioneered the process for future entrants to compete and succeed in national security launches."
Aerospace worked extensively with the U.S. Air Force and SpaceX on the Block 5 design to meet the government's high standards for reliability to ensure mission success for national security satellites critical to our country's defense. The team has supported more than 60 SpaceX civil and commercial launches, collaboratively developing new certification and mission assurance processes. These efforts included rigorous qualification and acceptance review for systems, including propulsion, avionics, structures, ground systems, and safety systems.
"Working with SpaceX over the last several years has provided our team with a great opportunity to develop agile mission assurance processes," said Randy Kendall, the VP of Launch Program Operations. "We're looking at every aspect of our mission assurance process to improve efficiency, effectiveness, and responsiveness. We're also using new technologies such as cloud computing, machine learning, and artificial intelligence to dramatically reduce our analysis timelines by a factor of 10 or more and to help our engineers identify data trends that may not be visible."

Artistic rendition of the GPS III satellite. Image is
courtesy of Lockheed Martin.
SpaceX has won six competitive Evolved Expendable Launch Vehicle (EELV) launch services for the Air Force, including four more GPS satellites scheduled to be launched in the next three years. These launch service awards represent the reintroduction of competition to the EELV program and provide highly critical assured access to space for national security payloads.
Aerospace has facilitated the opportunity for new entrants to work with the government and industry to bring new launch providers to serve the U.S. government's needs.
The GPS III series boasts numerous upgrades over previous GPS models in anti-jamming capabilities; more military and civilian signals that are more accurate and powerful; specialized signals, such as for aviation services; and a signal that can be used with other satellite navigation systems, such as the European Union's Galileo system.
Lockheed Martin added that this GPS III satellite has already began "talking" with engineers and operators from ground control.
GPS III Space Vehicle 01 (GPS III SV01) is receiving and responding to commands from Lockheed Martin's Launch and Checkout Center at the company's Denver facility. Air Force and company engineers declared satellite control signal acquisition and rocket booster separation about 119 minutes after GPS III SV01's launch.
GPS III SV01 is the first of an entirely new, next generation GPS satellite designed to modernize the GPS constellation. GPS III has three times better accuracy and up to eight times improved anti-jamming capabilities. Spacecraft life will extend to 15 years, 25 percent longer than any of the GPS satellites on orbit today.
GPS III's new L1C civil signal will also make it the first GPS satellite broadcasting a compatible signal with other international global navigation satellite systems, like Europe's Galileo, improving connectivity for civilian users.
Once declared operational, GPS III SV01 is expected to take its place in today's 31 satellite strong GPS constellation, which provides positioning, navigation and timing services to more than four billion civil, commercial and military users.
"In the coming days, GPS III SV01 will use its liquid apogee engines to climb into its operational orbit about 12,550 miles above the earth. We will then send it commands to deploy its solar arrays and antennas, and begin on-orbit checkout and tests, including extensive signals testing with our advanced navigation payload provided by Harris Corporation," said Johnathon Caldwell, Lockheed Martin's Vice President for Navigation Systems.
U.S. Air Force and Lockheed Martin engineers are controlling GPS III SV01's launch and checkout test using elements of the GPS Next Generation Operational Control System (OCX) Block 0. Satellite control and operations are expected to shift to the Air Force's current Operational Control Segment when GPS III Contingency Operations upgrades are fully implemented later this year.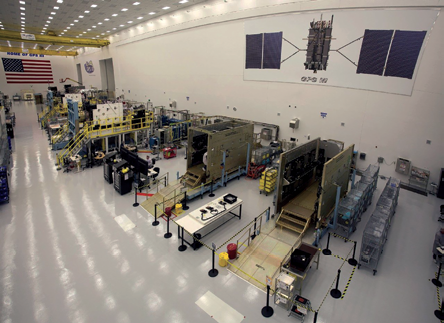 Lockheed Martin is contracted for and is assembling 10 GPS III
satellites at the company's nearly 40,000 sq. ft. GPS III Processing
Facility near Denver, Colorado. The $128 million, state-of-the-art,
manufacturing factory was designed in a virtual reality environment to
maximize production effectiveness and efficiency. Opened in 2011, the
GPF includes a specialized cleanroom and test chambers designed to
streamline satellite production.
Caldwell added the company is excited to begin on orbit test and demonstrate the satellite's capabilities. By this time next year, Lockheed Martin also expects to have a second GPS III on orbit and users should be receiving signals from this first satellite.
Lockheed Martin developed GPS III and manufactured GPS III SV01 at its advanced $128-million GPS III Processing Facility near Denver.
In September 2017, the Air Force declared the satellite "Available for Launch" (AFL) and had the company place it into storage.
Last summer the Air Force "called up" the satellite for launch and Lockheed Martin delivered it to Florida on August 20. On December 8, GPS III SV01 completed pre-launch processing, fueling and encapsulation at Astrotech Space Operations.
GPS III SV01 is the first of 10 GPS III satellites originally ordered by the Air Force. GPS III SV03-08 are now in various stages of assembly
and test.
In August, the Air Force declared the second GPS III "AFL" and, in November, called GPS III SV02 up for a
2019 launch.
In September, the Air Force selected Lockheed Martin for the GPS III Follow On (GPS IIIF) program, an estimated $7.2 billion opportunity to build up to 22 additional GPS IIIF satellites with additional capabilities.
GPS IIIF builds off Lockheed Martin's existing modular GPS III, which was designed to evolve with new technology and changing mission needs. On September 26, the Air Force awarded Lockheed Martin a $1.4 billion contract for support to start up the program and to contract the 11th and 12th GPS III satellite.
For civil users, GPS III significantly increases accuracy for critical national infrastructure and commercial applications, including transportation, banking, emergency services, and agriculture.
For military users, GPS plays a critical role in every warfighting domain, including precision- guided munitions, manned and unmanned aircraft navigation, handheld applications, land and sea navigation, and military logistical support.
---
Space history written by China
On January 3, the Chang'e-4 lunar rover shaped space and Chinese history by successfully completing the first-ever soft landing on the far side of the Moon — closeup images of the previously unexplored region of the Moon were then captured by the rover and relayed to Earth.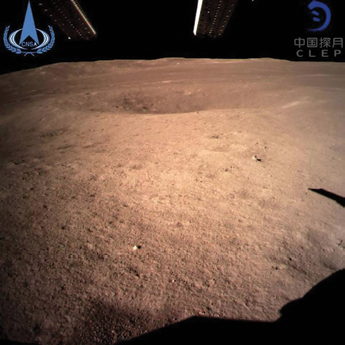 In this photo provided by the China National Space
Administration via the Xinhua News Agency, an image taken
by the Chang'e-4 rover captured the landing site on the far
side of the Moon.
Named after a Chinese moon goddess, and comprised of a lander and a rover, the touchdown occurred at the pre-selected landing area at 177.6 degrees east longitude and 45.5 degrees south latitude on the far side of the Moon at 10:26 a.m. (Beijing time), this according to the China National Space Administration (CNSA).
NASA congratulated Chinese scientists on this success, which is actually the fourth lunar probe launched by the nation. The robotic spacecraft is carrying instruments to analyze the unexplored region's geology and will conduct biological experiments. The first-ever soft landing is a major milestone in space exploration because, unlike previous Moon missions that have landed on the Earth-facing side, this is the first time any craft has landed on the unexplored and rugged far side of the Moon. The China Daily infosite posted that this successful landing formally inaugurated the world's first expedition to the far side that never faces the Earth and is expected to fulfill scientists' long-held aspiration to closely observe the enormous region.
The probe was launched by a Long March-3B carrier rocket on December 8, 2018, from the Xichang Satellite Launch Centre in Sichuan Province and landed on the Von Karman crater in the South Pole-Aitken basin and then sent back a picture of the landing site that was captured by one of the monitor cameras on the probe's lander, marking the world's first image taken on the Moon's far side.
The picture shows the place where Chang'e-4's rover will be traveling to roam and survey. Tidal forces on Earth slow the Moon's rotation to the point where the same side always faces Earth. The other side, most of which is never visible from Earth, is the far side of the Moon.
Direct communication with the far side of the Moon, however, is not possible, which is one of the many challenges for the Chang'e-4 lunar probe mission — China launched a relay satellite, named Queqiao, in May, to establish a communication link between the Earth and Chang'e-4 lunar probe.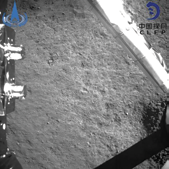 In this photo provided by the China
National Space Administration via the
Xinhua News Agency, an image taken
by the Chang'e-4 rover captured the
landing site on the far side of the Moon.
Chang'e-4 includes two main components include the main lander that weighs approximately 2,400 pounds and a 300 pound rover. By comparison, NASA's Opportunity rover on Mars weighs about 400 pounds and the Curiosity rover on that planet is much larger, weighing 2,000 pounds.
The spacecraft is largely a clone of Chang'e-3, which landed on the Moon in 2013. Named after the goddess of the Moon in Chinese legends, the first Chang'e spacecraft was launched in 2007 to verify China's lunar probe technology, obtain lunar images and perform scientific surveys.
Then the Chang'e-2 followed in 2010 to capture high definition images of the Moon and to investigate landing conditions for the Chang'e 3, which landed on the Moon in 2013. Chang'e-3 released the first Chinese lunar rover, Yutu, on the Moon where the vehicle worked for 1,000 days. Chang'e-4, this fourth lunar probe launched by China since this program was initiated in 2004, has four scientific payloads that were developed by scientists from the Netherlands, Germany, Sweden and Saudi Arabia.
Chang'e-4 is the fourth lunar probe launched by China since the country's lunar program was opened in 2004. The scientific tasks of the Chang'e-4 mission include low-frequency radio astronomical observation, surveying the terrain and landforms, detecting the mineral composition and shallow lunar surface structure, and measuring the neutron radiation and neutral atoms to study the environment on the far side of the Moon, according to CNSA.
---
ORBCOMM's OG1 is gone...
The CEO of the company, Marc Eisenberg, has said that the firm is investigating the reason behind the loss of the satellite with the breakup resulting in producing some 34 trackable objects.

However, according to the company, their OG2 satellites handle the majority of the company's comms obligations, managing approximately 90 percent of all communication services.
According to the company, ORBCOMM OG2 is the world's first and only commercial satellite network that is 100 percent dedicated to M2M and uses LEO satellites to provide M2M comms to and from in the most remote areas of the world.
Each satellite's VHF frequency furthers signal propagation and message delivery is unaffected by bad weather. In addition, the optimized message size is ideal for M2M applications.
Each OG2 satellite offers as much as six times the data access and up to twice the transmission rate of the OG1 satellite. Each OG2 satellite is the equivalent of six OG1 satellites, providing faster message delivery, larger message sizes and better coverage at higher latitudes, while significantly increasing network capacity.
ORBCOMM's proven ground infrastructure enables worldwide M2M satellite messaging.
The company's 16 Gateway Earth Stations in 13 countries track and establish two-way satellite communications, while the firm's Gateway Control Centers process the data and provide the interconnection to terrestrial communications networks.
ORBCOMM's Network Control Center in Sterling, Virginia, serves as the focal point for managing their satellite constellation and ensures reliable message delivery.
---
GomX-4 smallsat completes mission
The GomX-4B — ESA's largest, small cubesat yet flown — has completed its mission for the Agency, testing out new miniaturized technologies including: inter-satellite link communication with its GomX-4A twin, a hyperspectral imager, star tracker and butane-based propulsion system.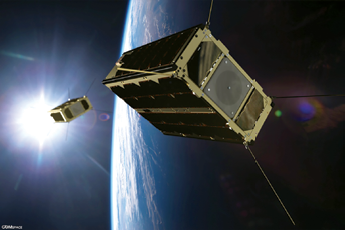 An artistic rendition of the GomX-4 smallsat pair. Image is
courtesy of GomSpace.
ESA is making use of the standardized 10 cm. cubesats for testing new technologies in space. GomX-4B was ESA's first six-unit cubesat, double the size of its predecessor GomX- 3, built for ESA by GomSpace in Aalborg, Denmark, who is also the builder of GomX- 4A for the Danish Ministry of Defence. The cubesat pair was launched in February of 2018 from Jiuquan, China.
GomX-4B used its butane cold gas propulsion system to maneuver away from its twin, flying up to 4,500 km. away in a fixed geometry — a limit set by Earth's curvature and representative of planned smallsat constellation spacing — to test inter-satellite radio links allowing the rapid transfer of data from Earth between satellites and back to Earth again.
Supplied by the Swedish branch of GomSpace, the propulsion system allows the cubesat to adjust its orbital speed in a controlled manner by a total of 10 m/s — a speed equivalent to a kicked football.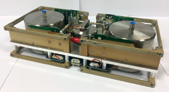 GomX-4B's cold-gas thruster system takes
up two halfcubesat units at one side of the
nanosatellite, with two spherical titanium
tanks filled with liquid butane. It has four
1 mN thrusters, typically to be fired in pairs
while keeping one set in reserve.
Photo is courtesy of Nanospace.
In another first, GomX-4B acquired the first hyperspectral images of Earth from a cubesat. Cosine Research in the Netherlands and their partners constructed the hand-sized HyperScout imager for ESA. This divides up the light it receives into many narrow, adjacent wavelengths, gathering a wealth of environmental data.
The mission also proved that hyperspectral image processing can be performed aboard, to reduce the amount of data needing to be transmitted down to Earth.
High-quality image acquisition requires good pointing accuracy and stability, so GomX-4B also trialed a miniaturized star tracker developed by Dutch cubesat manufacturer ISIS to orient itself by its surrounding starfield, turning itself using fast-spinning reaction wheels.
A final experimental payload gathered data on how orbital radiation affects computer memories.
The large amount of flight data returned by the mission is being analyzed as a source of lessons learned to guide the development of followon smallsat missions, starting with GomX- 5 whose 12 unit design begins next month at GomSpace.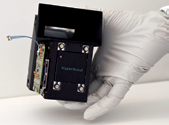 Observing in 45 visible and near-infrared
spectral bands, the HyperScout
hyperspectral imager was launched in
February 2018, aboard ESA's cereal
box-sized GomX-4B smallsat. HyperScout
has been developed by cosine Research in
the Netherlands.
Photo is courtesy of the company.
The GomX missions are funded primarily by Denmark in the 'Fly' element of ESA's General Support Technology Program to develop and prove leading edge space technologies.
ESA has a trio of Technology cubesats from Belgium planned to fly during the new year: Qarman to gather atmospheric reentry data, Simba to monitor Earth's radiation budget and Picasso to monitor the troposphere and stratosphere.
Roger Walker, who oversees ESA's Technology cubesats, said that this multi-faceted mission has performed extremely well in flight. What its results demonstrate is that European cubesats are now ready for operational deployment, as the first generation of cubesat constellations in LEO for a variety of applications.
He added that the post-flight review has declared ESA's in-orbit demonstration mission a success, but in fact GomX-4B's story is far from over. Walker also noted that GomSpace, the manufacturer of the satellite, continues to operate the smallsat, while GomSpace's subsidiary in Luxembourg will be in charge of mission exploitation.
In spite of all the orbital maneuvering, GomX-4B still has a lot of fuel. Of the original 130 grams of butane, only 13 grams were consumed during the mission.
---