---
By Pierre-Jean Beylier, Chief Executive Officer
Since embarking on our global expansion two years ago, SpeedCast has enjoyed substantial organic growth across all of the verticals that we serve. Equally pleasing has been the company's growth in terms of product offerings, geographic reach, number of customers, revenue, and the number and the skill diversity of our employees.

2014 was undoubtedly a monumental year for the business: from opening several new offices and sustaining strong organic growth, to the acquisition of two satellite services providers and our IPO on the Australian Securities Exchange (ASX), the past 12 months have propelled SpeedCast to become a new global force within the satellite industry.
The year commenced on a strong note with the opening of our new facilities in Perth, Australia, and the launch of our new organization in Australia, integrating acquired companies, all designed to better serve the nation's natural resources sector. Launching our new office in Perth was a step forward in our strategic infrastructure investment to address the needs of our oil and gas (O&G) and mining customers, allowing us to provide services into Africa, Asia and within Australia directly from Perth.
We also opened a new facility in the important maritime and offshore hub of Singapore to focus on the delivery of services and support for the maritime market, augmenting SpeedCast's extensive presence in the South East Asian region. The Singapore office has grown rapidly since its inception, with the addition of 10 additional staff to support the growth of our business. The Singapore office demonstrates our dedication to serve the maritime industry, which has been a key growth driver for us, especially as the adoption of broadband satellite systems continues to accelerate in this market.
Most recently, our expansion continued with the establishment of a new Energy Division as well as the opening of an office in Houston, Texas. Headed by Keith Johnson, Senior Vice President / GM, the new division will deliver solutions to energy customers who expect high reliability and uncompromising customer service. With many of the largest global energy companies based in Houston, this location was an obvious choice for us for a new division there—this will allow us to be closer to key decision makers and provide them with a strong alternative for their communication needs.
A pinnacle of 2014 was SpeedCast's debut on the Australian Securities Exchange (ASX) in August, following strong institutional and retail response to our Initial Public Offering (IPO). The ASX listing will enable us to continue executing our global growth plans and to focus on delivering high-quality service reliability and customer support.
Looking back to early 2014, we successfully unified the SpeedCast brand by consolidating Australian Satellite Communications, Pactel International, Elektrikom Satellite Services and SpeedCast Limited under one, new, global brand, to create a single identity which positioned us as a top five international industry player.
We are proud of our heritage in, and to, Asia. Through our dynamic growth process, we have developed broad global experience and capabilities and with this single identity, we reaffirmed that we are truly a world player within the SATCOM industry.
Our growth strategy combines strong organic and acquisitive growth. To strengthen our leadership position in the Australia-Pacific region and affirm our commitment to serve the energy sector in its key areas of operations, SpeedCast made two strategic acquisitions of SatComms Australia and Oceanic Broadband Solutions. Both companies have prime teleport facilities in our key markets (Perth, Australia and Port Moresby, PNG), which are expected to add tremendous value for our customers in terms of speed and reliability as well as access to a wider support network and enhanced engineering and IP capabilities. SatComms Australia also provided us with a new facility in the fast growing Queensland market.
Since embarking on a global expansion journey back in 2012, SpeedCast has continued to demonstrate organic growth, based on reliability, flexibility, reactivity and an unwavering focus on our customers and their communications needs.
The proliferation of data connectivity and broadband mobility represents one of the fastest growing markets for satellite services. We anticipate this trend will continue into 2015 and will continue to fuel growth opportunities for all aspects of satellite communications.

This has been a monumental year for SpeedCast in 2014. As we look ahead to 2015, delivering fast and reliable communications that exceed our customers' expectations is our top priority. We look forward to an equally exciting 2015 for SpeedCast, as we continue our growth story and enable the success of our customers.
Mr. Pierre-Jean Beylier has been Chief Executive Officer of SpeedCast Ltd. at Asia Satellite Telecommunications Holdings Ltd. since July of 2004. Mr. Beylier has led the sales and marketing activities of SpeedCast Limited since 2000 and he has more than 15 years of international sales and marketing experience. Prior to joining SpeedCast Limited, Mr. Beylier held various sales and marketing positions with Rhodia, a company listed in Paris, and gained experience in consumer marketing while working at Black and Decker France. He serves as a Director of SpeedCast Ltd. Mr. Beylier graduated from the Lyon School of Management and holds a Master's Degree in Business administration from the University of Southern California.
---
By John "JR" Russell, Chief Operating Officer
The SRT Group wishes to present their playlist for 2014 and 2015...

Overview: "Running Down a Dream" (Tom Petty)—Looking back on the last 12 months, to see how far we have come at SRT Group is breathtaking. We launched two market-disrupting products; earned increasing attention in the marketplace; took 18 trips to pitch our products in 12 countries; and enjoyed the best form of jet lag—exhaustion from a job well done.
Founded 15 years ago to exploit the convergence of cellular, Wi-Fi, and satellite communications technologies, the SRT Group of companies delivers mission-critical hardware, software, and services to major business, government, and nongovernmental customers. We are proud to serve customers in a variety of important sectors including national security, law enforcement, commercial telecommunications, oil and gas, and maritime.
We are also proud to be entirely self-funded. All of our employees are based at our headquarters in Davie, Florida, where we perform all of our research, development, manufacturing and training programs. We have doubled in size over the last five years; reached $25 million in annual revenues; and passed the 100 mark in our workforce, including subject matter experts in MSS L-band, 802.11 and 4G.
A Look Back: "Satellite" (Dave Matthews Band)—This has been one of the most exciting years for SRT in my seven year tenure, with deepening partnerships and technological breakthroughs fueling the promise of greater growth in years to come. A key highlight was our growing partnership with Thuraya Telecommunications Company, a leading mobile satellite services operator reaching nearly two-thirds of the globe (over 160 countries), via satellite. Thuraya has GSM roaming agreements with over 360 mobile operators around the world.
Last year, Thuraya selected SRT Wireless to provide it with a new, "all-in-one" satellite modem, essentially a software-defined radio (SDR) for advanced SATCOMs. The result of 42,000 hours of development, the VIPturbo is a compact, single-board modem that can handle all of the data and telecom services on Thuraya's satellite network and can be modified to support additional waveforms. Specifically, the product enables developers and end users to access every service available on the Thuraya network, including voice, GmPRS (for low data rates), and high-speed IP data services.
The modem offers greater functionality at more than half the price of competing products and is stimulating the development of new products and services for the network. The module also has integrated Wi-Fi, allowing end-users to connect and communicate using their own smart phones and tablets, even in the most remote locations. Reflecting a major concern in the SATCOM world, the software is "hardened" to prevent cyber hacking.
Another key feature is the flexibility we built into its design, which allows developers and users to customize the modem as well as the applications developed for its use. The module includes a separate RF Headend Board (HIB) for antenna integration and a connector interface card that facilitates terminal vendor proprietary interface design.
Then, in June, SRT Wireless and Thuraya jointly introduced the IP Commander, the first and only ruggedized satellite broadband terminal designed to meet military specifications (IP 66 and IK 10 rated enclosure). The IP Commander enables mission-critical voice and data connectivity in mobile or stationary applications in the most extreme and remote environments, making it well suited for military and governmental operations, as well as applications in land mobile, energy and mining. The package includes a rugged voice handset that offers clear and uninterrupted voice connectivity across Thuraya's satellite network, which covers many of the world's strategic conflict zones.
In November, we introduced our newest satellite modem, the Afterburner. Whereas the VIPturbo is about the size of a paperback book, the Afterburner is about the size of pack of cigarettes, with a 50 percent reduction in power requirements—easily outperforming competitive products in terms of size, weight, price and performance.
Finally, we continue to provide network technology solutions and operational support for our customers that include network simulation and Radio Access Networks (RANs). These allow the SRT Group of companies significant advantages and a unique set of end-to-end capabilities for custom solutions to better address our customers' requirements and needs. SRT Wireless's product lifecycle vision takes a 360 degree view of our clients' communications needs, extending beyond product delivery into designing and integrating custom systems. With integrated support we help our partners derive the most value from their SATCOM products and systems solutions.
The Industry in 2015: "Communication Breakdown" (Led Zeppelin)—As we look ahead to 2015, we see an urgent need to combat the growing threat of SATCOM cyber attacks. We've all heard the drumbeat of stories about corporate hacking scandals involving the theft of millions of credit card numbers. In recent months, we've seen data breaches affecting customers of such venerable brands as K-Mart, Staples, Home Depot, Dairy Queen, the U.S. Postal Service, and JPMorgan Chase. Less known, but equally concerning, is the vulnerability of U.S. and global SATCOMs, which could potentially affect a wide swath of government and commercial sectors.
Given how expensive and critical our satellite networks are, as highlighted in an April report by consultancy IOActive, and given the efforts of some nations to gain asymmetrical advantages over the United States and the nation's allies, we see this as an issue that will continue to garner attention throughout 2015. The industry, as a whole, must act now to harden our SATCOM systems before a catastrophic breaches occur. The vulnerabilities in satellite communication systems must be prevented by implementing safeguards that would thwart cyber attacks and mitigate potential damage. Given our long record of serving U.S. military customers, SRT Group meets these demands by hardening our satellite modems in several ways prior to deployment.
Cybercrime poses enormous risks to global security and prosperity, but solutions are available. SRT Group is proud that our equipment includes some of the best protections in the world against these threats.
SRT in 2015: "I Can See for Miles" (The Who)—We look forward to building on our 2014 successes during 2015. While we cannot disclose all of the partnerships and new products we have in the pipeline, we are confident in saying that SRT Wireless will continue to lead the evolution of satellite communications, punching well above our weight class for a relatively small company.
Not interested in resting on our laurels, SRT Group of companies will continue to develop hardware solutions that are smaller, more powerful, and less costly than current alternatives. We will also continue to strengthen our partnerships with Thuraya and other industry leaders, and with U.S. national security and law enforcement agencies.
Additionally, we also look forward to increasing our participation in the broader conversations surrounding satellite communications technology and policy. For example, SRT's Chief Technology Officer, Conrad Smith, is gaining prominence as a leading voice on cyber security and satcoms. He will speak about this subject at the forthcoming Satellite 2015 conference in Washington, DC in March of next year.
All of us in the satellite communications industry should give back—not just to our employees and the communities in which we operate, but also to the industry and public at large—by providing a concrete vision on how we can ensure the safety and security of our satellite networks, even as we work to expand their capabilities and reach.
From where I sit in Broward County, Florida, I can tell you the future of the satellite communications industry is bright—and with apologies to Pete Townsend and The Who, I can see for miles and miles and miles.
John "JR" Russell serves as the CMO of SRT Group and the COO of SRT Wireless. As a pioneer in the marketing of wireless location-specific safety and security systems for consumer, commercial, and public safety applications, JR has initiated and managed successful business relationships with some of the largest global brands. At SRT Wireless, JR manages all aspects of SRT Group's commercial and law enforcement business units.
---
By Rich Currier, Senior Vice President, Business Development
This has been a busy year for the industry and a highly successful year for SSL. At the time of this writing, SSL counted eight new contract awards for geostationary (GEO) satellites, and expanded its reach into Low Earth Orbit (LEO) Earth Observation (EO) satellites with a contract to build a constellation of innovative small satellites. The company also saw five SSL-built satellites successfully launched, with the expectation of one more launching prior to the end of 2014.

In additional to its commercial successes, in 2014 SSL continued to work with NASA, DARPA and the U.S. Air Force to deliver cost-effective solutions to U.S. government programs. SSL also completed the construction of a new spacecraft test facility, which was dedicated to the memory of its former Chief Engineer, Bob McFarland, who left behind a legacy of integrity and industry respect. The second thermal vacuum chamber, which starts operation at the close of this year, provides the company with added flexibility for managing satellite manufacturing schedules.
2014 was a year when SSL expanded its customer base with contract awards from companies in Indonesia and Bulgaria. The company also continued to build on relationships with four returning customers, reflecting the teamwork and trust that has been established over the years.
Among the first-time SSL customers, Bank Rakyat Indonesia (Persero) Tbk (BRI) is the world's first bank to acquire its own communications satellite. BRISat will serve the people of Indonesia with a dedicated platform for banking services across the archipelago of islands where the bank provides service to even the most remote areas.
Bulgaria Sat is another first-time satellite buyer that contracted with SSL in 2014. The company is an affiliate of Bulsatcom, which is a leading telecommunications company and the largest provider of payTV services in Bulgaria. BulgariaSat-1 will provide Direct-To-Home (DTH) television service in the Balkan region.
Most recently, SSL announced its eighth GEO satellite contract award, which is with an undisclosed customer that is also new to working with SSL. Among returning customers, SKY Perfect JSAT (SJC) selected SSL to build JCSAT-15 and JCSAT-16, which will provide video distribution, data transfer communications, and back-up service capabilities to meet the growing demand for telecommunications infrastructure in the Asia Pacific region. The company also has a third satellite for SJC, JCSAT-14, in production at SSL's Palo Alto, California, manufacturing facility.
EchoStar contracted with SSL for EchoStar XXIII, which will be the 13th SSL-built satellite in the EchoStar fleet. The spacecraft, which is planned for launch in 2016, will have the capability of providing high-power, flexible Ku-band service from any of eight different orbital slots.
In August, long-term customer Intelsat awarded a contract to build Intelsat 36 to SSL. This will be the 52nd SSL-built satellite for Intelsat and will provide media and content distribution services in Africa and South Asia.
For Spanish operator, Hispasat, SSL was selected to build Hispasat 1F, a multi-mission satellite that will provide service for television, broadband, corporate networks, and other telecommunications applications in Europe, North Africa, North America, and South America. Hispasat 1F will replace Hispasat 1D and will be the third SSL-built satellite in the HISPASAT fleet.
In part, the company attributes its success with so many satellite operators to its focus on its customers' overall business plan and not only the mechanics of building a satellite that delivers the desired service. The company assists its customers with launches, ground stations, internship training programs, and financing, among other important factors. In 2014, SSL completed and delivered five new satellites, which were successfully launched and are now performing on orbit. With a sixth launch planned for the end of the year, there will be 78 SSL-built satellites currently on orbit.
2014 marked the company's first launch on the SpaceX Falcon 9, and a new record of two satellites for the same company launched within a month of one another from the Cape Canaveral Air Force Station in Florida. The satellites were both for Hong Kong-based AsiaSat, which provides broadcasting, telecommunications, and broadband services across the Asia-Pacific region. SSL has now provided four satellites to AsiaSat and has an additional satellite, AsiaSat 9, currently under construction in its Palo Alto manufacturing facility.
Other launches during the year included satellites for ABS, Optus, and Intelsat, all of which were launched on the Ariane 5 launch vehicle. A satellite for DIRECTV was delivered to launch base in Kourou, French Guiana at the time of this writing, and is expected to launch before the end of the year.
With its ongoing integration with parent company MDA, SSL is growing the value the company can bring to a broad range of customers in both government and new space arenas. Skybox, now a part of Google, selected SSL to build 13 small satellites for an advanced constellation for Earth imaging. This is the first contract for SSL-built LEO spacecraft since 2000. As part of the award, SSL also obtained the license to use the small satellite technology in other applications, opening up a new product line for SSL. The company's location in the heart of Silicon Valley positions the company well to help innovative startups, such as Skybox, to benefit from SSL's long heritage in space.
SSL has a history of leveraging its commercial platform to help support NASA initiatives for cost-effective solutions. The propulsion system for NASA's highly successful Lunar Atmosphere Dust Environment Explorer (LADEE) is an example of this collaboration—SSL has continued working with NASA on hosted payload accommodation development for the Laser Communications Relay Demonstration (LCRD) in a program for NASA Goddard.
In 2014, SSL was one of the companies selected by the U.S. Air Force for a Hosted Payload Solutions (HoPS) indefinite delivery/indefinite quantity contract, which pre-qualifies SSL to bid on opportunities for hosted payloads, which can help the U.S. Government get a variety of missions to orbit by integrating them with commercial satellites. SSL was also one of the companies awarded the first task order under HoPS to assess hosting options for NASA's Earth Venture Instrument TEMPO (Tropospheric Emissions: Monitoring of Pollution).
In 2014, SSL also began providing advanced robotics capability based on MDA heritage robotics technology, and the company is currently studying system concepts and key technologies for NASA'S Asteroid Redirect Mission, which is expected to be a key part of the agency's path to sending humans to Mars. SSL is working with MDA to conduct two studies; one that examines using MDA robotic technology for asteroid capture, and one that examines adapting commercial spacecraft for the Asteroid Redirect Vehicle. In another collaboration with parent company, MDA, in 2014 SSL announced that it entered into the next phase of designing and integrating the first Payload Orbital Delivery system (PODs) accommodation on the SSL 1300 platform—which would enable affordable delivery of small free-flying spacecraft beyond LEO for future servicing, operational, science, and technology space missions. Designed for DARPA, the PODs program allows a free-flying satellite to be jettisoned by an SSL-built satellite, to then fly on its own.
In October 2014, SSL celebrated the completion of its new test facility and second thermal vacuum chamber. The facility—dedicated to SSL's former chief engineer and vice president of Mission Assurance, Bob McFarland—represents a significant capital investment and will allow SSL to improve the efficiency of satellite manufacturing and support larger volumes of satellites in the factory with shorter schedules. During the dedication ceremony, SSL president John Celli drew attention to Bob McFarland's many years of commitment to quality and reliability. The test facility is named after Bob to acknowledge that focus on quality and recognize the critical role that a thermal vacuum chamber plays in the validation of spacecraft quality and readiness.
The new front-loading chamber measures 50 feet in length and 30 feet in diameter and helps SSL accommodate 10 to 12 satellite contract awards per year without needing to outsource the thermal vacuum work to a third party and without impacting the schedule of other satellites in the factory.
Industry researchers have noted that the coming year should be another strong one for satellite manufacturers, as demand for replacement satellites and expanded services drive the commercial GEO climate. In addition to these core business opportunities, SSL continues to leverage the synergies that it shares with MDA to enter new markets and bring the benefits from its extensive expertise and competencies into a broad range of disciplines for both government and private industry.
This year's expansion into new regions and markets is likely to serve as a catalyst for future SSL growth for many years to come.
---
Surrey Satellite Technology Ltd. (SSTL)
By Sir Martin Sweeting, Executive Chairman
A classic British understatement would be to say that 2014 was a busy year for the Surrey Group—2014 has, in fact, been one of our most active years ever experienced by our companies.

With a welcome expansion in the downstream market for Earth Observation (EO) data that's seen some exciting new players, such as Skybox Imaging and Urthecast who emerged into the sector, this year SSTL has been responding to innovative business models and new mission requirements from customers. More than ever before, we are enjoying the challenge of working on new ways to deliver space data.
We're aiming to have our new X-series platforms space-ready in just nine months; this means we're disrupting the conventions of satellite design and manufacture, again, and that suits us just fine. The first set of new generation avionics and platform design are already in production for KazSTSAT, which will be our first X-Series satellite, built in the U.K. in collaboration with Kazakh engineers from Ghalam LLP.
On average, two SSTL satellites are launched every year, but this was a bonus year and we clocked three launches. In June, KazEOSat-2, a medium revsolution EO satellite for Kazakhstanl, was launched, and the following month saw the launch of TechDemoSat-1, an in-orbit testbed for U.K. technologies. Soon after launch, TechDemoSat-1 delivered a rare opportunity to obtain a view from one of our orbiting satellites with a video from a COTS-based inspection camera mounted on one of the panels. The video captured the moments after satellite separation from the rocket, with a spectacular view of Earth and then a surprise fly-by of the Fregat upper stage of the Soyuz-2 rocket. This was our own mini space adventure movie and definitely a highlight in the past year for us.
Just a month after launch, our operations team received five close approach warnings for TechDemoSat-1 and responded quickly by commissioning a new type of on-board propulsion system. The Hollow Cathode Thruster was fired up and, working seamlessly with resistojet propulsion, TechDemoSat-1 was successfully moved out of the path of an object from the U.S. Defense Meteorological Satellite Program. A week later, the new Hollow Cathode Thruster managed a second workout with yet another collision alert, this time to dodge its ride-share, UKube-1. Aside from TechDemoSat-1's collision alerts, the satellite's payloads are cause for excitement in the U.K. We are proud to have built and launched the U.K.'s technology demonstration mission, which hosts eight payloads from U.K. academia and industry, providing valuable on orbit validation for new technologies—we are looking forward to seeing their results in the coming months. The mission is also flying several SSTL developments, and we've already had early data from the Sea State Payload, which measures ocean winds and waves from space using GNSS reflectometry—a new method that paves the way cost effective improvements to weather services and climate research.
In August, the launch of the Galileo 5 and 6 FOC satellites occurred, both carrying navigational payloads supplied by the SSTL. Unfortunately, space can be a risky business, and the Galileo satellites were injected into the incorrect orbit. This was naturally disappointing for the team at SSTL who had been manufacturing the 22 navigation payloads we supplied for the constellation. However; we are heartened by the recent news that the two satellites are fully operational and they may be able to supply useful data. Meanwhile, our Galileo FOC team in the U.K. are continuing to manufacture the payloads at a rate of about one every six weeks,and we are looking forward to more launches for this flagship European program next year.
We forged a long and valued relationship with our Algerian space agency (ASAL) colleagues during the AlSat-1 mission and we are delighted to continue that relationship with the signing of the Alsat-1B contract earlier this year. Alsat-1B will be based on the SSTL-100 platform, hosting a 24m multispectral imager and a 12m panchromatic imager. Offering further opportunities for the transfer of skills and the development of local capabilities, 18 ASAL engineers will work alongside SSTL colleagues in the U.K. and study Higher Degrees at the University of Surrey, before undertaking the satellite's assembly and test phase in Algeria.
I've been pleased to see our U.S. operation thrive during the past year. From new, purpose-built facilities in Denver, Colorado, Surrey Satellite Technology US (SST-US) is working closely with the U.S. government and commercial partners to develop innovative and low risk solutions that sustain space programs within challenging budgets. SST-US' new Orbital Test Bed (OTB) business model offers aerospace organizations a low-risk way to test new technologies on an operational LEO mission while sharing the cost of development and launch. The flight manifest for OTB-1 was finalized this year for launch by SpaceX Falcon Heavy. Based on a modular adaptation of the SSTL-150 platform pioneered for the CFESat mission, OTB-1 will fly five payloads, including the Deep Space Atomic Clock (DSAC) for NASA's Space Technology Mission Directorate, U.S. Air Force and university payloads plus a de-orbit device. OTB-2 planning is already underway.
Hosted Payloads are another route to lower cost research and development. The U.S. Air Force Space and Missile Systems Center (SMC) Contracting Directorate also awarded our U.S. office a contract under the Hosted Payload Solutions (HoPS) program, offering government customers fast, regular, cost-effective options for maintaining and developing defence and civil space architectures. In September, SST-US was also awarded a contract by NASA's Goddard Space Flight Center to conduct the Sustainable Land Imaging (SLI) Reduced Instrument Envelope Study. SST-US is investigating smaller and lighter alternatives to the sensors currently flying on Landsat 8 and investigating new technologies for sensors that may be considered for the Landsat 10 program and other missions. NASA's SLI Office has committed to researching a satellite, or constellation of satellites, that will be smaller and more economical than Landsat 8, all the while maintaining data continuity.
At the close of the year, our manufacturing pipeline remains extremely busy with our first Synthetic Aperture Radar (SAR) satellite, NovaSAR, three DMC3 constellation spacecraft, seven FORMOSAT-7 spacecraft, AlSat-1B, KazSTSat, and the modules for our U.S. operation's Orbital Test Bed—all going through our cleanrooms. Other significant projects include avionics suites for the Russian Kanopus program and the qualification of our small GEO platform structure.
Much in the news this year, I'm delighted that the U.K. space sector continues to flourish. The sector is currently worth £11.3 billion to the U.K. economy and growing at more than seven percent per year. I'm gratified that SSTL is part of this growth, sustaining an average growth of 26 percent in turnover figures, year on year. This year we achieved recognition for our success, winning "Best Aerospace & Defence company 2014" at the "Made in the U.K." awards in July.
As I look ahead into 2015, I'm heartened that small satellites are no longer confined to Low Earth Orbit (LEO) missions. SSTL has developed GMP-T, a small, geostationary satellite platform that will deliver up to 5.5kW power and up to 8GHz of Ka-band or 1GHz of Ku-band. Our GMP-T platform is designed for smaller domestic telecoms operators in emerging markets and established global commercial satellite operators looking for cost-effective and rapid deployment. We are close to being able to share some news about our first customer..
Next year looks set to be equally as productive and we hope for more challenges, milestones and successes. We already know that we can look forward to more Galileo launches, and the launch of our three DMC3 constellation spacecraft, which will be launched by ISRO from Sriharikota in India.
Everything else is fluid, and we like it that way. Our success is built on innovation in technology and in how we approach our customers' challenges. No doubt we will be helping new friends and old change the economics of space in 2015.
---
By Mitja Lovsin, Sales Director
STN is a Global provider of broadcast over satellite solutions with the capabilities to offer multiple solutions, satellites
and the platforms best-suited and tailored to individual customer requirements.

Our strong reputation has led us to be the trusted partner to more than 400 hundred TV channels to date. Looking back on 2014, one of the highlights for us was certainly the company's 10 year celebration. This event was a wonderful opportunity to be joined by our esteemed partners and associates within the industry, some of whom have been with us since the inception of our company and who have always believed in our operational strengths and potential. This occasion certainly did not pass quietly… the decade of service celebration included a gathering in a castle on an island as well as SatNews' Publisher Silvano Payne, who was one of the invited guests.
Rewind 14 years and one can see just how much the Lovsin family has to celebrate. Their careers started not in the satellite industry, rather… as documentarians. Several of their award-winning films garnered much attention after they were broadcast on a local television station. The station acquired so many of the Lovsins' films that the family eventually became co-owners of the station.
As viewership grew throughout Slovenia and beyond, the family decided to start broadcasting their content via satellite. As the lack of services in their region didn't offer such satellite broadcast services, the family quickly determined they needed to build their own uplink facility. The first step was taken when an antenna was purchased and the initial 24/7 broadcasting services were initiated, using their first distribution satellite.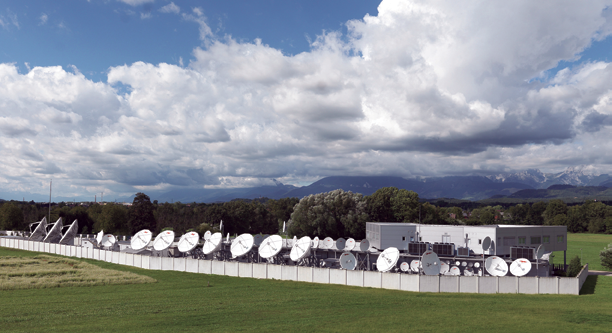 Two years after their first broadcast, the Lovsins made the crucial decision to focus on becoming a full service teleport. In 2004, Satellite Telecommunications Network was born—with only two employees, four Antennas (3RX + 1TX) for uplink/downlink reception, and 50 m² (538.20 sq. ft.) of space in Slovenia's capital, Ljubljana.
During the celebration, the company's year on year changes and developments were discussed, from a small startup enterprise in 2004 to becoming a serious competitor in the industry today. I don't intend to sound boastful… but we were proud.
The facility now has a capacity for 900 channels and the planned construction of EQC2 in the coming years will provide the ability to broadcast an additional 400 to 500 TV channels. Due to the long-term focus of the management team and their drive for further company growth, with additional land acquired, the foundation has now been set that will allow STN Teleport to bring into play capacity for more than 20 new antennas, which range in size from six to 15 meters.
This year, I think anyone working in a global industry such as ours could not help but be somehow impacted by the political and economic unrest in our world. At times, the disruptions were extremely unpredictable and disturbing. What was important for us was to remain adaptable in terms of selecting the stronger markets where business opportunities continue to grow.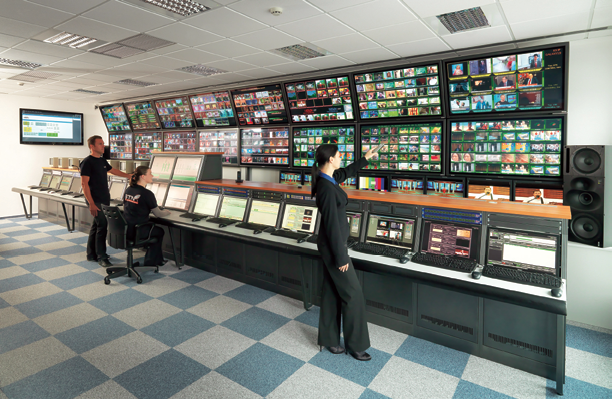 The ability to react swiftly and change course whenever necessary has always been one STN's strong advantages—as one market slowly closes, we quickly re-construct and adapt our focus onto new opportunities. This capability makes STN somewhat unique.
One of the next steps in viewing technology that is becoming quite clear to us is to broadcast signals via the 4K (UHDTV) standard. Our opinion is that this technology is still at an early stage and the real commercial implication to the market will most probably require another three to five years for market acceptance and technology stability. However, that being said, STN is already fully equipped and ready to implement service requirements should UHDTV become cemented into place faster than is expected.
I think a fair assessment for businesses in our industry would be that maintaining any company's growth at a steady pace is becoming more and more difficult, mainly due to all of the changes occurring throughout the world and new competitors arriving in the market.
STN is no exception; however, with a strong team working together and the ability to quickly alter directions when required, this ship is definitely staying on course. The future for any company is difficult to predict. However, reviewing our last five years of history, I am confident that STN will continue on its path of increasing growth and building an even bigger and stronger business in the years ahead.
I believe a realistic goal for STN is to become more of an innovator and leader in the industry and one of the most recognized global teleports in the market—we look forward to the challenges that come with success.
---