Janne T. Morstøl is COO of T-VIPS AS, a technology company providing professional video transport solutions. She is one of the founders of the company, and manages key functions within the company including R&D, Support, Finance and Administration. Ms. Morstøl joined T-VIPS from TANDBERG Television where she served in several management positions in Engineering and Business Development. In 2001 and 2002 she worked as Program Director at Zonavi, a Telenor-owned ITV company. Ms. Morstøl is also on the Board of Directors of Vizrt, a Norwegian-based provider of 3D graphics and asset management tools for the broadcast industry. Ms. Morstøl holds a Siv.Ing (equivalent to Master of Sciences) from the Norwegian University of Science and Technology and an MBA from the Norwegian School of Economics and Business Administration. Ms. Morstøl currently resides in Oslo, Norway, and has been a member of the Company's board since November 2010.
SM
Good day, Ms. Morstøl. The broadcasting industry and its connection to satellite communications possesses a strong technical bond and continues to increase, with satellite broadcasting now outpacing cable delivery of content. What role does T-VIPS play in this industry?
Janne Morstøl
T-VIPS is a leading IP-based video network that empowers high-profile network operators, broadcasters and post-production customers in more than 50 countries with innovative solutions that deliver significant operational and financial benefits. T-VIPS pioneered the use of JPEG2000 for high quality video transport.
We have recently launched our first MPEG-4 video gateway with the goal of targeting low bit-rate contribution links such as Satellite transmissions. T-VIPS' engineering team have deep experience in transport stream processing and have introduced innovative solutions to ensure reliable delivery of high quality video over IP-based video networks. We specialize in delivering solutions for transporting, processing and monitoring professional video broadcast signals. Our products are used in live broadcast contribution, transport of video between studios, feeding from broadcaster to transmitters in terrestrial networks, regional content handling, local adaptation systems and monitoring and switching.
T-VIPS' close involvement in video standards bodies, leadership in JPEG2000, expertise in IP and transport stream multiplexing, processing and monitoring results in state-of-the-art technology that makes complex broadcast network operations simpler and preserves the integrity of high-end video streams. T-VIPS solutions are also used in many demanding applications, including 1080/60p, 3DTV, alternative content for digital cinema, live HD sports and news back-haul, and the transport of HDTV programming over IP networks.
Among those currently deploying T-VIPS IP-based video transport solutions are News 12 Long Island, who use TVG430 HD JPEG2000 Gateways for transmission of HD and SD signals over IP.
The Atlanta CBS affiliate WSB, uses T-VIPS' TVG415 SD JPEG2000 Gateway for ENG transmission from mobile trucks to the studio. WFTV-DT, an ABC affiliate in Orlando, employs T-VIPS' TVG420 ASI to IP Video Gateway systems for real-time backhaul of HD ENG news footage over IP networks.
Global Crossing, a leading global IP service provider, uses T-VIPS TVG425 Transport Stream Gateways for IP conversion. Optimum Lightpath, a provider of MetroEthernet-based data, Internet, voice and video transport solutions to the New York City area, a substantial number of T-VIPS units in its IP contribution network.
PBS station WNET in New York City selected the T-VIPS TVG420 ASI to IP Gateway solution to transmit the stations' locally produced programming over an IP network to the PBS Network Operations Center, in Alexandria, VA. Another PBS affiliate uses T-VIPS' CP525 cMUX remultiplexers to achieve increases reliability by monitoring and switching of incoming transport streams and for local PSIP rebranding at each of its transmitter sites, across its multi-station network. Boston PBS affiliate, WGBH, employs the T-VIPS CP510 Transport Stream Processor to filter select services from the WGBH-DT transport stream for delivery to Thames Valley Communications, a cable television, high-speed Internet, and digital phone service provider in Groton, Connecticut.
Numerous additional TV stations in the U.S. are using T-VIPS' CP505 ATSC Processor and CP525 cMUX remultiplexers to insert PSIP information into transport streams.
Several high-end Hollywood post production facilities, including MTI Film and Skywalker Sound, deploy T-VIPS JPEG2000-based Video Gateways for real-time transmission of high-quality video and audio for offsite reviews, color correction, approvals and collaboration.
T-VIPS is privately-held company and headquartered in Oslo, Norway, with Americas' headquarters in New Jersey.
SM
You have several years of experience, ranging from being a Program Director for a Telenor-owned ITV firm, to engineering and business development positions with TANDBERG Television. What was your motivation in founding T-VIPS?
Janne Morstøl
I saw that the video world was moving to IP – I was responsible for the IPTV business segment with Tandberg Television so I was aware of the opportunity for utilizing IP as a video transport technology. At the same time, I recognized that the focus of the larger vendors was in last-mile compression technologies and saw an opening to drive innovation in the contribution segment. In parallel the Digital Cinema industry was embracing JPEG2000 and we were excited by the possibility that this technology might provide in high quality video contribution.
SM
What are T-VIPS' strengths in the satellite broadcasting segment? Why do you believe T-VIPS' products offer greater efficacy than other offerings?
Janne Morstøl
T-VIPS brings unique expertise in delivering high quality contribution technology over IP video networks. With the launch of the TVG650/610 MPEG-4 products we now offer the market a best of breed point solution for low bandwidth contribution and addition assist the Satellite operators in deploying hybrid solutions including satellite and fiber based IP networks. We believe the timing is right for Satellite operators to take advantage of the flexibility and cost benefits of IP. T-VIPS pioneered the JPEG2000 codec for broadcast applications because of the anticipated growth of IP in broadcast and understood that this codec was particularly well suited for IP video transport.
As the quantity, quality and value of digital assets grows, content owners, producers and broadcasters want to avoid image degradation and maintain the highest video quality from acquisition and production through to distribution and storage.
Sending JPEG2000 compressed video over IP networks enables programmers and content owners to preserve the highest image quality and repurpose their digital assets for all device formats. This allows the broadcaster to not only deliver the content to big HD/3D screens but also reformat the content to deliver a high-quality internet or mobile video viewing experience.
Moving JPEG2000 compressed video over IP transport networks addresses the technical challenges facing broadcasters today and well into the future.
SM
We note your recent launch of your Company's TVG650 and TVG610 MPEG-4 Contribution Encoders. What was the impetus behind the development of these products? What are the goals for these products?
Janne Morstøl
We're a growing company and have decided that the time now is right to extend our product offering to cover lower bandwidth contribution solutions. We have been a pioneer in delivering high quality contribution solutions and this launch continues in that same tradition. The bandwidth footprint of our existing product portfolio is from 80-160 Mbit for HD all the way up 600 Mbit for 3D. With the TVG610/TVG650 we will meet the needs of customers with available bandwidth of 10 to 60Mbits. The new products fill a gap in our product portfolio. With the launch of these new products we will gain access to new market segment and additional revenue streams. The products are aimed at the Satellite and lower bit rate Telco contribution segments. We believe the TVG650/610 will prove to be the best high end MPEG-4 10 bit solutions available in the market.
The TVG650 and TVG610 combine easily with other T-VIPS products to provide a robust satellite or telco contribution solution, in particular the CP525 cMUX Remultiplexer for intelligent processing, multiplexing and scrambling of MPEG-2 transport streams and the TNS541 Seamless TS Monitoring Switch for intelligent 1+1 redundancy switch-over between two MPEG-2 transport streams.
SM
How will commercial operators benefit from using either of these units, and how will they impact an operator's bottom line and operational efficiency?
Janne Morstøl
Deploying high quality TV services over a cost effective IP video infrastructure brings competitive advantages as well as commercial benefits. In terms of reliability, today's IP video transport solutions are robust with a built-in quality of service (QoS), including advance error handling techniques such as Forward Error Correction (FEC). The availability, reliability and uptime of IP networks has improved dramatically in the last decade, and they have now reached the quality level required for video transport. Those currently using microwave links can introduce IP in the microwave network. IP is an extremely flexible domain. Signals can be routed to many different locations. Microwave transmission operates on a point-to-point, line-of-sight basis. IP-based video networks are ideal for sending the same signal to multiple locations. IP connectivity has a lower cost than satellite or legacy Telco networks. IP also means that video can be distributed over generic Ethernet networks, rather than the whole distribution network being video or broadcast-centric. This saves cost and makes it easier to contribute content from wherever it's generated. This is particularly true for news footage or for sports and events at smaller venues that may not have dedicated links already installed.
ATM and SDH/SONET systems are more expensive to deploy and harder and more costly to maintain than today's IP-based networks. IP/Ethernet switches are commodity-off-the-shelf hardware, enabling an inexpensive deployment process. The availability of manpower with knowledge and IP/Ethernet know-how is abundant. There are cost-savings and flexibility benefits when moving to an IP-based infrastructure that make for an attractive ROI scenario.
IP connectivity has a lower cost than satellite or video telco networks. IP also means that video can be distributed over generic Ethernet networks, rather than the whole distribution network being video or broadcast-centric. This saves cost and makes it easier to contribute content from wherever it's generated. This is particularly true for news footage or for sports and events at smaller venues that may not have dedicated cable or satellite links already installed.
SM
Would you please take the time to describe a best case scenario in terms of a satellite operator employing your encoder/decoder products?
Janne Morstøl
We would like to see customers deploying the 10 bit option of our MPEG-4 Encoder to contribute high value video assets such a live premium sports event over their existing Satellite infrastructure.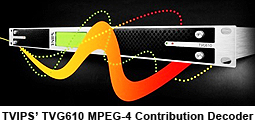 SM
With your Company's focus on these products, does this indicate T-VIPS is going to abandon JPEG2000 technology in its product line? Please explain...
Janne Morstøl
We have been the pioneers of JPEG2000 for as long as we have existed — we lead the market with our JPEG solutions we intend to remain at the forefront of JPEG2000 developments. We continue to believe that where customers have access to the required bandwidth, JPEG2000 out-performs all contenders. With the TVG610/TVG650 we will meet the needs of customers with available bandwidth of 10 - 60 Mbit. The new products fill a gap in our product portfolio.
With the launch of these new products we will gain access to new market segment and additional revenue streams. The products are aimed at the Satellite and lower bit rate Telco contribution segments. We believe the TVG650/610 will prove to be the best high end MPEG-4. 10 bit solutions available in the market.
From the start, our strategy has been to deliver high quality contribution solutions. We believe the time is right for MPEG-4 with availability and maturity of MPEG-4 AVC 10-bit 4:2:2 coding technology for SD and HD signals.
We are growing as an organization and now have the manpower and skills to carry a wider range of products. We strive to be responsive to our customer requirements and believe these new products will be a good match for the needs expressed by some of our customers (particularly in the APAC region).
The applications for these two new products include: satellite and IP contribution, live event coverage, primary distribution, studio-to-studio media exchange, outside broadcast production, and professional broadcast contribution. And we have no plans to enter the DTH market. Our current focus continues to be the high end contribution market.
SM
T-VIPS already offers a number of products, from video gateways to management solutions... does T-VIPS have plans for additional technologies and product lines, such as was demonstrated by your aforementioned encoders/decoders debut?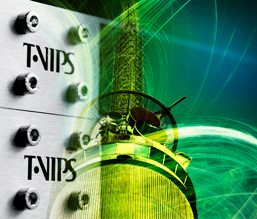 Janne Morstøl
We are constantly reviewing market trends and listening to our customers and will naturally bring new products and solutions to the market but we cannot go into details at this time.
SM
Would you tell us something about your T-VIPS Connect monitoring solution?
Janne Morstøl
T-VIPS' CONNECT is a web-based client server management system for the management and operation of video transport networks. From CONNECT, an operator can handle the management of inventory, set-up and tear down of connections between T-VIPS transport stream processors, multiplexers and gateways. Connect also enables equipment configuration, status monitoring and scheduling of connections. The entire video transport process is combined in one managed system and operated from one screen.
SM
What challenges do you foresee for the satellite broadcasting industry, both from a technical product development standpoint as well as in terms of entering this market as a Company unfamiliar with many of the network providers?
Janne Morstøl
Entering the Satellite space means maximizing limited bandwidth and that in turn means delivering the highest quality video at the lowest possible bit rate. Our best of breed products utilize the most efficient video compression technologies to meet this challenge.
SM
How will mobile technologies, OTT, IPTV, web streaming and so on impact T-VIPS' product lines? How will you market into these arenas?
Janne Morstøl
As operators need to reach multiple device types as well as merging broadcast services with broadband content distribution, the flexibility of IP contribution networks becomes increasingly relevant.
The customer expects a high-quality visual experience, regardless of the viewing device. The broadcaster has to deliver content compatible with the highest video quality device - the large TV set in the living room. This means the broadcaster has to design, at least the first part of his content delivery network, the contribution network, to deliver the highest video quality possible.
There's a clear trend now among broadcasters of designing contribution infrastructures to support 10 bit/1080p, even though most of their current contribution is in HD at 1080i or 720p or even SD. The transcoding to prepare the content for different viewing devices happens in the studio, allowing the quality and format to be tailored for the various device screens and resolutions and simultaneously archiving the content for future re-purposing. The use of IP networks makes it economically viable to keep the content at high-quality for as long as possible throughout the video chain, which makes transcoding more effective and efficient when handled centrally.
SM
Given your years of experience, what projects that you have accomplished bring a smile of satisfaction to your face?
J
anne Morstøl
If I think back, our greatest achievement was launching the company's first video gateway - the TVG420 ASI to IP Gateway, and I'm still smiling because it is still in the field and still working flawlessly.