Within its recently released Broadband Satellite Markets 12th Edition study, NSR undertook an assessment of key global trends in the interrelated satellite backhaul and trunking markets.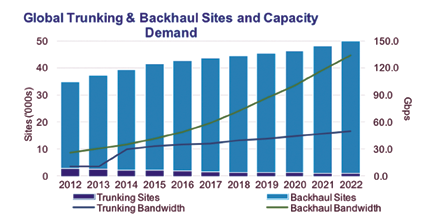 For the arguably more important backhaul segment, NSR forecasts a better than 50 percent increase in the global installed base of backhaul sites between 2012 and 2022. Much of this will be driven by the dual trends towards picocell/smallcell backhaul and HTS/MEO-HTS provisioned backhaul services.
NSR continues to maintain that the single most important trend for the satellite backhaul market is the need to cost effectively serve 3G/4G/LTS backhaul requirements for mobile operator clients. This will inevitably drive the backhaul market to the use of HTS and MEO-HTS capacity in the coming years with NSR projecting that combined HTS/MEO-HTS capacity demand will grow by 133.5 Gbps by 2022 for backhaul services alone.
While NSR sees a continued role for C- and Ku-band provisioned backhaul services over the entire forecast period, as well as the emergence of some widebeam Ka-band backhaul networks, it is nonetheless expected that the installed base of C/Ku backhaul sites will peak in 2015 and then begin to decline.
For the satellite trunking market, it is no secret that this segment has been under pressure for the last several years. The total global base of satellite trunking sites is projected to drop by almost 70 percent between 2012 and 2022. Most of the decline will be for legacy C/Ku-band services giving way to encroaching undersea cable and terrestrial fiber, mainly in the Sub-Saharan African and Asian markets.
However, this drop in installed base disguises a critical trend in the satellite trunking market of new MEO-HTS provisioned trunking services emerging with capacity cost points competitive with fiber. Starting with the commercial launch of O3b Networks service in 2014, NSR expects a significant increase in trunking bandwidth demand driven mainly by these high throughout MEO-HTS trunking sites.
Further, NSR believes that the migration to MEO-HTS capacity will help to stabilize trunking revenues for the satellite industry. Granted, legacy C/Ku-band trunking service providers will see declining revenues, but at least much of that will transition to those players who successfully sell MEO-HTS and HTS trunking services to end clients.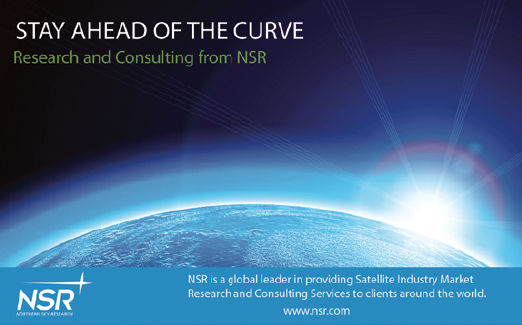 For the combined satellite trunking and backhaul markets, there is no doubt that the backhaul market vertical overshadows the trunking market in terms of pure installed base. Yet, this analysis misses the fact that the trunking and backhaul markets are much more a satellite capacity play than an installed base play. In particular, the emergence of MEO-HTS and HTS provisioned trunking and backhaul sites will be the key trend in these market verticals in the coming ten years.
For the last several years, the installed base of mainly C-band trunking sites has been declining in the face of new undersea cable and terrestrial fiber. This trend will continue, however already in 2013 for HTS-provisioned trunking services and starting in 2014 with MEO-HTS trunking, NSR expects to see a re-emergence of growth in satellite-provisioned trunking services as the much more cost competitive MEO-HTS and HTS trunking solutions begin to be adopted in many regions around the world.
Similarly, HTS-provisioned backhaul is already making strong headway in Asia and NSR expects to see the rapid spread of HTS and MEO-HTS backhaul sites the world over as the satellite industry seeks to position itself to cost effectively meet the backhaul needs for rapidly expanding 3G/4G/LTE networks. There is even real potential for new hybrid terrestrial/satellite backhaul solutions even for the most developed countries.
Information for this article was extracted from NSR's report: Broadband Satellite Markets, 12th Edition. More info at
http://www.nsr.com/research-reports/satellite-communications/broadband-satellite-markets-12th-edition/
About the author
Mr. Del Rosario is a senior member of the consulting team where he focuses his research on quantitative modeling, data verification, and market forecasting for the commercial and government satellite communications sectors. He conducts ongoing research with specialization in policy analysis, economic indicators, regulatory initiatives and end user demand trends. In addition to authoring numerous syndicated reports in his areas of focus, Mr. Del Rosario has been involved in a wide range of strategic consulting projects. He has advised clients on market trends, implications, and strategies.