Satellite communications usage at sea typically reflects trends on land and, today, more than ever, the maritime community is relying upon connectivity to increase operational efficiency as well as to support passenger and crew welfare. However, in order to offer a similar connectivity experience as those experienced in the home or office—enabling access to social media, email & Internet as well as free or low-cost contact with family and friends while at sea—service providers must offer an efficient balance between cost, coverage and performance.

In the last decade, maritime SATCOMs services have become more widely available. Technology has evolved to support high quality bandwidth and connection speeds that previously could not be achieved. The introductions of link optimization, filtering and security tools have all contributed to the increased accessibility of maritime connectivity, while the availability of more bandwidth has enabled customers to benefit from increasingly advanced applications and to support multiple, simultaneous, network users.
These developments have seen usage increase and costs to be reduced. Yet, by the very nature of the maritime environment, it is still less affordable to connect to the Internet at sea than it is to logon from home or the office.
Expanding Coverage
An on-going challenge for providing connectivity at sea is coverage and obtaining enough bandwidth. However, near global coverage is now available.
Marlink
parent company Astrium Services has been a key player in improving the availability of SATCOMs at sea and has made a number of coverage extension deals in the past 12 months. In November of last year,
Astrium
Services
renewed capacity on the SES-4 satellite to provide Marlink and other Service Provider customers with advanced services for maritime business communications, tracking equipment and engine performance, as well as ensuring crew and passengers experience high levels of availability.
Located at 338 degrees East,
SES-4
is among several SES satellites providing capacity to Astrium Services, enabling the company to fashion services to satisfy the specific needs of various customers. In September,
Astrium Services Business Communications
leveraged capacity on the
Intelsat 22
satellite to enhance its maritime VSAT services, such as
WaveCall
™ and
Pharostar
™, with Indian Ocean coverage. Astrium Services is also using the
Intelsat 21
satellite, which is designed to provide Ku-band coverage in the southern Atlantic Ocean, to expand the maritime VSAT service capacity in specific regions that demand more coverage.
The most recent coverage extension was In February of 2013, when Astrium Services announced a deal with Intelsat for C-band capacity to be used by maritime customers in the Mediterranean, Atlantic Ocean, North Sea and Gulf of Mexico. The agreement was made to meet the high bandwidth requirements of C-band customized VSAT users, and supports broadband and expanded capabilities in the cruise, ferry and offshore sectors. Marlink will use C-band capacity on the
Intelsat 907
at 332.5 degrees East to provide fast, reliable data connectivity and voice communication for passengers and operational purposes through its Sealink service.
Hybrid Networks
With VSAT and global L-band coverage from
Iridium
and
Inmarsat
, there is now satellite communications coverage for all of this planet's oceans. Many vessels operate closer to land, whch means 3G/4G connectivity is a possibility. In ports, Wi-Fi is already well established.
All of these carriers are different. WiMax is also available and even TVRO can be used for communication, where inbound data can be channelled through a vessel's satellite TV antenna. All these channels have positives and negatives. For the majority of vessels, a single service (usually L-band or VSAT) may be selected but some vessels, with hundreds or thousands of passengers, have higher bandwidth requirements. In order to provide them with connectivity services that are on par with what a customer may have at home, a single carrier may not be the best solution.
Hybrid networks, which integrate different services, can offer all of the bandwidth that's needed, while also offering more reasonable costs. Such is achieved by automatically selecting the least cost carrier, depending on where a vessel is at any one time. If a vessel is within 3G or 4G range, there would be an automatic switch from VSAT or L-band to the ship's on-board Wi-Fi.
Rather than simply installing a range of disparate services and equipment, the critical aspect that delivers true hybrid, onboard networking is a central operations center that can manage and automatically select the best carrier for the job. Although this technology is in its relative infancy, Marlink has completed a number of custom projects for passenger vessels using the
XChange
solution from Astrium Services to provide the switch between VSAT and L-band. This has assisted the operator in offering free or low-cost vessel-wide Wi-Fi, the charged amount based on the savings the operator can accrue through least-cost routing.
XChange is an integrated solutions platform, providing a single solution for voice, VoIP, data and Internet access—all independent of the satellite network in use. This technology helps to turn ships into mobile offices and provides reliable voice, data and VoIP communications to seafarers and crew—while IT managers on shore can maintain full control over the shipboard network infrastructure. Satellite services automatically switch, based on available coverage in any given area.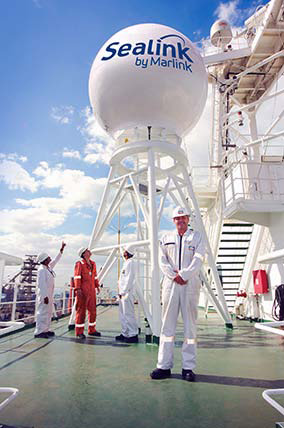 Passenger Connectivity
An established ferry operator in northwest Europe is using a customer-specific solution from Marlink to provide improved, free, Internet connectivity for passengers on seven ferries serving Scandinavian routes. The solution, called
CoastalRoam
, is only available as a custom project, installed by specific request, but it does reflect the future possibilities for custom hybrid networks as a mainstream service. It is a specially developed addition to the
Sealink
customized VSAT services already in use aboard the customers' vessels and was deployed following a user trial aboard a single ferry on its route between Sweden and Denmark.
The customer operates 20 routes with a modern fleet of 38 vessels, including fast ferries, traditional combi-ferries, RoPax ferries for freight and passengers, and RoRo ferries purely for freight in Scandinavia, the North Sea and the Irish Sea. The passenger vessel market is competitive—this demands a high level of services on board that include value-adds such as free Internet connectivity for passengers. The operator's goal is to make any voyage as comfortable and convenient for the passengers as possible. The company understood that Internet connectivity is crucial toward achieving this goal,—however, the offer of free Wi-Fi on board for hundreds of users was difficult to achieve in a cost effective manner. The ferry company asked Marlink to help them overcome this challenge, to enable them to confidently offer the service and balance the Wi-Fi costs versus the expected high levels of customer satisfaction free Internet would generate.
CoastalRoam is specifically designed for this customer and was made possible through the company's existing use of the Sealink service. The solution integrates satellite with 3G and 4G for vessels sailing around Norway, Sweden, Poland, Germany and Denmark. Whenever the vessels are within range, the public Internet on board the vessel switches automatically to the fastest service available, using a lower cost carrier for free passenger connectivity.
The combination of 3G antennas and the Sealink customized VSAT services on board these seven ferries now ensures seamless free connectivity for passengers. As CoastalRoam enables automatic switching, the system is able to locate the fastest and least-cost connectivity available at any given time. This makes the service cost and time effective for the ferry operator and helps them to remain competitive in the market. Free Internet for passengers is readily available via 3G and 4G when in range and on VSAT at other times, while the Sealink customized VSAT service is used to provide highly reliable and cost-effective connectivity for critical vessel business operations, in addition to supporting additional businesses on board the ferry.
The adoption of hybrid solutions at sea will not be an overnight sensation—it will likely be led by passenger vessel operators, who understand the value customers place on Internet access. The first CoastalRoam project was unique—the seed has been planted and hybrid connectivity will continue to garner attention.
4G is already being implemented using a similar solution for another Marlink customer in Norway. The focus here was not to offer free passenger connectivity. Instead, this ferry operator is using the potential of faster, more available, and lower-cost connectivity to improve the Internet services it offers as part of its business conference portfolio. By being able to show conference organizers that their guests will experience high levels of connectivity while on board, this customer is able to enhance its offering and grow its unique approach by offering business conference facilities on board its vessels.
The hybrid system is also enabled for other carrier technologies, such as Wi-Fi and WiMAX. The first CoastalRoam customer aims to expand its use to other operational locations and is actively seeking telecom providers with good 3G and 4G coverage and competitive prices as partners to replicate the ground-breaking solution already enjoyed on the operator's Scandinavian ferries.