Dr. Arunas Slekys is vice president of Corporate Marketing, as well as vice president and general manager of the Russia & CIS Business for Hughes, a wholly owned subsidiary of EchoStar Company. In these dual positions, he is responsible for managing all of Hughes marketing and advocacy initiatives worldwide, along with overall P&L responsibility for the company's broadband satellite business in Russia, Ukraine, and the CIS countries.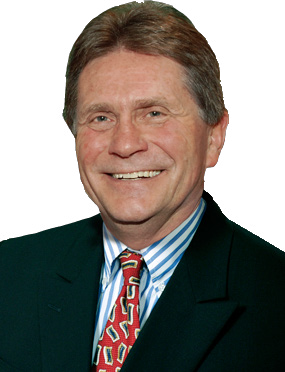 Previously, Dr. Slekys served as vice president of the Wireless Networks Division at Hughes, responsible for the product line business comprising the AIReach® family of digital cellular mobile, wireless loop, and wireless data (CDPD) systems. During this period he was elected and served for several years on the CTIA board. His long affiliation with the wireless industry began at NovAtel Communications, Ltd. in Calgary Alberta, where he served from the company's inception as senior vice president for product research and development, spearheading its success worldwide in the cellular mobile and systems marketplace. In 1991 he was awarded the Alberta Centennial Engineering Award for attaining the highest distinction in his profession.
Slekys began his telecommunications career over 30 years ago at Caltech's Jet Propulsion Laboratory, where he worked as a digital communications research engineer, developing deep space network and pulsar tracking systems. He later joined Bell Canada Systems and, subsequently, Bell Northern Software Research, managing switched-network related systems development and advanced technology programs.
He holds a bachelor of applied science degree in electrical engineering from the University of Toronto, an M.Sc. degree from the University of Illinois, and a PhD in computer and communications engineering from UCLA. Slekys is co-author of a founding patent for CDPD (Cellular Digital Packet Data) systems and is a frequently published author on satellite and wireless communications. He is the elected Chairman of the Board of the Global VSAT Forum.
SatMagazine (SM)
Dr. Slekys, would you provide our readers with your background and how you came to decide to further your career with Hughes Network Systems?
Dr. Arunas Slekys
Half of my 40-year career has been with Hughes, a company which is all about challenging conventional wisdom, whether it concerns technology or business. You could say that innovation is what drives me, from my first job at NASA/JPL in the 70s developing Deep Space network systems (while completing my PhD in engineering at UCLA), to heading up R&D at cellular start-up NovAtel Communications in the 80s, where we led the rural systems marketplace and were first to develop a wireless data modem in an IBM laptop. During that program, I co-authored a patent on cellular packet data that became the basis for CDPD systems.
Not surprisingly, joining Hughes was a natural fit for me, and presented the new challenge of moving into a business leadership role after 15 years in R&D; I'm proud to have helped plant our technology flag in many countries, as well as promoting our world-known brand and advocating for the satellite industry through groups like the Global VSAT Forum (GVF), of which I'm Chairman.
SM
With such a number of responsibilities, the challenge must be in focusing on projects by their priority—what do you consider to be Hughes' most important initiatives as of this interview, and any adjustments due to sequestration?
Dr. Arunas Slekys
As noted earlier, bringing JUPITER technology to the global market is clearly our focus internationally, while we continue to expand our highly successful HughesNet Gen4 consumer Internet business in North America, now with over 700,000 subscribers, the world's largest satellite network of any kind.
We placed a big bet on this business over 10 years ago when there were plenty of naysayers, and stayed with it to where it's now the fastest growing part of Hughes, and indeed the industry. On the enterprise side, we're making great inroads into managed network services across a wide range of verticals, including banks, retailers, oil/gas, lotteries, cinemas and government agencies/ministries to name a few.
We've recently combined our expanding range of managed services under the HughesON™ brand—providing comprehensive turnkey solutions, from design to implementation and ongoing service/support at any number of sites across a state, country or worldwide—freeing customers to focus on running their organizations.
Sequestration will certainly curtail the large military-only programs of the past, in which Hughes was not a big player. But it will bring us more COTS opportunities as the defense sector learns to adopt relevant cost-effective offerings already available in areas such as SATCOM-On-The-Move for land, sea and air, and to employ commercial satellite capacity.
SM
Current VSAT systems have evolved over the past 20 years to incorporate many advanced features. Can you describe the VSAT evolution and the system requirements for VSATs with the emergence of HTS satellites?
Dr. Arunas Slekys
Since Hughes invented the VSAT and sold the first commercial Ku-band satellite network to Wal-Mart in the mid-80s, VSATs have evolved dramatically in performance and cost: From a briefcase-size box weighing several kilos connected to an external 1.8m antenna, with a maximum user data rate of 9.6kbps and costing approximately $10,000, to today's JUPITER compact set-top box modem with single cable connection to a 74cm antenna, with maximum throughputs of over 1Gbps and selling for under $500.
At the systems level, we've advanced from single CONUS-coverage Ku-band satellites with a few Gigabits of capacity, to multi-spot beam Ka-band architectures with from tens to 100+ Gigabits of capacity, necessitating new designs for HTS gateways and high-speed user terminals. For example, with JUPITER we've pushed the technology envelope ever closer to theoretical limits— including advancements such as wideband channels with DVB-S2/ACM modulation, high-density gateways with lights-out operation, web acceleration/caching, advanced compression and hardware security—which all taken together result in efficient management of satellite bandwidth and, hence, low OPEX/CAPEX for operators, greater flexibility in creating competitive service plans, and a media-rich customer experience.
SM
Internet access is a key driver for HTS systems—what other applications will drive the usage of HTS Systems?
Dr. Arunas Slekys
Video-rich applications are proliferating, demanding ever-more bandwidth, and HTS systems will serve an increasingly larger role in meeting that need globally. Enterprises and governments are harnessing the power of high-definition video in applications from distance–learning, to digital signage and surveillance/reconnaissance. An emerging area is the defense sector which is under severe budget constraints, and will turn to more affordable commercial capacity as military-only satellite capacities are exhausted, especially for video reconnaissance.
SM
Would you tell our readership about Hughes' JUPITER™ high-throughput technology? How do you see JUPITER impacting the company's business models as well as improving global communications?
Dr. Arunas Slekys
Key elements of JUPITER technology were noted earlier, and clearly the higher performance and lower cost per bit has accelerated growth of our HughesNet Gen4 service. Additionally, we've expanded our distribution network through wholesale agreements with Dish, Frontier and DirecTV, who are bundling satellite broadband with DTH service for the large addressable market without terrestrial broadband connectivity—which in the U.S. alone is estimated at 10 to 15 million households.
Our plan is to add more than 1.5 million new HughesNet subscribers on EchoStar XVII. We expect to continue the healthy double-digit consumer growth rate with JUPITER 2/EchoStar XIX in 2016 and beyond. In the developing world, ability to pay at an individual residence level remains the biggest hurdle, so instead we're seeing novel solutions such as pay-as-you-go Internet kiosks in India, and shared VSAT usage via a WiFi cloud among dacha communities in Russia, where customers can turn their connectivity on and off seasonally during vacations.
The bottom line is that broadband should be an economic imperative of all nations: IMF studies have concluded that a 10 percent increase in broadband connections per capita yields an average 1.2 percent increase in GDP per capita. And satellite is the ideal technology to reach populations cost-effectively in all ex-urban areas, which is where Hughes is focused.
SM
What regions of the world would benefit from JUPITER technology? Do you see other areas (other than U.S.) adopting HTS technology?
Dr. Arunas Slekys
JUPITER™ high-throughput technology is beneficial to all operators planning larger-scale satellite broadband service, and in particular has been optimized for broadband Internet access typical of consumer/small business target markets. The first JUPITER System outside of North America was recently announced by Media Networks Latin America (MNLA) in South America (a Telefonica subsidiary) to expand their successful DTH and broadband services with satellite Internet for households, using Ka-band capacity on Amazonas 3.

In Russia, RSCC is planning launches of several HTS satellites with Ka-band capacity starting later this year and through 2015 (AM5, AM6 and AMU1), also targeting consumers/small business through selected VNOs. The favorable economics of HTS multi-spot beam systems have brought the price/performance of high-speed satellite Internet service down to levels that are competitive with DSL, and though initially available in Ka-band, the same technology could operate in Ku-band. Growth across the globe is inevitable, fueled by the insatiable demand for high-speed connectivity by the huge populations either unserved or underserved by terrestrial broadband.
SM
How is the Russian/CIS market seen by Hughes and what are the challenges for you and Hughes in making inroads into that market?
Dr. Arunas Slekys
Russia and the CIS countries (Ukraine, Azerbaijan, Kazakhstan and Uzbekhistan) has always been a strategic market for Hughes since the early 90s. We've now shipped over 50,000 terminals cumulatively to 24 operator customers, representing more than 50 percent market share. The main challenges have been the predictability of the market itself—which is heavily dependent on government-subsidized programs, such as Internet for schools/rural communities and post offices—and during the past several years, limited satellite capacity due to failed rocket launches.
Successful launches by RSCC of AM5 later this year and AM6 in 2014, plus AMU1 in 2015 (jointly owned with Eutelsat), should break the capacity constraint and lead to possibly several hundreds of thousands of new customers, mostly residential and small business. That's still a small percentage of the population of 150 million, though overcoming the ability-to-pay barrier will likely take some novel solutions and government subsidized initiatives, such as were played out in the U.S. broadband voucher program under the Recovery Act.
SM
An area of great concern to many companies in our industry is that of locating and hiring professionals for the technical areas of program development. Does Hughes support STEM education in our middle and high schools and colleges to help assure a talent pool of viable candidates for future hiring? What course of studies would you recommend for students who are interested in careers within our varied industries?
Dr. Arunas Slekys
Headquartered in Germantown, Maryland, just outside our nation's Capital, Hughes is one of the region's largest employers of engineers and technical talent, with more than 1,500 employees in Maryland, of which more than two-thirds combined have Bachelor's, MS or PhD degrees. Globally we are around 2,000, including our Hughes service companies in Europe, India and Brazil, and sales/support offices in Russia, Mexico and UAE.
Clearly finding and retaining technical talent is an ongoing challenge and we actively hire the brightest graduates available, as well as funding joint programs in engineering and business with selected universities, such as the University of Maryland. We also support STEM education in high schools through initiatives such as FIRST (www.usfirst.org), where I'm on the advisory board and have had the pleasure of judging the amazing robots built by these future technology leaders.
Any course of study in engineering, science or mathematics would be appropriate for an aspiring student interested in the technology side of the satellite industry. But we also need those interested in marketing, communications, sales and business development, particularly with international language and cultural skills, since our industry's scope is truly global—and interesting as it is reflected in the diversity of the Hughes employee base, with more than 50 percent non-white and almost 30 percent female.
SM
What challenges do you see ahead for the industry in the next five to 10 years? How is Hughes best equipped to face these challenges?
Dr. Arunas Slekys
Our primary industry challenge is to keep improving the capacity/performance/cost of satellite networking technology, while also expanding solutions and service offerings, making them more affordable and available to people globally; call it 'The Mainstreaming of Broadband Satellite'. This is a universal objective without a time limit, and requires taking calculated risks and continuing investments in all areas, from core components, to platforms and systems, to applications and market development.
For example, JUPITER technology includes a unique SoC (System on a Chip) that Hughes developed over several years and is now a key component in delivering the latest HughesNet® Gen4 high-speed Internet offerings—from 10 Mbps up to 25 Mbps—the fastest in the industry. At the systems level, Hughes earlier this year announced a major investment in building the next-generation JUPITER 2/EchoStar XIX satellite, which will exceed 150 Gigabits capacity and is planned for launch in the first half of 2016.
It remains for Hughes to do what we do best—keep pushing the envelope on broadband technologies, products, and services, delivering ever more value and competitive-edge benefits to our customers—a strategy that has helped us to successfully navigate through the economic storms of prior years and positions us for strong growth well into the future.
SM
Given your wealth of experience in this industry, when you look back upon your career, what projects truly bring a sense of satisfaction to you?
Dr. Arunas Slekys
Nothing beats the satisfaction of bringing people high quality, affordable technology that can better their lives at work, home or play through better communications—one connection at a time. It's been my privilege over a 40-year career to have played some part in all aspects of that delivery.