Paradigm
By Ulf Sandberg, Managing Director
Paradigm has made strong advances by providing satellite and communication solutions across many sectors and networks and has developed innovative products which are unique within the industry.

User-Friendly & Smaller Satellite Terminals.
High on the list is the development, launch and subsequent excellent market reaction that Paradigm's new flat panel Swarm45 has received. The terminal itself stands out from the competition due to the unit's ultra-portability, impressively high data rates and quick and simple deployment.
Swarm45 provides the BGAN-like simplicity that the industry is demanding—but with the speed of VSAT. The unit's marketing launch and initial deployment in a commercial application at the tail end of 2015 created high levels of interest.
With feedback from key customers and partners, Paradigm has been fine-tuning Swarm45's design throughout 2016 and the result is a truly unique product. Now operational for more than a year on regional satellites and also approved for use on Global Xpress, Swarm45 is suitable for a range of sectors including news gathering, exploration, emergency response, military and government.
Power Of The PIM
The PIM, designed and manufactured by Paradigm, facilitates meeting the demand for mobile satellite terminals which are quick and simple to setup and point. The Indoor and Outdoor PIMs are common terminal interface controllers for VSATs, operational on all satellite networks in any frequency band.

They integrate pointing and M&C along with any industry-standard modem in lightweight and easy-to-use units. The PIM pointing tool on the ruggedized Outdoor PIM allows terminals to be pointed without a spectrum analyzer using intuitive visual and audio cues to guide even unskilled operators. Also removed is the need for bulky auto-acquire solutions which can adversely affect reliability.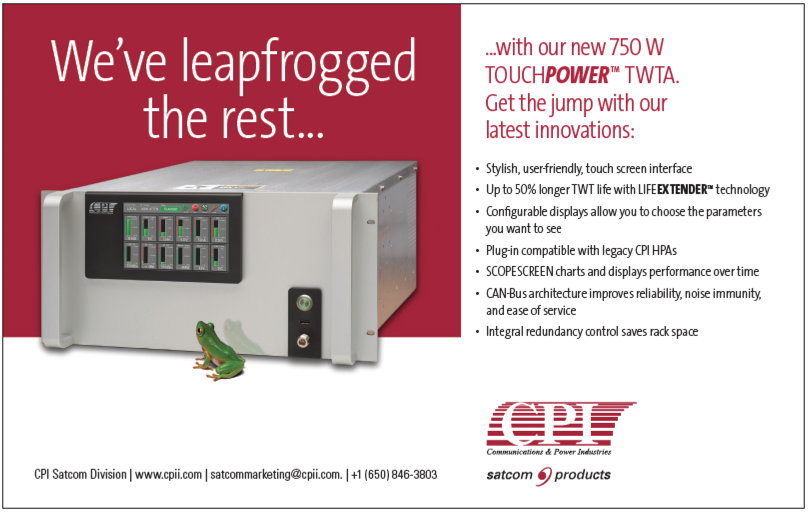 As a Global Xpress (GX) Integration partner with Inmarsat, coupled with Paradigm's engineering expertise, integration of the PIM provides a quick route to the GX market for terminal manufacturers, a fact already used by Datapath for their GX Type Approved terminals.
Increasing Mobility For The Maritime Sector
With the increase of Ka- and Ku-band satellite networks delivering seamless communication across the globe, Paradigm's maritime solutions enable secure and reliable systems to operate wherever they are needed. From design, installation and commissioning, to testing, support and training, during 2016 Paradigm partnered and supplied a number of key projects for maritime customers.
World-Class Testing Facility
2016 also witnessed Paradigm's new facility open in Alton, Hampshire, which is being widely used for satellite equipment testing and training. Well-connected by road and rail to London and all the main London and other airports, this facility offers training rooms, equipped indoor test rooms and outdoor terminal test sites for training, testing and hands-on practical experience.
The facility provides a broad range of satellite equipment as well as good visibility and connectivity to satellite services. Adding value for customers, this test facility does just that. With Paradigm engineers on hand to assist with any training and trouble-shooting required, customers have the space and flexibility to re-create the sort of challenges they can expect when in the field.
Adding Value
Paradigm has always aimed to go the extra mile and 2016 provided to be a fantastic opportunity to demonstrate such endeavors. Selected to urgently provide multiple VSAT systems for an EU-funded African project, Paradigm was able to ensure a reliable and rapid response to this project.
With Europe's largest SATCOM warehouse, equipment was consolidated, individually crated and the initial requirement shipped within a few weeks. Crucially, each system was custom-crated by Paradigm so that, on arrival, the installation and setup could happen as quickly and easily as possible. As the project progressed, Paradigm's advanced distribution system allowed the remaining order requirements to be rolled out as per the customer's specification.
Showcasing New Technology
Paradigm's new TV channel on YouTube, ParadigmTV, was also launched in 2016. Created to showcase the firm's ground breaking satellite terminals, this channel marks some significant steps forward for Paradigm and has become an excellent source for training and information resources.
Looking ahead to 2017, Paradigm is anticipating another exciting year.
Demand for the ultra-portable Swarm45 terminal is expected to rocket, ramping up Paradigm's manufacturing and distribution. In turn, this will generate further refinements and modifications leading to the nexgen of hardware. Increased mobility and even faster deployment without any specialist skills will always be the driving force. Additionally, Paradigm will be acquiring more approvals on more networks and with more satellite operators.
With Ka- and Ku-band High Throughput Satellites (HTS) creating truly global satellite networks of communication, Paradigm will be aiming to step up the firm's focus through the Middle East and Asia.
The recent appointment of Stephen Rudd to develop international business underlines the significance of these markets to Paradigm. Rudd joins the company from Vislink, where he was most recently CEO and previously held the roles of Managing Director of Advent Communications and headed up Vislink Group's Asia Pacific operation from Singapore. Rudd has a successful track record of developing international business and revenue streams and putting business plans into practice.
In 2017, Paradigm also expects to see HTS becoming more available and more accessible, delivering the speed, the global connectivity and the reliability which the market is demanding. Paradigm's product development and its integration knowhow will be well positioned to take full advantage of this advance.
Where Is The Satellite Industry Heading?
The satellite communications industry is no different than other industries in this modern age. Markets are built on supply and demand and the telecoms market is in the forefront of development with users demanding more bandwidth, faster data speeds and a better communication experience everywhere, on tap, day or night.
The satellite communications industry is driven by these models; satellite technology needs to be lighter, smaller and be able deliver a better feeling for the customer. The improved ability of pointing antennas using simple methods and common core hardware has given customers' more confidence, allowing the removal of complex, heavy auto-pointing mechanisms and expensive technical training.
By making the process of pointing an antenna simple and accurate, and building on this user-confidence, hardware becomes faster to point, producing reliable results, over and over again.
The industry has altered its mind-set to favor core, common hardware for that very reason, with confidence and reliability extending beyond the end user. Reducing the size of the equipment has improved the range of applications. Users can now carry hardware as hand luggage on planes, keeping the unit in sight rather than trusting the safety of the plane's hold or requiring specific air-freighting and logistics arrangements to be in place before travel.
The future of the industry is seamless mobility using smaller terminals with simple setups.
paracomm.co.uk/
---
Phasor
By David Helfgott, Chief Executive Officer
When I began working with the team at Phasor, I knew this would be an exciting, challenging and rewarding journey.

Now, at the end of 2016, the company is reflecting on what has been a very strong and promising year. Phasor is proud of the achievements and, as the commercial launch of our unique and game-changing electronically steered antenna draws ever closer, the company can look back on a truly dynamic year.
A New Concept In Antenna Development
The word 'game-changing' is perhaps used a little too liberally within the industry, but this term does sum up Phasor's antenna technology perfectly. The idea of an antenna has been completely rethought.
Phasor wishes to enable commercial users to access true mobile broadband, no matter where they are located—on a high-speed train, in flight on a business jet, or at sea on a cruise ship. Traditional, parabolic antennas are heavy, bulky and prone to failure, which leads to costly, inconvenient downtime and lengthy periods of maintenance.
Phasor's very low profile, electronically-steerable antenna products are based on well-established semiconductor fabrication techniques and enable signal tracking with no moving parts. The antenna architecture is inherently modular, which allows the system to be scaled to various sizes and dimensions depending on the demands of the application.

The system is also conformal and can be integrated to any vehicle or vessel surface. Whether a train, a ship, aircraft or another moving vehicle, Phasor antennas can be shaped to suit any superstructure, reducing drag and giving a much more aesthetically appealing appearance.
Crucial Partnerships
Broadband flat panel antennas (FPAs) are being held up as the vital element that will help to create new value across traditional FSS and new HTS and broadband NGSO value chains.
In 2016, Phasor made some key strategic partnerships and was also able to demonstrate the efficacy of the company's pioneering technology.
In March, a partnership was created with satellite and remote communications services provider Harris CapRock Communications to develop an electronically-steerable antenna (ESA) terminal for commercial cruise.

Together, a maritime terminal based on Phasor's ESA technology that will be developed that will support High Throughput Satellite (HTS) Ku-band SATCOM to be included as part of Harris CapRock's managed services offering. This terminal will be ideal for high mobility and higher bandwidth applications, such as those found in the cruise market.
The cruise sector communications market is experiencing rapid growth and the ships of today have unique connectivity requirements. They combine multiple services, such as passenger broadband-access, retail, banking and hospitality, and this places big demands on their communications infrastructure.
The ability to offer a high standard of connectivity to passengers on board is a differentiating factor. Therefore, reliable and expandable broadband connectivity on board a vessel is imperative.
In October, Phasor announced a Research and Development partnership with Gogo, a global leader in providing broadband connectivity solutions and wireless entertainment to the aviation industry. This partnership will develop the Phasor antenna for the in-flight connectivity market.

Successful Transmit Test
In September, the company took a critical step forward in the productization of an ESA when the transmission of live HD video over the Intelsat 903 satellite from the test site in Essex, UK, was demonstrated.
This was the culmination of many months of work spent carrying out detailed beam pattern measurements on the system. This took place, in coordination with OmniAccess, (Phasor's partner in the Super-Yacht market), in the company's near-field and far-field test ranges and ensured that the dynamic beam forming adhered to the regulatory requirements for live transmissions.
Following lab tests, the 8-module Tx (transmit) system (equivalent in aperture area to a 67cm parabolic dish) was deployed to Phasor's outdoor test site.
The link was successfully established and ran flawlessly for more than two weeks. The 8-module system achieved an impressive uplink performance of 2 Mbps, as defined in the test plan, which involved transmissions from a moving platform demanding rapid beam scanning.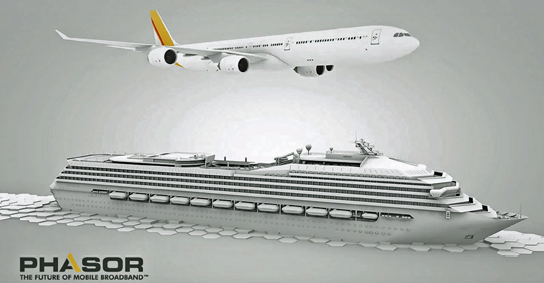 The Phasor antenna was able to transmit a full HD video stream using efficient MODCODs (Modulation and Coding techniques), avoiding the need for any form of inefficient spread-spectrum techniques and maintained perfect pointing with no ASI (Adjacent Satellite Interference) throughout.
Based on the achieved 903 performance, and the known performance of uplink-efficient HTS satellites, this small eight-module Phasor array would be able to close return links of well over 15 Mbps. An aperture equivalent to a 1 meter dish (16 panel system) would achieve a Tx throughput of more than 60 Mbps.
Meeting Expectations
In the coming year, Phasor looks forward to completing productization and commercialization processes, to announcing expanded commercial and partner relationships and to meeting this dynamic and growing commercial mobile broadband market with a superior technology and market-leading product functionality.
phasorsolutions.com/
---
SES Techcom Services
By Gerhard Bethscheider, Managing Director
2016 has seen SES Techcom Services continue implementations of its satellite communication platforms while also developing innovative and new technologies around the globe.

SES Techcom Services' e-health platform, SATMED, has continued to prove popular with Non-Government Organizations (NGOs), with two deployments taking place during the summer months. After the disaster of hurricane Matthew in Haiti, SES quickly installed its emergency.lu platform to ensure rapid recovery of communications.
The launch of the SATLAS incubator is assisting start-up satellite organizations around the world, while the firm's PaCoRa (Passive Correlation Ranging) solution is continuing to track most of the SES satellites over the Americas and Europe.
Together with two partners, SES Techcom Services is continuing to develop all-electric, lightweight satellite solutions through the Electra project. Additionally, In-Orbit Testing (IOT) of the Galileo satellite system has been at full speed throughout the year.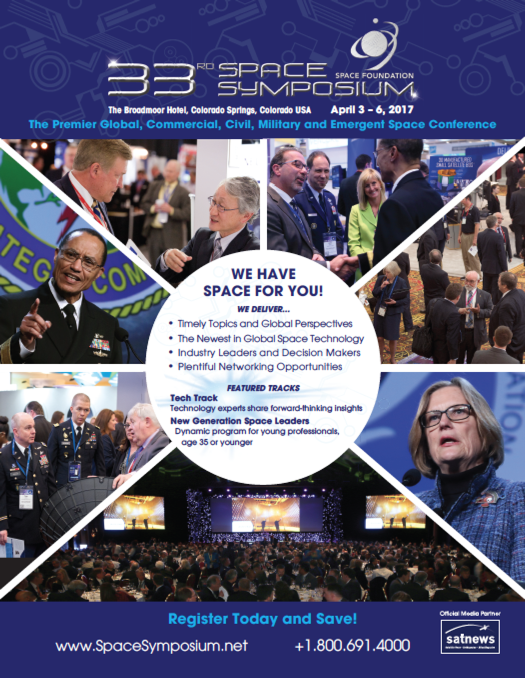 Enhancing Healthcare With SATMED
Continuing the work to improve the quality of life in developing countries, SES partnered with two more NGOs this year to further enhance public health by providing the firm's e-health platform, SATMED.

The first deployment occurred in Benin, in partnership with the Foundation Follereau Luxembourg (FFL), where SATMED was implemented to assist with the detection and treatment of Buruli Ulcers. Deployed at the Centre de Dépistage et de traitement de l'Ulcère de Buruli (CDTUB) in Allada, Benin, the SATMED platform is providing training tools and assisting data collection and analysis.
The solution is also being used by the FFL to establish a consultation office at the CDTUB. The FFL is hopeful this office will improve communication between staff and patients and raise awareness of Buruli Ulcers and other tropical diseases.
A month later, the platform was deployed by the NGO German Doctors at its hospital in Buda, on the island of Mindanao, to enhance healthcare provision and deliver accessible e-health services. With more than 200,000 people in the area, many of whom have no access to medical care, the SATMED cloud platform is assisting in numerous ways.
Portable devices allow doctors to collect patient data from remote villages and the text messaging function lets these patients stay in contact with healthcare workers. The platform also provides training to local medical professionals via SATMED's e-learning solution.
Providing Support For Storm Laden Haiti
SES also continued to provide support in crisis situations. In October, when a Category 4 hurricane swept through Haiti, destroying homes and killing hundreds, SES supported the Luxembourg Government in relief efforts by collaborating with the World Food Program (WFP) as the global lead of the Emergency Telecommunications Cluster (ETC) by deploying the emergency.lu platform.
The platform helps to rapidly establish a communication network in areas that are isolated because of badly damaged infrastructure, assisting with aid and helping individuals contact relatives. In Haiti, SES has deployed two kits, one regular and one 'rapid deployment,' and the emergency.lu satellite capacity covering the region has been upgraded to support these missions.
Assisting Satellite Start-Ups
The launch of a co-funded project in conjunction with the European Space Agency (ESA) ARTES 3-4 SATCOM-APPS project in August gave satellite start-up ideas access to SES resources and services. SES Techcom Services and partners in the industrial consortium, SatADSL and Newtec, will help design, develop and test innovative satellite start-up ideas, including business and technical mentoring. Following a pilot phase, SES will assist with recommendations for the future.
Shadowing Satellites With PaCoRa
Efficient, cost-effective and accurate, PaCoRa is another SES solution that has seen success during 2016. PaCoRa determines a satellite's position without transmitting an uplink signal and is another project developed in conjunction with the ESA ARTES 3-4 program. The solution has been used to analyze, design, implement and validate a PaCoRa system in both the US and Europe.
PaCoRa US is currently running in shadowing mode at five sites across the country and, together with the SES PaCoRa system in Europe, enables SES to track 80 percent of its satellites over the Americas and Europe. SES plans to extend the PaCoRa system to 100 percent, with new satellites replacing older ones.
Electra On Course
2016 also noted the completion of the Electra project's System Design Consolidation Review. This project was the result of a partnership formed between SES satellite manufacturer OHB and ESA in 2013 to produce an all-electric, lightweight, commercial telecommunication satellite platform.
Electra is looking to penetrate a niche market in the satellite industry by providing all-electric satellites that weigh less than 3,000 kilograms. Following the successful completion of the satellite's review, the project is on schedule to complete the first phase by June 2017.
Galileo In-Orbit Testing
Working alongside the European Union and ESA, SES Techcom Services' Galileo In-Orbit Testing (IOT) project has also continued this year, running two campaigns for the two pairs of satellites launched by Soyuz rockets in December 2015 and May 2016. The satellites' payloads have been successfully tested and deemed fully operational by Redu Space Services (RSS), SES Techcom Services' affiliate engineers.
Throughout the year, the continuity of the Galileo services has also been verified at Radio Frequency level, thanks to dedicated Signal Quality Monitoring activities performed on the entire satellite fleet. RSS was involved in the preparation of the IOT project that saw four Galileo satellites sent into orbit for the first time, thanks to the Ariane 5 rocket.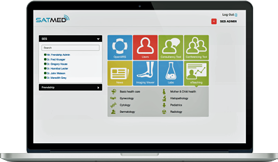 Looking Forward
Looking ahead to 2017, SES Techcom Services is confident the firm will be able to build on the work already started, while continuing to develop new projects that will help achieve the company's mission.
SES Techcom Services will continue to provide efficient and effective satellite communication technologies across the world to enrich the lives of billions of people, no matter where in the world they may be located.
ses.com/techcom
---
Sinergise
By Greg Milčinski, Chief Executive Officer
Sinergise is a Slovenian software company that develops enterprise-level solutions for managing spatial data, particularly for support in land administration and agriculture processes—these solutions are based on one of the first, world-scale, distributed GIS editing frameworks, Giselle.

Over 12 years of operations, Sinergise has built solutions for large governmental clients from all over the world, from nearby countries such as Croatia, Serbia, Macedonia and Montenegro to France, the United Kingdom, Azerbaijan, Moldova, Ghana, Nigeria, Tanzania and Mauritius. Each year, there are more than two million people who use Sinergise's tools and this technology helps to manage more than 50 million property records and more than 500 million euros of transactions annually.
Sinergise's mission is to help people around the world make use of spatial data. This is accomplished by providing technology for management of real-estate records, using remote sensing data to maximize efficiency of agriculture processes, to minimize the damage of natural disasters, or for leisure, sport and other needs.
2016 has been a special year for Sinergise. The company has been working with satellite imagery on local scale for more than a decade and the firms was especially excited when ESA launched the Sentinel-2 satellites to operate within the Copernicus missions, promising weekly free and open high-resolution data worldwide.
The biggest undertaking in 2016 was a plunge into the Earth Observation (EO) field with the development of the Sentinel Hub, which provides unprecedented access to EO data.

Sentinel Hub is exploiting advanced AWS cloud technology and innovative methods to efficiently process and distribute data in a matter of seconds without computationally intensive pre-processing. This results in easy-to-use and cost efficient ways to exploit the data in any GIS application or integrating them in web application.
Sentinel Hub removes the major hassle of downloading, archiving and processing petabytes of data and simply makes the full and global archive available via web services. Scientists and application developers can, therefore, stop spending time on the boring shuffling of pixels and dealing with the complexity of remote sensing data and rather focus on value added services and applications for end-users instead, such as farmers, disaster relief operators and others.
Sentinel Hub is a powerful platform, capable of a real-time processing of satellite imagery, focused to Sentinel-2 satellites but also supporting other (commercial) sources, such as Landsat, Planet and more.
The service queries the meta-data for appropriate scenes in the area of interest (filtered by cloud coverage, time period, and so on), downloads relevant data from the archive, creates a mosaic and composite and, if requested, renders EO products such as true color, color infrared, NDVI, etc.
The service reduces the time required to visualize and exploit the data from hours down to seconds and is exposed to users as OGC standard web services (WMS, WMTS, WCS, WFS). Processing is done on original JP2 files, which makes the service extremely cost efficient.
The latest demonstration of the technology was introduced during the autumn of 2016 with Sentinel Playground. A simple to use web application, Sentinel Playground uses Sentinel Hub technology and gives users, firsthand, the ability to play around with a complete and daily updated Sentinel-2 archive. This is a valuable resource for anyone interested in Earth's changing surface, natural or man-made.
In October of 2016, Sinergise was honored with the prestigious Copernicus Masters Award with its "path-breaking satellite image web service—the Sentinel Hub." Sinergise came out on top in the competition's T-Systems Open Telekom Cloud Challenge and went on to edge out the winners of seven other categories for the grand prize. The international Copernicus Masters prize has been awarded annually since 2011 by AZO on behalf of the European Space Agency.
Key Company Innovations
Sinergise's disruptive technologies at present include:
• Geopedia - a cloud based crowd-sourcing GIS tool, used by more than 1 million users annually, which contributed more than 20.000 datasets combining more than 20 million records (geopedia.world)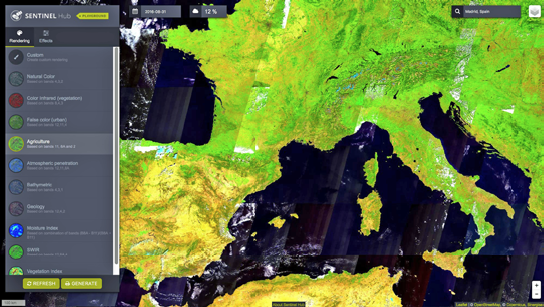 • Spatial and temporal image archive developed to store TBs of satellite imagery and make it available to end-users in fast and efficient way in
full resolution
• Real-time visualization of multi-spectral data supports building new Earth Observation products, such as vegetation indices in a matter of seconds
• Near-real time processing chain for satellite imagery, which makes it possible to automatically improve quality of satellite data, e.g., positional accuracy, atmospheric corrections, radio-metric corrections, orthorectification, etc
• 2D and 3D mapping engine, which uses WebGL and HTML5 technologies to perform visualization of spatial data in an efficient manner
A combination of these technologies makes it possible for Sinergise to build web-based applications managing extremely large spatial datasets and accessed by tens of thousands of people at the same time.
The Year Ahead
The volume of data will be doubled in 2017 when another satellite will be added to the Sentinel-2 constellation. That means we can expect a new 10 meter, multi-spectral resolution capture of a location every few days in Europe. Although the amount of data will grow tremendously in the near future, Sinergise will continue to provide reliable customer services.
The company's hope is that the application of artificial intelligence to satellite observations will spur new usage of these data in areas not traditionally addressed with remote sensing. Having a complete EO data archive on disposal, we plan to explore the possibilities of using machine learning to find patterns in the data.
One of the challenges we are facing in 2017 is identifying and addressing the market for EO data and derived products. Sinergise's core business will continue to be the development of advanced turn-key solutions for the management of spatial data, mostly for enterprise level clients on governmental level, and this work will occupy many of the firm's best skilled developers. Over the last year, Sinergise has increased the team size by 60 percent and is hiring additional experts to sustain the firm's development and research in the EO field. Continuous growth is fully expected for 2017.
sinergise.com
sentinel-hub.com
Grega Milčinski, BSc. in Physics, a co-founder and CEO of Sinergise, has been leading software development teams for more than 15 years, out of these more than 12 years in the field of land administration. He held roles of consultant, project manager, business analyst and architect of land administration systems in Europe (Slovenia, Croatia, Macedonia, Azerbaijan, Moldova, France) and Africa (Nigeria, Mauritius, Ghana). BSc. in Physics and additional general management program education proved to be a good combination of problem solving and managerial skills to benefit company's customers, making it possible to successfully finish a number of projects. He authored and co-authored several papers in the field of IT, land administration and agriculture policy.
---