Regretfully, Satnews reports that SatMagazine and MilsatMagazine's Senior Columnist, Richard Dutchik, has died.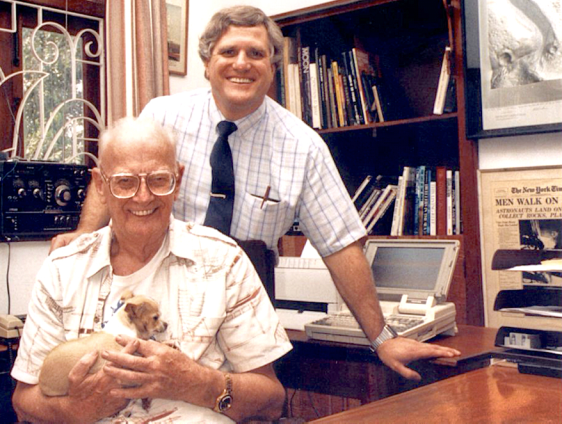 Sir Arthur Clarke (seated) with Richard, smiling broadly.
Richard Victor Dutchik, 72, passed away on March 22, 2020, surrounded by his loving family. He is survived by Ahyeh, his loving wife of 45 years; Victor, his son; Logan and Lina, his grandchildren, and Patricia, James and Robert, his siblings.
He was born on May 5, 1947, to the late Victor H. and Antoinette Dutchik in Detroit, Michigan.
Richard was devoted to his industry, satellite telecommunications, and his company, Dutchik International Communications.
Richard's experience in the Middle East, Pacific Basin and Northwest Africa, made him an invaluable contributor to each project, equipped with a wide ranging cultural knowledge and enriched with his extensive industry expertise.
He was unselfish and always willing to help a friend in need. Richard was loved by all those who knew him for being a team player with a great sense of humor, and highly developed people skills — he will be deeply missed.
There will be military honors scheduled at Cape Canaveral National Cemetery at a later date.