NOAA-20 satellite is pronounced fully operational by NOAA
Weather forecasters now officially have a new tool in their arsenal, as the first satellite in NOAA's new Joint Polar Satellite System has passed rigorous testing and is now operational.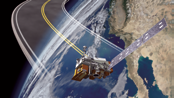 Launched last November as JPSS-1, and renamed NOAA-20 once it reached orbit, the satellite features the latest and best technology NOAA has ever flown in a polar orbit to capture more precise observations of the world's atmosphere, land and waters.
Data from the satellite's advanced instruments will help improve the accuracy of 3-to-7 day forecasts.
NOAA-20 provides NOAA's National Weather Service with global data for numerical weather prediction models used to develop timely and accurate U.S. weather forecasts.
In addition, high-resolution imagery from the satellite's Visible Infrared Imaging Radiometer Suite, known as VIIRS, will enable the satellite to detect fog, sea-ice formation and breaking in the Arctic, volcanic eruptions and wildfires in their very early stages.
This advanced modeling and imagery information, shared with international and governmental partners, will help businesses, the emergency preparedness and response communities and individuals make the best decisions possible in the face of weather-related hazards.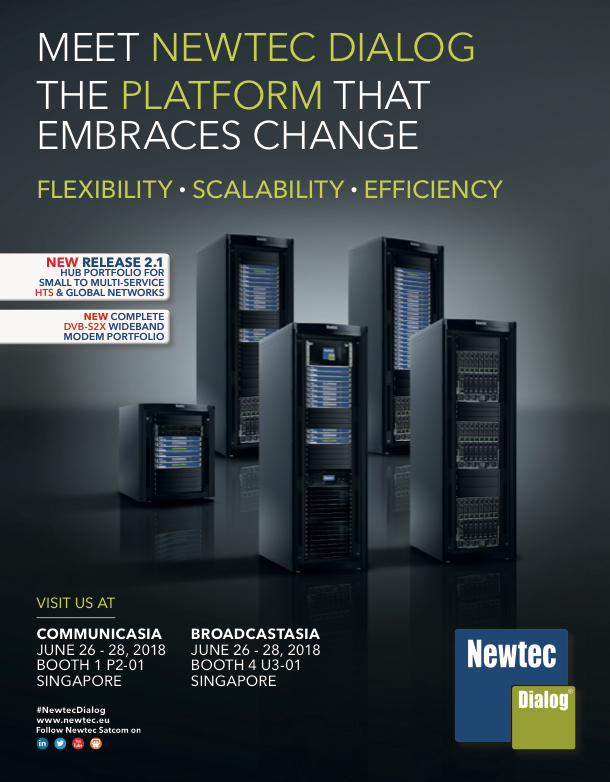 NOAA-20 joins Suomi NPP — the NOAA-NASA demonstration satellite launched in 2011 — giving the U.S. the benefit of two sophisticated spacecraft in nearly the same orbit.
Each circles the Earth in a polar orbit 14 times a day, collecting global observations that form the basis for U.S. weather predictions. JPSS-2, the second in the series, is scheduled to be launched in 2021, followed by JPSS-3 in 2026 and JPSS-4 in 2031. JPSS satellites are designed to operate for seven years, with the potential for several more years.
The JPSS mission will deliver its critical data and information for at least the next two decades to support a Weather-Ready Nation.
U.S. Secretary of Commerce Wilbur Ross said that improved weather forecasts can save lives, protect property and provide businesses and communities valuable additional time to prepare in advance of dangerous weather events.
Neil Jacobs, Ph.D., Assistant Secretary of Commerce for Environmental Observation and Prediction, added that NOAA-20 is especially beneficial for tracking developing storms in the Arctic, Alaska and Antarctica. Forecasts for these remote regions are critical for the U.S. fishing, energy, transportation and recreation industries, which operate in some of the harshest conditions on the planet.
www.nesdis.noaa.gov/JPSS-1
---
TCarta's satellite bathymetry data is proven to be faster and less expensive for Total SA
Efficiency really proved to be a major factor when TCarta, a global provider of marine geospatial products, delivered satellite derived bathymetry (SDB) to Total SA (Total), one of the world's largest oil and gas producers in just a few weeks instead of months and one tenth the cost. Total will use the water depth data for preparing seismic survey works off the coast of Myanmar (formerly Burma).
TCarta generated the SDB dataset by digitally extracting accurate water depth measurements from multispectral imagery acquired by the European Space Agency's Sentinel-2 satellite. The resulting bathymetric data had a point spacing of 10 meters with measurements to a depth of 15 meters. The deliverable covered a 30-square-kilometer area around Preparis Island in the Bay of Bengal. Total contracted with TCarta for the Preparis Island project following a benchmark study that also generated high-quality bathymetric data from Sentinel-2 imagery.
SDB products created by TCarta are appreciated among energy exploration and production companies, as well as environmental organizations and infrastructure development firms, due to their cost effectiveness and rapid turnaround. In addition, the remote collection of imagery by satellite poses no risk to personnel or the environment. And the bathymetric data can be captured in all parts of the world, even where security restrictions limit operation of aircraft or ships.
Another TCarta product used extensively in offshore hydrocarbon exploration and production is the Global GIS Bathymetry Package. This GIS-ready dataset provides a level of marine information that is superior to public-domain data for areas throughout the world. The 90- and 30-meter products each contain a Digital Bathymetry Model with spot-depth values, contour lines, and high-resolution shorelines derived from multiple data sources. These include nautical charts, single- and multi-beam survey data, LiDAR, SDB, altimetry data and seismic survey derived depths.
In 2017, the UK firm launched its Bathymetrics online portal making it convenient for purchases enabling customers to search for the availability of off-the-shelf TCarta products.
www.tcarta.com/
---
Orbital ATK to bring two new weather satellites into play for NOAA
Orbital ATK (NYSE: OA) has reported that NASA has exercised options for
two additional Joint Polar Satellite System (JPSS) spacecraft to be built by the company.
Orbital ATK is currently producing the JPSS-2 spacecraft, which is scheduled to be launched in 2021.
All three satellites are to be operated by the National Oceanic and Atmospheric Administration (NOAA) to provide critical weather forecasting data and to advance environmental and oceanographic science.
The total contract amount for all three spacecraft is valued at approximately US$460 million.
The JPSS satellites will provide operational continuity of space-based weather observations, extending the successful 50 year NOAA/NASA partnership into the 2020 and 2030 decades.
Orbital ATK is responsible for the design and fabrication of the spacecraft, integration of government-furnished instruments, testing of the satellites and in-orbit check outs.
The JPSS-2 satellite is on schedule for delivery in 2021, while JPSS-3 and JPSS-4 are on contract for delivery in 2023 and 2026, respectively, with launch dates determined by NOAA/NASA.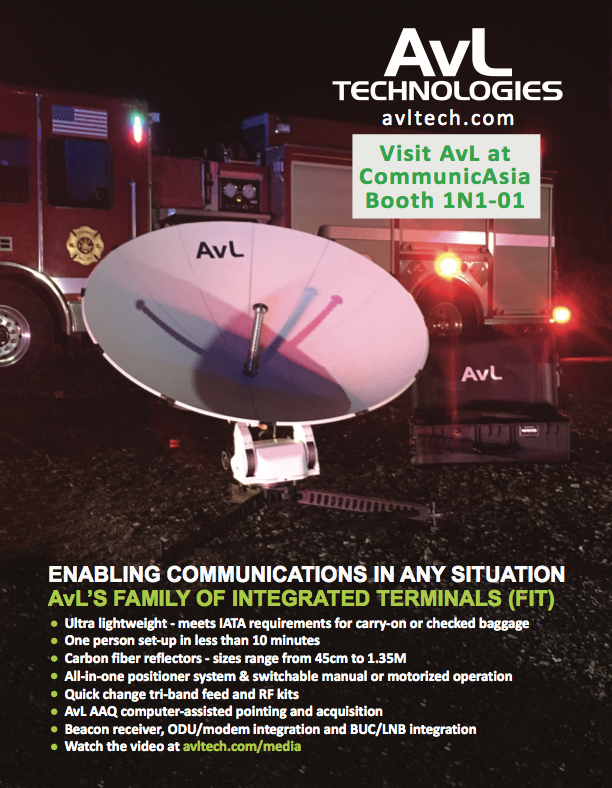 Each JPSS satellite will have a design life of at least seven years once launched into orbit.
Representatives from NASA, NOAA and Orbital ATK completed a successful spacecraft Critical Design Review (CDR) for the three JPSS spacecraft in October 2017, which demonstrated that the program met all system and schedule requirements.
JPSS-2 is currently scheduled to begin spacecraft integration and testing in summer 2018 at Orbital ATK's Gilbert, Arizona, satellite manufacturing facility.
JPSS-2 will be the company's first operational weather spacecraft and will be built on the company's LEOStar-3 platform, a flight-proven flexible satellite platform that can accommodate a variety of missions, including the successfully-launched NASA's Fermi and Neil Gehrels Swift Observatory gamma-ray astrophysics satellites and the Landsat 8 Earth science satellite.
The Landsat 9 and ICESat-2 spacecraft currently in production with the company are also built on this platform.
JPSS-3 and JPSS-4 will be manufactured and tested by Orbital ATK's Space Systems Group at their facilities in Gilbert, Arizona.
Steve Krein, the VP of Science and Environmental Satellite Programs at Orbital ATK, said that the company is making excellent progress on JPSS-2 and the program team is ready to start work on the additional two JPSS satellites.
Steve added that the company has an extensive history of delivering successful science and environmental satellites for customers and Orbital ATK is honored to continue building on this legacy with the JPSS satellites.
www.orbitalatk.com/
---
SpaceX' new Falcon 9 launches Bangladesh's first satellite
On Friday, May 11, Bangladeshi 's first satellite — Bangabandhu Satellite-1 — was successfully launched aboard a Falcon 9 Block 5 rocket and the event included the 25th successful return to Earth of a SpaceX rocket booster.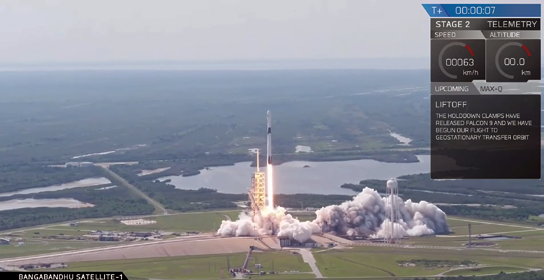 The liftoff occurred from Launch Complex 39A (LC-39A) at NASA's Kennedy Space Center, Florida at 4:14 p.m. EDT and the Bangabandhu Satellite-1 was deployed into a geostationary transfer orbit (GTO) approximately 33 minutes after launch. The Falcon 9 Block 5 is a new 23-story tall giant rocket and spaceship combo, the BFR, for the first time taking into space the first high-orbit communications satellite ever for the country of Bangladesh. The Block 5 sports numerous upgrades designed to make the rocket easier to reuse.
The Bangabandhu Satellite-1 mission served as the first flight of Falcon 9 Block 5, the final substantial upgrade to SpaceX's Falcon 9 launch vehicle. Falcon 9 Block 5 is designed to be capable of 10 or more flights with very limited refurbishment as SpaceX continues to aim for reusability and reliability. Following stage separation, SpaceX successfully landed Falcon 9's first stage on the "Of Course I Still Love You" droneship in the Atlantic Ocean.
The Block-5 is the first rocket from SpaceX to comply with NASA's standard for its Commercial Crew Program to carry agency astronauts to the International Space Station. But NASA still requires seven successful flights before the new rocket receives final certification for a manned mission. SpaceX chief executive Elon Musk says the improved boosters can be reused more than 10 times each and require little or no work between launches.
Bangabandhu-1 traveled to a path 22,000 miles above Earth, where the satellite will provide telecommunications coverage for Bangladesh and as well as surrounding countries such as Nepal, Myanmar, and Bhutan territorial waters in the Bay of Bengal, as well as India, Nepal, Bhutan, Sri Lanka, the Philippines, and Indonesia. The satellite will also provide C- band capacity for the entire region.
Bangabandhu Satellite-1 is Bangladesh's first geostationary communications satellite. Development of the satellite program, known as the "Bangabandhu Satellite Launching Project," was managed by the Bangladesh Telecommunication Regulatory Commission (BTRC) with technical support from Space Partnership International (SPI).
The satellite, which is comprised of 26 Ku- and 14 C-band transponders, was manufactured by Thales Alenia Space on the Spacebus 4000B2 platform and will be operated by the Bangladesh Communication Satellite Company Limited (BCSCL).
Located at 119.1 degrees East, Bangabandhu Satellite-1 will provide Direct-To-Home (DTH) services, video distribution and VSAT communications across the aforementioned regions. Bangabandhu Satellite- 1's mission is expected to last at least 15 years.
www.spacex.com
www.bcscl.com.bd/
---
Hull to hull using EGNSS
Hull to Hull (H2H), an EU-funded research project established to develop technical solutions for safer navigation in close proximity of other stationary or moving vessels and objects, is in its Concept Definition phase and will move on to the Technology Adaption and Integration Work Package (WP03) this summer, all to be coordinated by Kongsberg Maritime.
H2H was established in November of 2017 to develop solutions using the European Global Navigation Satellite System (EGNSS), EGNOS and Galileo, that can enhance safety in busy waters and during close maneuvering, helping mariners to make the correct navigation decisions and creating the fundamental conditions for autonomous vessel navigation. H2H aims to create a system that will allow proximity zones to be set for own vessels as well as neighboring objects, with high precision and high integrity.
H2H focuses on solutions for measuring the location and orientation of a vessel and creating a 3D digital twin representing the vessel's hull, which is linked to a coordinate system, e.g. WGS84. This data can then be used as an input to an autonomy controller. H2H will also support manual navigation, providing reliable input for the captain or navigator to make better informed decisions. This could potentially be achieved by e.g., displaying the digital twin on the ECDIS or other display systems.
The project is coordinated by Kongsberg Seatex, a subsidiary of Kongsberg Maritime, developing solutions for maritime sensing and connectivity. Expert project partners include SINTEF Ocean and SINTEF Digital for broad research-based expertise; KU Leuven, a leading European university and expert on inland waterways navigation; and Mampaey Offshore Industries, a Dutch company specialized in towing, berthing and mooring systems.
H2H is divided into nine work packages, of which four are led by Kongsberg Seatex. The pilot system will be developed in WP03, where the main objective is to define precise sensors and communication systems, and develop an integrated solution based on the best available technology. The solution will be implemented using protocols and 3D models described in the concept. The project will also research specific needs related to auto-mooring and inland waterways, perform lab testing of various sensors and technologies and develop test scenarios for demonstrations scheduled for 2019 and 2020 in Norway's Trondheimsfjorden, in Rotterdam harbor and inland waterways in Belgium.
The Hull to Hull project has received funding from the European GNSS Agency under the European Union's Horizon 2020 research and innovation program grant agreement No 775998.
www.sintef.no/projectweb/hull-to-hull/
---