---
Twenty twenty-two has proven to be a highly positive and buoyant year for Flann Microwave, a market-leading designer and manufacturer of precision RF Microwave and Millimetric products, solutions and services.

Detail on Deliverables
Ian Burnage, Chief Executive Officer

A year of steady growth and development from its base in Cornwall, UK, backed by a workforce of highly skilled engineers and professionals, has seen exports of products and services top 80 percent in 2022.
The company has stated they are already benefiting from the burgeoning smallsats market and expect to further capitalize on this market segment.
Flann has been trading for more than 60 years and the firm's ability to design, manufacture and validate — on site — gives it the advantage of being able to take new designs from prototype to deliverable instruments within short time frames.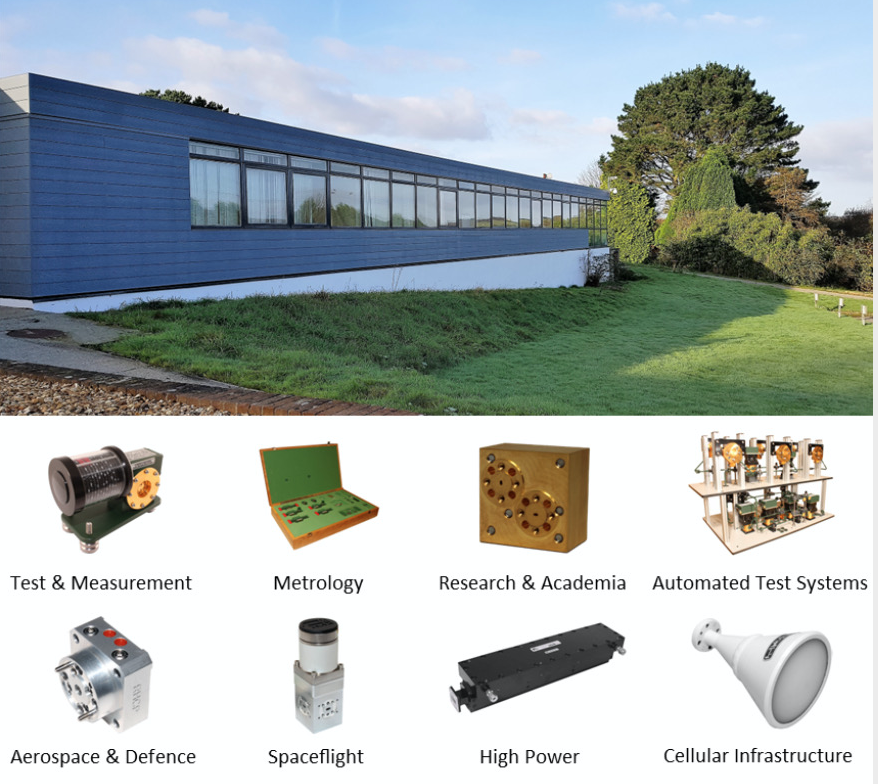 This expertise lies behind Flann's long-established, global reputation for delivering high quality, highly repeatable, standard and bespoke instrumentation and systems for a wide range of different customers across various industry sectors.
Key customers include businesses working in the ground-based and orbital satellite communications sectors, aerospace, 5G and 6G communication networks, radar, guidance systems, air traffic control, security systems, metrology, medical, research and academia.
The company also supports government agencies in the compilation of industry standards documentation.
During the past year, Flann Microwave's finely tuned bespoke processes have allowed development of a new range of seamless precision waveguide operating up to 1.1 THz and suitable for waveguide applications requiring straights, bends, twists or custom built assemblies consisting of a combination of these.
The sub-millimeter waveguide can be manufactured up to a length of 400 mm in a choice of thin or ultra-thin wall thickness, and is available in either copper or nickel with an internal surface finish <0.2um Ra.
Orders received during 2022 include from the National Physical Laboratory (NPL), a world-leading center of excellence that provides cutting-edge measurement science, engineering and technology to underpin prosperity and quality of life in the UK.
The year has seen the business further consolidate its position across key markets as the needs for ever-higher data capacity and transfer speeds rise in tandem with the global, post-pandemic demand for global, broadband connectivity.
Ian Burnage was appointed Chief Executive Officer in the summer and has brought to the company a wealth of experience from more than 25 years in business and industry.
Prior to joining Flann Microwave as General Manager at the end of 2021, he ran his own transformative, business consultancy for five years.
Mr. Burnage said, "With our world class design team, extensive in-house capabilities, over 50 years of waveguide engineering experience combined with global reach, we have been ideally placed to support the revolution in small satellite technology that is driving demand for ever higher frequency microwave switches to transmit data to ground antennas.
"Flann Microwave's on-going ambition to maintain the highest standards ensures that the Company's global reputation for quality, reliability and performance will continue into the future."
Flann Microwave operates from a purpose-built factory and business premises on the edge of Bodmin, Cornwall, where it employs around 60 specialist and highly experienced staff.
Throughout 2022, Flann has also maintained a high-profile business presence at major industry conferences, including Space Tech Expo, European Microwave Week, Space-Comm Expo and the International Microwave Symposium.
flann.com


Ian Burnage
Ian Burnage completed his Master's degree in Engineering at Southampton University and worked at The Barden Corporation for more than 10 years, seven of these as MD. For the five years prior to joining Flann, Ian ran his own company providing consultancy and support to businesses transforming their performance. Overall, Ian brings more than 25 years of knowledge and experience to support Flann Microwave reaching their ambitious goals.
---
Gilat Satellite Networks is a leading global provider of satellite-based broadband communications and believes in the right of all people to be connected — the company provides broadband connectivity to millions of users in all parts of the world, on the land, in the air and at sea.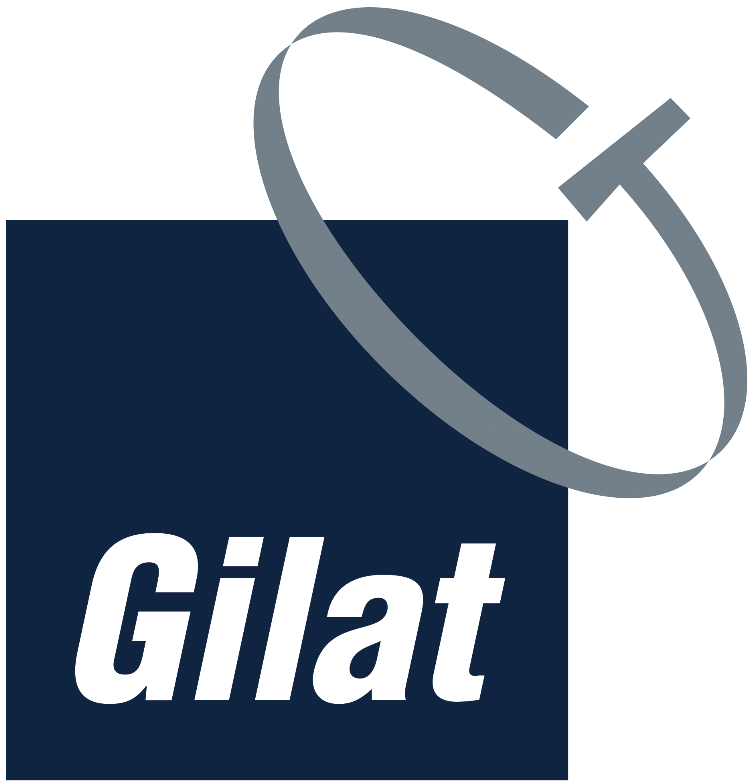 An Expansion of
Communication +
Connectivity
Doreet Oren, Senior Director, Solution and Product Marketing

The satellite industry is undergoing tremendous innovation and change. The launch of Non-GEO Stationary (NGSO) constellations and highly configurable software defined satellites are offering the industry unprecedented increases in bandwidth and flexibility. However, while these new satellites and digital payloads offer a profound step up in capability, they are also introducing far more complexity, and growing the need for ground- breaking deep technology and tight integration between ground and space.
This next generation of satellite communication, including multi-orbit constellations and very high throughput satellites (VHTS), was named the Elastix Era by Gilat. The advancements enable ubiquitous connectivity for fixed and mobility sites anywhere on land, sea and air, and answer the promise of the cloud, 5G and IoT while enabling superior service for mobility, defense, cellular backhaul and the enterprise markets.
This was the driving force in the development of SkyEdge IV, Gilat's latest ground segment technology. SkyEdge IV is a highly elastic platform that enables the creation of programmable Software-Defined Networks (SDN) that support on-the-fly changes to optimally address dynamic network changes. SkyEdge IV has already secured millions of dollars' worth of contract awards. This multi-orbit, multi-service platform includes Aquarius, a family of ultra-high processing capacity VSATs, achieving above 2Gbps aggregated throughput and high packets-per- second processing. The platform is further equipped with Elastix-TotalNMS to orchestrate network management for a unified network. SkyEdge IV also increases operational efficiencies due to scalable software centricity and provides VSAT backward compatibility to preserve SkyEdge II-c customer investment.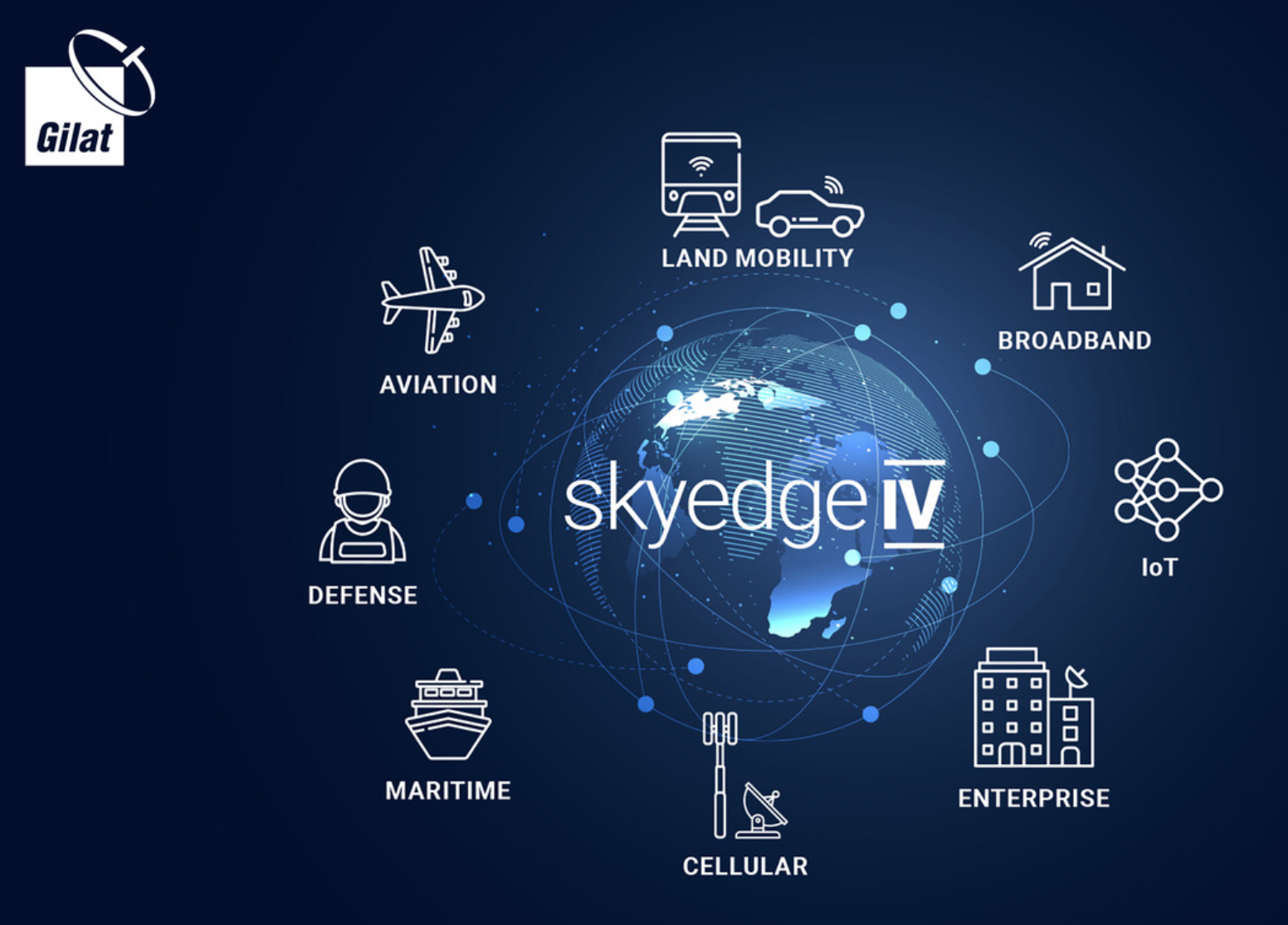 The SkyEdge IV announcement was followed by news that Gilat expanded its strategic partnership with SES who selected Gilat's SkyEdge IV platform to operate with their SES-17 satellite, a GEO VHTS designed for high-speed connectivity and flexibility for end- users in the Americas, the Caribbean, and the Atlantic Ocean. SkyEdge IV will deliver cellular-backhaul and enterprise services, in addition to maritime services. SES will be using SkyEdge IV simultaneously for the GEO SES-17 satellite and the company's O3b mPOWER constellation. SkyEdge IV ensures unified operation with seamless switchover between GEO satellites and NGSO constellations.
Intelsat completed a strategic selection process and placed a significant, initial order for Gilat's SkyEdge IV platform for use in that company's latest HTS, Intelsat IS-40e, designed to augment inflight connectivity and mobile backhaul services over North America. Gilat's standards-based interfaces enable seamless integration with Intelsat's unified space and ground network, thereby elevating the service levels for thousands of aircraft and leading mobile network operators. Gilat also enjoyed major achievements supporting Low Earth Orbit (LEO) constellation gateways. Gilat's subsidiary, Wavestream was selected as the provider of Gateway Solid State Power Amplifiers (SSPAs) in projects potentially worth hundreds of millions of dollars.
According to the latest report by industry analyst NSR, Gilat is the number one vendor in modem shipments, with a market share of approximately 40%. Gilat also continues to lead the 4G/LTE market with a 75% market share. In Japan, Gilat is the dominant player serving Tier-1 MNOs and continues to provide cellular network expansions into rural zones that are lacking fiber access as well as solutions for emergency response. In Latin America, Tier-1 MNO TIM Brazil reached a milestone of more than 1,000 sites, leveraging Gilat's SkyEdge II-c platform to build the largest 4G satellite cellular backhaul network in Latin America. One of the world's largest Mobile Network Operators (MNOs), serving hundreds of millions of subscribers in Asia, will deploy Gilat's SkyEdge II-c system and Capricorn Outdoor VSATs to enable improved Voice and Data over LTE services for their mobile subscribers. Gilat was also selected by Intelsat to provide the satellite cellular backhaul solution for a leading mobile telecommunication company in the Democratic Republic of the Congo (DRC).
Mobility continues to be a major focus area for Gilat that has received numerous contract awards from Intelsat. To enable the expansion of commercial and business aviation services in Asia, Intelsat will be using Gilat's SkyEdge II-c and SkyEdge IV platforms to allows aviation service providers, such as Intelsat, to streamline service fulfillment and provide superior user experience to airline passengers.
Intelsat made a strategic decision to expand its in-flight connectivity (IFC) capabilities with a multimillion-dollar order for Gilat's Taurus modems, an ultra-high-performance modem for IFC designed to provide Wi-Fi internet and IPTV for passengers on commercial airlines, regional aircraft and business jets. Taurus runs on SkyEdge II-c and SkyEdge IV platforms.
Gilat has also received an order of more than $10 million dollars from a large, global, aerospace system integrator who for years has continued to rely on Wavestream's Ka-band AeroStream™ family of transceiver products to enable in-flight connectivity. With these new orders, Gilat's subsidiary Wavestream is growing its lead in the IFC marketplace, now with more than 3,000 units successfully operating on commercial and business aviation aircraft worldwide.
At sea, Gilat announced a new deal with a Eurasian satellite service provider to enable expanded maritime connectivity in the region. Gilat's SkyEdge II-c system, equipped with Gemini and Capricorn VSATs, will be used to deliver connectivity for vessels at sea, primarily providing broadband communication for commercial fishing and maritime transport market segments.
A technical breakthrough was achieved for Gilat's electronically steerable antenna (ESA) technology for IFC. The achievement was reached at the conclusion of flight tests conducted by Airbus Defense and Space, marking the successful completion of the final phase of the five-year Clean Sky 2 IFC ESA project.
In the Enterprise segment, Gilat received awards across several different verticals as well as geographic regions. The company signed an agreement to provide a SkyEdge II-c to a government in Central Asia where the technology will be used to connect rural villages to the government network as well as serve as a backup communication channel for disaster preparedness and provide remote services to citizens.
In South America, Gilat was selected by Sencinet, a large service provider in Brazil, to provide satellite connectivity via SkyEdge II-c to Petrobras, Brazil's largest oil and gas company, and to a leading financial services company headquartered in Brazil. In addition, Gilat signed a multimillion-dollar deal to support business continuity for a large U.S. retail network. SkyEdge II-c is now supporting thousands of storefronts throughout the United States, with the required gateway backup to guarantee that each of the stores has the assurance of always being connected.
Gilat is continuing to increase its focus in the Defense market and is seeing success with the Unmanned Aerial Vehicles (UAV) product line. A world- leading UAV manufacturer has placed an order for satellite terminals as the satellite antenna solution for its tactical UAVs. Gilat was also awarded follow-on orders for the expansion of a defense force military satellite communication network in an Asian nation. Gilat's SkyEdge II-c hubs and Capricorn VSATs will be used to expand tactical MILSATCOM solutions for mobile platforms, will increase the availability of communication channels for emergency and disaster response, as well as address mission-critical C4I needs.
Gilat is exceptionally proud to lead the industry in delivering broadband connectivity over satellite in the Elastix Era, to ensure that critical communication is available to all.
With the launch of SkyEdge IV, Gilat is further demonstrating its dedication to technical innovation, outstanding support and superior delivery capabilities that enabled Gilat to drive the market for over 30 years.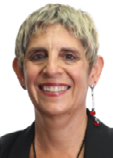 Doreet Oren
During 2023, Gilat plans to expand its leadership position as the market continues to transition to multi-orbit constellations and very high throughput satellites (V-HTS), with a focus on supporting the CBH, Mobility, Enterprise and Defense market segments.
www.gilat.com
Author Doreet Oren is the Senior Director of Solution and Product Marketing at Gilat Satellite Networks
---
The space and satellite industry experienced exponential growth throughout 2022; a trend that is expected to continue in the coming years.

Out-of-this-World Growth Fueled
by Cross-sector Collaboration
Dave Haight, Vice President of IoT
Consider... 2022 alone witnessed more than 140 successful orbital launches, the deployment of the largest optical telescope in history — the James Webb Space Telescope — and the convergence of major cellular organizations with satellite connectivity providers. With launch costs decreasing and technology evolving rapidly, the stars have aligned for satellite technology to deliver revolutionary, new services for humankind.
The long-awaited convergence of cellular and satellite is especially exciting given its potential to dramatically improve terrestrial connectivity. When satellites are leveraged, individuals can access emergency services in areas where cellular coverage traditionally falls short.
Once true convergence is realized, universal connectivity can be used by everyday folks to keep them in touch with loved ones and colleagues regardless of their physical location — a capability that is in increasingly high demand given our globalized society and shift to remote work and school environments.
Additionally, satellite connectivity is well suited to serve a variety of industries that operate in desolate areas of the globe. Many of these isolated workplaces generate resources that societies across the world depend upon daily.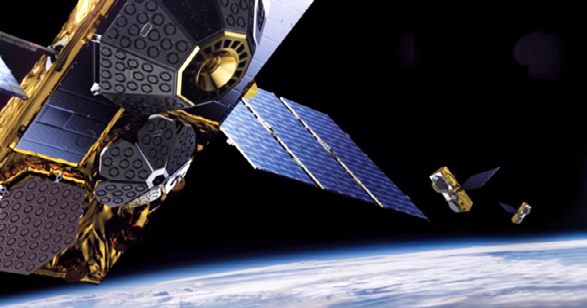 Artistic rendition of Globalstar's new set of satellites being
built by MDA, Inc
The efficient and reliable performance of sectors such as agriculture, energy, logistics, and more are critical for all communities. The applications of satellite Internet of Things (IoT) devices for these industries are unlimited, with sensor monitoring, data transmission, and asset tracking among the many powerful tools now at business leaders' disposal.
It's anticipated that the satellite IoT market — currently valued at $543 million — will be worth more than $8 billion by 2032; however, the benefits extend far beyond the financial.
In June of 2022, Globalstar announced the Realm Enablement Suite that is composed of tracking devices and an integrated low-code application enablement platform that enables users to quickly configure and create AI-driven applications and host them on the edge where they can make the biggest difference to transmission efficiency and performance.
Realm is designed to meet users where they are, whether they need an off-the- shelf, ready to deploy product or a highly customizable, integrated solution to meet their specialized needs. Above all, Realm is designed to be affordable by leveraging smart data at the edge to minimize transmission costs and enable users to get the most value out of their data.
However, Realm was not Globalstar's only major launch in 2022.
This past June, Globalstar launched our first new satellite in nine years — the Thales Alenia Space-built FM-15 spare satellite from Cape Canaveral's Kennedy Space Center. FM-15 is the 25th and final satellite of Globalstar's second- generation constellation.
The satellite addition is designed to further support Globalstar's data products and services including its legacy Duplex SPOT retail consumer and commercial IoT. The launch further solidifies Globalstar's commitment to deliver uninterrupted connectivity to users worldwide. This launch is among more than 100 other successful launches this year and Globalstar is proud to be a part of this record-breaking trend toward the skies.
Furthermore, in February of 2022, Globalstar commissioned MDA for 17 new satellites that will replenish and extend the life of Globalstar's existing constellation. The expectation is that all of these new satellites will be launched by the close of 2025 to serve our current and future customers.
This procurement is intended to ensure Globalstar's constellation is as robust and reliable as ever, given it will now be depended upon by millions for emergency and rescue services.
Globalstar's new partnerships over the past year are in keeping with current trends throughout the satellite, space and connectivity industries. Countless collaborations have been announced over the past year, enabling new opportunities, applications, and services for the entire world.
Relationships are blooming between satellite companies and Value-Added Resellers (VARs), system integrators, developers, and cellular companies and more. The globalized economy is now an interstellar economy and is becoming more and more evident every day.
Globalstar firmly believes that legacy satellite providers should never sacrifice or stifle cutting-edge technology. Space companies have always been ahead of the curve and should maintain that inherent desire to push the boundaries of what is possible. The key is to merge innovation with expertise.
While 2022 was a dynamic year for Globalstar, it's merely one of many in our long history of trusted work in the satellite industry. Our current, second- generation LEO constellation provides 70°S to 70°N latitude coverage, which is approximately 85% of the Earth's surface.
Furthermore, Globalstar's wide-ranging capacity can support its existing and future customers, allowing an approximately fifty-fold increase in the company's subscriber base. Our terrestrial spectrum, Band 53, is a uniform and increasingly "borderless" spectrum resource.
Globalstar can use Band 53 across multiple, commercial applications, which its partners, including cable companies, legacy or upstart wireless carriers, system integrators, utilities, and other infrastructure operators, will be able to access through a growing device ecosystem. A range of partner organizations are helping to drive Band 53 toward commercialization, which is yet another way in which collaboration and interoperability can benefit the entire industry.
During this exciting time, integration and collaboration are incredibly powerful tools for innovation. The space industry is at the precipice of its next great technological revolution, a revolution that will likely be realized through strategic partnerships.
Companies, such as Globalstar, with a well-established history in the space industry, have always understood the immense power of space to improve life here on Earth. The time has finally arrived for the connectivity benefits of satellite communication to be realized at a macro level.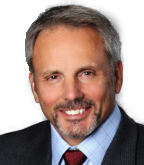 David Haight
While there's an abundance of transformational applications in progress, and 2022 was an unparalleled year for development throughout the space industry, there are countless revolutionary technologies yet to even be conceived.
www.globalstar.com
Author Dave Haight is the vice president of IoT for Globalstar. Haight is a prominent telecom and IoT industry leader, with extensive experience driving network connectivity growth and developing impactful strategies to build partner channels and strategic relationships in IoT.
---
In 2022, IBM's space team worked with the mindset of 'makers' to address modern space challenges using AI (Artificial Intelligence), cloud, and edge computing.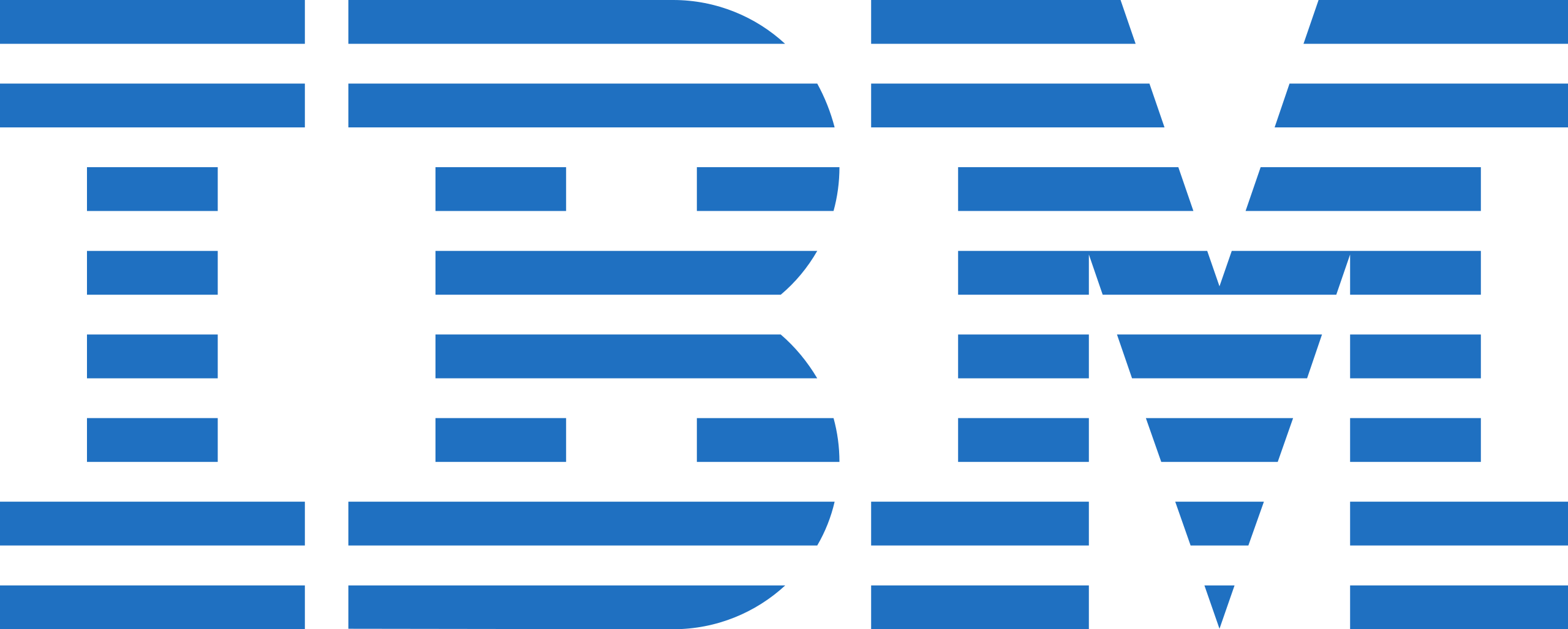 Taking Computing
to the Edge in Space
Naeem Altaf, CTO of IBM's space team
The work is part of IBM's longstanding commitment to re-invigorating approaches to science and innovation to meet today's biggest challenges. Indeed, the company has made a great deal of progress over the past year.
Three highlights to spotlight include...
NASA DNA Sequencing
We continued work with NASA and Hewlett Packard Enterprise to help analyze DNA onboard the International Space Station (ISS).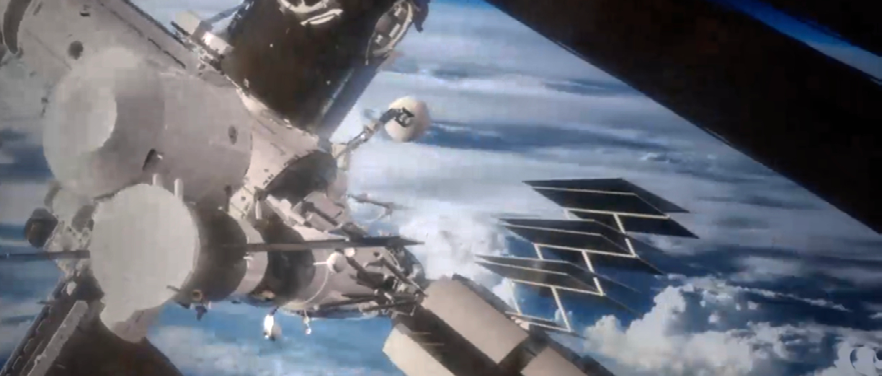 This work has the potential to play a key role toward NASA's Artemis missions landing humans on the Moon again as early as 2024, as well as future missions to Mars (that could last many years) by analyzing how the space environment and long-term exposure to radiation affects the genetic makeup of organisms from plants to people.
Entirely created and managed by IBM, the custom edge solution uses Red Hat Code Ready Containers to create a single-node OpenShift cluster onboard the space station, allowing the DNA analysis to be carried out on the ISS.
Previously, samples were sequenced on the ISS and the huge amount of resulting data was sent to Earth for processing, which required six to eight weeks of analysis.
IBM Space's edge computing solution can carry out the computation directlynon the ISS itself, cutting the time to six to eight hours.
This time saving increases the capacity for data analysis on-orbit which can be highly beneficial to researchers and also demonstrates a level of independence from ground-computing support that will be essential for future NASAnmissions into the solar system.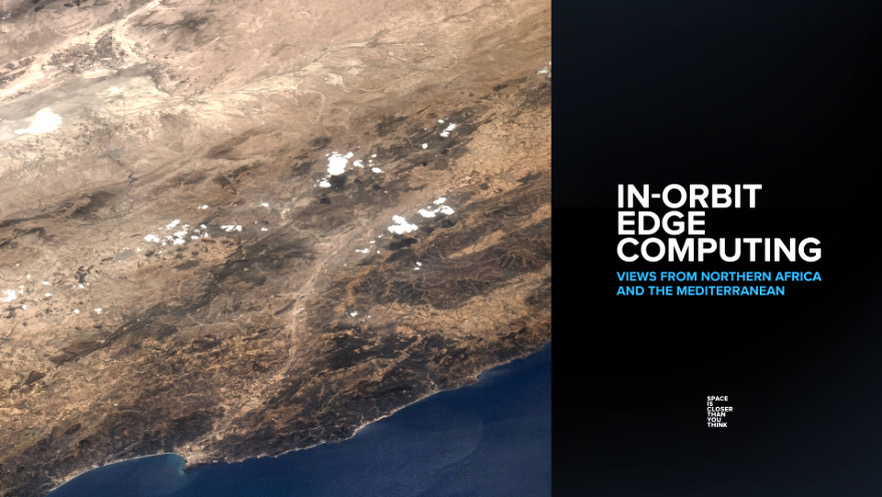 Endurance Mission
IBM and Red Hat both participated in a mission to space aimed at providing a fast and easy way to process data 'at the edge' and make space more accessible.
In collaboration with EnduroSat, a European provider of NanoSats and space services, a cubesat was sent directly into space loaded with open source, AI, and cloud technologies from IBM.
Students can now access the wonders of space by interacting directly with the satellite through code.
The data from the mission is processed at the 'edge' of space, meaning it is computed directly from where it is being created.
The results are sent back down to Earth via ground stations and the IBM Cloud.
Sierra Space Collaboration
In October of 2022, IBM and Sierra Space embarked on a voyage to jointly develop new space technology and software platforms across Sierra's range of space vehicles and infrastructure, including Orbital Reef, a planned space station for Low Earth Orbit (LEO).
The two companies are collaborating to develop a hybrid computing platform to create a single, unified, and flexible distributed computing environment where fellow collaborators can easily build and modernize applications, make data AI-ready, and integrate or orchestrate workloads (across multiple environments and vendors) for flexible, secure, and open operations.
These edge computing technology applications, coupled with modern AI and cloud technology, help organizations to better manage and obtain more immediate insights from massive amounts of data in situations of constrained bandwidth, remote or mobile environments whether they are in space or here on Earth.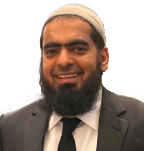 Naeem Altaf
Author Naeem Altaf, IBM Distinguished Engineer, is the Chief Technology Officer at IBM Space. He leads IBM's Space Tech Innovation group, focused onninnovating from edge computing in space to the autonomous cognitive framework for cubesat swarms, to growing challenges of space debris and collision avoidance, to geo-spatial analysis with satellite imagery, to exploring quantum computing for opening new realms of possibilities for the new space age. Naeem's team also partners with various space agencies, universities, and space tech companies, to design and build a first-of-a-kind proof of concepts and technical prototypes. Naeem is often a technical spokesperson internally and externally for IBM across a variety of topics including cloud, Internet-of-Things (IoT ), edge computing, and Space Tech. Naeem also has several articles and patents issued. He has been with IBM for more than 20 years.
---
Intelsat made remarkable progress on a number of fronts in 2022, and we are poised to drive transformation in the satellite communications industry.

Driving SATCOM Transformations
Fueling customer success
John Cobin, Chief Strategy Officer
We do so with a substantially strengthened capital structure and a new leadership team under Chief Executive Officer David Wajsgras, who has articulated a strong vision driving Intelsat's future development and growth.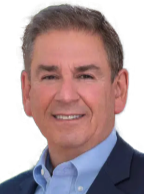 David C. Wajsgras
Our multi-orbit strategy focuses on innovation and network plans that complement our unparalleled global orbital and spectrum rights and our robust operating model.
Building the world's first global, 5G, satellite-based, software-defined, unified network is just one of Intelsat's many ground-breaking projects, which are all well underway.
We announced a multi-orbit partnership with OneWeb, and our managed services offering is creating opportunities to grow and expand our business.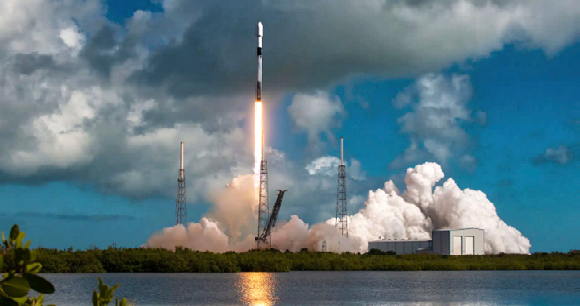 In 2022, Intelsat announced an innovative, Inflight Connectivity (IFC) solution for use by airline customers.
Lighter and more versatile than previous options, the electronically steered antenna (ESA) is the first in a new line of ground-breaking, multi-orbit terminals developed by Intelsat to provide undisrupted ser vice to airlines and passengers.
We were recognized for "Outstanding Leadership in Use of a Mobile Solution" by the Mobile Satellite Users Association (MSUA) for supporting NGOs assisting the victims of the earthquake that struck Haiti.
Intelsat has pledged to make economic empowerment opportunities for the world's unconnected by joining Partner2Connect Digital Coalition, a coalition of the International Telecommunication Union (ITU) and the United Nations (UN).
By the close of this year, we will have launched six of seven C-band-clearing satellites in our Galaxy fleet-refresh plan, putting us on track to meet the FCC target in 2023.
---
With the space economy and critical defense initiatives increasingly dependent on predictive analytics and space traffic management capabilities, Kayhan Space dedicated 2022 to the advanced development of breakthrough platforms and partnerships aimed at boosting access to spaceflight safety systems.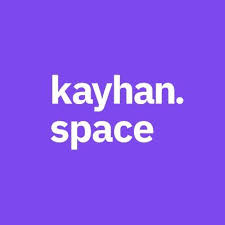 Making Space Safer
Major advancements accomplished
Araz Feyzi, Chief Technology Officer
Kayhan unveiled its next-gen Pathfinder™ space safety platform in August to enable satellite and mission operators to better manage operational risks and make preemptive maneuvers based on precision analytics to avoid pileups in space.
There are thousands of satellites and countless debris objects in very busy orbits around Earth — many more satellites are bound for the same, orbital regimes.
Capella Space, Globalstar and Lynk Global are among the initial group of leading operators using our subscription-based, autonomous, Pathfinder solution, following successful beta deployments of the offering, which was officially rolled out for general availability late in the summer.
Our next-gen Pathfinder comes at a critical time as satellite and mission operators need precise, real-time datannto safely navigate busy orbits and evade accidents in space.
Pivotal Partnerships

Kayhan Proxima will autonomously provide conjunction assessments and
optimal trajectories for safe rendezvous proximity operations.
Image is courtesy of Kayhan Space.
Kayhan also partnered with Precious Payload to provide more access to breakthrough spaceflight safety solutions by leveraging its online Launch.ctrl marketplace for satellite launches.
Customers can quickly secure mission analysis, launch licensing, insurance procurement, and now a full suite of space traffic management software offerings. So many orbits have become extremely crowded and dangerous for launchers and space missions.
We partnered with Precious Payload to provide technologies such as our conjunction assessment and collision avoidance innovations to help ensure the sustainability of space for customers of both companies and future generations.
We also partnered with Astroscale U.S. and the University of Texas at Austin to deliver a first-of-its-kind, optimized rendezvous proximity operations (RPO) management solution to support secure space commerce and national defense activities.
This initiative, partly funded by a SpaceWERX STTR award, investigates how the Kayhan Proxima solution will enable in-space servicing, assembly and manufacturing (ISAM) capabilities being explored by the Department of the Air Force (DAF) and the U.S. Space Force (USSF) through the Orbital Prime program.
Kayhan is already providing a broad range of spaceflight safety services to many of the world's leading satellite operators, running hundreds of satellites on our Pathfinder platform in multiple orbital regimes around the Earth.
Our firm gained significant traction in 2022 and experienced substantial growth as the company's solutions resonated with operators.
The operators were then able to optimize missions by avoiding unnecessary and costly maneuvers as they secured their operations across the new space economy.
The Kayhan Space roadmap leads to a spaceflight safety software solution that encompasses the full mission lifecycle — from launch and on-orbit collision avoidance maneuvers to deorbiting and decommissioning of the spacecraft.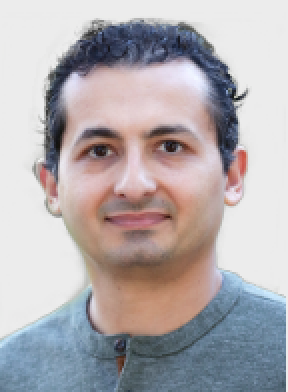 2022 was a pivotal year for Kayhan Space and we're looking forward to growing our team and partnerships as well as elevating our capabilities to deliver peace of mind to the operators who rely on our space safety platforms to further their missions.
www.kayhan.space
Author Araz Feyzi is the Chief Technology Officer at Kayhan Space.
---