Mr. Brender joined GeoEye in January of 2006 after eight years at Space Imaging as their vice president of Communications and Washington operations. He has more than 25 years of experience in public affairs, broadcast journalism and government relations and is responsible for all communications and marketing. In 2007, GeoEye established its GeoEye Foundation, and Mr. Brender serves as its first Executive Director. In 1998, prior to joining Space Imaging, Mr. Brender was a broadcast journalist for ABC News, spending 16 years at the network as an assignment editor and editorial producer. Before ABC, he served in the U.S. Navy as a public affairs officer and is a retired Naval Reserve commander. Mr. Brender began writing and speaking about high resolution commercial Earth observation as early as 1985 when he established the Radio and Television News Directors Association (RTNDA) Remote Sensing Task Force. The Task Force helped clear the way for high-resolution imagery to move from the defense and intelligence sector to the commercial sector.
SatMagazine (SM)
Mark, how long have you been with GeoEye? What do you think has been your greatest achievement while being a part of the GeoEye team, both for you personally and for the company? What caused you to transition from your previous position to GeoEye? What is it about GeoEye that truly excites you?
Mark Brender
I've been with GeoEye and its predecessor company for 12 years and have over 25 years of experience in public affairs, broadcast journalism and government relations. As GeoEye's vice president of communications, I am responsible for increasing brand awareness, upholding our reputation and managing media relations.
In terms of why GeoEye excites me, let me tell you this: in 1968, the Apollo astronauts took a photo of the Earth suspended in the darkness of space with the moonscape in the foreground. It was the first time humankind was able to see the planet in this way. I believe this single photo was responsible — in part — for launching the environmental movements of the 70s and 80s. The picture showed how fragile the Earth looked. Now, commercial remote sensing technologies are enabling us to look at Earth in much more detail — we now have the tools to map, monitor and measure our impact on the planet in a very precise manner. Scientists say 30 percent of the world's GDP is affected by our knowledge of what's going on in the environment, so any technology that helps us in this regard will bring value. I left ABC News in 1998 to be part of this growing industry because, as a network television producer, I recognized the value of the visual.
I think my greatest personal achievement is bringing my 16 years with ABC — in a variety of editorial roles, most recently as the Pentagon producer — to the GeoEye table. I had direct insight into the mechanics of the military public affairs hierarchy, so I understood the media's need for accurate and compelling imagery to tell their stories. I also served in the U.S. Naval reserve retiring as a Commander. It's hard to believe that in 1985, I established the Radio and Television News Directors Association "Remote Sensing Task Force" to clear the way for high-resolution imagery to move into the commercial sector. For a quarter of a century, I've been thinking about the migration of high-resolution satellite imagery from the world of intelligence to the world of commerce. I understand the vital role our imagery serves across many institutions in both government and business. Open skies and transparency help our customers make better decisions using a technology that was once only in the hands of those who had high security clearances.
SM
Could you provide a brief background on the company's origins and its timeline so far?
Mark Brender
GeoEye was formed in January 2006, when Virginia-based ORBIMAGE purchased the assets of Colorado-based Space Imaging. In March 2007, GeoEye acquired MJ Harden, which enabled us to expand our offerings to include aerial imagery and specialized geospatial processing services.
Today we sell high-resolution satellite imagery, geospatial information products, image processing services and web-based dissemination and content-management services. Our products and services support defense and intelligence, online mapping, environmental and asset monitoring, infrastructure planning and management, disaster preparedness and emergency response. We provide these services through our constellation of satellites, including the world's highest-resolution satellite, GeoEye-1, which provides the highest quality and most accurate satellite imagery available. We anticipate launching a next generation system, GeoEye-2, in the 2012-2013 timeframe, to provide our customers with ongoing access to imagery.
SM
Why are Earth observation and imagery so important to the commercial and military / government environments?
Mark Brender
High-resolution Earth-imaging satellites provide a baseline foundation for making maps. Since 2300 BC, when humankind first etched the lay of the land on clay tablets, people have made maps. Commercial Earth-imaging satellites, such as GeoEye-1, are basically mapping machines in orbit that provide the "ultimate high shot" as well as the metric accuracy embedded in the imagery to make precise and up-to-date maps and render high-quality images. Being able to locate yourself on the Earth using GPS is half the problem; seeing where you are is the other. And GeoEye's products help you do both.
In addition to unsurpassed spatial resolution or the ability to see fine details on the Earth's surface, our satellites offer customers the best in geolocation accuracy. GeoEye-1 can see an object on the ground 16 inches in size, but, most importantly, map the location of an object that size to within a few meters of its true location on the planet. And that's hugely critical to both our commercial and our government customers.
SM
How does GeoEye plan on competing in the Earth imagery business against domestic and foreign firms? What makes GeoEye more responsive to imagery requests? How long does it take to retask GeoEye-1 or IKONOS to accommodate those requests?
Mark Brender
We offer our customers the highest resolution and most accurate imagery available on the market. That's our edge. For example, GeoEye-1's degree of resolution and map-accuracy is the first of its kind in any commercial imaging system. It will remain unchallenged even when next-generation commercial systems are launched in the coming years. GeoEye-1 is designed to train the ITT-built camera on multiple targets during a single orbital pass, and it is able to rotate or swivel forward, backward or side-to-side with robotic precision. So we'll compete on imagery quality and responsiveness to meet our customers' requirements. Feedback from customer service surveys — most recently in May 2010 — tells us that we are meeting their expectations. Ninety-two percent of the respondents said they would recommend GeoEye's products to other professionals.
In addition, we can quickly re-task the satellite to meet the emergency requirements of our customers. When an earthquake struck Haiti in January, for example, we were able to collect 3,000 square kilometers of imagery in and around Port-au-Prince and have that imagery available to key customers within 12 hours of the earthquake. We have collected tens of thousands of square kilometers of imagery over the Gulf of Mexico and the U.S. shoreline to support efforts to map and monitor the changes that may take place from the oil spill. As of June 1, we've collected almost 80,000 sq km of imagery over the Gulf coast shoreline as well as areas over oil-tainted water.
Many of our competitors lie overseas as more and more governments and commercial companies launch increasingly higher-resolution systems. More than a dozen countries are operating imaging satellites of various types, and increasingly more and more countries and businesses are seeing the value of using geospatial technologies and satellite imagery in making important decisions. We believe competition is good over the long run; it's good for both our business and that of the industry as a whole, and we know our government likes to have companies that compete since there is no monopoly.
SM
How will GeoEye-2 be different from GeoEye-1? Will it be a game-changer for the industry?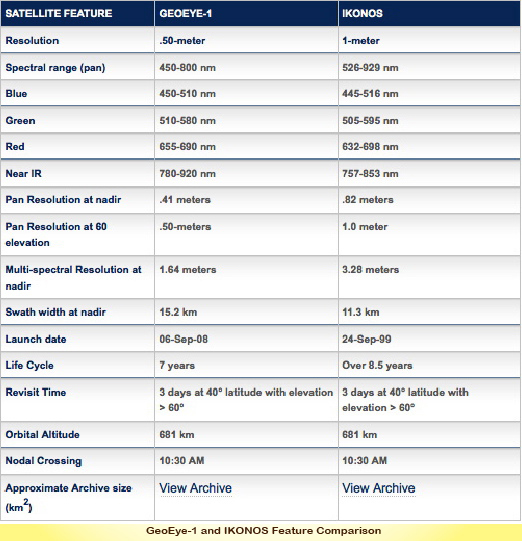 Mark Brender
GeoEye-2 will be the same class of satellite as GeoEye-1, but it will benefit from significant improvements in capabilities to better serve our customers' demands for increased imagery at higher resolution. Some of these improvements include enhanced tasking capabilities and the ability to collect more imagery at a faster rate.
The resolution of the satellite, which will be much higher, was achieved by drawing on the optical and digital camera expertise of ITT. ITT's engineers were able to change the "optical prescription" of the telescope, meaning we'll be able to collect imagery with quarter-meter ground resolution. A final determination on resolution will be made when we know if we win a new satellite imagery contract from the U.S. government. This contract will determine altitude which will ultimately determine ground resolution.
SM
What instruments will be aboard the GeoEye-2 satellite? What are the purposes of each of these crucial instruments?
Mark Brender
Lockheed Martin Space Systems Company is building GeoEye-2, and we've spent a little more than $100 million on the camera, camera electronics and satellite design work over the last few years. Both ITT and Lockheed have a long heritage in building imaging systems for the U.S. government, and we're taking advantage of that brain trust. The launch could be as early as late 2012, depending on the outcome of the EnhancedView contracting process with the U.S. government.
SM
Why did GeoEye ultimately select Lockheed Martin as the contractor for GeoEye-2?
Mark Brender
Lockheed built IKONOS, which we launched from Vandenberg Air Force Base in California on September 24, 1999. It was the world's first high-resolution, commercial Earth-imaging satellite. Lockheed has a long history of building and launching high-resolution satellites for the U.S. government, and this new contract will continue to capitalize on that distinguished legacy.
Our decision to select Lockheed Martin for our third-generation imaging satellite was based on the extremely challenging performance requirements we've specified for GeoEye-2. We concluded that Lockheed has a flight-proven history of designing, building and operating highly sophisticated and complex satellites. We understand that there's a premium on the knowledge and experience that go into such systems, and we found Lockheed's 50-year heritage of design, development and operation expertise to be compelling and convincing enough to team with them for GeoEye-2.
SM
What is the difference between Geo, GeoProfessional, and GeoStereo?
Mark Brender
Geo forms the foundation of the GeoEye imagery product line, and is a radiometrically-corrected, map-oriented image suitable for a wide range of uses. What this means is that, in addition to being useful for visualization and monitoring applications, Geo is shipped with the sensor camera model. It allows skilled users to make their own orthorectified products using standard commercial software and available data sets. Geo imagery products are available in black-and-white or in color.
GeoProfessional products, on the other hand, are orthorectified or terrain-corrected by our staff of experienced production personnel using proprietary processes perfected in our production facilities. The orthorectification process enables us to quickly deliver the most accurate and precise terrain-corrected multispectral products available. These products are suitable for feature extraction, change detection, base mapping and other similar applications.
Finally, our most advanced imagery product, GeoStereo, provides a strong base for three-dimensional feature recognition, extraction and exploitation. It processes two images with stereo geometry to support a wide range of stereo imagery applications, including creating terrain maps, building height extraction, spatial layers and three-dimensional feature extraction. More and more, people are ordering stereo imagery.
SM
What's the latest news for the company? Anything exciting going on recently? Is GeoEye involved in capturing imagery for subject matter expert analysis of the Icelandic volcano and Gulf oil spill?
Mark Brender
Actually, in early April, GeoEye was awarded a contract through the National Geospatial-Intelligence Agency (NGA). The contract is for a new web-mapping service, which provides for rapid delivery to the Department of Defense of near real-time, high-resolution GeoEye-1 satellite imagery of an entire country. We're thrilled to offer the NGA this new integrated service under their RDOG program, which stands for Rapid Dissemination of Online GEOINT.
The best part about this integrated service is that it combines image collection, production and delivery and follows Open Geospatial Consortium compliance standards for geospatial and location-based information and web-mapping services, all through a cutting-edge platform. U.S. military personnel, intelligence community personnel and DoD map production staff have easy access to online, on-demand, geospatial intelligence, so it's a great example of how GeoEye really is on the cutting edge of an industry that's rapidly moving forward.
What's more, we're working on a very similar program for our commercial customers. As our CEO Matt O'Connell likes to say, "It's not just about the pixel anymore, but what you can do with it." We're finding that our customers want the most accurate and highest-resolution imagery, and they want easy access to it over the web. So in addition to our government work, we're currently developing new online tools that will make imagery more accessible to our commercial customers as well.
Since GeoEye-1 became operational one year ago in February, it has collected almost 130 million square kilometers of imagery. IKONOS has collected much more area because it has been operational since 2000. IKONOS was able to capture imagery of the Eyjafjallajokull Volcano in Iceland on April 17. The imagery displayed the plume of ash erupting from the volcano. (
see this issue's cover image
)
SM
Changing subjects, tell us about the NGA's EnhancedView project. What's the plan if you win it?
Mark Brender
The EnhancedView contract is one part of a larger satellite imagery strategy announced by the Director of National Intelligence in April 2009. It will serve the U.S. military and intelligence communities. Under the plan, the government would modernize the nation's satellite imagery architecture by evolving government-owned satellite designs and enhancing the use of U.S. commercial providers, such as GeoEye. The EnhancedView part of this program would allow commercial imagery providers to continue to supply the U.S. Government with unclassified, highly accurate, satellite imagery. The competition for the contract was open to all U.S. aerospace companies, and we anticipate the NGA EnhancedView award announcement in the next few months.
If GeoEye wins the contract, we'll obviously be thrilled. As a company, we take great pride in the fact that we've been a full-mission partner with the NGA for more than 20 years. This is a natural extension of the work we've already done with them. As I mentioned, we've made considerable progress on building the GeoEye-2 satellite, and winning this contract will allow us to move forward aggressively in that regard.
SM
As an industry, how do you see geospatial information moving forward? Broadly speaking, what are some of GeoEye's future plans?
Mark Brender
I'm extremely excited about the industry heading into the future, and for what GeoEye's role will be. In addition, our significant government contracts and robust presence in the commercial geospatial arena, one thing that GeoEye does exceptionally well is work in the non-profit and research-based areas, which we see as an area for growth.
The GeoEye Foundation, for example, is GeoEye's non-profit arm. Its mission is to foster the growth of the next generation of geospatial technology professionals. The Foundation provides satellite imagery to students and faculty at educational institutions to advance research in geographic information systems and environmental studies, and it offers imagery to non-governmental institutions to support their humanitarian support missions.
The Foundation supports a new generation of innovative and diverse users who apply geospatial technology to meet local, national and global challenges. So far, the Foundation has approved more than 100 imagery requests totaling almost 100,000 square kilometers. This is a great example of where I see the industry going as a whole — helping to solve the great problems of our time.