Fair Weather Ahead As Spire Closes Funding... Plans Expansion Of Weather Sats From 20 to 100+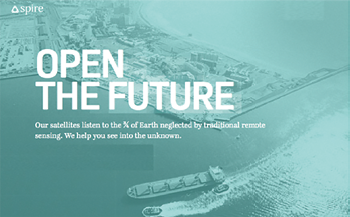 Spire, a satellite-powered data company, announces the company has closed on a $40 million Series B round of funding led by Promus Ventures with participation from new investors Bessemer Venture Partners and Jump Capital, as well as existing investors RRE Ventures and Lemnos Labs, among others.
To date, Spire has secured just over $80 million through three rounds of funding.
With the new funds, the company will support further growth and expand its constellation from 20 satellites in 2015 to more than 100 by the close of 2017.
The latest round of financing comes at a time when the need for advancements in weather and maritime data is at an all-time high. With the potentially catastrophic 2016 Weather Gap right around the corner, Spire offers a solution to the $2.4 trillion dollar global problem.

Spire is the only commercial weather data provider with scheduled launches in 2015. The company will start to deploy its satellites on a near monthly basis beginning September 2015.
"With a highly entrepreneurial San Francisco team developing a true multi-sensor, nano-sat platform, Spire is the poster child of New Space," said BVP partner David Cowan, who recently served on the board of Skybox Imaging (acquired by Google)."Spire has advanced from startup to deployment faster than any space venture we've seen—at this rate it will quickly become the largest constellation known to man."
The company's satellites employ advanced software defined radios to collect global remote sensing data with a focus on the three-quarters of the Earth that is covered by oceans or considered remote. The current generation of Spire satellites focus primarily on weather tracking, climate science, global supply chain monitoring, and broader maritime domain awareness.
With a resilient global infrastructure already in place, Spire will soon deliver five times the amount of weather data and four times more frequently updated maritime data than previously possible through other means.
"I continue to be massively impressed by the customer traction at Spire," said Mike Collett, Founder and Managing Director of Promus Ventures, who will be joining the Board of Directors. "Peter and his team have developed a clear value proposition with their approach to high frequency remote sensing data and they are adding blue chip customers, both public and private, at a notable pace. Many of those same customers never before considered purchasing this type of data, precisely because they could not do anything without the frequency and reliability that Spire is bringing to the market."
The implications of better data are immense, and range from saving lives to saving literally billions of dollars that businesses, governments and consumers lose due to unpredictable weather or maritime accidents each and every year.
By the end of 2015, Spire will have 20 satellites in orbit and 20 ground stations across the globe, providing customers with data from any point on Earth delivered every 30-minutes. From Alaska to Dubai, Spire's global ground station network is the most advanced of its kind for LEO satellite communication and data distribution.
"The last 12 months have been full of fast deliberate growth for Spire where we've opened offices in Singapore and Glasgow amongst incredibly strong customer traction", said Peter Platzer, CEO of Spire. "These funds reinforce our ability to sustain exceptional innovation and hire the world's top talent."
spire.com/
---
Entirely New + Colorful Visions Of Earth, Courtesy Of Sentinel-2A
On Tuesday, June 23 at 03.51:58 am CEST (June 22 at 10.51:58 On Tuesday, June 23 at 03.51:58 am CEST (June 22 at 10.51:58 pm local time), a Vega launcher took off from the spaceport in Kourou, French Guiana, carrying the satellite developed and built by Airbus Defence and Space for the European Space Agency (ESA).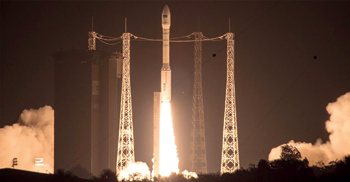 Aftera little more than one hour, the solar panel needed to supply energy was extended and Sentinel-2A successfully reported in 'for duty.' The 1.1 tonne satellite has been designed to operate for at least 7 years and 3 months in a polar orbit approximately 780 kilometers above the Earth.
"The outstanding performance capabilities of Sentinel-2's multispectral instrument along with its rapid data transmission ability will soon be available, marking a major step forward in satellite-based Earth and environmental observation," said François Auque, Head of Space Systems at Airbus Defence and Space.
The Sentinel 2 mission will contribute to the management of food security by providing information for the agricultural sector. It will also enable the condition of and changes in land surfaces to be mapped and forests worldwide to be monitored.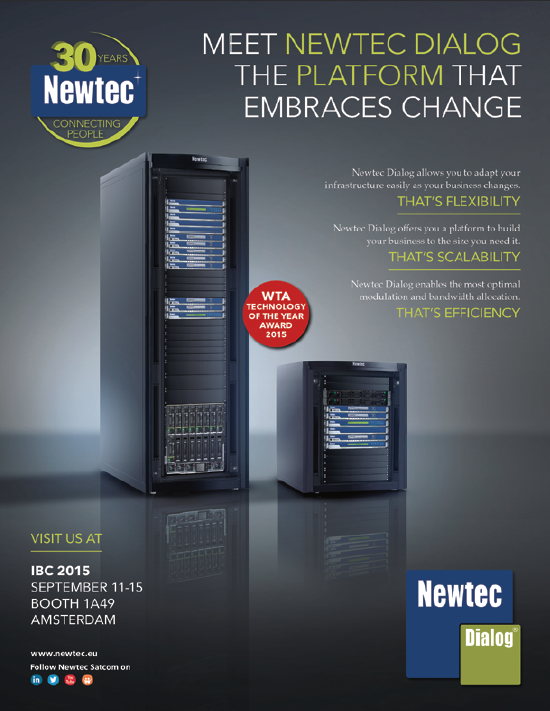 The mission will also provide information about the pollution of lakes and coastal waters. Images of floods, volcanic eruptions and landslides will aid in the production of disaster maps and will also facilitate humanitarian aid activities.
The mission is based on a constellation of two identical satellites, Sentinel-2A and Sentinel- 2B. Sentinel-2B will be launched in 2016 into the same orbit, but it will be 180 degrees apart. It will take both satellites five days to cover the Earth between the latitudes of 56 degrees south and 84 degrees north, thus optimizing the global coverage zone and data transmission for numerous applications.
Sentinel-2B is being worked on in the cleanrooms of Airbus Defence and Space and will be ready for launch in 2016.
The imaging instrument, which uses 13 spectral channels ranging from the visible to the infrared, delivers high-resolution multispectral images of the Earth's surface with a resolution of up to 10 meters at an image width of 290 kilometers. This extremely large scanning width results in wider coverage, while at the same time, the advanced instrument provides an unprecedented level of detail.
Sentinel-2 is also capable of using another ESA program, the European Data Relay System (EDRS). EDRS will be a network of laser communication payloads on geostationary satellites and Low Earth Orbit (LEO) satellites.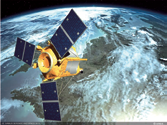 The system is also known as The SpaceDataHighway and will provide secure and fast communication services for the Sentinel-1 and Sentinel-2 satellites. It will ensure the timely availability of data particularly for time-critical applications such as environmental monitoring, emergency response and security missions.
Thanks to its ability to produce color imaging for Copernicus, Sentinel-2A perfectly complements the radar imaging provided around the clock and in all weather conditions by the first Sentinel satellite, Sentinel-1A, which was launched on April 3, 2014. Sentinel- 1A carries a C-band radar instrument built by Airbus Defence and Space.
The Sentinel-2 mission has been made possible thanks to the close collaboration between ESA, the European Commission, industry, service providers and data users.
The satellite's development involved approximately 60 companies, led by Airbus Defence and Space in Germany for the satellites and Airbus Defence and Space in France for the multispectral instruments, while Airbus Defence and Space in Spain was responsible for the mechanical satellite structure.
---
The Knowledge Center Debuts From GVF
The GVF (www.gvf.org) now has an exciting change to the firm's award-winning training program—the GVF Knowledge Center, featuring individual and bulk monthly subscriptions, an Experts Forum for all active students, and site licenses to provide training program access to entire organizations for one monthly fee.
The monthly subscription provides unrestricted access* to the standard library of online interactive, simulator-based SATCOM training courses and certifications exam. Training paths for fixed VSAT Basic/Advanced certification courses, marine VSAT certification, mobile/SNG certification, and SatOps/ NOC certification courses are included. Subscribers have open access to the growing library, which currently stands at over 250 intensive learning hours and $5,000 tuition value, for a monthly cost of only US$29—or even less with developing country, NGO, and volume discounts.
Also included for subscribers, as well as current active GVF learners, is access to the new, fully-moderated Experts Forum, monitored by the SatProf instructors and guest experts, to discuss questions with fellow learners and the SATCOM community. In addition, Knowledge Center access can be provided under a site license at a flat annual rate for an entire organization. That makes it ideal not only for budget planning, but for staff development, as learners may readily engage in the specific training and certification they need to support changing responsibilities.
David Hartshorn, Secretary General of the GVF, said, "With the inauguration of the Knowledge Center program, learners stay engaged by revisiting past courses, practicing their skills with simulators, taking certification and re-certification exams, growing their expertise into new areas, and sharing questions and knowledge with colleagues and experts, all at any time, and all at a remarkably low, flat-rate subscription cost. The Knowledge Center, with the subscription and site license options, gives GVF member organizations an even easier path to Accredited Organization for Training status, which gives differentiation to the organization and reinforces the strength of the SATCOM industry, particularly in interference prevention."
If you are a past GVF student, access to all the latest versions of your past courses, plus many more to explore, are available as is certification renewal. Current and new students are also most welcome to join. To subscribe, please visit www.gvf.org/ training and click on "Subscribe."
For a site license proposal tailored for your organization, please contact Greg Selzer at greg@satprof.com.
---
Orbital ATK's SKYMEXICO-1 Checks Out + Checks Off The 'To Do' List For DIRECTV
Orbital ATK, Inc. (www.orbitalatk.com/) announces that the SKY MEXICO-1 (SKYM-1) satellite, built by the company for DIRECTV, successfully completed on-orbit testing and checkout of all spacecraft systems.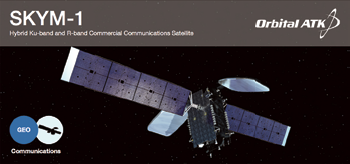 The satellite was handed over to DIRECTV for full operational control after several weeks of orbit-raising activities that were conducted after the launch.
Launched on May 27, 2015, from Kourou, French Guiana, SKYM-1 will provide DTH television broadcast services to Mexico, Central America and the Caribbean for DIRECTV.
The satellite is based on Orbital ATK's flight-proven GEOStar-2™ platform and marks the 35th GEOStar spacecraft launched for customers around the world.
"We are proud to be a part of our customer's mission success by delivering a high-quality, reliable satellite that will provide DIRECTV and its customers with state of the art broadcasting and communications services for years to come," said Chris Richmond, Vice President and General Manager of Orbital ATK's commercial satellite division. "Our ability to produce affordable technology and unprecedented rapid execution from design to launch demonstrates our commitment to build strong and lasting partnerships with our customers."
"Orbital ATK not only delivered the satellite four months early, but the satellite mission and in-orbit testing proceeded flawlessly," said Phil Goswitz, Senior Vice President of Space & Communications at DIRECTV. "We were able to begin service 22 months after the contractual program start enabling our partners at SKY MEXICO to expand their HDTV services earlier than scheduled. DIRECTV and SKY MEXICO are grateful to Orbital ATK for this exceptional performance."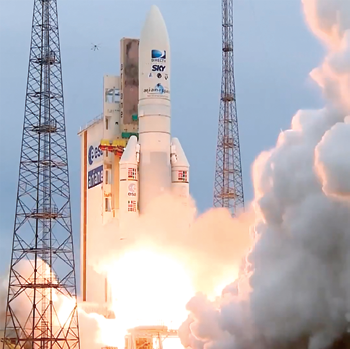 Orbital ATK produced the SKYM-1 satellite in just 20 months and delivered it to the launch site four months ahead of the original baseline schedule.
Built and manufactured at its state-of-the-art manufacturing facility in Dulles, Virginia, SKYM-1 is equipped with 24 active Ku-band transponders and two active R-band transponders to provide DIRECTV's premium video broadcast services to millions of users.
The commercial communications satellite uses reflectors, solar arrays and structural components produced by Orbital ATK's Space Components Division in California and Utah. At launch, the spacecraft weighed 2,962 kg (6,530 pounds) and carried sufficient fuel on board to provide an anticipated 20-year mission life.
SKYM-1 is the first satellite built by Orbital ATK for DIRECTV. The company is currently producing the following satellites that will be delivered and launched for customers over the next several years: Thaicom-8, Al Yah 3, HYLAS 4 and SES-16/GovSat.
---
Rocket Lab Is A First For The Kiwis... Build + Operate An Orbital Launch Site, This Year, In New Zealand
Rocket Lab announces the firm will be the first commercial company to build and operate an orbital launch site in New Zealand.
The company plans to build the launch site on Kaitorete Spit in the Canterbury region of New Zealand's South Island, which will be used to launch Rocket Lab's Electron launch vehicle designed to deliver small satellites to Low Earth Orbit (LEO).
"Creating and operating our own launch site is a necessity to meet the demands of our growing customer manifest," said Peter Beck, Rocket Lab CEO. "At present, the lead-times for satellite launches are years, and small satellite companies cannot reach orbit in timeframes that keep their businesses competitive. With the launch frequency possible from this site,
Rocket Lab is one major step closer to its goal of making space commercially accessible."
Rocket Lab's customers—who have previously been unable to absorb the considerable cost of dedicated launch services—will use the launch site to launch imaging and communications satellites used for services including weather monitoring, crop optimisation, natural disaster management, maritime information, search and rescue data, GPS and Internet from space, among others.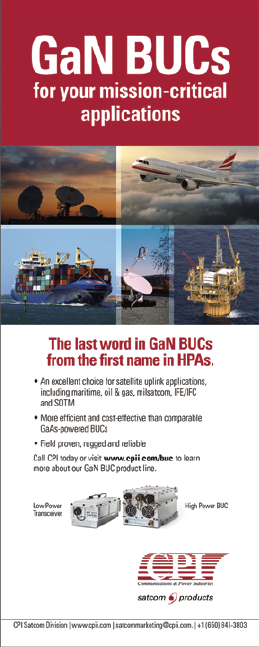 Despite being headquartered in the United States, Rocket Lab has selected a New Zealand launch location as it offers technical, logistical and economic advantages. The location, which has been used for suborbital flights by NASA in the past, can reach a wide range of inclinations from sun-synchronous through to 45 degrees.
"New Zealand's access to high inclination and sun-synchronous orbits are ideal for small satellites," said Beck. "Operational logistics are made easier due to New Zealand's minimal air and sea traffic which enables a significantly more frequent launch rate and economies of scale."
The site is due to be completed in the fourth quarter of 2015, after which it will be ready for the first test flight of the Electron vehicle.
While Kaitorete Spit will be Rocket Lab's primary launch site, the company is also evaluating additional New Zealand sites and already established launch sites in the United States in order to meet customer demand.
Electron is an entirely carbon-composite vehicle that uses Rocket Lab's Rutherford engines for its main propulsion system. Rocket Lab recently announced that the Rutherford engine makes use of electric turbo-pumps and the majority of its components are 3D printed.
Electron is 16m in length, 1.20m diameter and has a lift-off mass of 10,500 kg. The vehicle is capable of delivering payloads of up to 100 kg. to a 500 km. sun-synchronous orbit, which is the target range for the high growth constellation-satellite market.
The carbon-composite Electron creates increased access to space by giving customers the ability to launch satellites more frequently and affordably with a dedicated launch priced at $4.9 million.
Rocket Lab's mission is to remove commercial barriers to space. The company was founded on the belief that small payloads require dedicated launch vehicles and a flexibility not currently offered by traditional launch systems.
Rocket Lab is a privately funded company with its major investors including Khosla Ventures, K1W1, Bessemer Venture Partners and Lockheed Martin.
Founded in 2008, Rocket Lab is headquartered in Los Angeles with operations and a launch site in New Zealand.
www.rocketlabusa.com
---
Grace-FO Satellites Development + Design Completed By Airbus Defence and Space
Airbus Defence and Space (airbusdefenceandspace.com/) has successfully completed the development and design phase of the Grace- FO (Gravity Recovery and Climate Experiment follow-on) satellites.
The build phase of the Grace-FO climate satellites has begun with the delivery of the highly stable carbon fibre composite structure, which weighs around 200 kilograms, to the satellite integration center of Airbus Defence and Space in Friedrichshafen.
Following delivery of the highly stable satellite structures, the building phase of the two NASA Jet Propulsion Laboratory (JPL) research satellites has begun.
The Grace-FO mission is based on an US-German cooperation agreement executed by JPL and the German Research Centre for Geosciences (GFZ-Potsdam).
Planned to be launched mid-2017, the Grace-FO twin satellites will take measurements to provide an updated model of the Earth's gravitational field every 30 days, for a five-year mission duration. In addition, each of the satellites will create up to 200 daily profiles of the temperature distribution and the water vapour content in the atmosphere and the ionosphere.
The Grace-FO satellites, which are around 3 x 2 x 0.8 meters and weigh around 600 kilograms, will circle the Earth in the same polar orbit, spaced 220 kilometers away from each other at an altitude of roughly 500 kilometers.
Both satellites will take continuous, very precise measurements of the distance between each other. Since this distance changes under the influence of the Earth's gravity, this enables the gravitational field to be continuously measured.
GPS receivers are used to determine the position of the satellites and the precise distance measurements between both Grace-FO satellites are made with a satellite-to-satellite microwave connection to give an extraordinarily high precision in the measurements results in the range of a few thousandths of a millimetre.
Unlike the original Grace mission, the new satellites will additionally be able to carry out high-precision distance measurements by laser—a joint German/American technological experiment developed for future generations of gravitational research satellites.
The Grace-FO satellites will follow-on the Grace satellites, also built by Airbus Defence and Space, which have been making a significant contribution to global climate research since 2002.
By observing changes in the Earth's gravitational field over time, geoscientists have been able to make new discoveries about dynamic processes beneath the Earth's surface, about deep and surface currents in the oceans and about the changes in the ice coverage at the poles, in Greenland and on mountains.
During the original Grace mission, observations were made to determine which masses—in the form of water, ice and water vapor—were moving, and even the ground water level could be monitored globally and long-term.
---