iDirect's Evolution With Via Direta Telecom
VT iDirect, Inc. (iDirect) announces that Via Direta Telecom, a subsidiary of TV and radio broadcast group Rede Tiradentes de Telecomunicações, has selected the iDirect Evolution® platform to enable the largest, most ambitious distance-learning program ever created in Brazil.
Limited broadband coverage in Brazil has left roughly 97 million people without access to the Internet.1 Actively exploring a solution, the Amazon State's Secretary of Education has commissioned Rede Tiradentes to create a distance-learning program that spans Brazil. The program will use satellite to connect roughly 45,000 students situated across hundreds of municipalities along the rivers of the Amazon basin with teachers located in Manaus, the capital city of the state of Amazonas. Via Direta will operate the hub on behalf of Rede Tiradentes.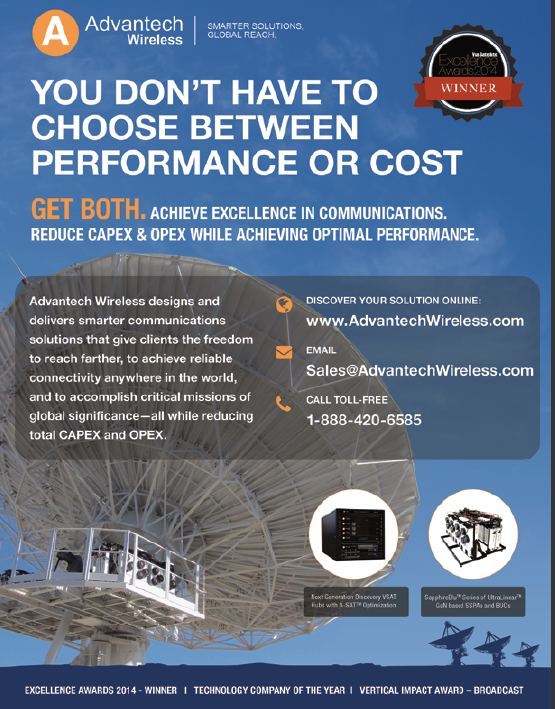 Using iDirect's Evolution platform and X1 remotes, Via Direta is able to offer Internet access, long-distance learning programs and virtual tools that provide interactivity between isolated communities. Key to the project was iDirect's Remote Commissioning Solution, Satmotion Pocket, to support the aggressive installation schedule. Upon completion, the network will consist of 1,300 VSAT stations.
Executive Comments
"Implementing a complex network in such a challenging environment as the middle of the Amazon Forest presents unique engineering issues, such as atmospheric attenuation. The use of iDirect's Remote Commissioning Solution help us overcome such challenges in order to streamline installation, while the capabilities of the iDirect Evolution platform will help us continually improve the efficiency of the network going forward," said Adriano Chagas, Director of Engineering, Via Direta Telecom.
"Government data shows that only about one-third of all children in Brazil make it to the sixth grade. This distance-learning program will be a powerful step forward in changing these dynamics, and we thank Via Direta for making us part of this program. Beyond education, access to high-speed broadband will also introduce a world of new social and economic capabilities to the residents of Brazil that will change the quality of life for generations to come," said Rob Kilroy, Regional Vice President of Sales, iDirect.
1McKinsey & Company. (2014). Offline and falling behind: Barriers to Internet adoption. Retrieved from http://www.mckinsey.com/insights/high_tech_telecoms_internet/offline_and_falling_behind_barriers_to_internet_adoption
---
The Gaia Satellite Mission Benefits Asteroid Research
Astronomical research on asteroids, i.e., minor planets, is also benefiting from the large-scale Gaia mission of the European Space Agency (ESA).
Even though the astrometry satellite's main purpose is to precisely measure nearly one billion stars in the Milky Way, Gaia has tracked down a multitude of minor dwarf planets in our solar system
To determine its current position in space and thus ensure Gaia's extremely high measurement accuracy, images are taken every day of the regions of the sky where the very faint satellite is located.
"Each night the images reveal several dozen minor planets. The data are quite valuable for our understanding of the origin of our solar system," said Dr. Martin Altmann of the Institute for Astronomical Computing (ARI), which is part of the Centre for Astronomy of Heidelberg University. Dr. Altmann heads the observation programme to determine the position of the Gaia satellite for the Data Processing and Analysis Consortium (DPAC), which is responsible for evaluating the data from Gaia.
The Gaia astrometry satellite, which has been fully operational since August 2014, measures with pinpoint accuracy the positions, movements and distances of stars in the Milky Way, thereby furnishing the basis for a three-dimensional map of our home galaxy.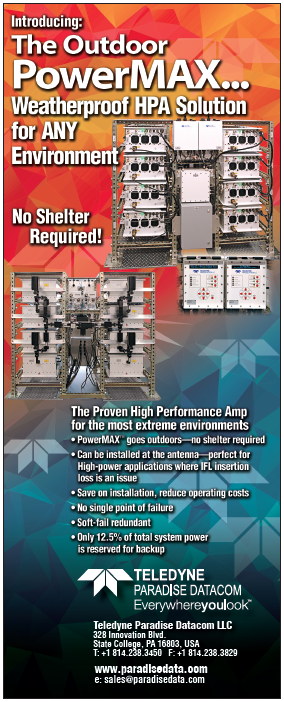 According to Dr. Altmann, it became clear during preparation for the Gaia mission that the ambitious accuracy goals required novel methods to determine the position and velocity of the satellite itself. For this purpose an observation campaign was launched to determine Gaia's position and velocity from Earth.
As early as 2009, Dr. Altmann of the ARI and his colleague Dr. Sebastien Bouquillon of the Observatoire de Paris (France) began planning the programme together with an international team. Among the partners for the implementation, they attracted observatories in Chile and Spain.
The Institute for Astronomical Computing is responsible for coordinating the daily observations. Since the launch of Gaia in December 2013, Gaia's ground-based position measurements are transmitted regularly to mission control, the European Space Operations Centre in Darmstadt.
Dr. Altmann explains that the astrometry satellite is at a distance of approximately 1.5 million kilometres and is always located in the region of space away from the Sun as viewed from the Earth. "For this reason Gaia's positioning images are also perfect for observing minor planets.
This so-called oppositional position brings these celestial bodies closer to Earth, making them appear brighter than at other times," continues the Heidelberg researcher. More than 2,000 small planets have been found this way since the beginning of this year, mainly on images from the VST telescope of the European Southern Observatory (ESO) in Chile.
Dr. Altmann indicates that nearly 40 percent of them are new discoveries. Moreover, these current measurements are especially interesting for already known minor planets as well, precisely because Gaia and the minor planets located in the same part of space are always opposite the sun at the time of observation.
Just like with the full moon, the planets' entire earthward side is completely illuminated only at that location. This allows the researchers to measure the asteroid's reflectivity very accurately and draw conclusions as to their chemical composition. Up to now, only approximately 30 asteroids have their reflectivity sufficiently well-determined, according to Dr. Altmann.
The Gaia astrometry satellite itself will also discover and accurately measure many asteroids in its survey of the sky, but in totally different regions.
"In this respect, the observations from the Gaia mission and the ground-based measurements complement each other extremely well," says Dr. Altmann. "We hope not only to acquire new insight into the origins of our home galaxy through the Gaia satellite mission. We will certainly learn more about the origins of our solar system," stresses Prof. Dr. Stefan Jordan of the Institute for Astronomical Computing.
Editor;s note: This story is based on materials provided by Heidelberg University and was originally published in Science Daily
(www.sciencedaily.com/).
---
RigNet Keeps 'Em Connected + Enjoys A Multi-Year Deal In Southeast Asia
RigNet, Inc. (www.rig.net/) announces that it has been awarded a multi-year contract to deliver remote offshore communications services to a major operator of offshore drilling and production assets in Southeast Asia.

RigNet is a global provider of remote managed offshore communications solutions, telecoms systems integration services and collaborative applications to the oil and gas industry.
"Remote connectivity is not a commodity service in the markets we serve. The combination of higher-specification assets working in increasingly remote locations, while utilizing smarter tools and networked teams, makes secure and reliable access a critical aspect of today's energy industry," said Mark Slaughter, RigNet's CEO and President.
"To meet these needs, RigNet delivers a communications architecture designed from the outset to include real-time traffic management and around-the-clock support to enable operations to flourish in the most challenging conditions."
RigNet will provide comprehensive managed remote communications solutions on the customer's mobile offshore production unit ("MOPU"), including telephony, network support and onboard crew WiFi service.
A fiber optic backhaul will connect the client's headquarters to RigNet's Singapore teleport. Network monitoring and support will be managed 24/7 from RigNet's Global Network Operations Center, with in-country support services provided on their offshore site as required.
Hector Maytorena, RigNet's Group Vice President, Managed Services, said, "Our combination of technical expertise and deep energy sector experience enables RigNet to provide reliable and innovative solutions worldwide."
---
Hexagon Geospatial's New Smart Apps Data + Partnership
Airbus Defense and Space and Hexagon Geospatial (www.hexagongeospatial.com/)have partnered in a new content-sharing program that will enable end-users to have access to Earth Observation data and software through smart applications offered by Hexagon Geospatial.
The content provided by Airbus Defense and Space will combine very-high and high resolution optical imagery from Pléiades and SPOT satellites with the Hexagon Geospatial offering. This partnership will fuel the creation of new smart applications, which will provide end-users with easy access to fresh data and powerful technology to transform this data into useful information across all market segments – government, commercial, utilities, natural resources, and more.
The Hexagon Geospatial Power Portfolio provides geospatial and industrial enterprise solutions to organizations across the globe. These solutions harness the power of information with tools and techniques for managing, manipulating and visualizing big data and integrate them with sensors, software, knowledge and customer workflows.
Initially, the partnership will provide users with access to content from Airbus Defense and Space's Pléiades and SPOT satellites. In the future, the plan is to make available the powerful radar data from the TerraSAR-X satellite and a range of digital elevation models for Hexagon Geospatial smart applications as well.
"Hexagon Geospatial has changed the game by offering a platform to build and deliver smart applications to our customers," said Greg Buckman, Head of Airbus Defense and Space's Geo-Intelligence Programme Line in North America.
"Today's sophisticated end-users want customized analytics that meet their dynamic and unique workflows – providing them with a quick snapshot to support faster and more effective decision-making," said Mladen Stojic, President of Hexagon Geospatial. "Our new partnership with Airbus Defense and Space satisfies this need by empowering the creation of smart applications that leverage both enhanced imagery and our software solutions."
---
Advantech Debuts GaN SSPA/SSPB
Advantech Wireless has released their Second Generation SapphireBlu™ GaN Technology based, 400W, C-Band SSPA/SSPB designed for broadcasting applications.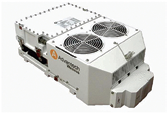 The Second Generation C-band GaN SapphireBlu™ SSPA/SSPB from Advantech Wireless offers very High Linearity in a compact single package.
These systems are designed for Ultra HD transmission broadcasting and are DVB-S2X ready.
The increased linearity comes at the same time with no additional increase in size, weight and energy consumption.
Cristi Damian, VP Business Development, Advantech Wireless, said, "We understand the challenges that broadcasters and service providers face while adopting the new bandwidth demanding Ultra HD standard.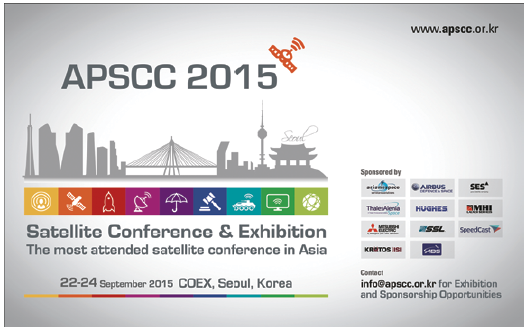 "The Second Generation of GaN SSPAs empowers broadcasters to deliver their messages while maximizing efficiency and reducing operational cost. These units are designed for very high linearity as imposed by the heavy Ultra HD traffic, and at the same time be ready to operate under the high density modulation schemes that are now part of the DVB-S2X standard. This is a safe investment for the future."
www.advantechwireless.com/products/4-c-band-400w-hubmount-sspasspb-sapphireblu-superwideband-series-ultralinear-gan-technology/
---
A Stablized Drive-Away VSAT Antenna From Cobham SATCOM
Cobham SATCOM (www.cobham.com/satcom) is launching the latest innovative antenna system in its EXPLORER portfolio for land 'Comms-On-The-Pause' users.
Developed completely in-house by Cobham SATCOM, the new one meter EXPLORER 8100 Auto-Acquire Drive-Away antenna is designed to offer unparalleled performance, ensuring high quality connectivity on any Ku- and Ka-band networks. The terminal features genuine EXPLORER design, which is already established and proven with Cobham SATCOM's highly regarded EXPLORER BGAN and GX terminals.
With EXPLORER 8100, Cobham SATCOM has focused on ultra-reliable connectivity even in situations where the vehicle is experiencing sudden movements or rocking on its suspension while the antenna is transmitting. This could be caused by high winds or more commonly, people stepping in or out of the vehicle. Particularly important for Ka-band usage, mechanical impacts as small as 0.3 degrees may lead to an immediate loss of signal. Cobham SATCOM introduces 'Dynamic Pointing Correction' from its stabilized Maritime Antennas on this new series of Land Comms-On-The-Pause VSAT antennas. Dynamic Pointing Correction ensures uninterrupted transmission when similar antennas would experience a complete loss of signal.
A state-of-the-art RTM carbon fiber reflector combined with pointing correction technologies delivers an accurate Drive-Away VSAT antenna on the market.
EXPLORER 8100 features industry-fast satellite acquisition with pointing achieved automatically in less than two minutes. The system is available in both Ka- and Ku-band configurations and works with all major satellite networks. A swappable feed system allows users to change frequency bands, ensuring they have full choice of what services to use throughout the lifetime of the antenna.
EXPLORER 8100 comes with built-in Wi-Fi for easy access to the terminal and the same Web-based user-interface developed for Cobham SATCOM's cutting edge Inmarsat GX series of antennas. Once connected, EXPLORER 8100 provides high performance, continuous connectivity in the field, optimally supporting high definition video streaming, high throughput data transfer and tactical and emergency communication.
First customer shipment of EXPLORER 8100 is planned for October 2015.
---
Satellite Industry Growth Increased During 2014 According To New SIA Report
The Satellite Industry Association (SIA) has just released its 2015 State of the Satellite Industry Report, which reveals a four percent growth rate in world satellite industry revenues in 2014, up from three percent in 2013.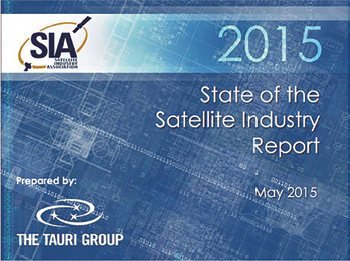 Globally, 2014 revenues for the satellite industry totaled $203 billion, up from $195.2 billion the previous year. Industry growth was led by the satellite services segment, which saw its revenues increase by four percent to $122.9 billion.
Satellite launch industry revenues increased significantly, rising by over nine percent in 2014. Satellite ground equipment revenues saw growth of four percent, while satellite manufacturing grew by one percent over the previous year.
"Last year was an excellent one for the satellite industry," said Tom Stroup, President of SIA. "The established parts of the industry continued to innovate and expand, while satellite entrepreneurs demonstrated the depth of new interest in satellites and the services they provide. Our industry continues to drive space-based innovation and technologies, delivering high quality services and a level of global ubiquity that is truly unique. As recognition of the advantages offered by satellites grows, SIA and its members remain committed to supporting a policy framework which will allow the industry to continue to meet its customers' demand for innovative global satellite services, systems and solutions."
The 18th annual State of the Satellite Industry Report was prepared by The Tauri Group, an independent analytical firm.
The report is derived from proprietary surveys of satellite companies, in-depth public information, and independent analysis which are combined to assess the performance of four satellite industry sectors: satellite services, satellite manufacturing, satellite launch services, and satellite ground equipment.
The 2015 State of the Satellite Industry Report includes the following results:
Satellite Services revenues increased by four percent globally from 2013 to 2014, reaching $122.9 billion, powered by continued growth in consumer satellite television plus new interest in satellite broadband and Earth observation services.
Satellite Launch Industry revenues, which include revenues for all commercially-competed launches that occurred in 2014, increased by nine percent from 2013 to 2014. The number of commercially procured launches conducted worldwide increased to 73 from 62 in 2013. In 2014, 208 satellites were launched compared with just 107 launched in 2013.
Satellite Ground Equipment revenues continued to increase in 2013, rising by five percent over 2013 to reach $58.3 billion. Satellite navigation (GNSS) equipment for both consumer and industrial customers represented approximately 53 percent of the overall ground equipment revenue.
Satellite Manufacturing revenues, reflecting the value of satellites launched in 2014, grew by one percent worldwide to $15.9 billion.
U.S. Satellite Industry Employment, as of the third quarter of 2014, decreased by 10,055 jobs or approximately four percent since 2013.
SIA will release an updated report after full 2014 employment data is published this coming August by the U.S. Bureau of Labor Statistics.
For additional information regarding SIA's State of the Satellite Industry Report, please contact Sam Black, Sr. Director of Policy, SIA at sblack@sia.org or via telephone at 202.503.1563.
A copy of the 2015 State of the Satellite Industry Report can be accessed at...
www.sia.org/wp-content/uploads/2015/05/Mktg15-SSIR-2015-FINAL-Compressed.pdf
---
It's A Stampede For Harris CapRock With Hess Corporation
Harris CapRock Communications (www.harriscaprock.com/) has been selected by Hess Corporation to provide a turnkey, integrated telecommunications solution to support the Stampede offshore field development project, which is operated by Hess Corporation in the Green Canyon area of the U.S. Gulf
of Mexico.

The agreement represents Harris CapRock's first large-scale integration project with Hess, a leading global independent energy company engaged in the exploration and production of crude oil and natural gas.
Harris CapRock will procure equipment and conduct factory acceptance testing, project engineering and detailed design and project management for the 22-system telecommunications project.
The integrated solution supports audio/video conferencing, satellite and wireless communication.
"Choosing Harris CapRock as a single-source telecom provider for comprehensive systems integration improves responsiveness as well as saves time and money for Hess," said Tracey Haslam, president, Harris CapRock Communications. "Reliable customer service throughout the integration process will lead to reliable network communications for operators in the field."
Integrators play a key role in delivering products and technologies to the energy market. Harris CapRock has provided service in more than 120 countries and employs field technicians, engineers and project management personnel across a variety of IT and telecom systems specialties. Harris CapRock recently was named the most impactful services provider in the oil and gas sector by Via Satellite's 2014 Excellence Awards Program.
---