Andrew is the Director of Business Development for ORBCOMM's Government and Maritime Services. Over the last 10+ years, Mr. Loretta has been involved in developing and implementing terrestrial- and satellite-based remote asset tracking solutions for the maritime industry, serving in Sales, Product Management, and Operations roles in support of marine-based Automatic Identification System, Long Range Identification & Tracking as well as Silent Ship Alarm Systems solutions.
During this time, Mr. Loretta has managed relationships with a broad range of major maritime companies and government authorities, vessel operators, and maritime information providers, including the U.S. Navy, U.S. Coast Guard, NOAA, Danish Maritime Authority, Moller Maersk, Horizon Lines, IHS Fairplay, Lloyd's List Intelligence, and The Maritime Information Services of North America.
Mr. Loretta graduated from Loyola Marymount University in Los Angeles, California with a Bachelor of Arts degree in History, and is fluent in Spanish and Portuguese. Mr. Loretta resides in Miami, Florida, with his wife and two children.
SatMagazine (SM)
Please tell us about your background and how you became involved in the satellite communications business and how did you decide to develop and further your career with ORBCOMM? What attracted you to the company?
Andrew Loretta
I've spent more than ten years working in satellite data communications technology, with much of that time in the maritime world tracking large commercial ships, tugs and barges, offshore drill rigs, fishing vessels and other assets. I soon became involved in developing AIS applications and, when ORBCOMM announced that it was launching satellites that would be able to detect AIS messages from space, naturally I was intrigued with how well that would work and how it would impact the way AIS data is used.
SM
Given your previous experience with the U.S. Coast Guard and U.S. Navy, how does ORBCOMM bring the firm's commercial successes into the military environments, and what is required to gain the attention of acquisition agencies for AIS services? Are there any recent programs within this realm you could tell our readers about?

Andrew Loretta
The concept of detecting AIS messages from space was actually brought to ORBCOMM from the U.S. Coast Guard. They were looking to leverage existing commercial assets to be able to carry out a safety and security mission. The U.S. Coast Guard funded ORBCOMM's first AIS concept demonstration satellite, so there was a real public-private partnership to prove that this could be done.
The U.S. Navy, while not a direct participant, watched those developments closely and soon became customers of the data as well, along with a number of other reputable maritime authorities and militaries around the world.
SM
The Maritime and Government aspects of SATCOM are crucial components for the continued successes of our industry. What roles does ORBCOMM play within these market segments?
Andrew Loretta
ORBCOMM is a leading provider of Machine-to-Machine (M2M) satellite data communications solutions. ORBCOMM operates a constellation of Low-Earth-Orbit (LEO) satellites and gateway Earth station network around the globe, and provides data services via its network as well as through partner satellite and cellular networks.
ORBCOMM recently acquired a company called GlobalTrak that focuses on M2M secure cargo monitoring for such customers as the Defense Logistics Agency and the U.S. Transportation Command. They are using ORBCOMM's GlobalTrak M2M cargo and container monitoring technology on goods that are transported out of places like Afghanistan and Pakistan. AIS is a logical segue for tracking this cargo once they have arrived at ports and are loaded on to cargo vessels. With AIS, you can now track the vessels.
SM
How did ORBCOMM become involved in the detection of maritime Automatic Identification System (AIS) messages from space?
Andrew Loretta
AIS was originally developed as a vessel collision avoidance system, so the normal range of a ship-board AIS transponder is 20-30 miles. There were many who were skeptical that AIS messages could be picked up from space, even though such capability could give maritime authorities and others tremendous visibility of global vessel traffic.
A number of early experiments with aircraft helped prove that AIS messages could be collected at high altitude, but it was agreed that a more cost-effective persistent platform would be preferred. Shortly after 9/11, the U.S. Coast Guard, through its work with Johns Hopkins University, approached ORBCOMM about the concept of putting an AIS receiver payload onto its satellites. ORBCOMM was awarded a contract to build a concept demonstration AIS satellite for the Coast Guard in 2004. This satellite, plus others with AIS payloads, was launched in 2008.
SM
How is satellite AIS data used?
Andrew Loretta
Organizations such as the Coast Guard use satellite AIS for maritime domain awareness, in a similar fashion as how air traffic controllers manage the skies—maritime authorities use AIS to manage traffic in ports and coastal areas. The farther out they can see ships as they approach waterways and ports, the more they can anticipate who is arriving into their waters and where they might be coming from.
This information provides tremendous value for other homeland security organizations such as customs and immigration enforcement. Maritime authorities such as customs agencies, for example, can correlate cargo and crew manifests with vessels that are arriving in their ports, so if there is any other intelligence or red flags that one of those vessels is carrying any illicit/dangerous cargo or crew, the authorities can intercept that vessel before it arrives in port using AIS data to determine its location.
SM
What other uses are there for satellite AIS?
Andrew Loretta
In addition to security and safety applications for maritime authorities, satellite AIS data is also used in environmental compliance and investigation, such as surveillance of marine protected and fisheries areas. Authorities are able to determine what vessels are operating with their Exclusive Economic Zones and detect if there may be illegal fishing activity taking place. Many of these organizations are using other data sensors, such as radar and imagery, and advanced software platforms to develop a comprehensive situational awareness picture of what's going on in their jurisdiction.
Maritime authorities around the world have successfully been able to track foreign fishing vessels illegally fishing in their sovereign waters by using AIS. If they can see ships crossing into their boundaries and "lingering" around for a while, there's a pretty good chance that those vessels are engaging in illegal activity and the authorities can then deploy other assets, such as patrols boats or aircraft, to the scene to intercept those perpetrators.
SM
As a play within the overall tracking services environments, is ORBCOMM involved in terrestrial use of AIS, as well?
Andrew Loretta
ORBCOMM sees satellite AIS as a complement to terrestrial AIS, so it teams with value-added partners who operate terrestrial AIS networks to provide the most comprehensive combined AIS footprint possible to its customers.
SM
What's in store for ORBCOMM's AIS service in the future?
Andrew Loretta
ORBCOMM plans to launch 17 next generation OG2 satellites that will replenish its existing M2M constellation. All of these satellites will have AIS receiver payloads on board, as well.
ORBCOMM is planning to launch these OG2 satellites this year, which could mean that, by early 2015, the company will be providing unprecedented global AIS coverage. These next generation satellites are being launched to replenish ORBCOMM's M2M satellite network constellation along with increasing its space-based AIS detection capability, so they are effectively dual-mode M2M and AIS satellites.
These satellites will have up to 12 times the capacity of our first generation satellites, up to six times the data access and twice the transmission rate. Our AIS message signal de-collision processing (or SDP) technology, which maximizes the collection of the AIS messages out of the "noise," is done on board the satellite, simply because the satellites have the power and computer processing capacity to do so.
All 17 satellites will be spaced out in to various planes in asynchronous Low-Earth-Orbit for maximum effective coverage for both our M2M and AIS customers.
SM
Why should potential clients consider ORBCOMM for their satellite and cellular services? What are ORBCOMM's selling points?
Andrew Loretta
ORBCOMM is clearly becoming the leading "Network of Networks" in the telematics space. In addition to operating its own satellite M2M and AIS network, it has established strategic partnerships with cellular carriers and other satellite data communications providers around the world to offer its customers the broadest range of wireless communications options available today.
SM
Acquisitions play an important role in a company's growth… just recently, the firm garnered GlobalTrak, MobileNet and the SENS Asset Tracking Business from Comtech. Are there any additional technologies of interest to the firm to help boost their Maritime and Government services portfolio?
Andrew Loretta
ORBCOMM is continuing to evaluate various technologies that it could add to its portfolio, including in the government and maritime segments. All I can say is, stay tuned!
SM
Lastly, when you look back upon your career, what project or projects bring a true sense of satisfaction to you?
Andrew Loretta
Having been a part of AIS, from basically putting antennas on top of port buildings so we could track vessels locally, to now being part of a space-based solution, has been incredible. I am proud to have been a part of the development of satellite AIS over the last five years.
We expect to see a major jump in the performance of our M2M and AIS network once we launch our 17 OG2 satellites. We believe ORBCOMM will continue to be a major catalyst for emerging supply chain monitoring technology.
* * * * * * * * *
ORBCOMM Inc. has now made available their nexgen OG2 satellite modems, which are ideal for Original Equipment Manufacturer (OEM) integration into satellite M2M applications targeted for the transportation & distribution, heavy equipment, oil & gas, and government markets. These modems are 100 percent backwards compatible with ORBCOMM's current OG1 satellite network and are the first devices available to support OG2 services upon launch of their nexgen OG2 constellation.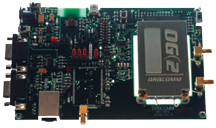 There are two versions—the OG2-M with satellite communications and the OG2-GPS, which adds an on-board three-axis accelerometer and built-in GPS. With a single board transceiver and a footprint smaller than a credit card, the OG2-M and OG2-GPS feature a single, wide-range power supply input, which provides significant flexibility for product designers. The modems also use an industry-standard PCI Express physical interface for easy integration into a broad range of M2M applications. The unique ability to individually control power to various sections of the modem enables the modems to achieve extremely low power consumption and provide increased longevity for battery-powered applications.
Also created is a turnkey Developer's Kit designed to reduce development time and expedite deployment. The user-friendly kit includes an OG2 satellite modem, a modem evaluation board, universal power supply, antennas, USB to serial adapter, PC interface software to configure and control the modem, as well as a Quick Start Guide CD with full documentation. OEMs can utilize the kit to validate the modem's compatibility with their existing applications and to benchmark modem and network performance.
ORBCOMM's long-time partner, Quake Global, is also offering a full suite of devices that will enable M2M communications across ORBCOMM's OG1 and OG2 satellite networks. Quake Global's dual-mode QPRO is a self-contained, environmentally sealed device with GPS tailored for M2M applications in the heavy equipment, transportation and oil & gas industries that are powered by ORBCOMM's global networks.