Rapid Response In Libya
Hermes Datacomms, a communications company for the oil and gas industry, is now fully operational in Libya, following the demise of Colonel Gadaffi on 20th October 2011.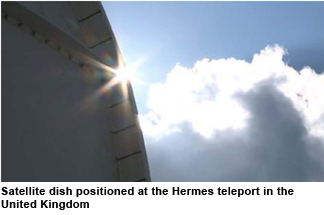 The Company has an established presence within the Libyan capital, Tripoli, trading continuously and operating in Libya since 2005; supplying VSAT communication needs both onshore and offshore, in city and remote locations.
Glynn Wagg, Country Manager, Libya, said, "In the past few weeks, Hermes has installed two new VSAT systems for companies working in the oil and gas sector. Installing these systems has provided communication links from our clients offices based in Tripoli to their headquarters in Europe via Hermes teleport in the U.K. We have just had a new contract signed by an oilfield services company in Libya to provide them with a VSAT communication system. This is Hermes first main contract since the uprising and demonstrates that the industry is starting to re-establish operations in Libya".
Shaun Young, Regional Director Asia Pacific and Libya, explains, "During the unrest, Hermes continued to provide full service and maintenance support. Hermes Datacomms uses technology that has proven to be reliable in Libya and our network designs are built with redundancy and no single point of failure. This design ensured our customers were able to continue to transmit data and retain voice connectivity""
Wagg added, "We have continued to support our clients throughout the disturbances, from our support teams, out of the UK and Tripoli. Recently, we have been assisting our current and new customers to rebuild their communication systems. Our ex-patriot staff has started to return to Tripoli with the task of inspecting our infrastructure and meeting with the new government and ministers to ensure that we comply with the NTC vision."
Saleh ben Saleh, Administrative Director in Tripoli, who has remained in Libya during the civil uprising, says, "We have been able to provide service to customers in Libya including BP and Petro-Canada. New business has been seriously affected as foreigners are still overcoming the hurdles of coming back to the country. The main immigration office was bombarded and Libya is in the process of re-building the infrastructure. Companies are keen to get back into the country due to the importance of the Libyan market with respect of the oil and gas industry. There is a positive atmosphere in respect of foreign companies looking forward to coming back but they are encountering difficulties in obtaining visas and although Tripoli is becoming safer and safer by the day, people are still wary of safety issues."
Wagg continued, "The majority of oil and gas company offices were interfered with during the past few months and equipment and links will have to be reconnected. We have several customers in Libya who continued to use our service... the Libyan situation affected their business dramatically. Hermes office in Tripoli has not been damaged, stock and systems are ready for business and our satellite links are ready immediately.
"We are pleased to be fully operational in Libya. There is still a lot of uncertainty within the country and our most difficult challenge is the safety of our engineering team and the risk of equipment being confiscated. The local infrastructure will take some time to re-build but Hermes is positive about its future in Libya as we are in a position where we are providing full service with an established office, 24/7 local engineering support and in country stock.
"Oil and gas companies are not just looking for a VSAT provider; they are looking for an integrated solution. Our approach is to manage and control all aspects of the network, end-to-end, including licensing and logistics at both ends of the satellite link".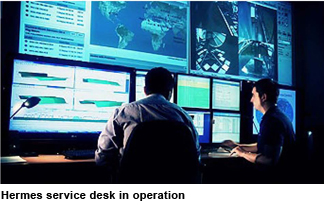 About Hermes Datacomms
Hermes is a British company owned by its directors and backed by private equity with over 20 years of experience providing high quality, reliable and efficient communications to the oil & gas industry, particularly in difficult and challenging environments.

With a strong regional presence in the Middle East, Americas, Europe, Africa, Asia Pacific and Central Asia, Hermes now provides coverage in 88 percent of the world's oil reserves and 92 percent of the world's gas reserves.

Hermes Datacomms is listed in The Sunday Times Tech Track 100 2011 as one of Britain's 100 private tech companies with the fastest-growing sales over the last three years.
* * * * * * * * *
Beating The Schedule... STSS
The Space Tracking and Surveillance System (STSS) demonstration satellites continue to shine in their role as space sensors validating key functions and capabilities for missile tracking.

"Even before observing the second anniversary on Sept. 25, 2011, of their tandem launch, the nearly identical satellites already had completed on-orbit mission objectives ahead of schedule," said David Bloodgood, STSS program manager for Northrop Grumman's Aerospace Systems sector. "They demonstrated the 22nd and last 'test focus area' defined by the U.S. Missile Defense Agency [MDA] five months ahead of schedule to support on-orbit demonstration of mission objectives." Northrop Grumman (NYSE:NOC) is the prime contractor for STSS and Raytheon Company is the sensor payload provider.
The final test focus area objective was demonstrated in April during an Aegis FTM-15 flight test when STSS demonstrated the capability to provide real-time, fire-control quality data to the Aegis weapon system to support launch on remote.
"This demonstration was originally planned to be accomplished with data from a dedicated test scheduled for September 2011, 24 months after the STSS demonstrators were launched," said Bloodgood.
"It's remarkable that the integrated Northrop Grumman, Raytheon and MDA team was able to use system cueing and the inter-satellite communications crosslink between the two STSS satellites to acquire and track the target during FTM-15. That allowed the final test focus area to be demonstrated during an Aegis test against an intermediate range target," he added. "The original plan was to use dedicated targets to demonstrate STSS capabilities. It was very challenging to meet all test focus areas using shared targets during other MDA system tests."
On the second anniversary of their launch, the pair of satellites also had:
– Orbited the Earth 9,333 times
– Made 845 vehicle collects
– Communicated with the Air Force Satellite Control Network 11,429 times
– Received a total 3,405,712 commands
"The STSS demonstration satellites have been extremely productive during their two-years on orbit, proving the advantages of space sensors for missile defense many times over," said Doug Young, vice president of missile defense and warning programs for Northrop Grumman's Aerospace Systems sector.
Altogether, Young said, the demonstration satellites participated in multiple flight tests in MDA's Integrated Master Test Plan to validate key objectives in four main categories:
(1) Birth-to-death tracking, (2) Launch-on-remote,
(3) Risk reduction for a future operational capability, and
(4) providing precision cues to BMDS radars. In addition to birth-to-death tracking, highlights of the on-orbit demonstration included: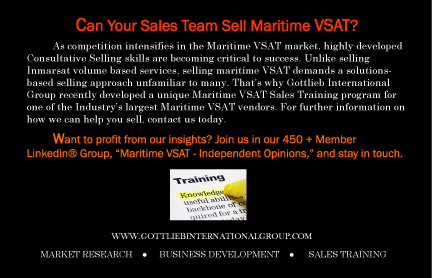 – Tracking six Ballistic Missile Defense System (BMDS) threat-representative targets, and a number of other space objects or satellites

– Generating "stereo" or three-dimensional missile tracks, yielding the best quality data yet seen from a space-based sensor

– Participating in Aegis launch-on-remote exercises, demonstrating the ability to launch interceptors based on remote track data from space
"By meeting the major objectives ahead of schedule, we have delivered first-time capabilities for missile defense that are valuable for our national security that also are a good value for taxpayers," Young added. "All technologies on STSS have a very high technology readiness level."
The two low-Earth orbiting STSS demonstrators will continue participating in BMDS tests during the remainder of fiscal years 2011 and 2012 in conjunction with other components.
* * * * * * * * *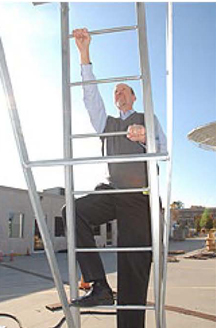 Countdown To Launch...
Jay Bloom climbed a ladder for a look inside one of O3b Network's gateway antennas during a series of factory tests at ViaSat in Atlanta, Georgia. "It's getting very exciting as we begin to ship hardware and prepare for the installation of our first gateway antennas," said Bloom, O3b's senior vice president of ground systems. "This is no longer a concept on paper and whiteboards. It's now reality," Bloom noted with a smile, referring to the well orchestrated, global effort to build O3b's ground and space systems.
O3b's highly-skilled technical team is working across three continents and eleven countries to develop and deploy the hardware and software designed to deliver on O3b's mission to make the Internet a truly global experience. "We're shipping our first three gateway antennas, ten ISO containers full of equipment, to Greece now and installation at the teleport will start in January," explained Bloom.
O3b's teleport in Nemea, Greece is the first of seven strategic gateways to be installed around the world, ahead of the launch of O3b's initial fleet of eight Medium Earth Orbit satellites in early 2013. The ground system will support a combination of satellite control and customer services, including O3b's new IP Trunking solution called O3b Trunk. The scalable, bundled offering is designed to deliver affordable, fiber-like capacity anywhere within 45 degrees of the equator.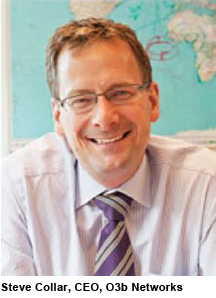 "2012 will certainly be a year full of important O3b milestones leading up to launch," said Steve Collar, CEO of O3b Networks. "It's exciting to know that soon our gateways and satellites will be delivering the high-capacity, IP bandwidth that will ultimately play an integral role in transforming the emerging world."
O3b was developed to deliver high-speed connectivity to the world's unconnected and underserved markets. More than one-third of the capacity across O3b's initial constellation is already sold out. O3b is boosting its growing fleet from eight to twelve satellites and nearly doubling capacity after raising an additional $137 million from confident investors.
"O3b has the capacity to fuel our customers' networks and position them to meet the increasing demand for bandwidth and connectivity in markets around the world," noted Collar. "Our O3b Trunk solution delivers extraordinary bandwidth flexibility and scalability that allows providers to ramp up their services as market demand expands," Collar added. "Our offering of more bandwidth, lower latency and affordable pricing is eliminating the primary barriers to connectivity and growth in the emerging markets."
"O3b is delivering amazing and empowering technologies, the equivalent of having a fiber-optic cable dropping from the sky," said Jules Maher, CEO of Telecom Cook Islands, a government provider serving the remote Pacific nation of the Cook Islands. Vacationing New Zealanders and Australians often travel to the Cook Islands to leave it all behind for a while. Reluctantly they even give up their high-speed broadband. Fast, affordable Internet access is out of reach across the remote country, including the main island of Rarotonga – until now.
Telecom Cook Islands has secured a large chunk of bandwidth from O3b Networks to provide Cook Islands businesses, 15,000 residents and more than 100,000 annual tourists with speedy web access. O3b Networks is set to initiate its satellite-delivered service to the Cook Islands in mid 2013. "With five to six times the Internet speeds of our current broadband capabilities, O3b's affordable, high-speed capacity will open the door to new opportunities and businesses across the Cook Islands," said Maher. "It's tremendously exciting and represents an important and historic milestone for our country."
From the sandy beaches of the Cook Islands to the Amazon region in the heart of Brazil and the rugged, remote inlands of the Middle East, Africa and Asia, O3b is opening up the broadband pipe and a whole new world of opportunities. Bandwidth options, from 100Mbps to 1.2Gbps, are set to drive new broadband applications, such as voice, mobile data and fixed line Internet access, that weren't available before.
"There's no need for cell towers or fiber infrastructure with O3b," noted Collar. "Operators can quickly and easily expand into new markets with everything from broadband to 3G and 4G services, using O3b's mobile backhaul and IP trunking solutions," Collar added. Featuring steerable antennas, O3b satellites offer tailored beams that can be moved virtually anywhere service providers need to deliver connectivity.
Netcom Africa is among the growing number of telecom operators and ISPs that have already secured a stake of O3b capacity worldwide. Netcom Africa will deliver high-speed connections to oil and gas rigs off the coast of Nigeria. In South Africa, Mavoni Technologies is connecting more than 2,000 rural schools. Across Asia and the Middle East, Etisalat is empowering its regional offices to deliver customized broadband solutions to local communities.
Perched up on O3b's test gateway antenna, Jay Bloom had a bird's eye view of the mission and the year ahead. "The next year will be full of mission-critical tests, installations and milestones around the globe, all focused on delivering connectivity to unconnected places," said Bloom. "The O3b system will ultimately enable emerging market businesses to grow and allow millions of people to get a better education and enjoy a better way of life," he added. "We're counting down to the launch of something very special."
Visit
www.o3bnetworks.com
for further details.
* * * * * * * * *
Atlas V Passes Huge Milestone...
As a performance milestone is completed their launch vehicle is now one step closer to transporting humans.


United Launch Alliance (ULA) has completed a key milestone that could lead toward the certification of the Atlas V launch vehicle for human spaceflight.
ULA has successfully completed the second required major performance milestone of its Commercial Crew Development (CCDev) Unfunded Space Act Agreement. The Design Equivalency Review (DER) completes a rigorous assessment of the flight-proven Atlas V launch vehicle's compliance with NASA human spaceflight requirements. Three of the four current NASA CCDev partners providing commercial crew integrated services have selected Atlas V as their launch vehicle.
To successfully complete the DER, NASA human spaceflight experts and ULA engineers worked over a span of several months to perform a detailed review of all NASA requirements and processes, and identified the extent to which the Atlas V meets those requirements. Because Atlas V is already certified to fly the nation's most complex exploration and national security missions, the need for any lengthy and inherently risky launch vehicle development program is expected to be avoided.
ULA has a great amount of detailed system and sub-system qualification, certification and flight data from 27 successful missions, which when taken together formed the basis of the DER, according to George Sowers, vice president of business development and advanced programs. "The Design Equivalency Review allowed the NASA team to compare their stringent human spaceflight requirements against the Atlas V design and demonstrated performance," Sowers said. "The ULA team benefited greatly from NASA's insight and expertise. The completion of the DER is one more step towards confirming that Atlas V is the best choice for providing near-term, safe and affordable launch services for NASA human spaceflight."
The flight-proven Atlas V, which has already been certified to launch high-value NASA robotic missions, reduces the risk of launch vehicle development and early flight failures inherent in new, unproven designs, Sowers added. "With 27 consecutive successes—98 for the Atlas program as a whole—Atlas V provides the highest confidence, lowest risk solution for human spaceflight," Sowers said.
As NASA moves forward into the first phase of the Commercial Crew Integrated Design Contract (CCIDC), ULA will offer human-certified Atlas launch services to meet the needs for the crew transportation system providers.
"The CCIDC is the critical first step towards creating a robust commercial crew transportation capability to low-Earth orbit (LEO). ULA looks forward to continued work with our customers and NASA to develop a U.S. crew space transportation capability providing safe, reliable and cost-effective access to LEO and the International Space Station." Sowers said.
ULA program management, engineering, test and mission support functions are headquartered in Denver, Colorado. Manufacturing, assembly and integration operations are located at Decatur, Alabama, and Harlingen, Texas. Launch operations are located at Cape Canaveral AFS, Florida, and Vandenberg AFB, California.
For more information on ULA, visit the
ULA web site
.
* * * * * * * * *
Sailor Dances Across The Beams
Maritime vessles can now enjoy the ability to globally roam across multiple satelite beams and more...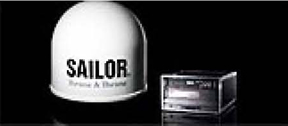 Comtech EF Data Corporation and Thrane & Thrane have successfully completed interoperability testing of the SAILOR 900 VSAT marine stabilized antenna systems and the ROSS Open Antenna Management (ROAM) protocol. The interoperability will enable the SAILOR 900 VSAT antenna systems on maritime vessels to globally roam across multiple satellite beams, maintaining connectivity moving through different satellite footprints and enhancing communication capabilities at sea.
The ROAM protocol offers a common management interface for Comtech EF Data's Roaming Oceanic Satellite Server (ROSS) and third-party Antenna Control Units (ACUs) by providing a generic set of commands, information, interfaces and status queries. ROSS is an integrated location server that works in conjunction with Comtech EF Data's Vipersat Management System to facilitate on-the-move satellite communications for oceanic vessels. ROSS enables remote modems to interface with stabilized, auto-tracking antennae, maintaining connectivity as vessels move through footprints of different satellites. Vessel position data, satellite signal and management status are constantly monitored to determine when satellite handoff is necessary.
As ROSS can support many types of ACUs, the ROAM protocol reduces the complexity and the variations by providing basic parameters required to globally roam across multiple satellite beams. The ROAM protocol provides uniformity in implementation of third-party antenna manufacturers' interfaces, while enabling the unique characteristics and proprietary techniques of different manufacturers.
"The interoperability of the ROAM protocol and ROSS automation with the SAILOR 900 VSAT will provide maximum bandwidth efficiencies and roaming capabilities for maritime operators' satellite-based communications," said Daniel Enns, Senior Vice President Strategic Marketing and Business Development for Comtech EF Data.
The SAILOR 900 VSAT is an advanced maritime stabilized Ku-band antenna system. Prior to starting the actual design process, Thrane & Thrane collected extensive ship motion data over a sustained period. This data was used in the industry's first and only custom Vessel Dynamics Simulator, which enabled the simulation of ship forces and significantly increased life time testing.
"The SAILOR 900 VSAT is a paradigm shift for maritime VSAT antenna systems," commented Casper Jensen, VP Maritime Business Unit, for Thrane & Thrane. "When combined with Comtech's market-leading technologies, our maritime customers can significantly enhance their communications at sea."
* * * * * * * * *
A Decade Of Imaging
A good photographer needs agility. So it is with the ESA microsatellite Proba-1, which turns in space to capture terrestrial targets. Celebrating its tenth birthday this week, Proba-1's unique images are used by hundreds of scientific teams worldwide.
A technology demonstrator turned into an Earth observation mission, the microsatellite — just a cubic metre in volume — has acquired nearly 20,000 environmental science images with its main Compact High Resolution Imaging Spectrometer (CHRIS), used by a total of 446 research groups in 60 countries.
ESA has a family of experimental 'Project for Onboard Autonomy' microsatellites: The Sun-watching Proba-2 went into orbit in 2009 and the vegetation-imaging Proba-V will be launched next year. But it was Proba-1, launched from India on 22 October 2001, that started it all.
"Proba-1 remains the most agile and stable satellite platform in its range," said Frank Preud'homme of QinetiQ Space, Belgium, the company that built Proba-1 for ESA. "These attributes are a prerequisite for high performance remote sensing."
For most Earth-observing satellites, image acquisition is only a matter of opening a viewing aperture, but Proba-1 is different.
The satellite's platform and payload work as one: Spinning reaction wheels guided by a startracker roll it up to 25 degrees side-to-side and 55 degrees along its path.
This helps Proba-1 compensate for its 7.5 km/s speed, like a photographer panning to snap a moving target.
In addition, Proba-1 can record up to five differently angled views of the same target, important for researchers investigating how vegetation changes appearance with shifts in view.
"Look at a sunflower on the ground — you'll see a different mix of colours depending on where you stand, as well as the growing season and time of day," explains Mike Cutter of Surrey Satellite Technology Ltd, which designed CHRIS. "The same is true in orbit."
Understanding this has proved beneficial for mapping and classifying land cover, from forest monitoring in Canada to crop yield predictions in Europe, Australia and China.
Other researchers favour the fact that CHRIS's spectral response can be programmed as desired, to home in on diverse factors such as inland or coastal water quality — identifying oil spills, for example, atmospheric pollution or even desert lichens — significant for conserving topsoil in marginal environments.
"CHRIS's 17m resolution is useful in its own right," adds Mr. Cutter. "It can give extra detail of a local section of a larger satellite image acquired at lower resolution."
More than 500 CHRIS images have been delivered for the International Charter 'Space and Major Disasters', a space agency agreement to prioritise damage mapping of disaster-struck regions.
"This mission came down to an experiment — Proba's name derived is from the Latin word Probare: 'Let's try'," comments Frederic Teston, head of ESA's In-Orbit Demonstration Programme, giving Europe's space industry the opportunity to flight-test new technologies.
"We were demonstrating as many new technologies as possible on a single platform, the resulting satellite being able to operate itself with minimum ground control."
CHRIS users simply submit the latitude, longitude and altitude of their chosen target and Proba-1's computer navigates to the correct location, tilts, shoots and delivers the scene.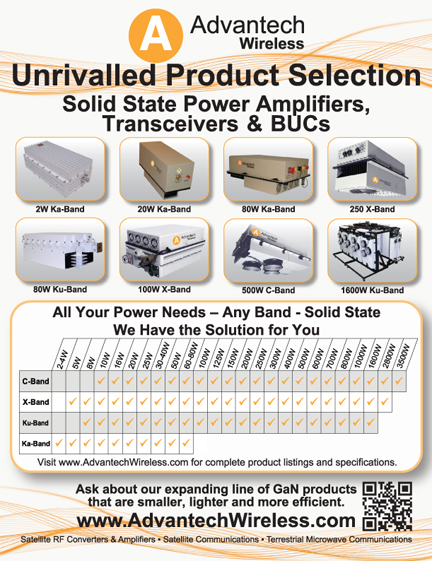 Other innovations included then-novel gallium arsenide solar cells and one of the first laptop-style lithium ion batteries — now the longest operating example in Earth orbit.
CHRIS is only the largest of Proba-1's payloads. A smaller imager, the High Resolution Camera developed by Belgian company OIP Sensor Systems, provides black-and-white 5–10m-resolution images.
The microsatellite is overseen from ESA's Redu ground station in Belgium and the use of Proba-1's instruments is managed from ESA's ESRIN Earth observation center in Italy.
* * * * * * * * *
The Importance Of Imaging: Alabama's Tornados
NASA released earlier this year a unique satellite image that tracked the damage of a monster EF-4 tornado that tore through Tuscaloosa, Alabama, on April 27th. It combines visible and infrared data to reveal damage unseen in conventional photographs.
"This is the first time we've used the ASTER instrument to track the wake of a super-outbreak of tornadoes," says NASA meteorologist Gary Jedlovec of the Marshall Space Flight Center in Huntsville, Alabama.
In the image pictured to the right, which was captured just days after the storm, pink represents vegetation and aqua is the absence of vegetation. The tornado ripped up everything in its path, scouring the Earth's surface with its terrible force. The "tearing up" of vegetation makes the tornado's track stand out as a wide swath of aqua.
"This image and others like it are helping us study the torn landscape to determine just how huge and powerful these twisters were and to assess the damage they inflicted," says Jedlovec.
ASTER, short for Advanced Spaceborne Thermal Emission and Reflection Radiometer, orbits Earth onboard NASA's Terra spacecraft. Its data products include digital elevation maps from stereo images; surface temperatures; vegetation maps; cloud and sea ice data; and more. Last spring the instrument helped track the movement of the oil spill in the Gulf of Mexico.
To detect the scars left by the twisters, ASTER senses the visible and infrared energy reflected from the planet's surface. Destruction such as crushed houses, torn and snapped trees, and uprooted crops are evident in the multi-wavelength images.
"A demolished house, debris and soil scattered on vegetated surfaces, and damaged trees and crops all change the pattern of reflected radiation measured by the satellite," explains Jedlovec. "We can analyze these patterns to help storm survey teams evaluate the damage."
Ground teams conducting field surveys of tornado damage must try to pinpoint where the twisters touched down, how long they stayed on the ground, and the force of their winds. But doing this from ground level can be tricky. Some places are nearly impossible to reach by foot or car. Also, in remote areas, damage often goes unreported, so survey teams don't know to look there.
This is where satellites definitely can help. "To get an accurate picture survey teams need to look everywhere that sustained damage — even unreported areas. Satellite sensors detect damage in rural areas, wilderness areas, and other unpopulated areas. Only with that knowledge can surveyors determine the true track of a tornado.
"Otherwise," says Jedlovec, "a twister could have flattened a single dwelling in a remote location, killing everyone inside, and no one would know."
Less critical, but still important, are home owners' insurance issues. To evaluate claims submitted by storm victims, insurance companies rely on National Weather Service storm reports based on the field surveys.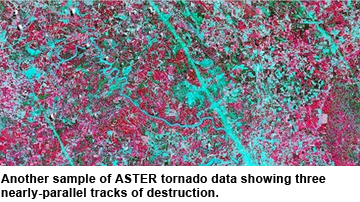 "Let's say you live in a remote area," says Jedlovec. "If there's no record of a storm passing over your area, you could be out of luck."
Jedlovec and colleagues are working now to produce satellite images of other areas ravaged by the historic outbreak of tornadoes "We want to help the storm victims any way we can."
Gary Jedlovec heads up the SPoRT (Short-term Prediction and Research Transition) project at the Marshall Space Flight Center in Huntsville, Alabama, a city that was spared the worst of the damage, though an EF-5 tornado just missed it, destroying communities only a few miles away.
SPoRT personnel created the NASA images in this article using data provided courtesy of NASA Goddard Space Flight Center, the Land Processes Distributed Active Archive Center, Japan's Earth Remote Sensing Data Analysis Center, the Ministry of Economy, Trade and Industry, along with the Japan Research Observation System Organization. The ASTER image in this story came from an observation on May 4, 2011 at 11:45 A.M. local time (1645 UTC), and shows the tornado track was roughly 80.3 miles (129.2 kilometers) long and up to 1.5 miles (2.4 kilometers) wide.
— Story by Dauna Caulter and Dr. Tony Philips, credit Science @ NASA
.
* * * * * * * * *
iHappy Clients
This the first time this application is available for Apple's smart devices, but it goes further...
Iridium Communications Inc. announced that its Iridium® AxcessPoint Mail & Web App is now available for Apple operating system (iOS) devices. This development makes it possible for devices such as the iPhone, iPad and iPod Touch to connect over the Iridium communications network.
The company launched the Iridium AxcessPoint Wi-Fi hotspot with Blackberry support, as well as with apps for Mac and Windows laptops, in September of 2011. With this app rollout, Iridium continues to expand the universe of smartphones that can now communicate on 90 percent of the planet not covered by traditional wireless networks.
"Iridium AxcessPoint Mail & Web now provides a reliable email and Internet connection anywhere in the world for the more than 250 million Apple iOS device users," said Joel Thompson, vice president, product management, Iridium. "This first-of-its-kind capability embodies our Iridium Force(SM) vision -- Iridium's commitment to extending handheld connectivity in places never before possible and through devices customers already own. More and more we see enterprise, government and NGO organizations requiring connectivity for their employees regardless of their location on the planet."
The Iridium AxcessPoint Wi-Fi hotspot accessory is a portable and lightweight modem that easily connects devices to Iridium using an Iridium Extreme(TM) or Iridium 9555 satellite phone. The free Iridium AxcessPoint Mail & Web App for Apple devices is available on Apple's iTunes store.
Iridium AxcessPoint Mail & Web features built-in firewall protection to block extraneous Internet traffic providing data speeds up to five times faster for web browsing and 15 times faster for email. This optimization software allows for offline viewing and composition of emails. It also enables configuration and filtering of large data files and attachments, as well as mid-file restart of attachment transfers if required.
Iridium AxcessPoint Mail & Web is part of the Iridium AxcessPoint suite of products. This Wi-Fi suite includes the Iridium AxcessPoint Wi-Fi hotspot accessory and the Iridium AxcessPoint Connect downloadable application. Iridium AxcessPoint Connect turns any Windows laptop into a global Wi-Fi hotspot when connected to an Iridium Extreme or Iridium 9555 satellite phone.
In order to use the Iridium AxcessPoint Wi-Fi hotspot accessory and Apple iOS app for Iridium AxcessPoint Mail & Web, users must have an Iridium 9555 or Iridium Extreme satellite phone with a valid subscription. Standard usage fees for airtime are charged.