Help From The Sky
The International Fund for Agricultural Development has been funding projects in Madagascar for over 30 years to eradicate rural poverty. With the country facing an exploding population and food crisis, the agency is looking skyward for support.
The
International Fund for Agricultural Development
(
IFAD
) is not only working in Madagascar but also supporting poor rural people around the world to help them grow more food and achieve better livelihoods.
Earth observation satellites allow objective assessments of remote rural areas to help design, plan and monitor the impact of IFAD's development projects.
ESA
and
IFAD
have been working together to identify the detailed information needed to support selected projects in Madagascar. ESA has carried out three trials to demonstrate how state-of-the-art Earth observation services can provide this information and improve the impact of IFAD's project.

Strengthening Food Security
One of IFAD's projects is to strengthen the food security of the rural population in the dry, famine-prone region of the Mandraré Basin by increasing productivity of the irrigated and rain-fed crops.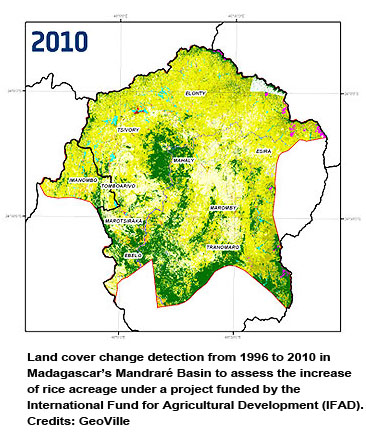 To help IFAD assess the effect of their project and monitor previous activities, the trial delivered satellite maps to determine the current state of crops and changes in land cover over a period of 15 years.
"Since remote sensing has become a popular area of study and experts can be found all around the world, incorporating these data into our projects helps us to strengthen local capacity and transfer knowledge to local stakeholders to improve national capacities," said
Benoit Thierry
, IFAD's
Madagascar Country Programme Manager
.
Improving Development Planning
IFAD's project to support development in the Menabe region focuses on the sustainable expansion of arable land, mainly through irrigation schemes and securing agricultural land.
In order to allow IFAD to single out areas for further agricultural activities, the trial produced land-cover maps and digital models of the area's slope and drainage system to pinpoint areas prone to flooding.
"With these products, we can get details about the land and develop action plans much quicker by sending teams only to select areas," Thierry said.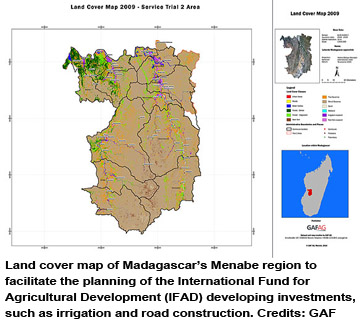 IFAD is supporting a scheme introduced by the Malagasy Government that offers rural farmers the opportunity to formalise ownership of the land on which they depend.
In order to simplify the exchange of land titles, a mosaic based on new very high resolution satellite images was produced of three districts in Haute Matsiatra. The mosaic allows IFAD to estimate the location and size of specific fields.
Following these initial trials, IFAD and ESA are discussing how satellite data can support other development activities, including assessing food security, managing water and adapting to climate change.
"If we don't incorporate this technology into our work now, I'm afraid we will miss the train," Thierry said.
The preceding article is courtesy of the European Space Agency.
* * * * * * * * * * * *
Double Departures
A heavy-lift Ariane 5 successfully orbited two satellite payloads on Friday, April 22nd...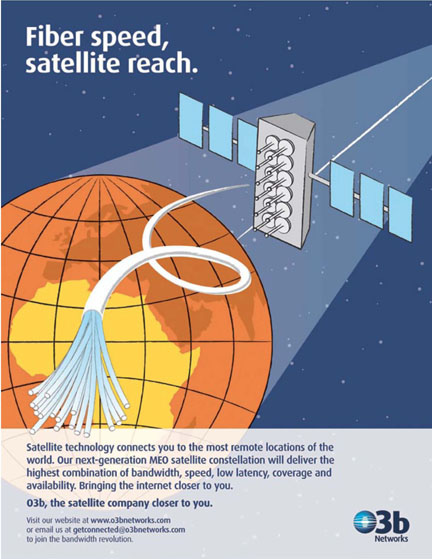 The two satellites will supply telecommunications services for two new customers who join the growing list of
Arianespace
commercial launch services users. In a flight conducted from the Spaceport in French Guiana, the
Ariane 5
deployed the
Intelsat New Dawn
, which was built for the new joint venture of
Intelsat
and
Convergence Partners
, as well as
Yahsat Y1A
, the first satellite to be operated by the United Arab Emirates'
Al Yah Satellite Communications Company
. Adding to this mission's milestones was the lift performance record for Ariane 5: delivering a total mass of 10,050 kg. to geostationary transfer orbit, of which 8,956 kg. was the combined weight of its two satellite payloads.
Lifting off on time at 6:37 p.m on the 22nd. in French Guiana, the Ariane 5 climbed through a partial cloud cover at sunset, and continued its downrange flight in clear skies. This allowed a direct view of the separation for Ariane 5's two solid propellant boosters at an altitude of 66.5 kilometers, followed by the payload fairing's jettison at a 105-kilometer altitude. It marked another of Ariane 5's highly accurate flights, with the following estimated orbital parameters at the injection of its cryogenic upper stage:
– Perigee: 249.8 km. for a target of 249.7 km

– Apogee: 35,975 km. for a target of 35,956 km

– Inclination: 5.98 deg. for a target of 6.00 degrees
Yahsat Y1A was positioned in the upper passenger slot of Ariane 5's dual-payload "stack," and was released at 27 minutes into the flight. This spacecraft was built by Astrium and was based on the Eurostar E3000 platform, while its Ku- and C-band communications payload was supplied by Thales Alenia Space. Yahsat Y1A will have a coverage footprint spanning the Middle East, Africa, and Southwest Asia, creating regionally-focused capacity to meet the region's expanding requirements for government, commercial and consumer satellite communication services. Operating from an orbital slot of 52.5 degrees East, it will support Abu Dhabi's ambition to become a hub for media broadcasting and telecommunications services – enabling customers from Europe and South Asia to connect with customers across the entire coverage area.
Intelsat New Dawn, which was deployed from Ariane 5's lower payload position at 35 minutes into the's flight, is owned by a joint venture of Intelsat and a consortium led by Convergence Partners. This satellite's C- and Ku-band transponders are to support the communications infrastructure for African customers who have experienced exceptional growth, and contribute to the region's development. It is tailored for voice, wireless backhaul, Internet and media applications services. Built by Orbital Sciences Corporation using its STAR-2 platform, Intelsat New Dawn will be integrated with Intelsat's global satellite fleet and stationed at the 32.8 degrees East orbital location. It was the 52nd satellite launched by Arianespace for Intelsat, the world's leading satellite operator.

* * * * * * * * * * * *
Getting Set
The Indian GSAT-8 multi-role spacecraft for Arianespace's next Ariane 5 mission is undergoing an in-depth checkout at the Spaceport in French Guiana in preparation for its liftoff on May 19.
GSAT-8
was built by the
Indian Space Research Organisation
(
ISRO
) using its I-3K satellite bus, and validations being performed in the Spaceport's S5 payload preparation facility include antenna and solar panel deployments. With a liftoff mass of 3,100 kg., GSAT-8 carries 24 transponders to augment India's Ku-band relay capabilities, and also is equipped with the two-channel
GAGAN
(GPS and GEO augmented navigation) system. GAGAN will support the Indian government's implementation of a regional satellite-based augmentation system to assist in the navigation of aircraft over Indian airspace and in adjoining areas.
The upcoming GSAT-8 launch will continue India's long-term relationship with launch services provided by Ariane, which dates back 30 years to the orbiting of the country's
APPLE
experimental payload. In total, 13 Indian satellites have been lofted by Ariane launchers.
For the upcoming launch, GSAT-8 will be joined by a co-passenger —
ST-2
for the
ST-2 Satellite Ventures
joint company — on Arianespace's third Ariane 5 mission of the year at French Guiana. Arianespace is targeting a total of six heavy-lift Ariane 5 flights from the Spaceport during 2011, along with two initial launches of the medium-lift
Soyuz
, and the maiden flight of its lightweight
Vega
. Additionally, three Soyuz flights from Baikonur Cosmodrome are slated for this year, to be performed on behalf of Arianespace by its
Starsem
affiliate.
A Swift Schedule Send Off
Space Systems/Loral (SS/L) announced that Telstar 14R/Estrela do Sul 2 was delivered ahead of schedule for the start of its launch campaign. The satellite, designed and built for Telesat, arrived early at the Baikonur Space Center in Kazakhstan, where it will be launched in late May aboard an ILS Proton Breeze M vehicle provided by International Launch Services (ILS).

Telstar 14R/Estrela do Sul 2
is a Ku-band satellite that will deliver services to growing markets that include Brazil, the Continental United States, the North Atlantic Ocean Region, as well as the Andean and Southern Cone region of South America. The satellite has 46 Ku-band transponders and five antenna beams with on-orbit switching capability that will allow its capacity to be reconfigured depending on market demand.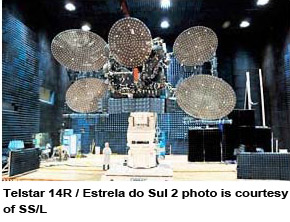 "It is a great credit to the combined efforts of Space Systems/Loral and Telesat that Telstar 14R/ Estrela do Sul 2 was completed in less than two years' time," said Dan Goldberg, Telesat's President and CEO. "When our newest satellite goes into service this summer, it will provide significant benefits to our current and prospective customers, including roughly double the capacity of the satellite it replaces as well as significantly improved geographic coverage and higher power."
Added John Celli, president of SS/L, "Great teamwork, dedication and focus enabled us to deliver Telstar 14R/Estrela do Sul 2 well ahead of schedule. For Telesat's customers, the satellite will bring valuable communications capability to some relatively remote parts of the world. It is heartening to know that the satellites that we design and build at SS/L can improve people's lives by contributing to better healthcare delivery and education, and much needed infrastructure when emergency services are required."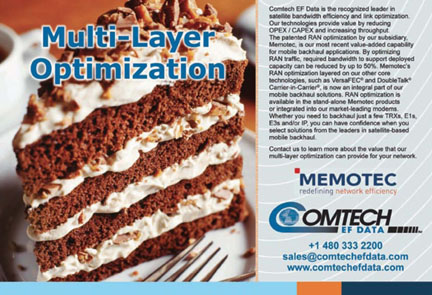 Telstar 14R/Estrela do Sul 2 will be positioned at
63 degrees West
, replacing Telstar 14/Estrela do Sul, which was also built by SS/L. The new satellite is based on the highly reliable
Space Systems/Loral 1300
platform and has 27 Ku-band transponders that are fixed and 19 that are switchable. With approximately 12-kW of end-of-life power, Telstar 14R is designed to deliver service for 15 years or more.
But wait... there's more...
Fleet Furtherance
Space Systems/Loral (SS/L) has been awarded a contract to manufacture a spacecraft for Australian telecommunications service provider, SingTel Optus.
The satellite,
Optus 10
, will be used to augment the existing fleet of
SingTel Optus
satellites and to assure the highest level of ongoing service into the future. Optus 10 is planned to be launched in 2013. With 24 Ku-band transponders, the satellite demonstrates the flexibility of the 1300 satellite platform to accommodate missions requiring smaller satellite payloads. This highly reliable and proven platform is designed to provide service for 15 years or longer. Optus 10 will be the tenth satellite in the SingTel Optus fleet to be launched for Australia and the second built by SS/L. In 2003, SS/L provided the bus for
Optus C1
satellite, which also carries a hosted payload for the
Australian Defence Forces
.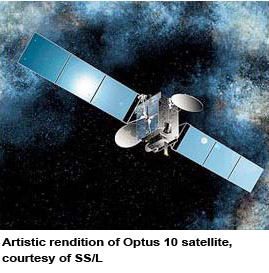 "Satellite continues to make sense for Australia," said SingTel Optus Wholesale and Satellite Managing Director,
Vicki Brady
. "We are pleased to work with SS/L to deliver Optus 10, enabling us to provide support and service to our customers across Australia and New Zealand. As the only Australian full service telecommunications provider to own and operate satellites, Optus 10 expands SingTel Optus' fleet to be the largest in Australia's history."
"As leaders in our industries, both SingTel Optus and Space Systems/Loral share a commitment to quality and innovation," said
John Celli
, president of Space Systems/Loral. "We look forward to providing a spacecraft that will augment the SingTel Optus fleet for many years to come."
Integration Impetus
EMC Satcom Technologies GmbH
has established a new benchmark in satellite networks optimization by achieving operational integration with all six of the world's major TDMA hub systems that cover 90 percent of the market. With satellite capacity across the globe continuing to be in short supply satellite TDMA hub operators are finding that savings and network growth can be achieved by the straightforward addition of the EMC Satcom Technologies'
NRS RAY
at the hub side only.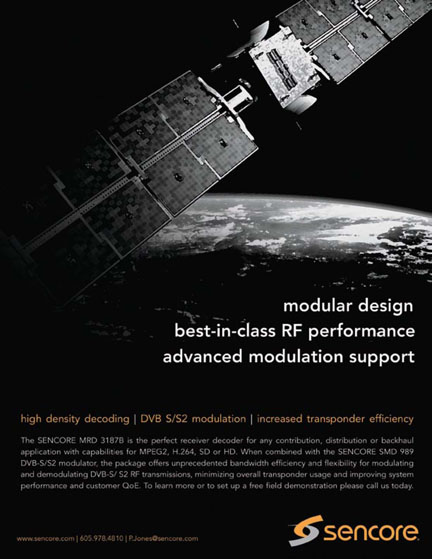 "With this milestone it's clear just how flexible the NRS Technology really is. The owner/operator of any type of the world's six top TDMA systems can benefit from an average of 30 percent opex savings just by putting the technology at hub", said James Alderdice, Business Director, NRS Sales globally. The top six DVB-RCS/TDMA hub vendors comprise more than 90 percent of the world market. As an overlay to the modulator, the NRS Technology allows the inbound carriers to be placed under the outbound with the MHz of the inbound carriers being saved. Operators commonly save 6-12MHz and if those saved MHz are used to grow the network the savings are even greater. The NRS RAY is available for satellite MHz bandwidth cancellation at 12MHz, 25MHz, 36MHz, 54MHz and 72MHz and is completely modulation agnostic. As a hub only installation the NRS RAY achieves these savings without any physical changes to the remotes making it ideal for networks large or small.
EMS SATCOM
has now merged with their sister divisions
EMS Sky Connect
and
EMS Formation
to form
EMS Aviation
. EMS Aviation will include the Company's EMS SATCOM division, a leader in Inmarsat SwiftBroadband systems, and the recently-acquired EMS Formation, and EMS Sky Connect, providers of air-to-ground connectivity and Iridium-based tracking and messaging.
A Controlling Presence
Integral Systems, Inc., (Nasdaq:ISYS) has received an Authorization to Proceed from Orbital Sciences Corporation (NYSE:ORB) to provide the major ground segment elements for the MEXSAT-3 satellite program.
MEXSAT-3
is being built by
Orbital for Boeing Space &Intelligence Systems
as a part of a three-satellite, turnkey geomobile satellite system awarded to Boeing in December. An Orbital
STAR2
satellite will provide the complete
Fixed Satellite Services
(
FSS
) of the MEXSAT satellite system for the Federal Government of Mexico.
To support MEXSAT-3, Integral Systems will provide primary and backup satellite control centers incorporating its industry leading
EPOCH Integrated Product Suite
(
IPS
), as well as executable satellite procedures and displays. Integral Systems will also provide primary and backup
Telemetry, Tracking and Control
(
TT&C
) stations located in Mexico, and deliver its
COMPASS
™
Network Management System
(
NMS
) from
Newpoint Technologies
, a wholly-owned subsidiary of Integral Systems. A turnkey carrier monitoring and frequency planning system based on the
Monics
®
Carrier Monitoring and Interference Detection
solution from
SAT Corporation
, also a wholly-owned subsidiary of Integral Systems, will be installed at two locations in Mexico.
Integral Systems Europe
(ISE), a wholly-owned subsidiary of Integral Systems, will provide all antenna and radio frequency aspects of the ground segment. "Orbital is pleased to contract with Integral Systems to support the ground segment that will serve MEXSAT-3, and looks forward to providing the end user, SCT, with a product that allows them to maximize their goals and objectives through an established teaming relationship that combines the best of Orbital and Integral Systems," said
William Cook
, Orbital's MEXSAT Program Director.
Additional information regarding the EPOCH System is available at:
http://www.integ.com/EPOCHTC.html
Connectivity Connections
SES WORLD SKIES has three new capacity deals with Global Crossing to meet growing connectivity demand across Latin America. The agreements represent the latest expansion in a longstanding alliance between SES WORLD SKIES and Global Crossing's Latin America unit, which now uses about 290 MHz of capacity aboard SES satellites to serve markets across the region.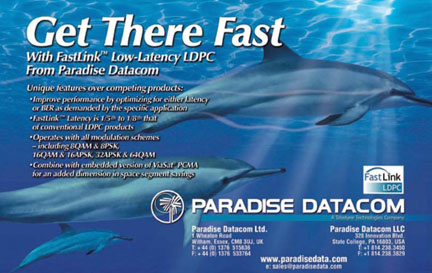 On the heels of last year's 90 MHz renewal on NSS-10,
Global Crossing
secured an additional 12 MHz of C-band capacity on the spacecraft to enable the implementation of a new VSAT network to meet growing demand for corporate connectivity in Brazil. Global Crossing also has contracted for a full 36 MHz transponder of Ku-band capacity aboard
AMC-4
to provide corporate voice, video conferencing, internet access and other offerings in the Andean region using a newly installed hub in Colombia.
Under the third deal, the telecom innovator is increasing its corporate network capacity with an additional 10 MHz of Ku-band on NSS-7 to meet the communications needs of mining and manufacturing companies, multinationals and other firms across Argentina and Chile.
Consummate Connector
TE Connectivity (TE) has introduced the Quadrax D-Sub style connector for military and commercial aerospace environments. The new connector was designed to provide a gigabit Ethernet solution in an industry standard D-Sub platform, while offering superior shielding performance.
The
Quadrax D-Sub
style connector was created to meet the high-speed data rate needs in commercial avionics, aircraft data networks, in-flight entertainment systems and military communications applications. The rugged metal shell construction provides four Quadrax connections in a size 3 shell with a 0.5" x 2.0" window, and supports both cable-to-cable and cable-to-board configurations. It serves as a low-profile alternative to the Circular 38999 Style Connectors, providing the perfect solution for cable-to-PWB high-speed interconnect.
The easy-to-assemble connector features cable applied plug and receptacle, along with Right Angle PCB Mount receptacle. It also meets the requirements of TIA/EIA-568-B.2 for insertion loss, return lost, as well as near end crosstalk (NEXT) and far end crosstalk (FEXT).
The Race Is On...
This 3,000 km race starts in Darwin and ends in Adelaide, and this university team is going to be highly reliant upon this Company's SATCOM products...

Thuraya Telecommunications Company
will be sponsoring the
Istanbul University Solar Race Team
in the
World Solar Challenge
across the continent of Australia. During this week-long international green technology initiative, the Turkish racers will be depending on
Thuraya IP
and
Thuraya XT
as their full communication solutions.
There are 11 countries participating in this car race which takes place on a bi-annual basis. Thuraya provides ubiquitous coverage over Australia and Tasmania, even in remote areas through its satellite network, all within the
Thuraya-3
satellite coverage area that spans the Asia Pacific region. Thuraya is coordinating with Turkish communications specialists
TEKNOMOBIL
for the provision of equipment to the Istanbul University Team. TEKNOMOBIL are also a long-standing Thuraya service partner. Thuraya XT IP54/IK03 certified making it dust, splash water and shock proof. It has the fastest data service on a satellite handheld and supports GPS waypoint navigation. Thuraya IP is A5 sized and is the world's smallest satellite broadband solution that supports 384 Kbps data streaming — based on a plug and play system facilitating use without additional software. The terminal provides asymmetric streaming allowing users to freely select upload and download speeds for cost-effective service.
Hosted Payload Alliance Hosts First Meeting
Due to challenging budgets, in both industry and government enterprise, creative solutions were shared at the first meeting of the Hosted Payload Alliance...
More than 120 representatives from industry and government recently attended the first meeting of the
Hosted Payload Alliance
(
HPA
), an organization formed earlier this year to advance the use of hosted payloads on commercial satellites. The meeting took place April 11, 2011, immediately prior to the
National Space Symposium
in Colorado Springs.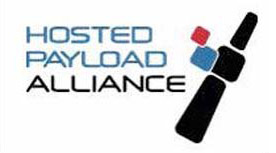 Retired Gen.
Lance W. Lord
, former Commander,
U. S. Air Force Space Command
, moderated a panel of senior government officials who presented their perspectives on the opportunities and challenges associated with operationalizing the guidance outlined in the
2010 National Space Policy
. The policy calls on government departments and agencies to explore the use of innovative, nontraditional arrangements — including hosted payloads — for acquiring commercial space goods and services to meet U.S. government requirements.
"A major goal of the Hosted Payload Alliance is to serve as a bridge between government and private industry to foster an open dialogue between potential users and providers of hosted payload capabilities," said
Don Thoma
, chairman of the
HPA Steering Committee
. "The fact that we brought together such a large and diverse group of attendees for the first general meeting of the Alliance is a clear validation of the need for this sort of forum."
Lord
commented, "Federal budgets for many space programs are being reduced. Hosted payloads present an opportunity for the government to leverage commercial investments to provide access to space. But there is a lot of work to be done to align the government's operational requirements and timetables with the commercial constraints of the private sector when it comes to the details of acquiring, designing, manufacturing and deploying payloads into space."
The panel of experts discussed ways that the U.S. government would benefit from using commercial spacecraft to host certain missions. The benefits include significantly lower cost, shorter development cycle times, the opportunity to share orbital slot locations, and the ability to disaggregate assets for a more resilient space architecture.
Thoma
noted that the HPA is not a lobbying organization, but strictly a group of companies interested in furthering the goals set forth in the National Space Policy. It will also have a strong educational focus, providing a source of industry expertise on hosted payloads on commercial satellites to stakeholders in the public and private sectors.
Steering Committee members include
Boeing Space and Intelligence Systems
,
Intelsat General Corporation
,
Iridium Communications Inc.
,
Lockheed Martin Space Systems
,
Orbital Sciences Corporation
,
SES WORLD SKIES U.S. Government Solutions
, and
Space Systems/Loral
. Membership will be open to other satellite operators, satellite manufacturers, system integrators and other interested companies. The Steering Committee is working to create an organizational structure and identify specific tasks and action plans for the group and will issue guidelines for prospective members to join the Alliance.
Engineering Examples
Gazing through infrared cameras and building paper structures strong enough to hold textbooks are just a few of the many activities elementary, middle and high school students throughout the Chicagoland area are taking part in to learn about engineering.
This year,
Northrop Grumman Corporation
's
Discover "E"
(engineering) program sent more than 50 engineers to 35+ local schools to promote science, technology, engineering and mathematics (STEM) concepts. "The Discover E program has been a great benefit to my students and I believe has been very influential in sparking interest in some of my students to pursue engineering careers," said
Paul F. Piel,
science teacher at
St. Peter Lutheran School
. "Thanks again to Northrop Grumman and everyone who has been involved in providing this wonderful experience to my students."
Each year, representatives from the company's Rolling Meadows facility visit local schools in Rolling Meadows and the surrounding counties to share their engineering expertise, discuss potential careers in engineering and involve the students in hands-on classroom projects and activities. Each school visited receives a stipend from Northrop Grumman to support math and science-related programs and activities
"Northrop Grumman is committed to working with students in the community, especially when promoting engineering and related fields through STEM education," said
Jeff Palombo
, sector vice president and general manager of Northrop Grumman's Land and Self Protection Systems Division. "Our goal is to inspire area students to pursue math and science-related careers and to encourage them to become future engineers and technologists."
The
National Society of Professional Engineers
introduced Discover "E" many years ago as part of an outreach effort aimed to foster student interest in engineering. Northrop Grumman has been a major sponsor of Discover "E" in the Chicagoland area for the past 13 years in an effort to help address a critical national need to identify, cultivate and motive the engineers of tomorrow.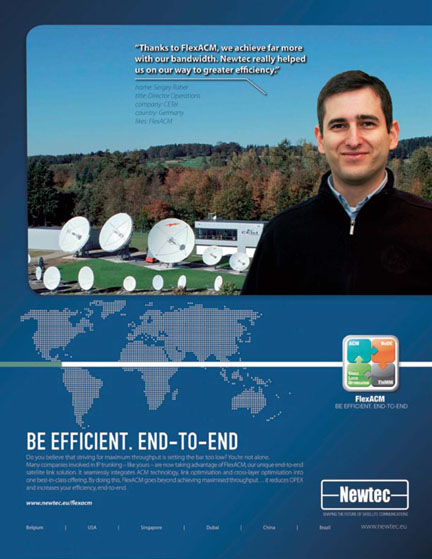 Beijing Bound
The China Satellite 2011 Conference and Exhibition will be held on 26th - 28th of this October at Hotel Nikko New Century in Beijing.
China Satellite
is a large-scaled, comprehensive, international conference that focuses on the area of the Chinese satellite application industry. It has been 13 years since the first
China Satellite Conference
, which was held in 1999. The conference will include keynote speeches, an equipment exhibition, technology lectures and roundtable discussions, becoming an open platform for professionals to discuss the development of satellite communication, satellite broadcasting, satellite remote sensing and navigation and location and more.
In China, the satellite communication and satellite TV service markets are being energetically promoted in rural and remote border areas. The participants of this conference come from all the areas covering broadcasting, communication, military, power industry, water conservancy, oil industry, education, meteorology and navigation. The China Satellite Conference will pay attention to market development, business cooperation, channel expansion and so on, providing an effective business platform for interaction between the products and solution providers and the buyers. Many more details will be available during this conference and further details are available at...
http://www.china-satellite.org/index.htm
Outer Space Issues 2011
There are outstanding issues in the coming year that deserve increased attention in terms of global outer space activities — from tackling the growing problem of orbital space debris, enhancing Earth security via satellite data, protecting our planet from Near Earth Objects, and assuring a sustainable space environment for all nations to improve their well-being.
"Space isn't the 'new frontier' any more. It's an integral part of our daily existence," said
Cynda Collins Arsenault
, President and co-founder of
Secure World Foundation
(
SWF
). "As we move into 2011 new ideas for the practicalities of utilizing space are coming forward. Working collaboratively to know 'what's where', coming to agreements on responsible behavior in space, and a cooperative approach to understanding and responding to threats from asteroids, they are all on the SWF agenda for 2011."
There is no doubt that space satellites continue to bring us perspective and solutions for many of Earth's issues,"
Arsenault
added. "SWF continues to work on understanding our impact and responsibility to the larger ecosystem in order to reap the benefits it has to offer."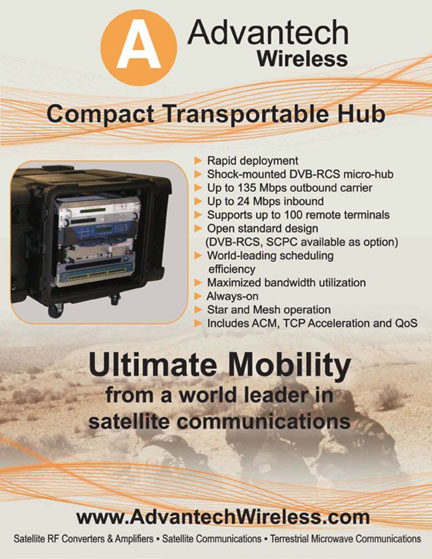 Stronger Push
"This has been an exciting year for advocates of a stronger push toward the goal of space sustainability," noted Dr.
Ray Williamson
, Executive Director of Secure World Foundation. Williamson said that from the new
U.S. Space Policy
to the
European Union
's
Draft International Space Code of Conduct
to the new
Working Group on Space Sustainability in the United Nations Committee on the Peaceful Use of Outer Space
(
COPUOS
), "the world community has shown a new understanding and a new willingness to tackle this important issue for the long term utility of space activities."
On the other hand, SWF's Williamson noted that much remains to be done. "Space faring countries need to be more aggressive in tackling the ongoing problem of space debris, which threatens to undercut our ability to use space for human benefit. They also need to find improved means to use the information that satellites provide for human benefit,"
Williamson
said.
Impressive List Of Activities
Throughout 2010, Secure World Foundation has chalked up an impressive list of activities, including:
– Convening meetings on steps needed for securing a more sustainable environment in outer space, as well as advocating transparency and confidence-building measures.

– Partnering with China's Beihang University in Beijing and International Space University in Strasbourg, France to work on orbital space debris mitigation issues.

– Encouraging dialogue and conducting analysis of President Barack Obama's National Space Policy.

– Joining forces with the French Institute of International Relations' (Ifri) Space Policy Program to foster an open discussion on topics of mutual interest in the arena of outer space security.

– Engaging in active dialogue with participants in the Sixth Space Conference of the Americas in Pachuca, Mexico regarding Latin America space policy development. SWF played a leadership role in helping to shape the Pachuca Declaration and the Plan of Action of the 6th Space Conference of the Americas.

– Outlining with international experts needed steps and concerns in establishing a global detection and warning network to deal with possible Near Earth Object (NEO) threats to Earth. SWF contributed to a special NEO report to the United Nations Committee on the Peaceful Use of Outer Space (UNCOPUOS).

– Issued fact-filled briefs on the U.S. government's Space Situational Awareness Sharing Program, the Iranian space program, and the U.S. Air Force X-37B's orbital space plane project.

– Advocated for "Citizen Science" and "Community Remote Sensing" to push for the combining of Earth remote sensing satellite data with social networks to establish a "take charge" public management of local environmental issues.
For further information about Secure World Foundation (SWF), go to:
http://secureworldfoundation.org/