Sixty launched... 11,940 to go... first batch of Starlink satellites sent off
This is one of those launches that, when it successfully occurs, much of the world releases a collective sigh of relief.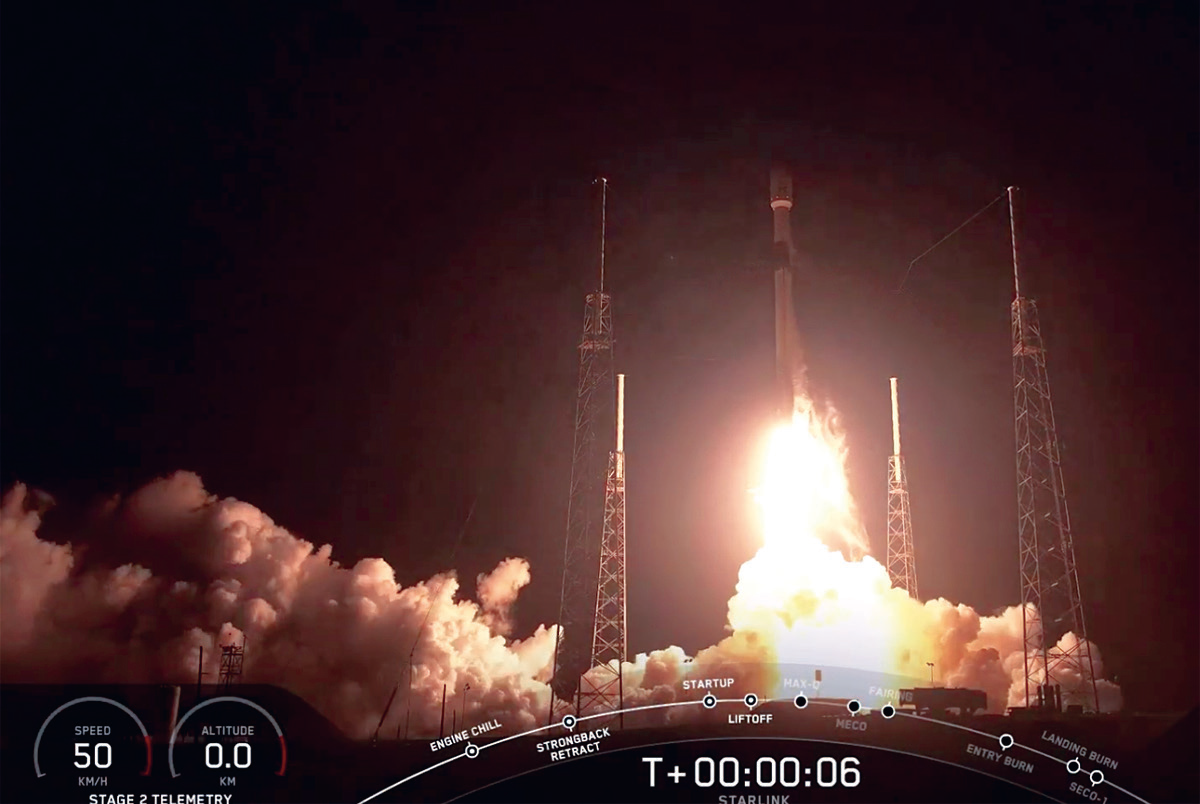 At 10:30 p.m. Eastern time on May 23, a SpaceX Falcon 9 rocket lifted off from Space Launch Complex 40 (SLC-40), Cape Canaveral in Florida with 60 Starlink satellites on board, the first craft designed to work within the SpaceX comms constellation.
While SpaceX had launched two test satellites before, Falcon 9's first stage for this mission previously supported the Telstar 18 VANTAGE mission in September of 2018 and the Iridium-8 mission in January of 2019, this launch is a major step toward the final goal of launching and operating 12,000 satellites in orbit to beam internet to the ground by the 2020s, reaching those who are not yet connected, with reliable and affordable broadband internet services. It's estimated that 4 billion people in the world remain unconnected to the internet
Eight minutes after the launch, the first stage of the rocket successfully landed on the drone ship Of Course I Still Love You (OCISLY) in the Atlantic Ocean. This was the third flight for the first stage booster, having flown on the Telstar 18 VANTAGE mission in September 2018, and the Iridium-8 mission in January of 2019.

SpaceX remains mum about its pricing for how much their service will cost, but company CEO Musk has indicated that Starlink is designed to fund SpaceX's ultimate goal of sending humans to Mars.
With a flat-panel design featuring multiple high-throughput antennas and a single solar array, each Starlink satellite weighs approximately 227kg, this is SpaceX's heaviest launch to date at about 13,620 kilograms, thus allowing SpaceX to maximize mass production and take full advantage of Falcon 9's launch capabilities. To adjust position on orbit, maintain intended altitude, and deorbit, Starlink satellites feature Hall thrusters powered by krypton.
Designed and built upon the heritage of Dragon, each spacecraft is equipped with a Startracker navigation system that allows SpaceX to point the satellites with precision. Importantly, Starlink satellites are capable of tracking on-orbit debris and autonomously avoiding collision.
Additionally, 95 percent of all components of this design will quickly burn in Earth's atmosphere at the end of each satellite's lifecycle — exceeding all current safety standards — with future iterative designs moving to complete disintegration. This mission will push the operational capabilities of the satellites to the limit. SpaceX expects to encounter issues along the way, but the lessons learned here are key to developing an affordable and reliable broadband service in the future.
SpaceX is one of nine companies that have been approved by the Federal Communications Commission (FCC) in the U.S. to launch large constellations of satellites to provide internet services, totaling about 15,000 satellites resulting in concerns about the number of satellites being launched. Other companies have plans for constellations too, such as Amazon and its 3,000-strong Project Kuiper, although they do not yet have FCC approval.
Currently on-orbit, there are only 2,000 active satellites, with just 8,000 or so having been launched since Sputnik 1 reached orbit in 1957, and the risk of launching so many satellites is that it could cause significant space junk problems with the possibility of satellite failures. The other factor is that the United Nations asks operators to remove them from orbit within 25 years.
To manufacture and launch a constellation of such scale, SpaceX is using the same rapid iteration in design approach that led to the successes of Falcon 1, Falcon 9, Falcon Heavy, and Dragon. As such, Starlink's simplified design is significantly more scalable and capable than its first experimental iteration.
www.spacex.com
---
ULA's Vulcan Centaur passes CDR milestone
United Launch Alliance leaders and engineers completed an important milestone with the conclusion of the system Critical Design Review (CDR) for the company's new Vulcan Centaur rocket — the system-level CDR is the final review of the design for the overall rocket. ​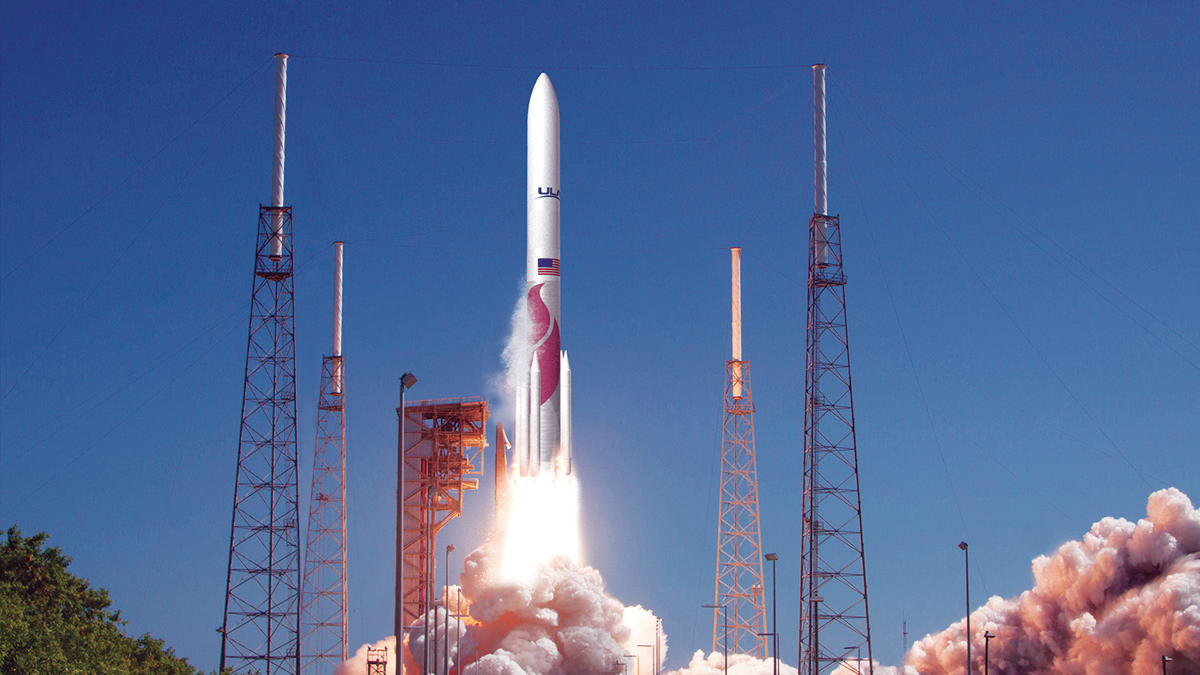 Artistic rendition of ULA's Vulcan Centaur rocket
lifting off. Image is courtesy of the company.
The system CDR was a week-long detailed review of the entire Vulcan Centaur system with the primary focus to verify all of the elements will work properly together as a system. As part of the certification process with the U.S. Air Force, Air Force representatives are included as part of the design review.
When the first Vulcan Centaur rocket flies in less than two years, a high percentage of the rocket will have flown before on ULA's Atlas launch vehicle including the fairing, upper stage engines in a dual configuration, avionics, software and solid rocket motors.
ULA and its suppliers have invested in and modernized the factory in Decatur, Alabama, bringing in state-of-the art manufacturing technologies. Flight hardware is already being built for the first flight, and the production is on schedule for the initial launch in 2021.
Tory Bruno, ULA's president and CEO, said this is a tremendous accomplishment for the ULA team and a significant milestone in the development of a rocket — signaling the completion of the design phase and start of formal qualification. Vulcan Centaur is purpose built to meet all of the requirements of the nation's space launch needs and its flight-proven design will transform the future of space launch and advance America's superiority in space. ULA's Atlas and Delta rockets have served as the backbone for American space launch for decades and the company's next-generation rocket will advance this rich heritage.
Bruno added that Vulcan Centaur will provide higher performance and greater affordability while continuing to deliver our unmatched reliability and precision. Vulcan Centaur brings together the best of Atlas and Delta technology, and the company is flying all of the major components that the firm can on Atlas V first to reduce the risk for ULA customers on the first flight.
www.ulalaunch.com
---
Innovative Solutions in Space selected to bring their HyTI Imager to fruition
Innovative Solutions in Space has been selected by the University of Hawaii at Manoa's Hawaii Space Flight Laboratory (HSFL) to realize their 6U smallsat platform.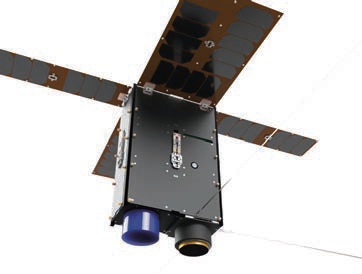 ISISpace and HSFL will work closely on the design for this challenging mission. ISISpace will provide the platform while the payload integration and flight preparation will be completed by HSFL.
The platform, called HyTI – Hyperspectral Thermal Imager, will demonstrate how high spectral (25 bands) and spatial resolution (60 m) thermal infrared image data can be acquired from a 6U cubesat.
The mission will test several novel technologies including an interferometric imaging approach for acquiring the spectral data, and NASA/JPL's Barrier InfraRed Detector technology. In addition to the HSFL and ISIS, the team includes the Hawaii Institute of Geophysics and Planetology (HIGP), the Jet Propulsion Laboratory, West Coast Solutions, Quest Unlimited, American Infrared (AIRS), SaraniaSat, and New England Optical Systems (NEOS). The project received funding from NASA's Earth Science Technology Office InVEST program.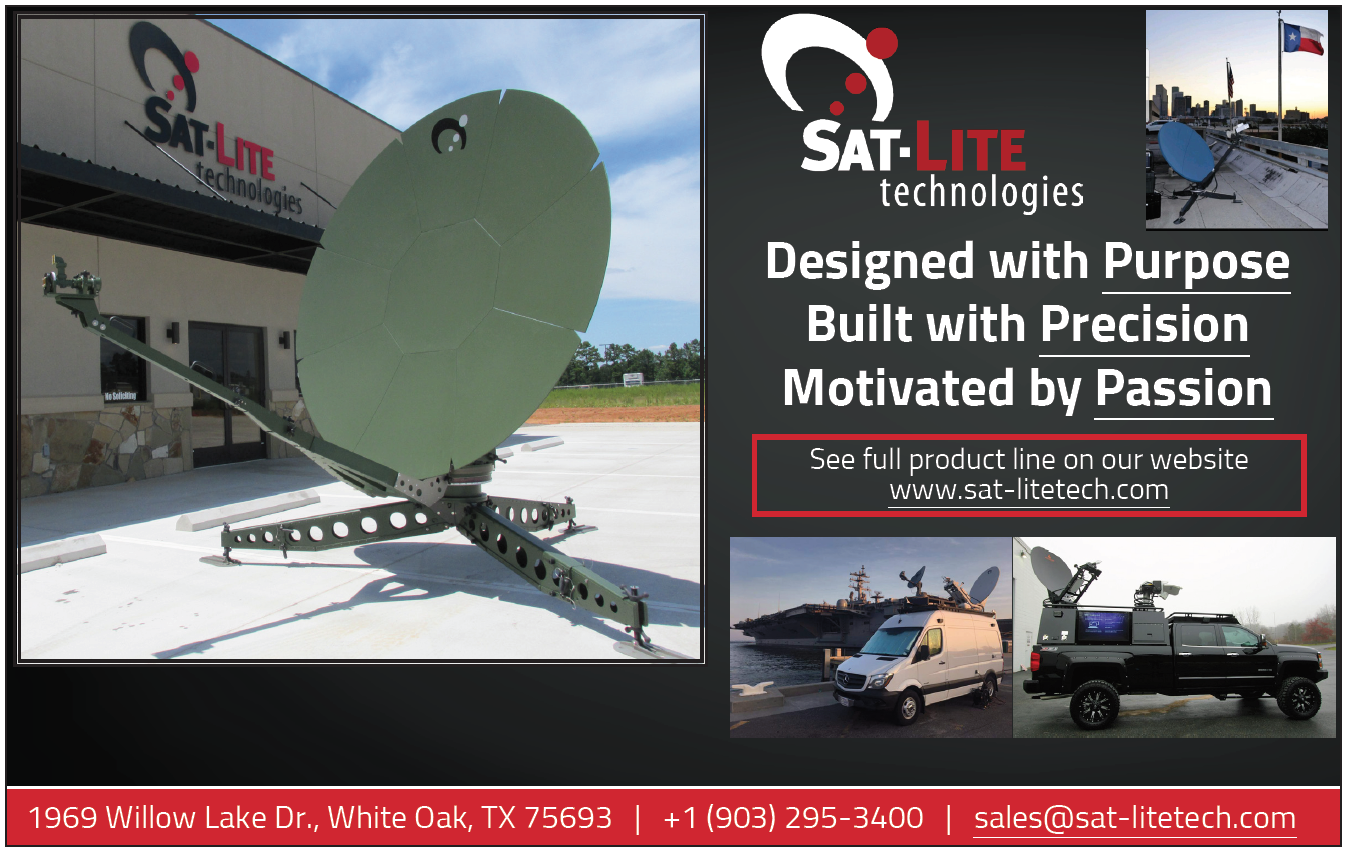 Robert Wright, Interim Director of HIGP, University of Hawaii at Manoa, and PI of the HyTI mission said the organizations is pleased to be collaborating with ISISpace on this exciting mission and look forward to combining this innovative approach to acquiring high spectral resolution thermal data with their innovative solutions to spacecraft design, fabrication, and integration.
Abe Bonnema, Marketing Director at ISISpace, added the company is honored to have been selected to build the platform for the Hawaii Spaceflight Laboratory based on the firm's expertise and innovative approach and all look forward to delivering the platform for this prestigious NASA-funded mission.
www.isispace.nl
www.hsfl.hawaii.edu
---
Final pre-launch prep work completed for the AMOS-17 launch
Spacecom (Tel Aviv Stock Exchange: SCC), operator of the AMOS satellite fleet, has announced that the firm's newest satellite, AMOS-17, is completing the final stages of its pre-launch preparation.
The satellite, scheduled for launch later this summer to the 17 degrees East orbital position, is specifically designed for meeting the growing communication demands of the African continent.
With extensive C-band HTS capabilities, and Ka- and Ku-band, the satellite will combine broad regional beams and high throughput spot beams to maximize throughput and spectral efficiency. The result is AMOS-17 will strengthen Spacecom's African, Middle Eastern and European operations.
Equipped with an advanced digital payload constructed by Boeing Satellite Systems International, the new satellite has already completed its environmental testing simulating the launch and harsh space environment.
AMOS-17 is currently undergoing final preparation operations ahead of shipment to Cape Canaveral, Florida, where it is scheduled to be launched on a Falcon-9 launch vehicle by SpaceX.
David Pollack, President and CEO of Spacecom, stated that the company is excited by the opportunities AMOS-17 will offer the firm's clients throughout Sub-Saharan Africa. With a state-of-the-art digital payload, it will be the most technologically advanced satellite to service Africa and will deliver a large variety of services as well as connect Africa, Europe and the Middle East. The company has worked closely with the Boeing team and all are looking forward to moving ahead in Africa.
www.amos-spacecom.com/satellite/amos-17/
---
LATAM ATC comms network equipment order received by Comtech EF Data
Comtech Telecommunications Corp. (NASDAQ:CMTL) has informed the industry that, during the company's third quarter of fiscal 2019, their Tempe, Arizona-based subsidiary, Comtech EF Data Corp., which is part of Comtech's Commercial Solutions segment, received a $1.0 million equipment order for an Air Traffic Control ("ATC") communication network in Latin America.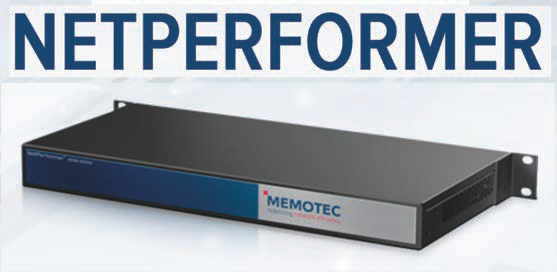 The order specified NetPerformer™ Satellite Routers developed by Comtech EF Data Corp.'s subsidiary, Memotec, which deliver highly reliable, secured communications across hybrid terrestrial lines, as well as microwave and satellite transmissions.
The NetPerformer platform combines the functionality of a data router, a multiplexer and a voice gateway in a single device, enabling users to create converged networks and transport mission-critical information over satellite or terrestrial links.
The Memotec NetPerformer ensures that Air Traffic Management ("ATM") services are prioritized adequately and cost efficiently delivered using the best available path at any time, thus enabling ATC networks to be compliant with EUROCAE WG67 ATM standards.
The NetPerformer meets stringent service quality requirements for delay, jitter and packet loss, and compensates for transmission network delays, enabling Air to Ground VHF radio communications and radar information to transit seamlessly across terrestrial or satellite links.
According to the company, this is the only solution compliant with VHF-AA ("VHF Extended Range") EUROCAE specifications.
As a voice and VHF over IP gateway solution compliant with EUROCAE WG67 ED137-B, the platform is a key enabler for the evolution of ATC services towards all-IP networks.
www.comtechefdata.com
memotec.com
---
Intellian's new GX100NX Global Xpress terminal debuts
Intellian has unveiled their all new, 1 meter Global Xpress terminal, GX100NX during the Intellian Asia-Pacific Partner Event that was conducted on May 14 in Seoul, Korea.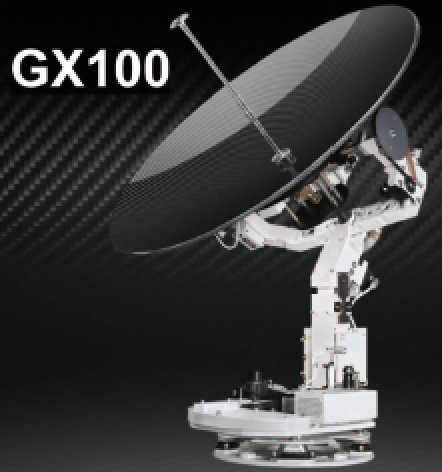 The Intellian GX100NX offers high-speed data and global operation, and exceptionally efficient RF design for unrivaled link performance on the Fleet Xpress service.
It is also future-proof, with support for 2.5GHz Wideband Ka networks and optimized reflector and radome. GX100NX users can also unlock even higher levels of bandwidth with a 10W BUC option, which is easy to install and requires no additional components.
Based on Intellian's new NX technology platform, the GX100NX uses a single coaxial cable, which combines Tx, Rx, and DC power, to simplify installation.
Its cutting-edge modular design results in lower cost of ownership throughout the entire lifecycle, while improving reliability and streamlining maintenance.
The GX100NX introduces a new 'All-in-One' GX Below Deck Terminal (BDT) which integrates an antenna control unit (ACU), a modem, a power supply, a 4-port switch and a mediator in a single unit to further reduce the time and cost of installation in Intellian's Fleet Xpress Rack.
Reducing complexity further, Intellian also provides an upgraded antenna management and control platform.
The new AptusNX software includes an installation wizard with a step-by-step commissioning guide for easier setup and enhanced diagnostic capabilities, which sends an alert to the operator when predictive maintenance is required.
The GX100NX will be commercially available at the end of June.
Eric Sung, CEO of Intellian, said the company is delighted to introduce the all new GX100NX to the valued partners and customers at this APAC partner event. With its future-proof and user-friendly design, the firm's new Global Xpress terminal will deliver performance, installation and servicing benefits to diverse customers, especially those in the commercial shipping, oil and gas, and yachting markets.
www.intelliantech.com
---
Impressive milestone met by BAE Systems
BAE Systems' radiation-hardened electronics recently reached an unprecedented milestone marking 10,000 cumulative years on orbit.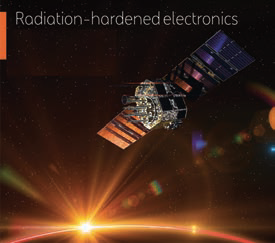 The company's technology has powered satellites and spacecraft for almost 30 years, delivering long-lasting computing in
extreme environments.
BAE Systems single board computers provide next-generation spacecraft with the high-performance onboard processing capability needed to support space missions for civil, commercial, and national security customers.
These computers command Mars rover terrestrial operations, such as image and data collection, and direct guidance, navigation and control for satellites, including telemetry, health, and status information.
The company's newest Single Board Computer (SBC), RAD5545®, delivers exponential improvements in size, speed, and power-efficiency over its proven predecessors in the unforgiving space environment.
BAE Systems also offers a suite of radiation-hardened Serial RapidIO network products, including the RADNET™ 1848-PS, an 18-Port RapidIO Packet Switch, and the RADNET 1616-XP Crosspoint, a protocol agnostic SerDes signal circuit switch and replicator. These networking devices complement the RAD5545 SBC and allow the user to efficiently manage and route data through the system.
BAE Systems radiation-hardened electronics are produced at the company's facility in Manassas, Virginia, which is a U.S. Department of Defense Category 1A Microelectronics Trusted Source.
In addition to world-class electronics for space, the company's integrated space-to-ground processing solutions enable real-time decision making and accelerate mission timelines for Department of Defense, national security, civil, and commercial space organizations.
Ricardo Gonzalez, director of Space Systems at BAE Systems, said the company's radiation-hardened electronics are operating aboard more than 300 satellites today and power key national space assets, such as Juno and InSight, that are discovering previously unknown details of deep space. This milestone is a testament to the outstanding reliability of these advanced systems that are able to withstand the harsh conditions of space travel.
www.baesystems.com/en-us/our-company/inc-businesses/electronic-systems/product-sites/space-products-and-processing
---
Herschel and Planck — ten years later...
On May 14, 2009, just ten years ago, an Ariane 5 rocket lifted off from the Guiana Space Center in Kourou, French Guiana, with two spacecraft, Herschel and Planck.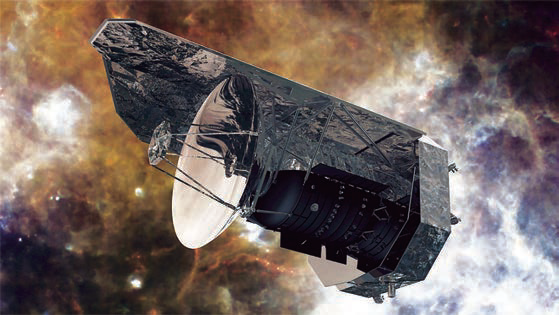 The two spaceborne observatories, Herschel and Planck, built by Thales Alenia Space as prime contractor for the European Space Agency (ESA), were designed to further the understanding of the Universe.
One of the largest contracts ever signed for a scientific mission, Herschel and Planck were designed to operate from an orbit at Lagrange Point 2 (L2), about 1.5 million kilometers (a million miles) from the Earth.
These two spaceborne telescopes were designed to unveil some of the Universe's most closely guarded secrets, namely the formation of stars and galaxies (Herschel) and the big bang (Planck).
Behind this daunting endeavor was a project team numbering more than 500 people, as well as more than 90 subcontractors from 17 countries.
Virtually all TAS facilities were involved in the project, including Cannes, Turin, Madrid, Charleroi, Milan, Toulouse, Rome and L'Aquila, along with Bristol and Zurich, which would join Thales Alenia Space a few years later.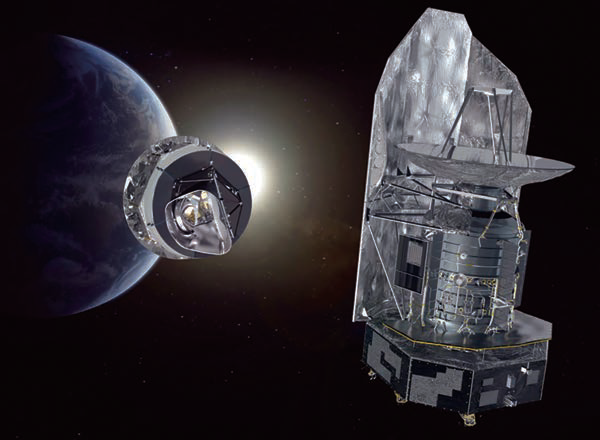 Thales Alenia Space invested the sum total of its expertise and passion in this project, leading up to the launch of the two spacecraft from the Guiana Space Center, Europe's Spaceport in French Guiana (South America).
Once in orbit, Herschel and Planck could start their scientific missions.
The Herschel space telescope was able to observe cold and dust-laden regions of the Universe that were inaccessible to other telescopes at the time.
It studied the birth of galaxies and how stars were formed, as well as the gas and dust clouds that would eventually become stars, proto-planetary disks and complex organic molecules in the tails of comets.
In particular, Herschel was the first spacecraft to study the complete spectrum of wavelengths in the far
infrared bandwidth.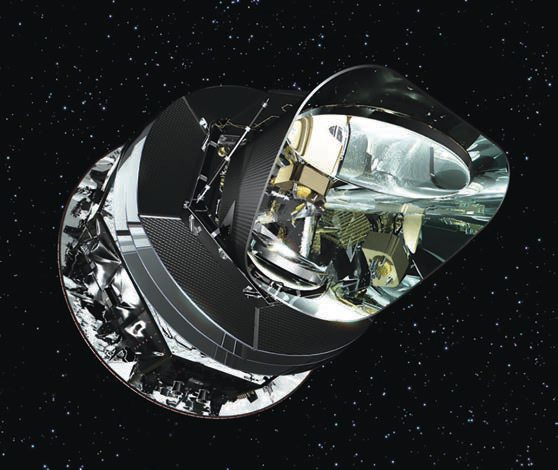 The Planck scientific observatory was designed to study the cosmic background noise, or in other words the fossil radiation from the "first light" of the Universe, emitted some 380,000 years after the big bang, or about 13.8 billion years ago.
Planck delivered vital information concerning the creation of the Universe and our own Solar System.
For instance, it detected a number of areas where stars are about to be born, or are just starting their development cycle.
Herschel and Planck carried out their missions to perfection, and even beyond the call of duty, since Planck exceeded its specified mission lifetime by 18 months and Herschel by 6 months, finishing at the end of October 2013 and the end of April 2013, respectively.
These spacecraft are still considered two of the most complex scientific spacecraft ever built in Europe.
This performance earned kudos from the global scientific community and also won awards from the leading astronautics associations 3AF in France (Association Aéronautique et Astronautique de France) in 2010 and AIAA in the United States (American Institute of Aeronautics and Astronautics) in 2015.
From the industry standpoint, the program won the 2014 Gold Medal from the International Project Management Association (IPMA) in the category "Mega Sized Projects."
For Thales Alenia Space, the Herschel/Planck program augured well for future success in the scientific sphere, as the company subsequently won both the Euclid contract and part of the Plato mission.
Both of these missions entail requirements and orbits which are similar to those on Herschel/Planck.
www.thalesgroup.com/en/global/activities/space
www.esa.int
---