Euroconsult reports passenger connectivity will be implemented by 23K+ aircraft by 2027
According to Euroconsult's newly released report, Prospects for In-Flight Entertainment & Connectivity, more than 23,000 commercial aircraft will offer connectivity to their passengers by 2027, up from 7,400 aircraft in 2017.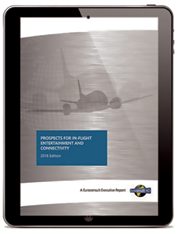 Pacôme Revillon, CEO of Euroconsult, said that in January of 2018, around 90 airlines had either installed or committed to installing in-flight connectivity (IFC) solutions. Offering connectivity was first seen as a differentiating factor; however, as more and more airlines provide connectivity, offering in-flight WiFi starts to become a must-have in order to keep a competitive positioning in the extremely challenging airline market.
Euroconsult's research confirms that installations will accelerate and that innovation will largely improve the in-flight experience. New generation satellite systems and air-to-ground networks will dramatically increase available bandwidth for aero customers.
The IFEC industry is highly competitive and this competition brings positive fallout from a passenger's standpoint: The cost of MB is continuously decreasing and customized value-added services allow an ever better customer experience.
The increase in connected aircraft and in bandwidth consumption per passenger will support growth. To that respect, the ability to support video streaming on a large scale shall be a game changer.
The revenue per aircraft per year will constantly rise in the coming years to match the ever-increasing need for bandwidth. Still, the need to improve profit margins, and to benefit from economies of scale, will favor vertical integration and consolidation in the IFC value chain.
---
---
Competition will be strong between leading suppliers and new entrants, with our research benchmarking the positioning of main market players including Panasonic Avionics, Gogo, Thales InFlyt, Global Eagle, Inmarsat and Viasat.
Beyond cabin connectivity, the next 10 years will see the full emergence of the SmartPlane concept. Aircraft being more and more connected will start to support all the latest IT trends such as IoT, Big Data, analytics, cyber-security and so forth.
Intensifying competition among the different stakeholders of the IFC value chain, in order to offer more bandwidth to the aircraft, will allow aviation to enter a new era with connectivity at its heart. The research assesses the first signs and initiatives preparing for this major transformation in the aero sector.
In conjunction with the research report, Euroconsult is also publishing for the first time a Database of Connected Aircraft which will include a quarterly database update over a year-long subscription period.
The Database of Connected Aircraft provides a list of more than 20,000 commercial aircraft, including information for every commercial aircraft currently flying, enabling users to determine whether specific aircraft provide in-flight connectivity and the corresponding connectivity solution.
The database allows users to see the evolution of connected aircraft on a monthly basis based upon the terms of contracts when the information is made available. The database may be procured in conjunction with the IFEC report or as a standalone item.
Mr. Revillon added that in the current take-up phase, an evolution of the pricing models applied by airlines to their passengers has been witnessed, from free access to a premium applied by the hour, by the flight or on a monthly basis, as airlines try to find the ideal business model to lighten the burden of connectivity solution provision.
For airline connectivity suppliers, Euroconsult estimates that revenues from IFC topped US$1.2 billion in 2017 and should reach US$8.7 billion by 2027 for commercial aviation alone.
www.euroconsult-ec.com/shop/index.php?id_product=92&controller=product
---
The mission starts for RemoveDEBRIS
A spacecraft that will demonstrate a range of innovative technologies to clean up space debris has now been deployed from the International Space Station (ISS) and will soon begin its experiments in orbit.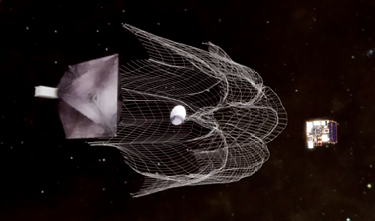 RemoveDEBRIS, one of the world's first attempts to address the build-up of dangerous space debris orbiting Earth, was sent to the ISS via the SpaceX CRS-14 launch in early April.
The satellite was designed, built and manufactured by a consortium of leading space companies and research institutions, led by the Surrey Space Centre at the University of Surrey. The project is co-funded by the European Commission.
The RemoveDEBRIS mission will perform four experiments, including the first harpoon capture in orbit and a net that will be used on a deployed target.
The team will also test a vision-based navigation system that uses cameras and LiDaR technology to observe smallsats that will be released from the main spacecraft.
Finally, the RemoveDEBRIS craft will deploy a large sail that will drag it into the Earth's atmosphere, where it will be destroyed.
This ISS satellite deployment opportunity was made possible thanks to NanoRacks and their Space Act Agreement with NASA's U.S. National Labs.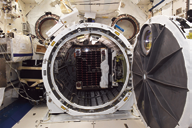 Photo of RemoveDEBRIS spacecraft prior to deployment
from ISS is courtesy of NanoRacks
The consortium consists of:
• Mission and Consortium coordination – Surrey Space Centre (UK)
• Satellite system engineering – ASF (France)
• Platform and Avionics – SSTL (UK)
• Harpoon – Airbus (UK)
• Net – Airbus (Germany
• Vision Based Navigation – CSEM (Switzerland)/ INRIA/ Airbus (Toulouse)
• CubeSat dispensers – Innovative solutions in space (Holland)
• Target CubeSats – Surrey Space Centre (UK)/ STE
• Dragsail – Surrey Space Centre (UK)
Professor Guglielmo Aglietti, Director of the Surrey Space Centre at the University of Surrey and Principal Investigator for the mission, said that after almost five years of development, it is exciting to finally be in a position where these technologies can be tested in the field. If successful, the technologies found in RemoveDEBRIS could be included in other missions in the very near future.
Sir Martin Sweeting, Chief Executive of Surrey Satellite Technology Ltd. (SSTL), added that SSTL's expertise in designing and building low cost, smallsat missions has been fundamental to the success of RemoveDEBRIS, a landmark technology demonstrator for Active Debris Removal missions that will begin a new era of space junk clearance in Earth's orbit.
The project is co-funded by the European Commission and the research learning to the results have received funding from the European Union Seventh Framework Program (FP7/2007-2013) under grant agreement #607099.
www.surrey.ac.uk/surrey-space-centre
nanoracks.com/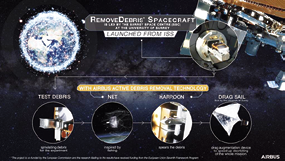 Additionally, the spacecraft features three Airbus technologies to perform Active Debris Removal (ADR): a net and a harpoon to capture debris as well as a Vision Based Navigation (VBN) system to develop rendezvous techniques in orbit with space debris. The spacecraft itself was designed and built by Airbus subsidiary Surrey Satellite Technology Limited (SSTL) and also includes a drag sail to speed up deorbiting of the whole mission.
The mission timelines will see the net deployed in October this year, followed by the VBN test in late December and then the harpoon in February 2019. The experiments will all be carried out below the orbit of the ISS. The net experiment, developed by Airbus in Bremen, will witness a cubesat deployed from the main mission craft. When the cubesat is five meters away, it will then be targeted by the net and captured at approximately seven meters before it floats away to de-orbit.
The VBN system from Airbus in Toulouse will test 2D cameras and a 3D LIDAR (light detection and ranging) technology supplied by CSEM to track a second smallsat deployed from the main spacecraft. The VBN system will track its rotation and movement away from the main spacecraft. At the same time the cubesat will transmit its true position to the main spacecraft, enabling the performance of the VBN to be measured. This cubesat will then float and de-orbit naturally.
The Airbus Stevenage designed harpoon will see a 1.5 meter boom deployed from the main spacecraft with a piece of composite panel on the end. The harpoon will be fired at 20 meters/sec to penetrate the target and demonstrate the ability of a harpoon to capture debris.
After completion of the Airbus designed ADR, the main spacecraft will deploy the drag sail developed by SSC which will deorbit the craft in approximately eight weeks. Without the drag sail, deorbiting would take more than 2.5 years.
A video is available at www.youtube.com/watch?v=4ZFAkBMtcPo
---
Russia successfully launches their next navigation satellite to oribt
On June 10, Russia successfully launched a Soyuz-2.1b carrier rocket from the Plesetsk space center to orbit a Glonass-M satellite, this according to the Russian Defense Ministry.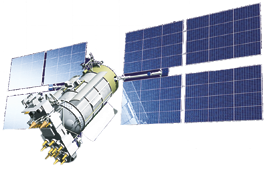 Artistic rendition of a Russian Glonass-M satellite.
Image is courtesy of ISS Reshetnev.
"On Sunday, at 00:46 Moscow time [21:46 GMT]… the Space Forces of the Aerospace Forces successfully launched a middle-class Soyuz-2.1b carrier rocket with a navigation Glonass-M spacecraft," the ministry said in a statement.
Hours later, the ministry reported that the satellite reached the designated orbit. "The middle-class Soyuz-2.1b carrier rocket launched on June 17 at 00:46 [21:46 GMT on Saturday] from the Plesetsk space center (Arkhangelsk Region) successfully put the Russian navigation Glonass-M spacecraft to the designated orbit," the ministry's press service said.
Earlier, a satellite producer— Reshetnev Information Satellite Systems — reported that the signal interface control document for GLONASS would be updated in 2018, making radio signals to the satellite navigation system less susceptible to corruption.
During the soviet era, the GLONASS navigation system was intended to become operational in 1995, the same year that the U.S. launched its GPS; however, due to a lack of funding, the system was put on hold.
In the early 2000s the system was launched and, by 2011, the full constellation of satellites was re-established.
---
SSL ships the first of three satellites for a SpaceX launch this summer
SSL, a Maxar Technologies company (formerly MacDonald, Dettwiler and Associates Ltd.) (NYSE: MAXR, TSX: MAXR), has shipped the first of three new satellites to the SpaceX launch base at Cape Canaveral Air Force Station in Florida that they will deliver over the next month. Driven by commercial advances, the three satellites will bring communications capability to connect people and transform lives around the globe.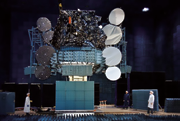 The Telstar 19 VANTAGE satellite shown in antenna
testing at SSL in Palo Alto, California, before being
shipped to launch base. Image is courtesy of SSL.
Telstar 19 VANTAGE, an advanced high throughput satellite (HTS) built for Telesat, one of the world's leading satellite operators, marks the 50th SSL-built communications satellite to launch this decade. It arrived safely at the launch base this week for a launch scheduled next month.
Two more SSL communications satellites are scheduled to ship to SpaceX launch base over the next month, including a second HTS for Telesat, Telstar 18 VANTAGE, and the Merah Putih satellite (previously known as Telkom-4), for Indonesia's largest telecommunication and network provider, PT Telkom Indonesia (Persero) Tbk.
Dario Zamarian, group president, SSL, noted that the company has a long legacy of leveraging its commercial mindset to provide satellite operators with spacecraft systems that address their requirements and enable global transformation. The cadence this month of shipping out three satellites for launch demonstrates the firm's ongoing market leadership and commitment to quality, reliability, and performance.
Telstar 19 VANTAGE is one of a new generation of Telesat spacecraft designed to serve today's bandwidth intensive applications. It will support a range of services, including advanced broadband connectivity for consumer, enterprise and mobility users across the Americas and Atlantic from its prime orbital location of 63 degrees West, the same location used today by Telesat's Telstar 14R.
Like all Telesat VANTAGE satellites, Telstar 19 VANTAGE combines broad regional beams and powerful HTS spot beams enabling customers to maximize throughput and spectral efficiency while optimizing network performance. Its Ka-band HTS capacity will serve Telesat customers operating in Northern Canada, the Caribbean, the North Atlantic Ocean, and South America.
Additional Ku-band HTS spot beams will serve growing South American markets in Brazil and the Andean region. Telstar 19 VANTAGE will also bring new Ku-band broadbeam capacity over the North Atlantic Ocean enhancing Telesat's coverage of this important mobility market.
Telstar 18 VANTAGE, the third HTS in Telesat's global fleet, will be located at 138 degrees East, an ideal position for connecting Asia to the Americas. It will replace and expand on the capabilities of Telesat's Telstar 18 satellite through its extensive C-band coverage of Asia, its Ku-band HTS spot beams over Indonesia and Malaysia, and its six additional Ku-band regional beams. These high performance beams will enable Telstar 18 VANTAGE to meet growing demand for mobility, enterprise networks and telecom services across the Asia region. As previously announced, Telesat has partnered with APT Satellite of Hong Kong in the design and procurement of this spacecraft, which APT calls Apstar-5C.
Dan Goldberg, President and CEO of Telesat, said that company has worked closely with SSL and the Maxar family of companies for many years and are pleased to have collaborated with them on these new Telstar VANTAGE high throughput satellites. These state-of-the-art spacecraft are going to provide important competitive advantages for Telesat customers across the Americas and Asia. It's great news that Telstar 19 VANTAGE is now at the launch base and that Telstar 18 VANTAGE is nearly finished and in the queue to ship.
Merah Putih, a name which represents the red and white of the Indonesian flag, will be integrated into Telkom's greater telecommunications network to provide service throughout the 17 thousand islands of the Indonesian archipelago, as well as India and other parts of South and Southeast Asia. Satellite forms the telecommunications backbone that connects Indonesia, along with other technologies, such as submarine cable. Merah Putih, which was completed ahead of schedule, will replace Telkom-1, at 108 degrees East, where the satellite will expand on Telkom's coverage to serve new markets. Its all C-band payload will enhance both internet and telephone service for populations in remote regions and offload backhaul for cellular service.
Mr. Zulhelfi Abidin, Chief Technology Officer of Telkom, said satellite plays a vital role in the firm's telecommunications infrastructure. SSL has been an excellent spacecraft supplier and has completed the satellite construction ahead of schedule.
www.sslmda.com
---
C-COM successfully tests new Ka-band Phased Array Mobile satellite antenna
C-COM Satellite Systems Inc. (TSXV: CMI) has successfully tested their 16x16 subarray phased array antenna using 4x4 Transmit and Receive building blockmodules — the panels were developed and tested at the Center for Intelligent Antenna and Radio Systems (CIARS) at the University of Waterloo.
The primary goal of the research project is to focus on the development of a new modular, low-cost, intelligent and conformal Ka-band antenna for the next generation mobile satellite communications.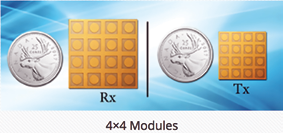 The now proven modular approach allows antenna designers to develop any size and shape of phased array panels using the smallest intelligent active 4x4 subarray.
The developed antenna system uses a unique technique to adaptively control the antenna polarization in such a way that a prescribed quality of polarization can be guaranteed over the entire scan range.
Furthermore, the beam-processing unit and the antenna intelligent module can generate more than one radiation beam simultaneously and support multi-beam-tracking, a highly desired functionality in emerging LEO mobile networks.
By using a unique blend of low-cost but flexible/reconfigurable hardware and highly intelligent software, the modular technology platform developed at CIARS provides the most cost-effective evolution path towards any antenna system configuration with prescribed performance for a wide range of low-end to high-end applications.
The developed technology platform can be easily extended to the rapidly emerging millimeter-wave 5G and complex radar systems.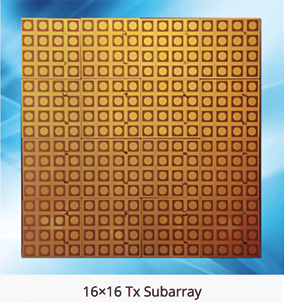 Bilal Awada, the CTO at C-COM Satellite Systems Inc., said that the company is pleased to have reached this important milestone in the firm's development of a fully electronically steered Phased Array Mobile Satellite Antenna operating in Ka-band.
The antenna will be able to track multiple satellites simultaneously and operate on the latest LEO, MEO and GEO constellations.
Professor Ali Safavi-Naeini, Director of CIARS, is in charge of the research team at the University of Waterloo responsible for this project. He said that measured lab results have demonstrated the high performance of the small modular scalable intelligent Transmit and Receive antenna modules and validated the simulation model for larger panels,
Additionally, he said, good beam steering up to 70 degrees from boresight was achieved, a significant achievement.
Dr. Leslie Klein, President and CEO of C-COM Satellite Systems Inc., added that the company is now a step closer to achieving the objective of developing and manufacturing an affordable, intelligent, antenna system capable of supporting the latest constellation of satellites, which will play a significant role in delivering high speed broadband solutions to mobile satellite communication markets.
www.c-comsat.com
---