Mr. Bruun joined KVH in 2008 as the Vice President for Sales and Business Development. His focus was on the planned global expansion of KVH's mini-VSAT Broadband satellite communications service. Prior to joining KVH, Mr. Bruun served as Senior Vice President of Strategic Initiatives for SES AMERICOM, where he concentrated on global mobile broadband opportunities with particular emphasis on the maritime and aeronautical markets. He holds a bachelor's degree in accounting from Alfred University and is a Certified Public Accountant (CPA). His considerable experience in the maritime satellite communications industry also qualifies him as an expert on the evolution, importance, and current condition of the industry as a whole.
SatMagazine (SM)
Brent, what brought you to KVH, and what are your current responsibilities?
Brent Bruun
The path I followed that ultimately led to KVH is unique. I started my career at KPMG in Stamford, Connecticut. While at KPMG, I fulfilled the necessary requirements (including passing an extremely brutal three-day exam) to become a CPA. After seven years at KPMG, I left the firm and went to work for one of their clients, GE Capital. At GE Capital, I was a Senior Analyst in the Financial, Planning and Analysis (FP&A) department. I spent several years at GE Capital before transferring to one of its businesses, GE Americom in Princeton, New Jersey, assuming leadership responsibilities for Americom's FP&A department.
I was actively engaged in the deal structuring process for GE Americom, including the business' sale to SES. After SES acquired Americom, it was a natural progression for me to move into a business development role and assume the title of Senior Vice President of Business Development for SES Americom. I was introduced to mobile broadband connectivity, supported by ViaSat technologies, for the first time during this experience.
My early experience in the mobility arena included a revenue share arrangement with Arinc's SKYLink business unit, which offered broadband connectivity to general aviation aircraft. The SKYLink service offering is based on ViaSat's ArcLight® platform, the same platform that is used for KVH's mini-VSAT Broadband (SM) network.
Subsequent to the SKYLink deal, I led SES Americom's ConnexionByBoeing (CbB) transaction. The CbB service offering was also based on ViaSat technology. The Boeing Company funded a significant portion of the AMC-23 spacecraft, which is positioned over the Pacific Ocean at 172 degrees East. Although the CbB business didn't survive, the Boeing Company was instrumental in getting Ku-band capacity in place over the Pacific and Atlantic Oceans. This capacity is a cornerstone for KVH's mobile broadband service.
My interactions with SKYLink and CbB personnel left me with two lasting convictions. First, that there was a future in FSS satellite-based mobile broadband service offerings, and second, that ViaSat's technology was (and is) the best alternative due to their unique spread spectrum waveform.
While still at SES, I was actively engaged in an alignment involving SES bandwidth and KVH's mini-VSAT Broadband service offering, which is based on ViaSat's ArcLight technology. While providing account management services on behalf of SES for the mini-VSAT Broadband initiative, I was afforded the opportunity to better familiarize myself with KVH. KVH is an incredible company.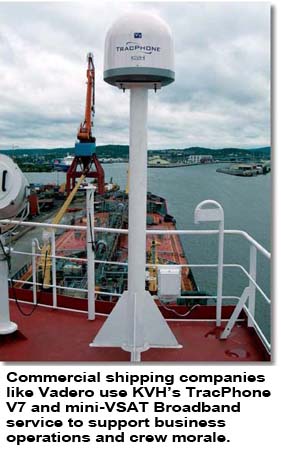 Martin Kits van Heyningen (KVH's co-founder and CEO) literally started the company in his basement. KVH has always paid incredible attention to delivering quality products, which helped make me a true believer in KVH's mobile broadband service offering. The mini-VSAT Broadband initiative combined with KVH's suite of quality product offerings and entrepreneurial spirit are the key factors that make KVH a wonderful place
to work.
In 2008, when I was offered the opportunity to join KVH and help guide the mobile broadband portion of the business, I was excited to accept.
Overseeing the global commercialization of the network is still one of my biggest responsibilities and one I continue to be passionate about. I also oversee our entire satellite product sales team, so I manage aspects of all of our TracPhone® and TracVision® products and how they are marketed and sold.
SM
KVH has several diverse product lines that are of interest to audiences in multiple markets and regions. Can you give us an overview of how KVH fits all these pieces together?
Brent Bruun
KVH is a leading provider of in-motion satellite TV and communication systems around the world. We've designed, manufactured, and sold more than 150,000 mobile satellite antennas for applications on vessels, vehicles, and aircraft, and we also manufacture guidance and stabilization solutions for military and commercial applications. That's a lot — especially as we handle our own engineering, manufacturing, marketing, etc. Everyone who works on KVH products works for KVH, so everyone has experience with all the markets we serve. I think that makes it a little easier to manage the multiple brands and product lines. We are headquartered in Middletown, Rhode Island, and we also have facilities in Illinois, Denmark, Norway, and Singapore. As the business grows globally, we may open additional international offices.
KVH is very visible in the marine market, both with leisure and commercial mariners.
SM
Can you give us an overview of the company's approach to this valuable market?
Brent Bruun
Sure. KVH started off making compasses for sailboats, which we still manufacture and sell. From there, the business grew into TV receive-only (TVRO) products like our TracVision series of satellite TV antennas and then two-way satellite communications solutions, including Inmarsat airtime and compatible TracPhone antennas as well as the TracPhone V7, which was specifically designed for use on the mini-VSAT Broadband network.
Recently, both our satellite TV and satellite communications technology have grown. With TV, we developed the TracVision HD7, which solves the issue that mobile users faced when DIRECTV® began moving high-definition programming to Ka-band satellites. We feel our TriAD™ technology is the best solution available to meet that challenge, because it tracks up to three Ka- and Ku-band satellites simultaneously, allowing boaters to have a user-friendly DIRECTV HD solution in a single, compact dome.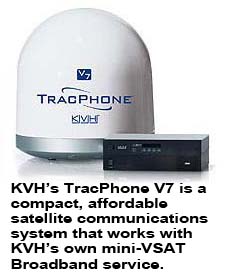 Of course, our biggest development has been, and continues to be, the mini-VSAT Broadband network and the TracPhone V7. We have deployed a dual purpose network for maritime and aeronautical broadband connectivity with our partner, ViaSat. KVH focuses specifically on the maritime industry while ViaSat's concentration is dedicated to the aeronautical industry. The deployment of the mini-VSAT Broadband network has transitioned KVH from solely manufacturing hardware to taking a more holistic approach, offering a turnkey solution that includes hardware, airtime service, network management, and a variety of value-added services. We expect this to be a major growth area for many years to come.
In late 2010, we made a move that will bring a great deal of flexibility and functionality to mini-VSAT Broadband subscribers. KVH acquired Virtek Communication AS (now KVH Norway), who developed the CommBox™ship/shore network manager. We're very excited about this technology — it increases network capacity through data compresssion and transmission optimization, it enables remote PC management, includes integrated e-mail, web compression, firewalls, and security, and also provides least-cost routing and bandwidth management for multiple commumication services. We're thrilled to complete the integration and demonstrate to the commercial maritime industry in particular how to make their satellite communications solutions work harder for them.
SM
Clearly, the mini-VSAT Broadband network and the TracPhone V7 are a major focus for KVH and for you personally. What makes this solution the best?
Brent Bruun
Our customers love that they can get everything in one place when they purchase our TracPhone V7 — in addition to getting KVH-designed and manufactured hardware, they activate their mini-VSAT Broadband airtime through KVH, and our sales and technical support teams are the only people they need to call for service. This, combined with the fact that the network is based on ViaSat's ArcLight platform (which in my opinion is the optimal mobility platform), provides our customers with superior service.
Competitive services combine hardware components from a couple of companies with service from another, which often means mariners get bounced from one place to another when they need service. We've eliminated that problem. Boaters also like having compact hardware that doesn't require a crane and a whole team to install — we have customers who operate commercial fleets and have just a few crew members install the antenna themselves in less than a day.
The mini-VSAT Broadband network grew from a regional to a global solution covering most of the world's major shipping routes in just three short years. Our network operations team is doing a great job at monitoring the network and identifying elements we can improve, which allows us to keep the mini-VSAT Broadband service fast, reliable, and affordable. These are all important reasons why customers like the U.S. Coast Guard are choosing mini-VSAT Broadband and why it has become the fastest growing maritime VSAT solution.
Best of all, the mini-VSAT Broadband network is poised to support many value-added services that will help mariners (particularly commercial operators) leverage the system and service as a business tool. Our crew calling option allows vessel managers to customize their crew communications programs, and makes administration of the program nearly effortless. We also offer a picocell solution that enables convenient cell phone access at sea, for crew, passengers, and even contractors who are onboard. In 2011, we will begin supporting Internet café functionality, which we expect to be popular both for crew use aboard commercial vessels and for passengers on charters and ferries.
SM
The global economic downturn has obviously had an impact on the maritime community. How is KVH dealing with this challenge?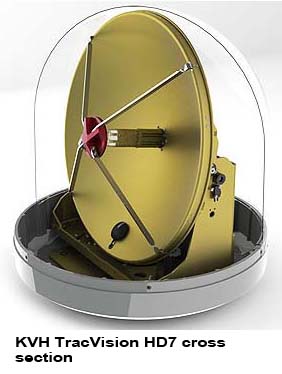 Brent Bruun
Our diversity is a huge factor in how we are facing the economic challenges. We made a long-term commitment to key strategic initiatives in both the satellite communications and fiber optic gyro markets. Fortunately, these markets began to accelerate and make significant contributions to our revenues just as our traditional marine and land mobile markets started to feel the pinch. We also recently won a $42 million contract to sell TracPhone V7 systems and the mini-VSAT Broadband service to the U.S. Coast Guard. This is a huge boost for our military and commercial maritime markets, both financially and in terms of visibility.
Another sustaining factor is that KVH manufactures reliable, high-quality products — period. Our dealers and our customers know that and rely on it, which gives us tremendous staying power. That's why the National Marine Electronics Association (NMEA) has named our TracVision systems the best marine entertainment products for 13 consecutive years, and also named the TracPhone V7 the best marine communications product in 2010. Many of the same qualities that make us a leader in the markets we serve also help us to successfully navigate economic ups and downs.
SM
What new developments can we expect from KVH in 2011?
Brent Bruun
We have great plans for the mini-VSAT Broadband network this year. Some very exciting hardware enhancements will be introduced during the first half of the year, which will make mini-VSAT Broadband available to an even bigger audience of mariners around the world. We also plan to continue to implement our global commercialization strategy, making the mini-VSAT Broadband service even more valuable to our customers with several enhancements, some which are new and some of which are already underway.
We announced the GlobalCare premium support program in 2010, and we'll continue building out the infrastructure for that program to provide the best possible service to our customers at sea and around the world. To support that infrastructure, we're training more qualified dealers and technicians in ports around the globe via a convenient, interactive online training program that will go live early in 2011. As the network and our customer base grow, we will expand our technical support team as well.
Overall, KVH's fully integrated solutions, proven quality and reliability, and outstanding service are helping us succeed in our mission to provide the best communication and entertainment solutions to people who are on the move around the world.
For more information on KVH Industries and its products,
access this direct link.