The projected growth in the Internet of Things (IoT) can potentially transform numerous applications and end-user markets through the application of this technology.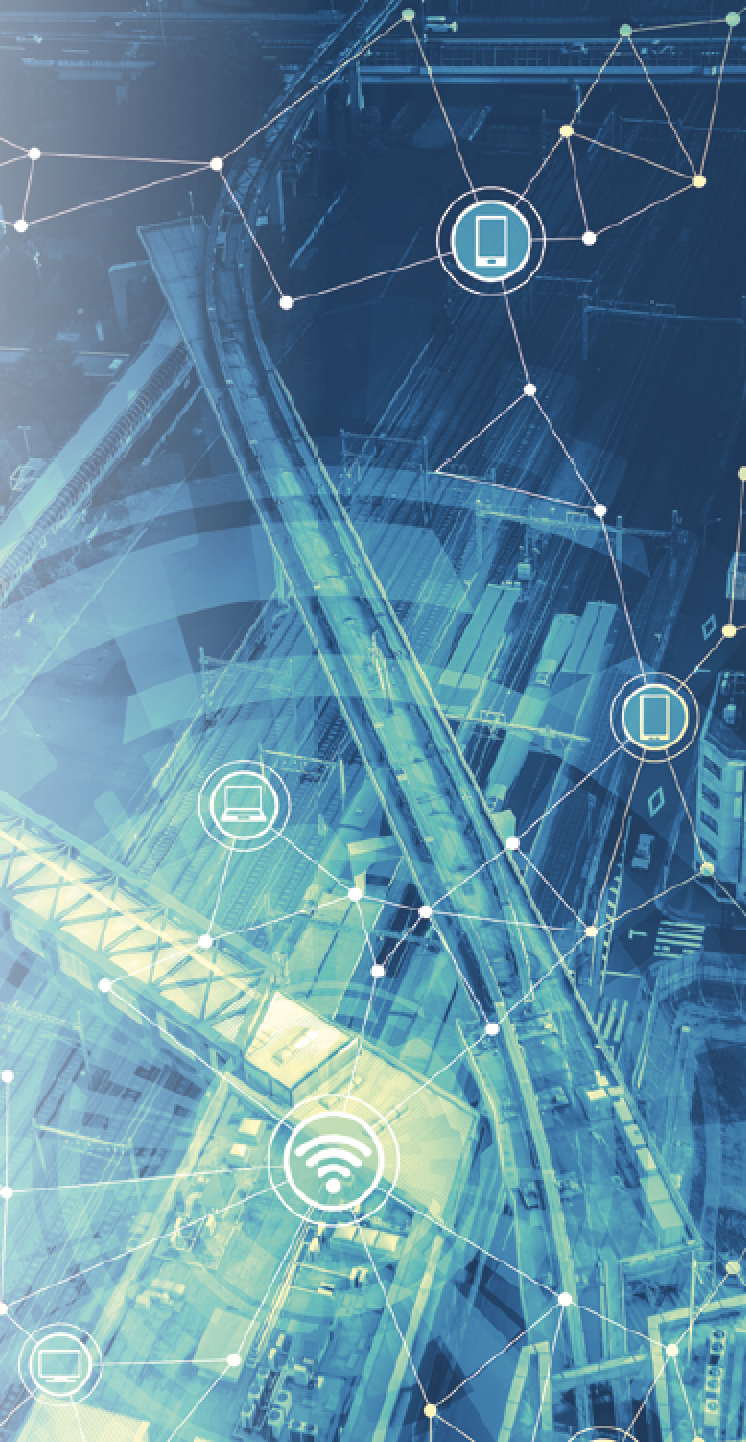 In the context of satellite communication (SATCOM) choices, the global market is expected to grow at a rapid pace. IoT relies heavily on connected devices, networks as well as the Internet. However, most importantly, IoT relies on SATCOM technology.
IoT has played a pivotal role in developing global economies by connecting businesses, devices, and services. While numerous consumer-centric devices use terrestrial-based mobile or cellular networks, business-centric applications sometimes require greater reliability.
Satellite technology can offer such needed reach and consistency. The rising adoption of IoT in business will drive the importance of SATCOM over the years to come.
Five Advantages of SatIoT
The rising deployment of wireless communication and data transmission systems in the home as well as for industrial applications is creating high demand for IoT and satellite technology.
In the recent past, satellite swarms and constellations have witnessed rapid evolution owing to a variety of space-based innovations. Yet, all realize that there are various areas where mobile networks cannot reach end-users.
At such remote locations, deployment of satellite is the easiest and the most cost effective solution at hand. This factor has made IoT ubiquitous across numerous business processes.
Here are some of the major advantages of satellite Internet-of-Things (satIoT):
#1 — Reliability
Network congestion and locational and environmental conditions can hinder the effectiveness of any cellular network, which brings SATCOM into play, especially outside the boundaries of an urban area. SATCOM provides an enhanced reliability factor that is a dealmaker for many business processes and industries, such as oil and gas, agriculture, automotive, and the energy market segments, among others. Satellites offer redundant and consistent channels for crucial, uninterrupted connectivity.
#2 —Proximity
While various options such as private RF networks and cellular towers, are available when it comes to communication in remote areas, most of them are quite costly and time consuming when it comes to the deployment of the required infrastructure. SatIoT, on the other hand, simplifies the issues regarding deployment. This is a huge advantage for small and medium businesses seeking stable sources for their communications and networks.
#3 — Lifecycle
Another essential aspect that makes satellite-based IoT a winning environment is the longevity of the networks when compared to mobile networks. Some satellite networks have lifecycles that last as much as 20 years — this is of vital consideration when deploying a network that requires stability and durability over the long term.
#4 — Multicasting
Owing to technological advancements, satellite-IoT can send large amounts of data to numerous users simultaneously. The large beam size and ability to distribute data across multiple units make these networks a cost-effective option in business settings. The ability of satellite networks to multicast is advantageous when it comes to deployment across large organizations and their separate offices.
#5 — Coverage
Coverage determines the value proposition for most organizations selecting satIoT over other connectivity options. A broad range of technological innovations are further anticipated to encourage the installation of these networks in the near future.
---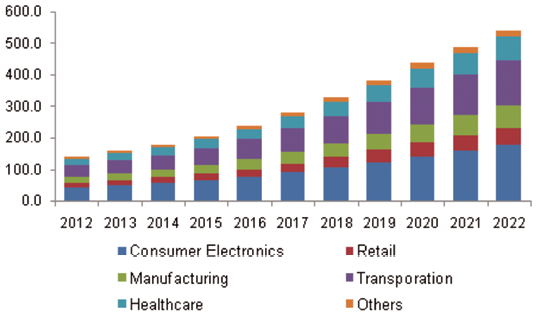 Figure 1. Essential Industrial Applications of Satellite-IoT North America IoT market revenue by application, 2012 - 2022 (USD Billion) Image Source: www.grandviewresearch.com
---
The New Focus of Enterprises
Satellite networks are increasingly being adopted in enterprise domains. This factor is likely to create novel opportunities for the adoption of satellite gateways, such as hybrid Low-Power Wide-Area Network (LPWAN).
These gateways bring connectivity to remote areas. The sweet spots for hybrid satellite-LPWAN systems are remote locations that lack cellular and other terrestrial communication networks.
These services use underground penetration or buildings to provide the required connectivity to the remote areas. Internet giants such as Google, Apple, Facebook, and LinkedIn, among others, are adopting this option for global proliferation of their services. This trend is reflected by the rising demand for data bandwidth on global scale.
However, the cost for backhaul is expected to keep increasing, with the struggle for the network operators being the absorption of these additional charges to ensure ongoing service to their customers. This factor is reducing profit margins for many.
Tech giants and other players are on the lookout for new business models for end-to-end networking and a new charging pattern based on a per-connected LPWA device. The new solutions can deliver better system and autonomy in the industry through the support of cost-effective and power efficient devices with direct connection to IoT. This is possible through the use of satIoT and supportive devices that can offer the much needed terrestrial connectivity.
Apart from enterprise settings, satIoT finds applications in a variety of industrial sectors. Reduced costs are expected to boost the adoption of satIoT across multiple industries such as healthcare, agriculture, civil engineering, and logistics, among others.
Essential Industrial Applications of SatIoT
Healthcare
Healthcare is anticipated to offer a promising future for the satIoT segment. Innovations like smart bandages enabled with IoT sensors can be a major boon for the industry, especially across developing markets such as Asia Pacific, Latin America, and the Middle East and Africa.
Satellite IoT and M2M are being used to generate advantages such as reduced cost, advanced data analytics and improved management of patients and healthcare providers. Along with developed economies, this factor is anticipated to bode well for the adoption of IoT across developing regions.
Expanding healthcare services for remote areas and government funding for diagnosis and treatment of serious illnesses across these remote communities can boost business opportunities for any number of key players.
Agriculture
Increasing yield, productivity, and quality of crop are the primary agendas for the agriculture sector.
Internet of Things in agriculture can assist in reducing capital costs and enhancing distribution and storage. Across the developed markets of North America and Europe, deployment of IoT can create growth opportunities for satIoT in the years to come, especially for the end-user who is in need of thousands of sensors and IoT devices. Rising adoption of precision farming and smart farms can further drive the deployment of satIoT.
Satellite-IoT Value Proposition for Future
The entire value chain for IoT is dominated by some of the top players in the industry, such as Vodafone, Telefonica, SES, Eutelsat, MDA, and Orbital ATK, among others.
Along with Research and Development (R&D), Mergers and Acquisitions (M&A) and business collaborations seem to be the go-to strategies for a majority of the top actors. Businesses are focused on developing advanced products and services to design and develop innovative services that can offer value proposition as far as satIoT is concerned. These value propositions include: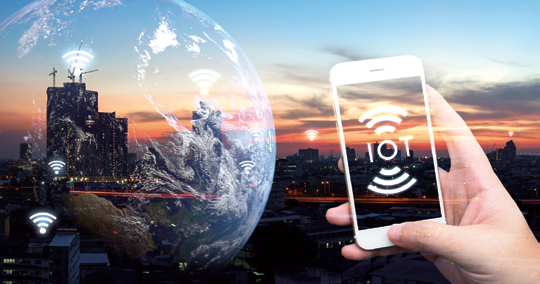 • Cost-effective
• Energy efficient
• Excellent coverage
• High security
• High speed
• High-availability
• Highly reliable
• Internet of everything, everywhere
In a recent turn of events, SAT2M2M and Fujitsu Electronics announced they will be collaborating to develop a dedicated module that will offer satIoT services. The two companies will collaborate on the design, production, and development of novel IoT low power, wide area (LPWA) modules. These modules can enable LEO SATCOM. The modules will be able to serve thousands of connected objects and can distribute numerous IoT messages each day.
Grand View Research, Inc., suggests that the global market for IoT will attain approximately USD$1.88 trillion by 2022. The increasing popularity and adoption of connected devices is poised to substantially propel the global IoT market.
From connected cars, home appliances, smartphones, and navigation systems, to connected homes, IoT can offer numerous advantages to consumers as well as IoT vendors. Satellite technology often plays a crucial role in the development and deployment of IoT. This factor is likely to trigger business collaborations and investments in research and innovations. Expect an integration of hybrid networks that combine satellite, mobile and wireless networks.
The demand for L-band and other narrowband providers is relatively high. Vendors are focused on developing satellite technologies that are more accessible for a larger consumer base. Innovation is the key to improved ability and access to IoT based on satellite technology.
Most market leaders are investing in meta-material-based antenna-technologies and are collaborating with such providers. Improving bandwidth is a vital focus area for companies, which is quite evident from the rising adoption of LTE networks and hybrid technologies. Hybrid networks can help achieve global coverage and, in example, allow vehicle manufacturers to manage all of their vehicles via a single network.
IoT and Satellite Technology
Rapid adoption of IoT-enabled devices and automation across healthcare, agriculture, building and construction, oil and gas, transportation has made IoT a growing and dynamic industry.
India, Japan, and China are some of the major regional drivers for this technology. These regions are home to the major manufacturers of vital components, devices and technologies. Hence, the Asia Pacific region is anticipated to witness the fastest growth in the coming years, both in terms of revenue and demand.
The rise in low bandwidth applications can further impel adoption of this technology throughout the years to come.
www.grandviewresearch.com/

Amruta Joshi is a Content Writer specializing in varied industry verticals including personal care, healthcare, chemical and technology. Her work includes market research and writing blogs, PRs, guest posts, etc,. on all the latest innovations and up-to-date events in her field. She has also freelanced for an IT and software firm and has also worked as a full-time Copy Editor for a renowned German publisher — STM books.
Grand View Research, Inc. is a U.S. based market research and consulting company, registered in the State of California and headquartered in San Francisco. The company provides syndicated research reports, customized research reports, and consulting services. To help clients make informed business decisions, they offer market intelligence studies ensuring relevant and fact-based research across a range of industries, from technology to chemicals, materials and healthcare.
---