---
By Ella Herz, Chief Operating Officer
Contracts, customers, products, employees, revenue; by all of these measures 2014 was a good year for Orbit Logic. The company's multi-year, forward-looking vision and investments in situational awareness, constellation management, and planning software including related mobile, web, and onboard applications have paid off in 2014 as military, commercial and civil satellite programs have multiplied.

This year has seen tremendous growth in interest in imaging satellite constellations, especially from within the U.S. In past years, it seemed that much of the imaging collection planning projects came from Canadian, European, and Asian markets. However, this year, while international interest remains high, imaging projects are rapidly emerging from within the United States.
Related interest in Orbit Logic satellite imaging planning software has never been higher. Orbit Logic's Collection Planning products have been recognized as the only true off-the-shelf software available that provides configurable, high-fidelity simulation and planning for these imaging satellites and imaging satellite constellations.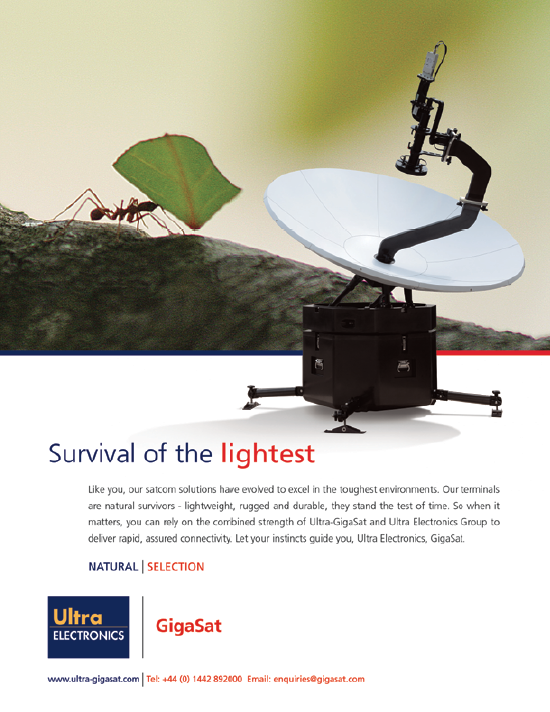 In 2014 we continued to enhance our collection planning tools for operations, analysis and constellation support. This year we were challenged to keep pace with the latest market direction, so we responded with implementation of new imaging collection modes for point, area, and video imagery collection using frame cameras.
With these updates, CPAW is ready to support collection planning by the small satellite constellations that are becoming so popular, as well as continuing to support the more traditional agile line sensors used by larger spacecraft. As always, our CPAW architecture allows constellations to be defined and configured to support planning for collaborative, optimized constellation efficiency, even across a constellation of mixed satellite and sensor types. The upcoming year will be filled with augmenting the existing automation, configurability, and interfaces to adapt CPAW to support new systems, vehicles, and sensors.
Throughout Orbit Logic's almost 15 year history, we have built products in areas where we have identified a need for configurable, scalable, easy-to-use COTS software products.
This year we created a new application called Order Logic to bring the most customer-facing features of imagery order management directly to the end user or customer service personnel through a secure web interface.
In Order Logic, authorized users can create, edit, and browse imagery collection orders, check on order collection or processing status, and get updated collection timeline estimates and feasibility reports. Configurable permissions and workflows provide the flexibility to deploy Order Logic in multiple operational environments for multiple user types. And because Order Logic interfaces with the same database used by CPAW for collection planning, both systems are always in sync and customers always have the latest status for their imagery orders.
Meanwhile, Orbit Logic's original planning software product, STK Scheduler, continues to provide planning support for new and ongoing programs in the civil, commercial, and military space sectors. For example, in 2014 Orbit Logic was awarded an SBIR to develop a configurable, automated system to improve sensor tasking efficiency and responsiveness for Space Situational Awareness (SSA) applications.
Recent and ongoing product enhancements for STK Scheduler include SSA-specific optimization features, anchor tasks, system mode tracking features, improved scheduling algorithms and more. STK Scheduler continues to be the industry-leading COTS software product for space system scheduling.
The SpyMeSat mobile app brought Orbit Logic directly to the public via iTunes and Google Play. In 2014, the SpyMeSat user base significantly expanded when we added the ability to download the latest satellite image of a user's current or specified location directly to a mobile device. SpyMeSat even broke into the top 10 Utility apps on iTunes shortly after this new public version was released in June.
Following on the heels of the success of the SpyMeSat consumer app, Orbit Logic also delivered a custom mobile app based on SpyMeSat. Big new features are on the way for SpyMeSat in 2015, so remain tuned-in for those developments as they occur.
As a small, innovative business, it is no surprise that Orbit Logic received multiple SBIR research contracts in the past year in topics related to mission planning and scheduling. Our customer base continues to expand with new commercial and government customers using Orbit Logic products for science mission planning, contact scheduling, SSA sensor tasking, imagery constellation management, collection planning, and more.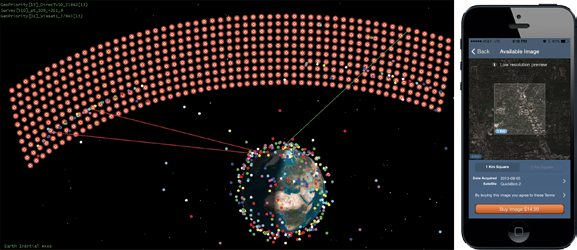 The SBIR contracts, along with strong support from existing software license and renewing maintenance customers, allowed Orbit Logic to continue to invest in and advance our software with the latest concepts and technologies.
This year, our staff has grown and we have continued to support and expand all of our COTS products: Collection Planning & Analysis Workstation (CPAW), STK Scheduler, Order Logic web app, SpyMeSat mobile app, Autonomous Planning System (APS) flight software, and UAV Planner.
Looking ahead, Orbit Logic foresees continued strong performance and growth. As the market for constellations of large and small satellites and UAVs continues to develop, more and more customers are turning to Orbit Logic for our experience and high quality off-the-shelf products that provide coordinated, configurable, validated, deconflicted plans. While maintaining and enhancing our current products and service contracts, we also expect to expand our onboard, web, and mobile presence.
---
What Next To Expect In The LATAM Market
By Carlos Placido, Senior Contributor
Latin America was marked by a number of events and trends in 2014, which hint at gradual shifts for the satellite services ecosystem; and offer more visibility as to what to expect in 2015 and beyond.

For starters, 2014 could be considered a pivotal year for satellite broadcasting as a result of the first transmission of a major, globally-relevant live sporting event in Ultra-HD format: The FIFA World Cup matches that took place in Brazil were encoded in multiple video formats but retransmitted live in 4k Ultra-HD to Europe, North America, Latin America and Asia via Eutelsat and SES satellites, among others. While the Ultra-HD 4K (UHDTV) )market remains small and rather driven by "non-linear" content (TV series or movies viewed "on-demand" by consumers with high-speed broadband and 4K TV screens), the technology is undeniably important for the satellite industry to coordinately jump on the UHDTV bandwagon in order for linear (live) content to fully seize satellites´ distance-agnostic, one-to-many broadcast economics.
Another important event was the acquisition of Brazilian payTV player GVT by Telefonica. If this could signal a new wave of DTH consolidation in the region is unclear; however, this was certainly an important milestone that highlights that telcos absolutely need satellites to grow their payTV user base in Latin America. There is also an interesting announcement by GVT that hints at how satellite DTH can interwork with terrestrial access. GVT just announced the company would launch a set top box (STB) with integrated Wi-Fi for its payTV service. The project—still in beta—reveals how satellite TV could co-exist with IPTV (and OTT) via technology bundles that seek distribution efficiencies for different forms of content.
While the FIFA World Cup in Brazil commanded much industry attention in 2014, there were other important events that relate to two-way satellite connectivity that hint at changes starting to take shape. One could categorize these 2014 events into three groups: National "Pride" Satellite Programs, High Throughput Satellite (HTS) Commitments and Value Chain Shifts. Examples for each are listed below with a summary and conclusions as to what to expect next.
National "Pride" Satellite Programs
Several Latin American countries strengthened commitments in 2014 to nurture and develop domestic satellite communication programs. These government-driven, domestic satellite communication programs, often referred to as "pride satellites," tend to have multiple goals, including fostering nationwide digital divide programs, technology independence, national security and domestic broadcasting/ communication. Some main examples for 2014 include: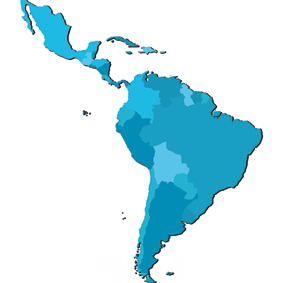 ARSAT-1: In October, 2014, an Ariane 5 rocket placed into orbit Argentina´s first GEO communication satellite. ARSAT-1 is the first of a series of satellites designed, developed and integrated in the country by state-owned INVAP. This marks an important milestone for Argentin´s ambitious program to develop spacecraft development capabilities.
TKSAT-1 (Tupac Katari): After commencing operations in April, 2014, the Bolivian Space Agency reported that customers use over 30 percent of the Bolivian satellite capacity and expect that half of the satellite capacity will be in use by end of 2014, essentially achieving a 50% fill rate in just one year.
Defense and Strategic Communications Geostationary Satellite (SGDC) System: Brazil´s SGDC program addresses communications needs of the Federal Government, including the National Broadband Program (PNBL) and strategic/defense communications. During the 2014 VSAT Latin America event in Sao Paulo, Visiona Tecnologia Espacial and Telebras shared details about Brazil´s government satellite program. The first satellite (SGDC-1) to be launched in 2016 includes a multi-purpose, extensive Ka-band payload with spot beams across Brazil and also X-band capacity.
MexSat: Mexico is planning to launch the Centenario and Morelos 3 satellites, to provide additional satellite connectivity. These satellites will complete the three-satellite Mexsat system, which already counts with the Bicentenario satellite, launched in 2013 to provide Internet access to thousands of public locations via the Mexico Connected program.
HTS Commitments
During 2014, several satellite operators confirmed their HTS plans and better articulated strategies around HTS. Some examples are:
Hispasat: In 2013, Hispasat became the first operator to provide Ka-band spot beam capacity in South America via a hosted payload arrangement with MNLA. It is anticipated that Hispasat will include additional Ka-band beams in future satellite launches.
O3b Networks: With the (delayed) launch of a batch of MEO satellites, global satellite operator O3b completed its initial fleet and is now able to offer seamless global connectivity. During 2014 O3b started providing services in the Americas, by provisioning a high-speed, low latency link for a Royal Caribbean cruise ship.
StarOne: StarOne-D1, ordered in 2013 and scheduled for launch in 2016 will be the first Star One satellite to be fitted with Ka-band transponders for broadband services.
Hughes and Viasat: U.S.-based HTS leaders Hughes and Viasat are planning to launch two HTS satellites (Echostar-19 and Viasat-2) by 2016/17 that would provide each over 150Gbps. In addition to full coverage of the United States and much of Canada, these satellites will likely cover the Caribbean, Central America and Mexico. Development around these two HTS satellites, particularly over Mexico, is something to watch closely given the potential impact on bandwidth supply and the services food chain.
Yahsat: Yahsat announced in 2014 plans to launch its third HTS satellite in 2016, which will include Ka band capacity over Brazil.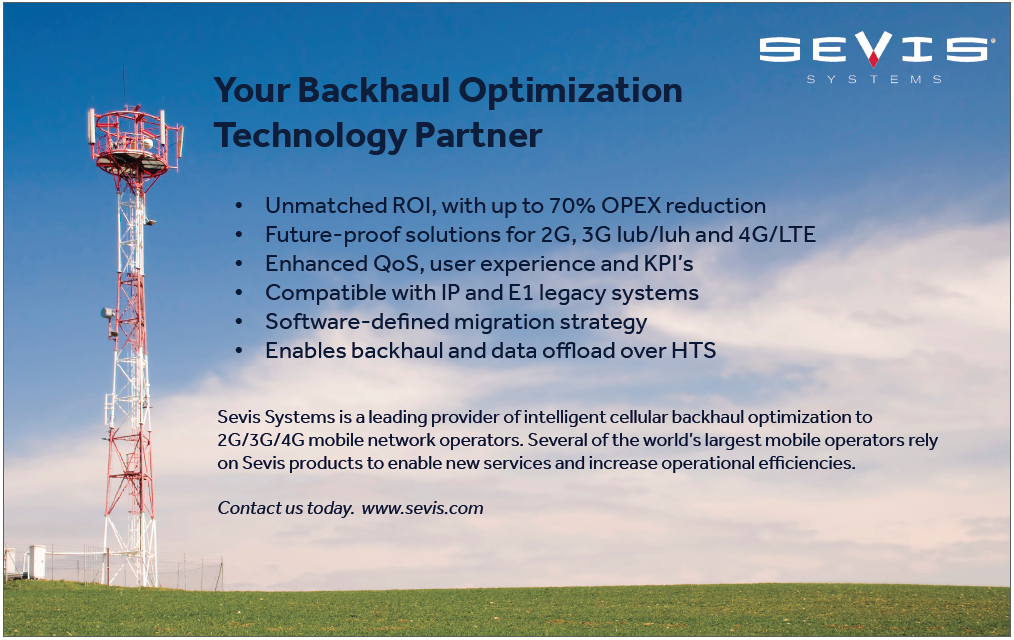 Value-Chain Shifts
The HTS paradigm is forcing all players, including service providers, to reassess their core competencies. Three iconic events occurred in 2014, which could shed light on the roads that traditional satellite service providers could take to transition to HTS service offerings.
Telefonica Media Networks: Media Networks Latin America (MNLA) started offering residential ka-band services in 2014. With a fully integrated ground infrastructure (including Hughes´ Jupiter broadband platform and RF Ka-band gateways) and a hosted payload on the Amazonas 3 with 8/9 beams over the major metropolitan areas, MNLA´s Ka-band offering could be considered a vertically-integrated platform, but offered to end users via commercial distributors (wholesale model).
Hughes Brazil: In 2014, Eutelsat do Brasil, the Brazilian affiliate of Eutelsat announced a contract with Hughes for the entire Ka-band capacity covering the Brazilian territory. The Eutelsat 65 West A satellite, scheduled for launch in 2016, will host a Ka-band payload with 24 spot-beams, of which many will cover a significant portion of the Brazilian population. Hughes Brazil has been a successful (traditional) service provider in Brazil focused on enterprise users. The shift to Ka-band using owned capacity could signal that Hughes ion the future Hughes could transition from a traditional service provider model to a vertically-integrated one (as in the U.S.).
Axesat´s Acquisition of Enlaces Integra: In May, 2014, Colombian satellite service provider Axesat completed the acquisition of Mexican SP Enlaces Integra, previously a subsidiary of Mexican satellite operator SatMex. Axesat can be considered a good example of a traditional enterprise-focused satellite service provider seeking growth regionally via geographic expansion and diversification. Axesat will possibly transition to HTS "traditionally": This is, by continuing leasing satellite capacity from wholesale FSS/HTS operators.
Looking Forward
New HTS entrants, value-chain shifts and government plays define Latin America as a new ball game for two-way satellite services, presenting opportunities and threats.
As FSS dominance does not guarantee HTS success, satellite operators are driving differentiating strategies, ranging from open HTS architectures (Intelsat Epic), to vertically-integrated offerings (MNLA, Hughes and ViaSat). However, when looking at the 2015-2017 launch schedule of satellites with HTS payloads, it is evident that several operators are in a "land grabbing" mode, even weighting the risk of an oversupply scenario towards 2017. Oversupply is a sensitive term for the satellite industry. If such a scenario were to take occur, over the longer term such may not be bad news, as lowering barriers could signify supply-side economics which, as a result of less expensive bandwidth, could foster further growth for incipient applications such as residential broadband, 3G & 4G backhaul and mobile data offload.
A changing competitive scenario presents a fertile ground for agile satellite service providers that design and integrate win-win offerings with high efficiency enabled by HTS and sophisticated compression/ optimization technology. Of particular interest in 2015 will be how Intelsat´s 29e satellite, the first of its Epic series, will impact the business of B2B satellite connectivity including mobility, enterprise VSAT and cellular backhaul. Mobility will be a key focus for the Caribbean region, but South America could leverage Epic for enterprise VSAT and backhaul.
Increasingly, Mobile Network Operators (MNOs) are viewed as the ISP by default so the digital divide can be bridged via smart hybrid satellite-cellular interworking. Note that, despite the economic challenges for (data-dominated) 3G and 4G satellite backhaul, a small yet promising number of such services were provisioned during 2014 across Latin America using traditional FSS capacity—Ku-band Epic could catapult this particular market segment.
The satellite play of country governments will be stronger in several Latin American countries looking forward—satellite operators, telecom players and service providers need to adjust plans and seek ways that maximize the socio-economic impact of private-public initiatives around broadband access, 3G/4G backhaul and data offload in remote, suburban or underserved areas.
Carlos Placido is an independent consultant with 20 years of progressive experience in the areas of telecom consulting, business development, engineering and R&D. With focus on emerging satellite markets and technology, he has conducted numerous strategic consulting projects as well as research and management activities, including global market research studies for Northern Sky Research (NSR), business development support for technology vendors and project management at Telefonica. Until 2004, Carlos led a development team at INTELSAT, where he was responsible for identifying and validating future satcom uses of emerging video and IP data technologies. Carlos is also contributor and administrator for Satcom Post.
---
By Tom Walkinshaw, Chief Executive Officer
Most people in the space industry have never heard of PocketQubes. That's not really surprising, as PocketQubes are a relatively new concept and, for some, they many drawbacks when compared to the status quo (Cubesat/Microsats).

PocketQubes were developed from frustrations within the academic community at the continued, escalating cost of a CubeSat Launch. In the early days of the Cubesats, a 1U cost approximately $40k to get launched; however, now this has escalated to $125k, in some cases. The idea behind PocketQube is that if you go smaller, you can significantly reduce your launch expenses to the point that a 5cm cube launch can cost as little as $20k.
Total satellite project could be around $35k for the hardware and launch, with PocketQube Shop showing that commercial subsystems can be readily available for this niche community.
There is a fallacy which is quite persuasive in the small satellite community and that is that no satellite under 1kg (1U) can do anything useful. There seem to be a few drivers for this observation. Incumbents generally have products which depend on the CubeSat standard, so they are unlikely to take seriously (at least, publicly) that a smaller standard is able to replicate similar capability.
Another area is just a general awareness of satellites such as WREN, the German 1p (5cm cube) which squeezed in a three axis reaction wheel, camera with SSTV capability and four pulsed plasma thrusters. WREN's total mass was 170 grams and was built by a hardware engineer as a side project in his garage.
Last year, the community witnessed a big breakthrough as the first four PocketQubes were launched into Low Earth Orbit (LEO). These satellites—WREN, $50Sat, QubeScout-S1 and T-LogoQube—proved that such satellites could, in fact be flown, tracked and operated successfully.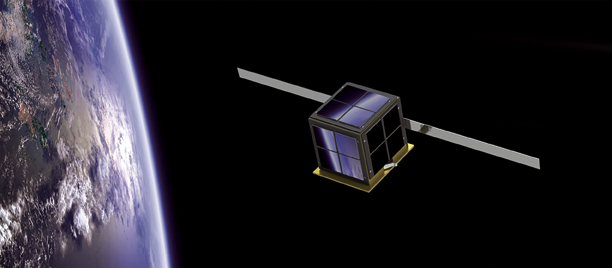 The big standout from the communities' points of view is the $50sat spacecraft, whose price included the internal electronics and the open source code. At the time of this satellite's launch, this was the world's smallest operational satellite and remains the world's most inexpensive satellite to operate in LEO.
$50sat's success is important for several reasons. The satellite proves that PocketQube satellites can last at least 12 months on orbit, the build can be managed inexpensively and the work can be completed by people who, in many cases, may have never previously built a satellite.
A key moment during 2014 was the first PocketQube Workshop, which was held at NASA Ames in Mountain View, California. More than 40 delegates attended the one day event, which covered the rapid growth of the PocketQube concept.
Speakers included Prof Bob Twiggs of Morehead State University, the creator of PocketQube; Dr Jerigan, a NASA veteran now helping with T-LogoQube, Sonoma State's PocketQube that is currently in LEO; Chantal Cappelletti from the GAUSS Team; Dennis Wingo from Skycorp; Kris Kimel and Tyman Clements from Kentucky Space. NASA Ames' Pete Worden also contributed to the proceedings.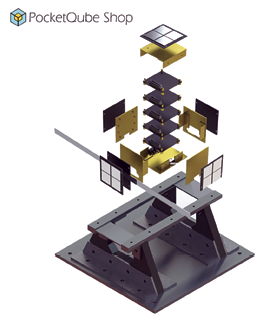 PocketQubes were first proposed by Professor Twiggs (the CubeSat
co-inventor) in order to tackle the escalating cost of launches for University groups on tight budgets. The standard 5cm cube can be stacked to create larger spacecraft.
In October, PocketQube won a SMART Award from Scottish Enterprise. The award represents funding of more than $100k (£63k) to develop the first commercially available Electrical Power System (EPS) for PocketQube class satellites. For our company, this was a big milestone and gave us the resources to move into our new office/manufacturing space and hire additional team members.
Our company was the first in the world to sell COTS PocketQube components. Our structures were the first component available, funded after a successful Kickstarter campaign.
In May, we partnered with Radiobro of Alabama to add the MiniSatCom Transceiver to our Shop. In September, we added another partnership, this time with DHV of Spain to sell the first PocketQube Solar Panel Sets.
The PocketQube Solar panels are available in a number of configuration including 1p, 2p and 3p. They leverage flight heritage gained from the Unisat-6 microsatellite, which launched earlier this year using DHV Solar panels. Panels can be tailored to different structures upon request. Both MGSE and EGSE have also been developed. In the coming months, we are hoping to add an OBC and a PQ60 Development board.

In addition to our own systems, we are quite keen to collaborate with the wider satellite community and have developed a standard called PQ60 v1.0. This is similar, in many ways, to PC/104, which is used in CubeSats and allows for the incorporation and interface of different parts from various vendors.
PocketQube Shop is the largest vendor of PocketQube hardware and currently sells structures, transceivers and mechanical/electrical ground support equipment. Their Founder/CEO Tom Walkinshaw said:
'We are really excited to be working with DHV on such an exciting and innovative product for the PocketQube marketplace. PocketQubes can cost a fraction of the build and launch price of a Cubesat and therefore COTS hardware make the barriers a lower for first time satellite builders'
The next launch is expected in 2016 and appears likely to be completely sold out. For me this is immensely exciting—the more hardware we orbit, the more people with believe that PocketQube is the obvious way to proceed for smaller missions.
We are also aware of a number of different teams from all over the globe who working on their PocketQubes. These include OzQube-1 from Australia, which is building a 1p with a camera onboard. BME-1 from Hungary is set to build another 1p, this being a follow up to their 1U Cubesat MASAT-1. There are live project being developed in the USA, Argentina, India, Jordan, OMAN and Taiwan. We expect many more during the coming year and are extremely positive about the future of PocketQube.
---
By Elad Manishviz, Chief Marketing Officer
Formerly known as RRsat, RR Media is a leading provider of global digital media services. Our smart global network distributes more than 650 live broadcast channels, 100,000 hours of live events every year and massive quantities of streaming media and VOD content. In addition, we fully manage 150 channels, from "A" to "Z." We have witnessed many exciting changes in 2014.

This year has been a terrific one for RR Media, as the company was recognized by Forbes as one of the 10 Companies Changing the TV Industry. Plus, RR Media won the inaugural TVBAward for legacy content.
In early September, RRsat rebranded to RR Media to reflect the expansion of the company's global media service offerings, which are designed around the needs of the industry and our clients. The company's smart global network, covering 95 percent of the world's population, optimizes content delivery across satellite, fiber and the Internet, reaching more people, in more places on more devices. Our three global media centers, located in metropolitan New York, London and the Middle East, allow our customers to reach a worldwide audience through their local operations.
This year brought new partnerships and smarter technologies to promote our largest expansion in company history. Throughout the year, we delivered and managed live content for some of the biggest sporting events in the world, including the 2014 World Cup, the NFL and the NBA. Our company made superb progress during 2014, with acquisitions and state-of-the-art service enhancements, creating a truly global ecosystem of digital media services. By offering a full digital content solution in many different regions and vertical sectors, RR Media's customer portfolio has significantly increased.
Along with the company rebranding, RR Media introduced a new scalable, global media services platform that was demonstrated for the first time at the IBC2014 Conference, a global meeting place for all those engaged in creating, managing and delivering the future of electronic media, entertainment technology and content. The Global Media Services Platform is a fully integrated, media content management and distribution platform that addresses the entire media value chain for traditional broadcasting and new media. The platform converges the preparation, management and distribution of broadcast and online video into a single workflow, allowing for solutions that accommodate any customer—and is accessible globally.

Customers are free to focus on the creation of their content and viewer offerings, while our team manages and implements all operational and technical aspects of content preparation and distribution.
We recently introduced a number of new additions to the platform, including a U.S.-based channel origination and playout service, to make
RR Media's services more accessible to local customers in the United States and the Americas. Additionally, we have introduced an innovative, automated, dubbing solution that enables broadcasters and content owners to quickly and effectively localize their content, creating new audiences and further opportunities to for revenue generation.
As mentioned earlier, October saw RR Media named in Forbes "10 Companies Changing the TV Industry," which recognized the company's innovative and long-term commitment to remain at the cutting edge of market developments. The list features the world's leading companies in the media industry and celebrates new innovators as well as traditional TV players. RR Media also won the award for legacy content at the inaugural TVBAwards. The award recognized RR Media's delivery and restoration of British Pathe's historic archive for YouTube, consisting of 85,000 pieces of video content from the 20th Century.
In August, we announced the expansion of our group to lead the growth of our U.S. sales team with industry veterans Rick Phelps and Dante Neyra. They have helped strengthen our presence and capabilities within the North American and Latin American markets. These two additions will add depth and strength in multicultural and digital media, enabling RR Media's global strategy to build and establish relationships within the regions.
Following the IBC Conference, our company announced a three-year deal as the delivery partner for Premier League football club Arsenal's International Programming Block. Arsenal matches, as well as two magazine shows weekly, will be optimized for delivery using fiber and satellite to reach millions of households in Europe and Asia. We are thrilled to have the privilege to distribute high-quality content for one of the world's most successful and recognized Premier League clubs. Our ability to distribute high-profile sports content worldwide is aptly demonstrated, while also giving us the platform for future partnerships with sporting clubs and other organizations.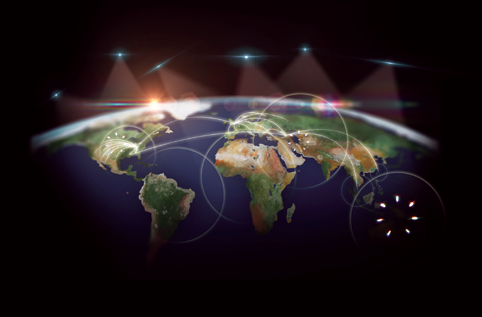 Signing a multi-year deal with Cisneros Media, RR Media provides a secure and reliable technical platform to deliver its content around the globe, launching new channels and expanding into new territories. RR Media will provide Cisneros Media with full playout and global distribution services for their portfolio of payTV channels, which includes Venevision Plus, VmasTV and VePlusTV, with reach into the Latin American market. This partnership is the first for RR Media in the Latin American market and signifies the company's commitment to broaden local capabilities throughout the Americas.
In April, iConcert, the cross-media entertainment channel, signed a three-year extension to the global media services deal as RR Media's role expands to become the single supplier for playout and global delivery. Under the agreement, RR Media provides the end-to-end solution allowing iConcert to focus on its core business and expand its audiences.
Shortly after the company's rebranding event, we collaborated with leading sports media services company Deltatre. Our companies are working together to deliver interactive and engaging sports content that will be viewed by billions of fans from any location in the world. We provide our smart global distribution network which uses satellite, fiber and Internet connections to optimize content while Deltatre provides its media asset management system. The live or on-demand interactive content is delivered to users across multiple devices. Additionally, it provides analytic information on user behavior and branding opportunities leading to monetization options for partners and advertisers. Our partnership with Deltatre offers broadcasters and digital content owners a full range of hassle-free media services from taking and managing to delivering and monetizing their content. Our customers are able to focus on new and creative ways of making their content engaging to their clients in real-time, all the while generating new business opportunities worldwide.
September was a busy month for us, as we announced a new partnership with Harmonic to offer next-generation, converged media management and delivery services for broadcast and online media applications. Working with Harmonic places us in the unique position to adopt next-generation virtualization technologies, allowing us to rapidly move to more regions and to work on behalf of customers with more complex requirements.
At this year's IBC2014 conference, RR Media demonstrated, in cooperation with Kaltura, its converged broadcast, online video service offering for broadcasters and content owners. This service allows content owners and publishers to prepare, manage and deliver content to any network, in any format, on any device.
As viewer habits and experiences are changing rapidly, opportunities exist to monetize the same content over a variety of screens via many different models. A unified and efficient way of preparing, managing and distributing content is, therefore, required in order to effectively support viewer demand in a cost-effective manner. RR Media's converged service offering provides a fully managed, end-to-end solution, allowing broadcasters and content owners to focus on new and creative ways of producing engaging content, as well as generating additional revenue.
Our core business goal remains enabling customers to focus on their needs. To do that, we will need to continue to create flexible, software-based solutions that make it easier for our customers to enhance their business. With that, we will see more integration among our products and those of our partners, as well as a shift toward cloud-based solutions.
As 2014 comes to a close, we can say we've taken great strides toward providing a variety of broadcasting solutions, to engaging new partnerships as well as launching our new platform, which pioneers new, patent-pending, cloud-based technology.
Moving from a dedicated hardware infrastructure to more software and cloud-based solutions is the logical progression for RR Media as technology matures. We look forward to continuing to be a significant force in this vibrant industry in 2015—and beyond.
Elad Manishviz was appointed as CMO of RR Media in January 2014. Mr. Manishviz brings more than 15 years of business leadership and experience in the digital media, entertainment, video and the advertising market segments. Mr. Manishviz held a variety of executive positions in global media-related software, communications and Internet-focused companies. Prior to joining RR Media, Mr. Manishviz was the CEO of Wallstream and he has also served as VP Products and Strategy at DG-MediaMind. Previously, he served as a VP of Products at NDS (now part of Cisco). Mr. Manishviz holds an Executive MBA from the Hebrew University and Bachelor degree in Media and Management from the College of Management in Tel-Aviv.
---