---
Knight Sky + Kratos Victoriously Demo Live SATCOM EMI Detection + Recovery
Knight Sky, LLC has partnered with Kratos Defense and Security Solutions, Inc. and have successfully demonstrated an integrated SATCOM capability that delivered rapid detection and recovery from an electromagnetic interference (EMI) event on a live SATCOM link.

The demonstration used the Orchestration and Terminal Manager elements of the (SATCOM) Enterprise Management and Control (EM&C) platform developed by Knight Sky for the US Space Force through the SPEC OTA. EM&C is an effort by the US Space Force Space and Missile Command (SMC) to plan, initiate, monitor and restore rapid, automated access to hybrid satellite constellations and networks, operated by various service providers.
The demonstration was performed as part of a joint, multi-national Combined Joint All Domain Command and Control (JADC2) exercise hosted by U.S. European Command (EUCOM). EM&C capabilities provided by Knight Sky included real-time data link and equipment status reporting from the EM&C Terminal Managers to the EM&C Orchestration capability.
Knight Sky's Orchestrator then interfaced with real-time spectrum monitoring and geolocation capabilities provided by Kratos Defense. The combined data stream was delivered by Kratos into the Unified Data Library (UDL) to populate a Situational Awareness visualization system in an operationally secure environment.
The UDL is a U.S. government owned, cloud-enabled database accessible by the DoD and coalition partners. Rapid recovery from the EMI event was accomplished by initiating network roaming using the Terminal Managers at the SATCOM terminals.

Accordingly, Knight Sky and Kratos demonstrated acquisition and aggregation of real-time SATCOM end-to-end connectivity status, including spectral data, link and equipment status and detecting/geolocating electromagnetic interference (EMI), and fusion of this information through the UDL.
The event also demonstrated control capabilities to restore satellite service rapidly to overcome the interference. The demonstration showed that EM&C capabilities provide SATCOM links with the resiliency and flexibility to operate through contested and congested environments in times of conflict.
EM&C is an important strategic goal of the military to effectively operate an integrated SATCOM enterprise by increasing assured SATCOM access for the warfighter with legacy and next-generation terminals. It improves the effectiveness of the DoD's critical SATCOM infrastructure by enhancing resilience and giving more satellite link choices, reducing resource allocation times and improving bandwidth efficiency.
EM&C enables every terminal to be a sensor, contributing to Situational Awareness and facilitating rapid response to operational challenges and attacks. The effort was funded through the Advanced Battle Management System (ABMS) indefinite-delivery/indefinite-quantity (IDIQ), of which Kratos is a prime award recipient.
Lt. Col. Gary Thompson said, "The agile terminal was a quick and low-cost mod to a legacy terminal and orchestrator provided theater and mission awareness and integration at the tactical edge. Advancing these concepts is a giant leap towards achieving the CSO SATCOM Vision."
---
ViaLite's Multi-Functional Blue OEM 1U Chassis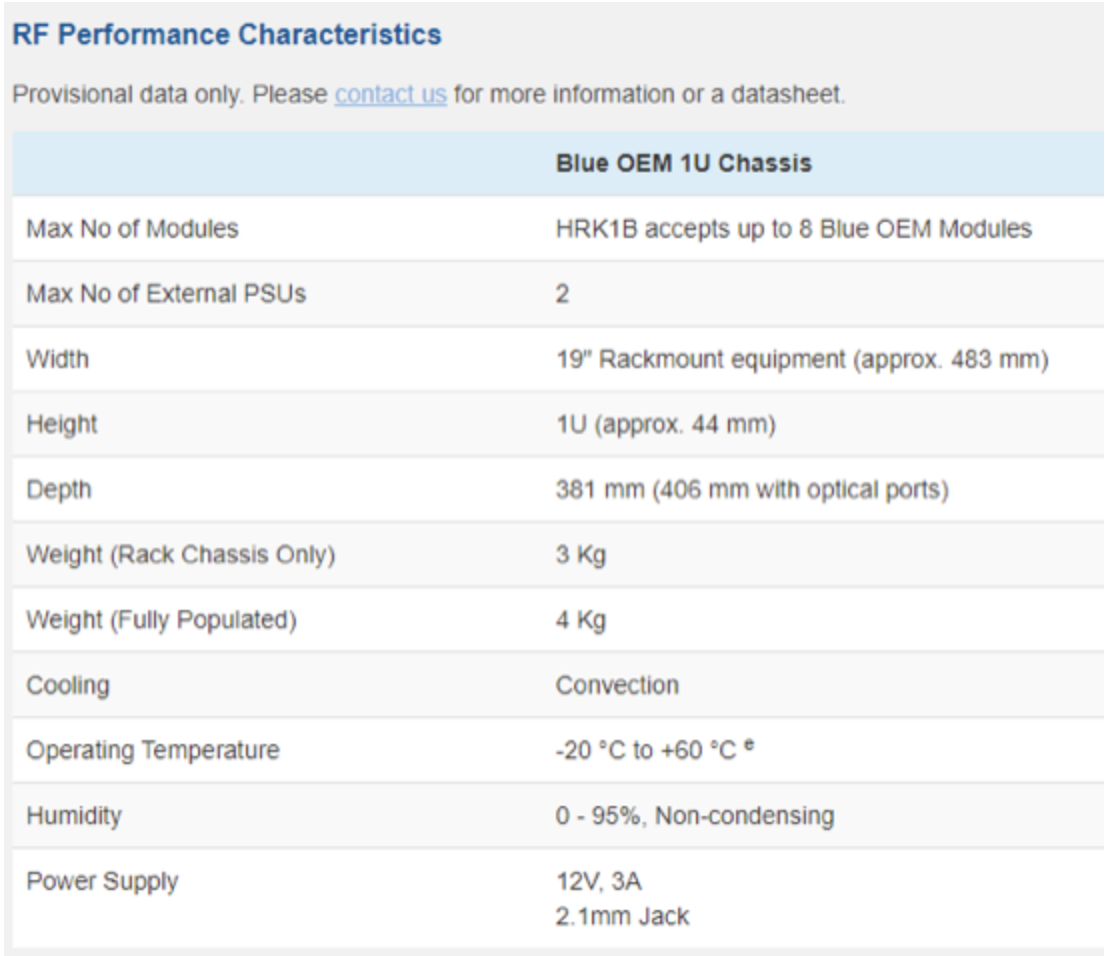 ViaLite Communications has a new blue addition... its a Blue OEM 1U chassis to the company's RF over fiber product range.

The chassis has the capacity to hold up to eight, ViaLite Blue OEM modules and is typically used for satellite and broadcast installations, as well as satellite news gathering (SNG) and outdoor broadcast truck operations at sporting events and more.
The product was designed to operate as a transmitter, receiver or both, as a means of supporting uplink and downlink operations.
This is a 1U high chassis, supports high throughput operations and enables signal transmission across distances where it is not possible to use coaxial cables.
The chassis was designed with a removable rear tray, which allows the fiber modules to be hot-swapped, meaning modules can be removed and inserted without the need to shut down the system.

Typical applications include fixed SATCOM Earth stations and teleports, Telemetry, Tracking and Command (TT&C), oil and gas platforms, timing and synchronization, marine antennas and
broadcast facilities.
Amair Khan, Business Development Manager at ViaLite, said, "The Blue OEM chassis has been developed to give customers the same performance produced by fiber modules but in a rack chassis in a smaller size.
"Using an external 12 V power supply means powering the chassis can be done by 12 V laptop style power supplies with a 2.1 mm jack power connector; making these items easy to maintain."
---
Global Counterspace Capabilities: An Open Source Assessment" Report Published By SWF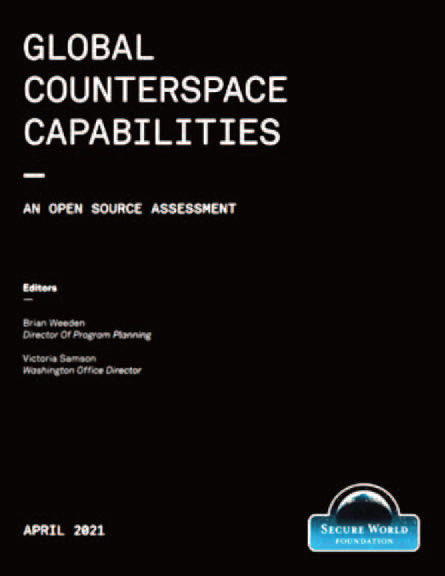 The Secure World Foundation (SWF) has released their annual report, "Global Counterspace Capabilities: An Open Source Assessment."
Edited by SWF Director of Program Planning Brian Weeden and Washington Office Director Victoria Samson, this report compiles and assesses publicly available information on the counterspace capabilities being developed by multiple countries across five categories: direct-ascent, co-orbital, electronic warfare, directed energy, and cyber. It assesses the current and near-term future capabilities for each country, along with their potential military utility.
The full 2021 report and the Executive Summary, along with previous editions, can be found at this direct infolink…
Translations of the 2021 Executive Summary into French, Spanish, Russian, and Chinese will be available in May.
---
Solar Electric Propulsion System Hot Fire Testing Completed By Maxar + Busek
Maxar Technologies and Busek Co. confirmed successful completion of an end-to-end hot fire test campaign validating all major elements of the 6 kW solar electric propulsion (SEP) subsystem being designed for the Power and Propulsion Element (PPE), which will propel NASA's Gateway around the moon. This multi-week test was the first time this hardware was operated as a fully integrated string that's representative of the flight system. The ground demonstrations were funded by NASA's Space Technology Mission Directorate under a Tipping Point public-private partnership.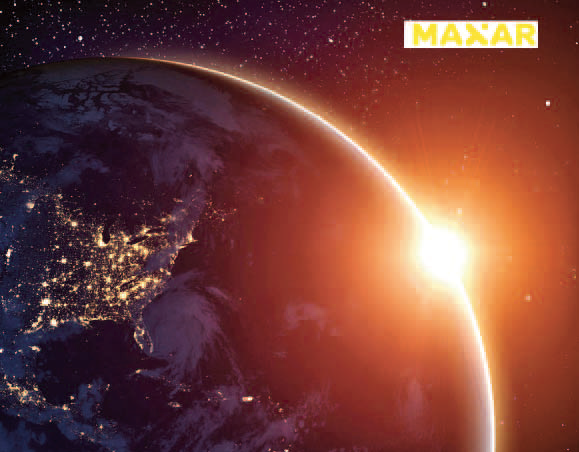 The PPE thruster system features the Maxar-built high-power control electronics (PPU-6000), a Moog-provided xenon feed system and four Busek-built BHT-6000 Hall effect thrusters. Together, this system is 30% more powerful than any SEP system previously flown by Maxar or Busek.
These thrusters will later be combined with other, higher-power thrusters to complete the PPE's 50kW electric propulsion system. The PPE will be the most powerful electric propulsion spacecraft ever flown.
A key accomplishment of this end-to-end hot fire test was the demonstration of stable, repeatable thruster startups. Reliable and repeatable startups are critical to in-space operations of the PPE.

The goal of this test campaign was to run multiple startups and shutdowns and numerous other flight-like scenarios to demonstrate that the thruster system is ready to transit Gateway around the moon. Successfully completed, this testing validated the dual-mode operation of the SEP string at 300 V/600 V and a variety of power levels, up to 6 kW and 600 V.
The PPE will provide power, maneuvering, attitude control and communications systems for the lunar orbiting outpost. Gateway is a foundational part of NASA's Artemis program, which aims to land the first woman and next man on the moon and enable future crewed missions to Mars.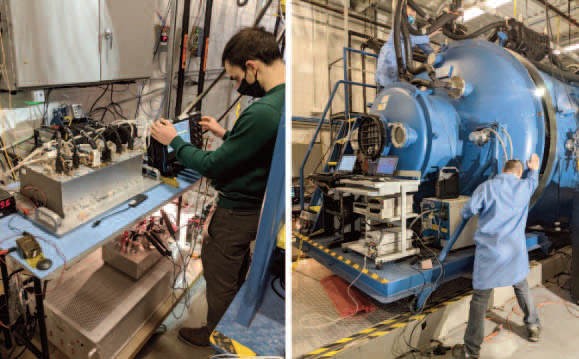 PPU hot check, left, and closing the
vacuum chamber, right.
The PPE is managed by NASA's Glenn Research Center in Cleveland, Ohio, and Maxar is working on the program from its facilities in Palo Alto and San Jose, California. The end-to-end hot fire test was completed at Busek's facilities in Natick, Massachusetts.
"Busek's BHT-6000 electric thrusters offer high-power capabilities at a competitive price point and are a great fit for both our near-Earth and deep space programs," said Robert Curbeam, Senior Vice President of Space Capture at Maxar. "The SEP systems we are evolving for PPE are a fantastic example of innovative commercial technology with great flight heritage being leveraged for NASA programs. We continue to make steady progress on the Power and Propulsion Element, with the next major milestone being the spacecraft Preliminary Design Review, which is targeted for later this year."
---
Deepen the value chain for geospatial Earth imagery on cloud
Azure Orbital, a managed ground station service, enables customers to communicate to, control their satellite, process data, and scale operations directly in Microsoft Azure. Since our Azure Orbital announcement, we have been rapidly building and deploying ground stations in our datacenters. We are currently deploying multiple satellite ground stations in our datacenters that enable a variety of scenarios, including Earth Observation (EO), Remote Sensing, and Global Communications.

With Azure Orbital, we are building satellite ground stations in our datacenters, allowing customers to ingest data from their satellites directly in Azure for processing and storage at-scale. Below is a sneak peek of our first satellite ground station in our Quincy, Washington datacenter:
We continue to build ground stations in other locations and integrate with partner ground stations to further our customers' ability to communicate with their satellites for data ingestion.
In collaboration with several customers and partners, we have created multiple scenarios for signal processing, data processing, and geospatial data analytics. Today, we are pleased to welcome another partner into our Orbital ecosystem—Thales Alenia Space (TAS). TAS's Deeper Vision and Microsoft's Azure Orbital will bring great data processing, inferencing, and analytics capabilities to our customers. Thales Alenia Space partnership
Together with Thales Alenia Space, near real-time geospatial data processing capabilities are being brought to customers. The power of processing data on the cloud with Azure Orbital coupled with the application of artificial intelligence (AI) and machine learning technology helps our customers analyze environmental changes captured with satellite imagery.
Drawing on more than 40 years of experience and a unique combination of skills, expertise, and cultures, Thales Alenia Space, a Joint Venture between Thales (67 percent) and Leonardo (33 percent), delivers cost-effective solutions for telecommunications, navigation, Earth observation, environmental management, exploration, science, and orbital infrastructures. Governments, institutions, space agencies, and telecom operators count on Thales Alenia Space to design satellite-based systems that provide anytime, anywhere connections and positioning, monitor our planet, enhance management of its resources, and explore our Solar System and beyond.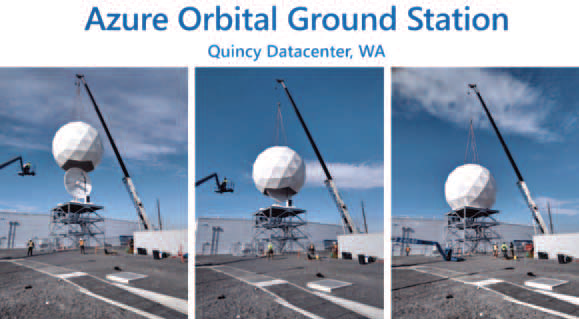 "Thales Alenia Space and Microsoft are innovating together by combining their expertise in space and cloud technologies. Customers can now combine all the functionality of Thales Alenia Space's DeeperVision solution for processing dataflows and generating timely information with the cloud capabilities of Azure Orbital. This information is enriched by high-speed, high-volume artificial intelligence and machine learning to create an unprecedented impact on and beyond the planet," said Clarence Duflocq, Vice President Strategy & Innovation, Thales Alenia Space
Customers can use Azure Orbital and Orbital ground stations to bring geospatial data from their satellites. The raw satellite data can then be processed at-scale on the cloud for analysis using various Azure services to achieve goals like Change Detection, Site Monitoring, Situational Awareness, and Entity Recognition.

Deeper Vision performs automated content extraction from images and enriches image data. The user can request images from specified content, which will prompt Deeper Vision's automation and allow the user to focus on tasks where human expertise is critical. This ability becomes crucial for scenarios like change detection and site monitoring. When new imagery arrives from specific areas, Deeper Vision can compare it with previously acquired imagery to highlight places that changed. In the example on the following page, we have two images taken by the European Space Agency Satellite Sentinel 2 — one from 2016 and one from 2018. We can see that volumes of earth have been removed from the desert, and a neighborhood has been built. The image on the far right highlights the change detected.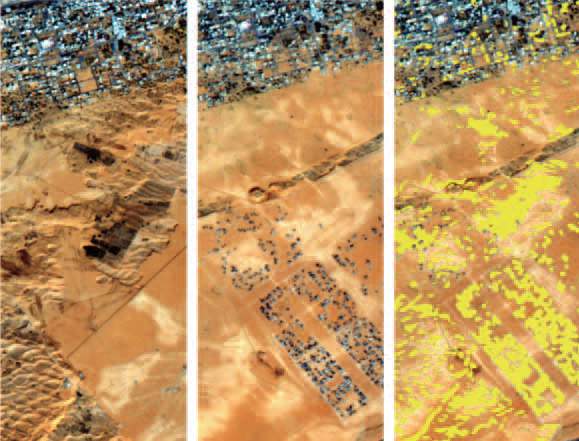 In three easy steps, geospatial data, downlinked using Azure Orbital, can be processed on the cloud in near real-time for business transformational insights:
Step 1: The Earth imagery is downlinked from a customer satellite. In September 2020, with a live downlink from AQUA, a public satellite owned and operated by NASA that stores downlinked data in an Azure Storage account, we demonstrated how customers can downlink data from the satellite using Azure Orbital.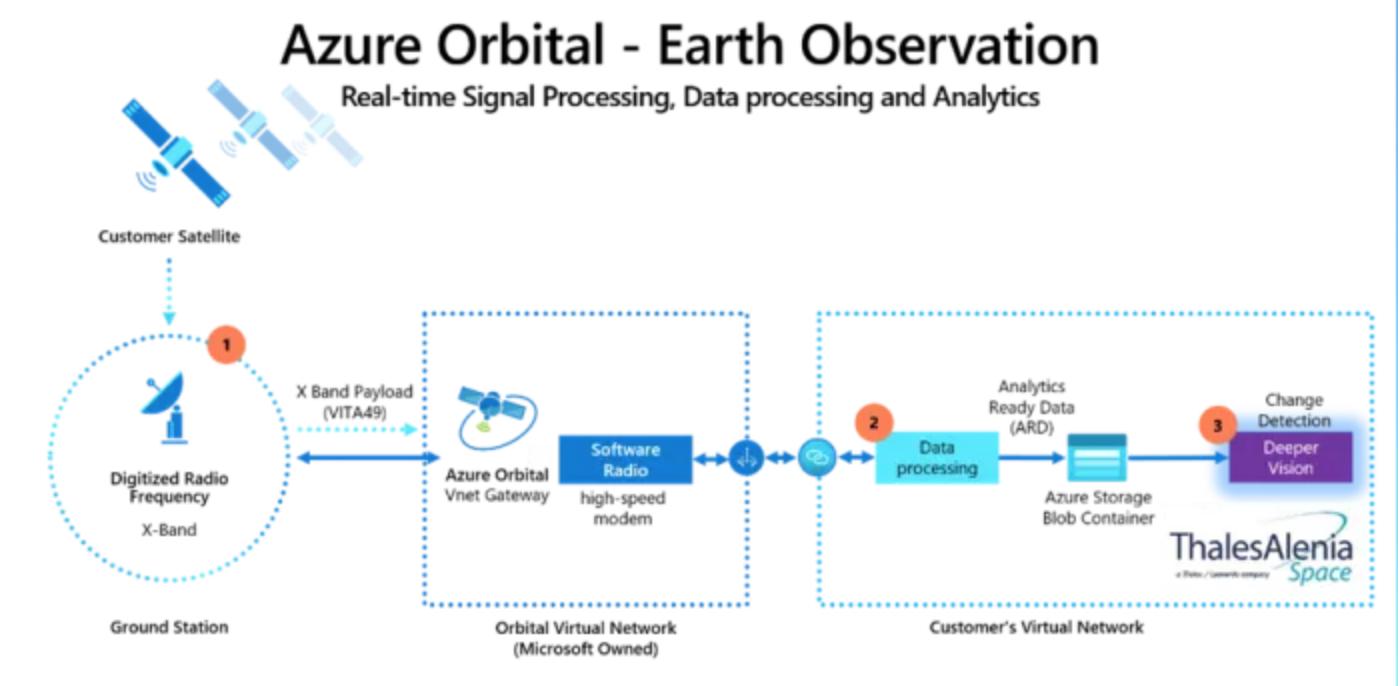 Step 2: The satellite operator can process raw data from the Azure Storage Blob using their data processing pipeline for satellite imagery, which will convert them into final assets. If necessary, these assets can then be stored back in Azure Storage.
Step 3: With Deeper Vision, customers can perform inferencing on these geospatial images—a capability by our partner TAS that brings services like change detection and entity recognition. Deeper Vision and TAS are coming to Azure Marketplace soon. Find a demo of Azure Orbital and Deeper Vision in action.
Article by Tom Keane, Corporate Vice President, Azure Global, Microsoft Azure
---
OQ Technology Selects NanoAvionics To Build The MACSAT Smallsat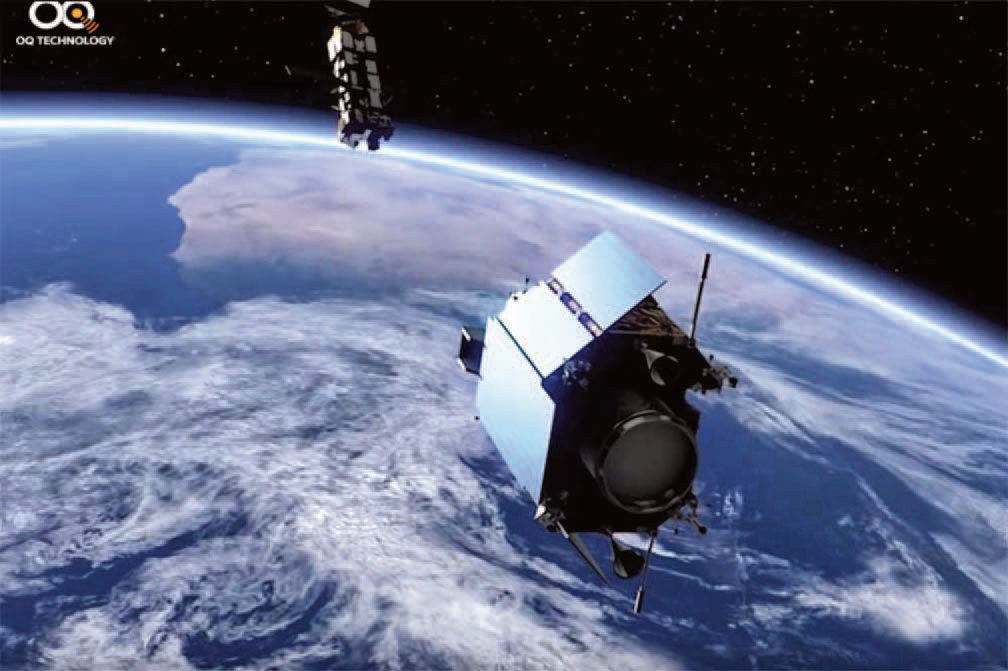 NanoAvionics has been selected by OQ Technology to build the company's MACSAT satellite mission aiming to demonstrate 5G Internet-of-Things service from LEO.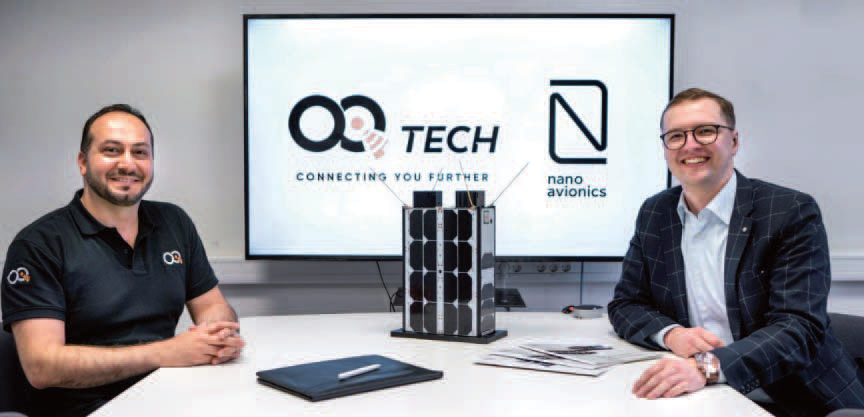 NanoAvionics will build and test a 6U smallsat platform to host the MACSAT communication payload.
The mission is planned for launch in 2021/2022 and will be a flagship for demonstrating advanced 5G IoT services in strategic satellite frequencies and for different end-customers. The on-orbit pathfinder mission (MACSAT) aims to foster Luxembourg and European space industry partnerships and is supported by the Luxembourg National Space program ("LuxIMPULSE").
---
Three essential trends driving synthetic aperture radar market share by 2026
The synthetic aperture radar (SAR) market is expected to register sizable growth over the coming years credited to emerging cloud platforms like Amazon Web Services which allows users to conveniently and quickly access SAR imagery and data. The introduction of analytical tools and web portals for SAR data processing is likely to drive industry expansion.

There is a surge in demand for innovative technologies which give situational awareness. SAR provides enhanced image processing capabilities and high spatial resolution. Defense agencies and government authorities are increasingly focusing on the development of space programs and strategies, hence boosting the demand for SAR systems.
Firms operating in the SAR market are also working on advanced technology and product development as well as collaborations. For example, in 2020, the ESA (European Space Agency) announced SAR technology firm ICEYE as their data provider under assessment via its Earthnet Third Party Mission program, where ESA sponsors the cost of access to ICEYE's SAR data for earth observation and research based application development.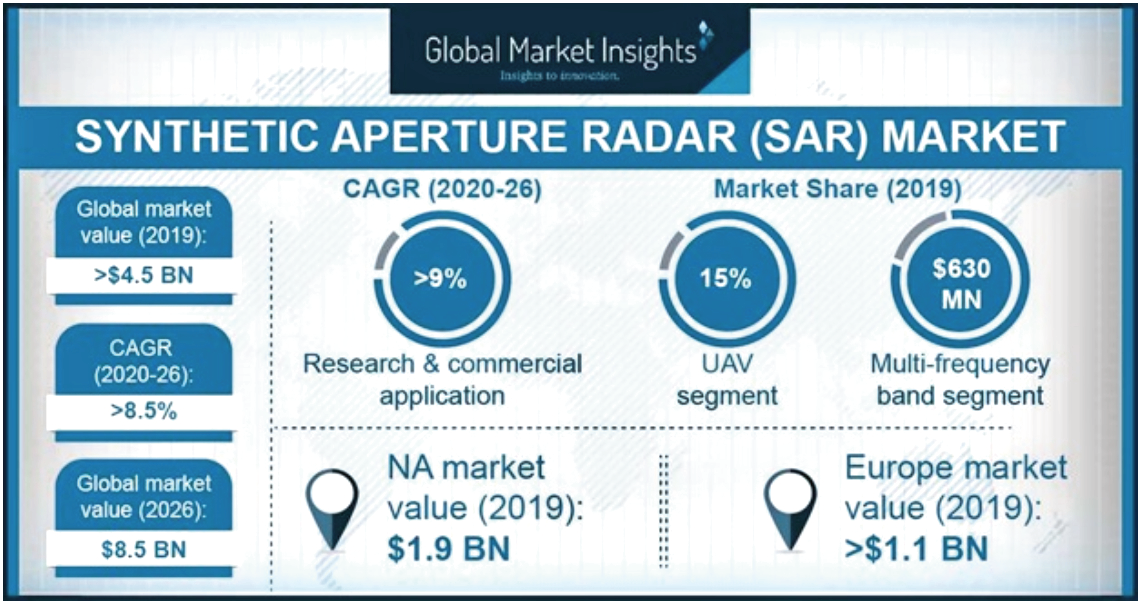 With such strategic initiatives, Global Market Insights, Inc., reports that the synthetic aperture radar (SAR) market may surpass USD 8.5 billion by 2026. Mentioned next are some of the key trends driving synthetic aperture radar market expansion:
Robust adoption of K/Ka/Ku frequency band SAR
The K/Ka/Ku frequency band SAR segment is likely to showcase considerable growth owing to rise in SAR surveillance and monitoring in harsh climatic conditions. The K-band frequency is widely used in various short-range applications. Improved capabilities to control the radiation patterns to achieve multi-mode imaging techniques are fueling its adoption in radars.
Surge in government initiatives
Government initiatives to protect the public from environmental and manmade hazards are on the rise and are expected to boost the commercial and research applications of synthetic aperture radars. Several regional organizations are also adopting SAR imagery for tracking oil spills, in order to save people as well as to ensure the safety of marine ecosystems.
Multiple development strategies by firms
Several companies are focusing on creating miniature SAR with advanced technologies in order to cater to the increasing demand in many end-use applications. They are also making efforts to reduce the development costs of synthetic aperture radars to enable their commercialization. SAR firms are investing in research & development activities for the designing and demonstration of new technologies in the area of remote sensing.
For instance, in 2020, SAR provider Capella Space unveiled its advanced, highest resolution commercial SAR imagery, having a 50cm x 50cm resolution in the new, specialized Spotlight or 'Spot' imaging mode, that gives a crystal-clear SAR imagery.
Article authored by Vinisha Joshi
---