You don't have to be a "fly on the wall" to pick up on the industry buzz over Ka-band. The mere mention of "Ka" at any fraternal satcom gathering is certain to spark a spirited debate riddled with viability pros and cons.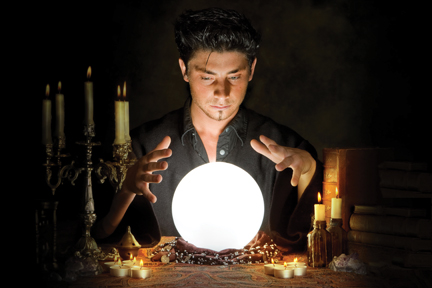 Nonetheless, industry leaders, marketing gurus, soothsayers—right down to the fortune-tellers on the Vegas Strip—are aligned in their predictions that Ka-band will reign-supreme over all others in the years to come. I've even heard it prophesied that Ka-band would ultimately REPLACE all others and become the only satellite band in existence. Well, that might be a bit of a stretch, as many technologies thought to be extinct, such as analog modulators, 70MHz transceivers and Sequential FEC, are still in operation today, despite having been replaced eons ago by vastly-superior technology.
Still, the number of Ka-band satellites being launched is clearly on the rise—and with each launch comes the promise of greater sophistication, laser-sharp contours, and the contribution of another Gig or two of capacity. The good news is that these orbiting techno-marvels are essentially useless without uplinks and downlinks—and as every uplink requires a high-power amplifier and every downlink, an LNA or LNB, engineering and production teams around the globe are scrambling to feed the market's burgeoning appetite with their latest innovations.
However, along with its operational benefits comes a host of challenges for those who choose to include Ka-band products in their repertoire.
First, test equipment that will operate at more than 30GHz is extremely expensive when compared to the instruments needed for the lower bands.
Secondly, the output devices currently available don't generate a lot of power individually. You have to combine quite a few to support anything beyond thin-route performance.
Finally, the less-than-stellar linearity of these devices will require some form of pre-distortion to obtain respectable linear power. Despite the challenges posed, a number of well-known brands (and a few that aren't) have elected to address the Ka-band market head-on. One of those brands is Teledyne Microwave Solutions (TMS).
With more than 1,000 employees and nine manufacturing facilities in the U.S. and abroad, Teledyne Microwave Solutions is focused on a variety of markets that includes Microwave Communications, Signal Processing, Test Instrumentation and military applications that include Electronic Warfare, Counter-IED, Threat-Detection and RADAR.
Teledyne Microwave Solutions is comprised of seven, previously-separate, Teledyne operations that have been combined into a single, symbiotic resource that includes a plethora of Ka-band design and production capabilities. Three of the members in particular, Teledyne Paradise Datacom—a market leader in the design and manufacture of solid state power amplifiers for the satcom market, Teledyne Microwave—a major provider of RF designs for land, air and space-based applications and Teledyne MEC —one of the world's largest producers of traveling wave tubes (TWTs), have pooled their resources to produce an assortment of new products for the Ka-band amplifier market.
"Very few companies in the industry possess Teledyne Microwave Solution's wide range of capabilities when it comes to Ka-band," said
Russell Shaller
, Vice President and General Manager of the group. "Be it thin film, chip and wire, soft-board, GaAs, GaN or TWT, we have the tools and talent necessary to provide products that are optimized for price and performance."
For the low end of the power spectrum, TMS has developed a line of BUCs and LNBs that are intended for applications that carry serious weight limitations. The terms "size and weight" take on a whole new meaning when the target-weight of the complete terminal is less than 10 pounds. In some cases, the price that an integrator can charge for a terminal is inversely proportional to its weight.
Though originally designed to interface directly with a flat plate antenna, its two pound gross weight allows it to be mounted directly to an antenna feed-port. Variants include fixed frequencies for commercial and military band-segments, as well as externally switchable versions that cover both military and commercial frequencies. What's particularly nice about this product, besides the small size and weight, is that it comes complete with a thermal management system.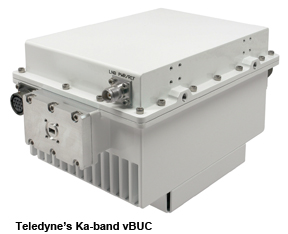 As it was originally designed for airborne applications, it's hermetically sealed for ultra-reliability. This product is ideal for the micro-flyaways and military backpack terminals where all of the attributes come to bear— features, reliability and weight.
Having more than a quarter-century of SATCOM SSPA design experience, TMS also offers a line of "mid-power" Ka-band amplifiers packaged for antenna-pedestal and hub mounting. Some have been ARSTRAT certified into various military-terminal designs. The 40 watt Compact Outdoor amplifier has been widely distributed on a key government program where it is supplied with three other units (quad-band), all with the same form-factor.
Ranging from under 10- to 40-pounds, and delivering 10, 20 and 40 watts, respectively, these amplifiers are available with internal BUCs, fiber optic IFL, and IP M&C interface. All of these products are available with a number of different redundancy and phase-combined architectures —factory pre-assembled and ready for installation.
"We've put a lot of effort into some proprietary circuitry to compensate for the soft compression-characteristics of the Ka-band output devices currently available," said
Steve Turner
, Vice President of Engineering at Teledyne Paradise Datacom. "When you add the fact that we're able to ship our X- and Ka-band products without the need for a State Department export license, that's quite a valuable proposition.
Later in the year, we'll be raising the bar on Ka-band amplifiers with a launch that should get everyone's attention."
Though the day will come that solid state Ka-band technology will reach much further into the output-power-curve, for now,
operators will be counting on traveling wave tube amplifiers (TWTAs) to do the heavy lifting. This is perhaps where TMS presents its greatest value proposition. As a whole, the TMS group maintains all of the tools and skills needed to produce a high-power Ka-band TWTA, including all of its major parts—even the tube itself. By using its internal resources, Teledyne has control of the elements that drive quality, cost and availability.
Mr.
Shaller
added, "The market is ready for a supplier to the Ka-band TWTA market that has complete control over the power supply, TWT, and supporting electronics to ensure a reliable, fully specification-compliant product. As the world's largest volume producer of Ka-band TWTs, we expect this product will soon become the industry standard. Orders have been received and deliveries scheduled for our 500 watt, Ka-band TWTAs based on the new Teledyne MEC-5530 TWT. Some will be delivered as pre-integrated, 1:2 redundant subsystems using switching systems and logic perfected by our Paradise Datacom facility."
From five to 500 watts, for applications on land, sea, air and space, Teledyne Microwave Solutions has perhaps the most complete line of Ka-band amplifier products to exist under a single logo. Visit the
Teledyne Microwave Solutions website
for detailed specifications, features and application notes for these products and the entire line of amplifiers for all bands and power levels.
About the author
Tony Radford has lived the past 30 years of his life in Atlanta, Georgia­—much of it spent traveling the world while serving the satellite communications industry in a variety of roles. His current position is that of VP Sales and Marketing for Teledyne Microwave Solutions. Previous tenures include Paradise Datacom, VertexRSI, Telecom International, STM Wireless and Scientific Atlanta. In 2009, he began writing a series of op-ed articles for SatMagazine. His first book entitled 'Satcom Guide for the Technically Challenged' has been distributed world-wide and is used by industry leaders as a satcom primer for new employees. His second book, 'Fork in the Road', is a satirical memoir that chronicles his occupational adventures to many destinations far off the beaten path and ripe with events that are guaranteed to entertain.