DCI Teleport provides video transmission and production services to the broadcast community and Federal Government in and around Washington, DC.

Being in the broadcasting industry is difficult as priorities can shift instantaneously and without notice. As breaking news stories happen on a whim, DCI Teleport required a reliable fly-away terminal that was airline checkable, durable, and easy-to-use.
DCI Teleport purchased the Norsat fly-away terminal due to the unit's compact size, superior technical design and the quality materials that were used in manufacturing. The Norsat fly-away terminal has been used during the Ecuadorian earthquake, the Presidential Inauguration Day in the USA, Fidel Castro's funeral in Cuba, as well as many other live events.
DCI Teleport has been extremely satisfied with their Norsat satellite terminal and will continue to use it as their primary fly-away option. This is true especially as the industry demands seamless, reliable data services where even the slightest transmission break can cause a plethora of difficulties.
For more than 30 years, Washington-based Diversified Communications Inc. (DCI) Teleport has been a premiere provider of transportable uplink services for broadcasting networks. The company was founded in 1987 with a single satellite truck by Al Levin, a well-known engineer who worked for popular broadcasting networks such as NBC and CBS.
Having been involved in the early development of electronic video cameras and portable satellite transmissions, Al was a true pioneer in the communications industry with a long history of innovation. During the first Gulf war, DCI Teleport provided video transmission using a satellite flyaway from Kuwait for the official Department of Defense (DoD) media pool.
While the video portion was being handled, Al noticed that broadcasters were paying exuberant rates for phone calls. Asked to provide a solution, Al designed his own multi-line dial tone phone package that piggybacked off the existing analog video signal which used sideband audio carriers.
This system allowed broadcasters in Kuwait to pick up phone calls with a U.S. number, long before such systems were commercially available. DCI Teleport is known for their expertise and delivering solutions for technically-challenging problems. The teleport has now grown to include additional satellite trucks, fly-aways and teleport services that include enterprise-grade internet by satellite, multiple path video transmission, fiber connectivity, crewing rentals, DC-area standup positions, and insert studios.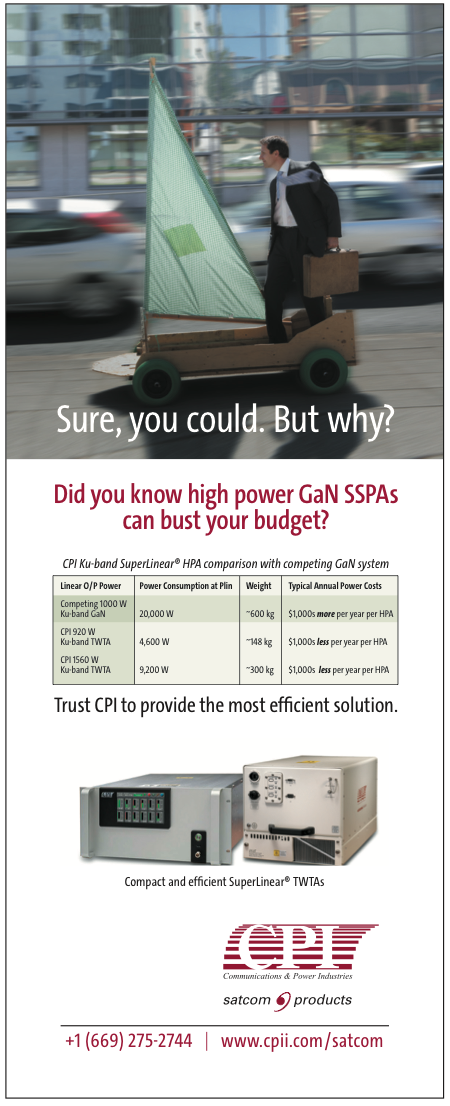 Challenges in the SNG Market
Whether live streaming a political event or covering the aftermath of a massive earthquake, having reliable and durable equipment is essential as millions of viewers are anxiously waiting for news updates.
Viewers are demanding video footage or live coverage immediately following an event — they also expect clear quality video with high resolution and perfect sound, placing major pressures on news organizations and the production teams. With breaking news occurring in the most remote areas, SNG teams need access to reliable and durable satellite communications technology.
Innovation in satellite technology has removed the need for large and bulky satellite equipment. With the development of portable
fly-away terminals, SNG teams can move more quickly to the disaster zone and begin recording in just a matter of minutes. Present-day technology has allowed SNG teams to collect and distribute higher-quality videos worldwide at a very fast pace.
When breaking news occurs, time is of the essence. Satellite communication equipment needs to be easy-to-use and setup. A common, yet critical step, in setting up a satellite terminal is antenna pointing.
Antenna pointing is a learned skill, as many know how difficult and challenging acquiring a satellite signal is. Many terminals are equipped with satellite locator software to help aid in this crucial step as well as to mitigate the risk of human error and signal interference. However, even with these programs, satellite acquisition is still a challenge for the SNG industry, especially for those who have not been trained in satellite communication equipment.
Selecting a satellite terminal that is high-performing, compact, lightweight, and easy-to-use, is essential to anyone who works in the SNG industry.
DCI Teleport Overcomes Challenges
In the following series of case studies, note how DCI Teleport solved common broadcasting issues through the use of their Norsat fly-away terminal.
Ecuador Earthquake
The 7.8 magnitude earthquake in Ecuador was a powerful hit to the country. As soon as news of the earthquake broke, the team at DCI Teleport was dispatched to Ecuador to cover the damage and recovery efforts. The DCI Teleport team needed to get themselves and all of their satellite communication equipment to the airport as quickly as possible.
One of their satellite dishes was discounted as an option, being too large and bulky to bring on the flight. DCI looked to their Norsat
fly-away terminal for this project as the unit was small, lightweight, and — most importantly — airline-checkable.
Within hours of the earthquake, the DCI Teleport team was en route to Ecuador with their Norsat flyaway terminal. The flyaway terminal arrived in Ecuador in perfect condition and withstood the airline baggage handling from the USA to Ecuador. Once the equipment was collected, the DCI Teleport team loaded everything onto their truck and was on the road.
When they arrived in Pedernales, their target destination, DCI Teleport set up their equipment and started broadcasting in less than two hours. They transmitted live standups and tape feeds all day for their European clients as well as ABC's Good Morning America and several stations in Latin America (LATAM). After a couple of days reporting on the aftermath of the earthquake, DCI Teleport packed up their equipment and headed back home to Washington, DC. The Norsat flyaway terminal proved to be reliable, rugged, as well as airline-checkable, making this a smooth trip.
Fidel's Funeral
The death of Fidel Castro required DCI Teleport to cover his funeral in Havana, Cuba. With short notice, and the field technician on vacation, only a few of the DCI Teleport staff could attend and broadcast this major event. The company's team was small and efficient and consisted of six staff members comprised of two technical experts and a single technician managing the field work.
The Teleport Chief Engineer — who understood the fundamentals of SATCOM — took on the task and flew to Cuba with the Norsat fly-away terminal, although he had little knowledge of the Norsat terminal. With only minimal instruction, he quickly figured out the system and got on air relatively easily. The broadcast occurred without interruption.
Emergencies are commonplace in the broadcast industry and sometimes not all works out as planned. Having satellite equipment that is reliable and easy-to-use allows responsible parties of all skill levels to operate the equipment in the most basic setting, saving valuable time and money.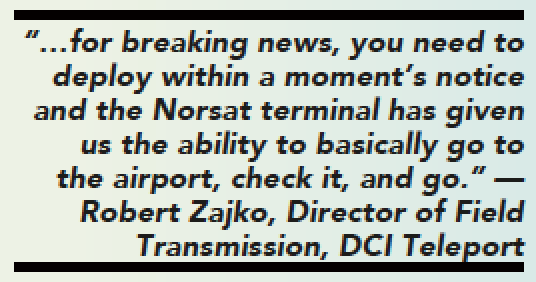 Inauguration Day USA
In addition to breaking news coverage, DCI Teleport also works on preplanned events, such as the G20 conference in Mexico, the United Nations conference in Peru and Inauguration Day in Washington, DC. Inauguration Day is one of the busiest for broadcasters in Washington — the streets are lined with satellite trucks and cars.
One of DCI Teleport's clients had a fiber connection but needed a satellite backup for their broadcast to Germany. With the amount of traffic on Inauguration Day, positioning a last-minute satellite truck was impossible as they would not be allowed to access the area.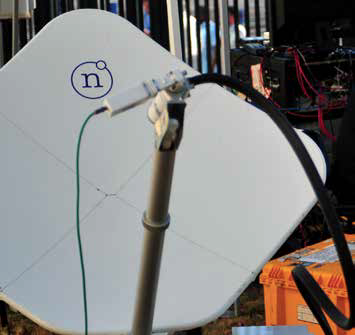 After much thought, DCI Teleport decided to establish the Norsat fly-away terminal on the roof of a building nearby so that they could operate it remotely back at the DCI Teleport office. They shot the signal directly to Germany on a one-hop from the roof over the Atlantic Ocean. The transmission was a success and the quality turned out great. The Norsat fly-away terminal was powerful enough for the transmission and ran smoothly, even when controlled remotely. Having access to reliable satellite communication equipment allowed DCI Teleport to think quickly on their feet and improvise in a last-minute situation.
Why Select Norsat?
The SNG industry is never boring — with breaking news events quite an ordinary occurrence, DCI Teleport must be equipped and prepared for anything, at any time.
Selecting a fly-away terminal that is lightweight, powerful and packaged for mobility has helped many companies overcome the common challenges in the industry. For DCI Teleport, the most important features of their Norsat fly-away terminal were that the unit is airline checkable and reliable.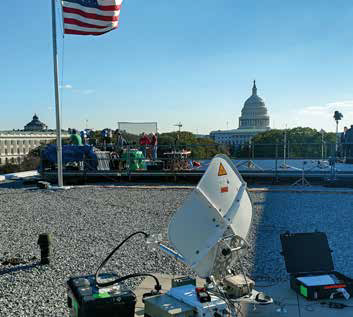 With a great deal of work occurring in Central and South America, as many as two weeks could be required to ship large antenna equipment, time that could not be afforded. Additionally, with travel being a common factor in this industry, a reliable and rugged satellite terminal is highly sought. Overall, the Norsat fly-away terminal was, and is, a great fit for DCI Teleport and their numerous broadcast applications.
Norsat and DCI Teleport
When DCI Teleport first purchased the second-hand satellite terminal from the military, the unit had been used in very harsh conditions. Covered in dust, dirt, and mud, this terminal had gone through much hardship before becoming the property of DCI Teleport.
Once cleaned up, DCI determined that the terminal was still in good shape but needed custom work to get it ready and running for SNG purposes. They added customized metalwork and new components that allowed the terminal to perform better for their applications.
Norsat was contacted prior to the customizations and helped answer all of DCI Teleport's questions and concerns. The company was extremely satisfied with the technical support they received, especially as they were not the original purchaser of the terminal from the factory.
The fly-away terminal was sent to the Norsat factory for servicing and, since then, there have been no failures and the terminal has worked perfectly. In general, DCI Teleport was quite impressed with the design of the Norsat terminal and the quality of the materials used in the manufacture of the terminal.
This terminal was not the first Norsat product that DCI Teleport has used. Norsat's LNBs are currently installed on all the antennas on their roof as well as on some of their satellite trucks. Several of these LNBs have lasted for more than 20 years and have never failed. Rugged and reliable, Norsat products have been highly useful in helping DCI Teleport in their SNG projects.
As a leader in satellite communication products and solutions, Norsat values their customers and is committed to providing all with the best products, service, and support available in the industry. For more than 40 years, Norsat has worked closely with their customers to provide standard or customized solutions that will meet — or exceed — the exact requirements of a customer's application.
Norsat designs and builds quality products and stands by them through extended warranties and excellent customer support. Usually known as an LNB solutions provider, Norsat has a wide product portfolio that ranges from BUCs, LNAs, satellite terminals, and more.
www.norsat.com
---