The recent award to South Africa of the US$2.5B Square Kilometre Array (SKA) project represents a critical milestone in the continent's efforts to stimulate its nascent space industry, and develop its space science capabilities. More importantly, the decision highlights the growing realization among African decision-makers about the importance and benefits of space as driving force underpinning technological advancement, economic growth, and societal benefit. Space positively influences our daily likes—from weather forecasting to telecommunications—and an increasing number of African nations and institutions seek to tap the promised space data, applications, and services.
With the global space economy fast approaching US$300B, Africa has yet to leverage its full potential and promise. In fact, the region trails the world in space investment and usage; and it should come as no surprise that the corresponding benefits have yet to be realized.
Take satellites as a case in point. Not only does Africa lack meaningful indigenous capability to build and launch satellites (the
Government of South Africa
plans to take control of local manufacturer
SunSpace
), the region operates a surprisingly limited number of current systems.
With more than 1,000 functioning satellites orbiting our planet, only nine—five SATCOMS, three Earth Observation (EO), and one technology development—are owned or operated by African governments, business or organizations.
Nigeria
and
Egypt
each owns three satellites. South Africa, the region's leading economy, does not currently own/operate any satellites. Seven of the nine satellites of are government programs, two are commercial, and one is owned by the
Regional African Satellite Communication Organisation
(
RASCOM
), an intergovernmental commercial agency which, in 2007, launched a pan-African telecommunications satellite.
There is also the
Intelsat
New Dawn
satellite, which is a joint venture that is led by Intelsat that includes capital from African-based financiers
Convergence Partners
,
Altirah Telecoms
,
Nedbank Capital
, and the
Industrial Development Corporation of South Africa
. Even if New Dawn is included, by percentage African-owned satellites represent a mere 0.009 percent of all operational satellites across the globe.
The effective absence of regional African satellite operators occurs amidst a boom in demand for SATCOM services in the region. According to analysis in
Futron
'
s
soon-to-be-related forecast, demand for fixed satellite services in Africa will increase more than 11 percent in each of the next five years, one of the highest growth rates globally.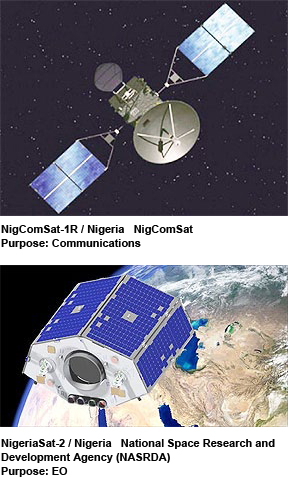 The key driver behind demand is macroeconomic growth and a rapidly modernizing economy. The
International Monetary Fund
forecasts 2012/2013 growth for the region at 5.0 and 5.7 percent, respectively. The market is also steadily introducing technology for expanded corporate and consumer services such as
direct-to-home
(
DTH
) broadcasting and broadband Internet access via satellite.
Africa has also experienced an explosion of mobile and corporate communications services, which use satellites to backhaul traffic to major connection points. With strong underlying economic growth, the future for satellite communications services in Africa looks positive, and satellite operators, as illustrated in
Figure 1
at the bottom of the page, are planning large increases in supply to meet market requirements.
Despite the overall increase in satellites serving the region, there is limited activity among African providers. The only satellite that has an official contract is the
Algerian
ALSAT 2B
communications satellite, which is to be launched later this year and operated by the government. Of course, there are speculative satellite systems and broader space mission in the offing such as replacements of the ALSAT series and Nigeria's
NigeriaSat
series and a few smaller initiatives, but no tangible program which would dramatically change the perception and reality that Africa remains a growing user of space applications but is not a tangential player in the manufacturing or provisioning of these services. Outside of satellite telecommunications, Africa has a very small footprint in the space arena.
There are signs of hope—several African governments, and indeed the
African Union
itself, are poised to alter the status quo. On the SATCOM side, Africa has become more organized in its engagement with the
International Telecommunication Union
(
ITU
), which is critical to obtain access and priority over useful orbital locations and coordinate frequency use.
On the space side, several countries are developing and/or increasing capability within national space agencies. Nigeria's
National Space Research and Development Agency
(
NASRDA
), founded in 1998, has outlined a 25-year roadmap focused on basic space science and technology, remote sensing, satellite meteorology, communications and information technology (ICT), and defense and security.
South Africa established the
South African National Space Agency
in 2010 and pledged to develop its astronomy and space sector. The government regards the
South African National Space Agency
(
SANSA
) as an institutional vehicle to drive space science and technology in the development if the country.
Ghana just established their
Space Science and Technology Center
(
SSTC
) Space Center this year in 2012. Other countries with space agencies include: Algeria, Egypt, Morocco, and Tunisia, with Tunisia being the most active.
The most exciting trend is regional collaboration, where African governments increasingly discuss regional and Pan-African initiatives. Central among these is possible creation of
AfriSpace
, an
African Space Agency
modeled on the
European Space Agency
(
ESA
), coordinated via the
African Union
(
AU
).While AfriSpace currently lacks any concrete foundations, the organization has conducted a series of feasibility studies culminating in public pronouncements at the AU's telecommunications ministerial meeting in Sudan in September 2012. The proposed
African Resource and Environmental Management Satellite Constellation
(
ARMC
), involving South Africa, Algeria, Kenya, Nigeria, and possibly Egypt, further typify the momentum behind regional coordination.
Spaceports highlight another avenue of potential investment. As the continent lacks launch facilities, several plans are afoot, with activity surrounding two former missile and satellite launch facilities in South Africa's
Overberg
and Kenya's
Malindi
coast, the site of a decommissioned Italian launch facility. An idea to link the two sites into a polar and equatorial tag team was recently floated at the
5th Annual Kenya Scholars' and Studies Association
(
KESSA
) Conference. The South African initiative is relatively more mature; however, neither spaceport has official backing or specific plans.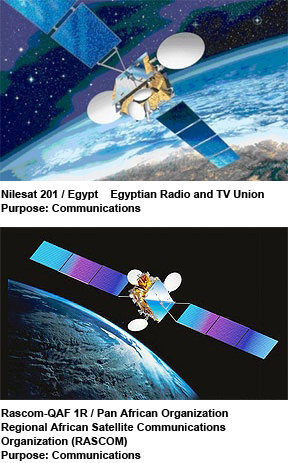 While there is significant excitement around these and other initiatives, space activity in Africa remains well behind other regions of the world. With clear benefits of space activity across the economy and society, the time is now for the region's decision-makers to consolidate recent gains, albeit small, and chart a clear course covering policy, investment, and the customization of local applications. It is well understood that space technology, data, and applications are the catalysts of development, commerce, and goodwill. Space infrastructure will be critical in the 21st century as enablers of next-generation technology, and will emerge as central to our knowledge-based economy.
There is optimism that space represents a leap-frogging opportunity for Africa similar to mobile telecommunications that generate socio-economic prospects for entrepreneurs, government officials, academics, scientists. Through effective and pro-active national, regional collaboration Africa is poised to capture potential benefits from technology, services and applications. There is a clear launch window for decision-makers to act, and the countdown has begun...

About the author
Mr. Gullish has nearly 20 years of experience in the aerospace and telecommunications industries, including extensive international experience in 20+ markets in Africa, Latin America, and Asia. An economist by training, he has participated in a large number of financial transactions, strategic assessments, due diligences, trend analysis and market forecasting. Jay has conducted strategy development, targeted outreach, and advocacy senior level, including integrated marketing communications, message development and dissemination, management of public relations and media outreach, marketing support, conference content development, and workshop leadership.

This article was also supported by Mr. Allen Herbert, President Phezu Space, and an ongoing Futron partner. Phezu Space specializes in emerging market consulting, space technology research and business development. The company is also part of an international joint venture initiative with Isibizo Investments Pty Ltd of Johannesburg, South Africa. The joint venture, called Isibizo Phezu Space, offers consulting services in space and aviation.