The ongoing demand for broadband connectivity stretches from land to every corner of the Earth. There is no doubt that satellite communication will play a significant role in providing services to regions where terrestrial technology can't reach—especially for mobility applications, such as in-flight entertainment (IFE) and maritime connectivity.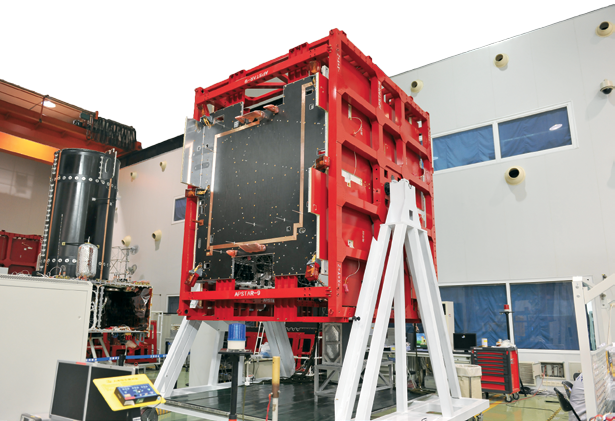 As is true with other regions around the globe, we see demand for mobility picking up and this market section will continue to experience strong growth in the Asia Pacific (APAC) region. Currently, APSTAR has been providing capacity via conventional satellite capacity for both IFE and maritime connectivity services.
The launch of the APSTAR-9 satellite in October of this year will further expand APSTAR's coverage for mobility applications to a much broader region, from the east Indian Ocean to the western Pacific Ocean. In APAC, especially in China, there is a huge potential due to the demand for mobile broadband connectivity as this region has the busiest maritime shipping routes and fastest growing airplane market in the world.
APSTAR-9 Satellite is designed to meet the increasing demand for coverage in this vast region. The new satellite is equipped with broad C- and Ku-band coverage, with the Ku-band optimized for mobility applications. This optimization is comprised of three beams to cover a large ocean area. One of the outstanding features is that the transponder capacity is interconnected among all of the beams. This means the customer will be able to use their existing teleport facility, even if the vessels or airplanes are located in the coverage of other beams.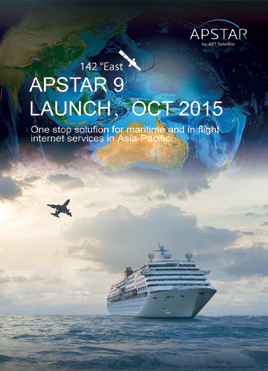 For the maritime market, the main demand in APAC is derived from large vessels, such as cruises, luxury sailing ships, large cargo vessels, with the bandwidth requirements being driven by the crucial need for crew and operational communication, fleet management, real-time surveillance, remote diagnostic maintenance, and so on. The demand our company is experiencing is also derived from the fishing industry, with the emphasis here being on the pricing for equipment and affordable bandwidth subscriptions.
VSAT is now playing the major role in this market. More and more newly-built vessels are fully equipped with VSAT equipment as the default configuration during their builds. Even though installation of VSAT equipment is still considered expensive for many ship owners, crews have already come to expect reliable, high throughput and flat rate communication services offered via maritime connectivity.
The fastest growing demand is for Ku-band, mainly due to the smaller size and lower cost of the antennas. The typical link ranges from 512 kbps up to 2 to 3 Mbps on 1m diameter Ku-band stabilized antennas. C-band remains a welcome technology as the frequency is highly reliable and offers more throughput applications, such as passenger communication and government applications. In addition to connectivity and crew welfare, more ICT applications are implemented, and many of them are running on crew's mobile devices.
For the energy industry, satellite communications prevail as reliable and real-time connections are provided, monitoring is fully enabled, and offshore platforms for remote areas are more easily implemented. Advanced development of the digital oil field is occurring, thanks to real-time communications via satellite for such facilitates, which results in more efficient decision making and immediate asset management. Today's advanced technology enables the extraction of more data for transmittal to shore sites for comprehensive site analysis and three-dimensional simulation modeling.
"Big Data" and rich content also require more bandwidth. Other emerging applications, such as telemedicine, real-time video as well as recreation for staff (telephone, email and the Internet) also highlight the need for satellite communications in the offshore market.
APT Satellite estimates enormous potential for in-flight connectivity applications. This demand is currently being driven by airline companies who are listening to passenger demands for IFE and other SATCOM services while in the air. The expectation is that more and more regulators will be revisiting their restrictions in regard to the use of mobile devices during flight and more and more licenses will be issued for in-flight Wi-Fi applications.
We have observed that many investors and service providers are already actively involved in this market segment. Currently, the typical bandwidth per airplane is 8 to 12 Mbps. In the future, this bandwidth is expected to reach 50 Mbps or more. A satellite's capability to handle such bandwidth demands will be one of the key elements for business growth in this area. Satellite operators need to design and build suitable and expandable capacity to meet this ever growing demand for in-flight connectivity applications.
APT Satellite believes that, with new innovation in equipment and technology, the reduced cost of satellite connectivity will attract more customers to engage in satellite based mobility applications. The launch of APSTAR-9 Satellite is just one step of our overall plan. The company has commenced with the procurement of the next generation of APSTAR satellite, which will carry wider beam footprints in order to extend our coverage for flight and maritime routes. The new satellite will also carry High Throughput Satellite (HTS) capacity for several strategic regions and will serve land and mobility applications with lower cost structures with higher throughput solution. APT Satellite has also discussed with partners a capacity collaboration with other satellites to take advantage of on-orbit APSTAR satellites. In this manner, we can provide comprehensive regional as well as global coverage to meet our customers' growing demands for connectivity.
Since October of 2014, the APSTAR-9 satellite entered its assembly, integration and test (AIT) phase. The manufacturer CAST carried out AIT in its High Bay located in Beijing. The components for platform have all been installed and SPT1 (Satellite Performance Test) started, mainly verifying electrical interfaces between each on-board subsystems and ground testing equipment. In parallel, payload units are mounting on COMM panels and the satellite's End-to-End test ended early in 2015. Launch service progressed as scheduled, with launcher structure, main engines and electrical system being manufacturing normally the AIT was started in March. As of this writing, all the milestones of the APSTAR-9 satellite program are in line with the schedule and the satellite will be launched in the second half of 2015.
APSTAR-9 is a DFH-4 series platform provided by CASC (China Aerospace Science and Technology Corporation). APSTAR-9 will be located at 142 degrees East and will replace the APSTAR-9A satellite. APSTAR-9 is equipped with 32 C- and 14 Ku-band transponders. The C-band transponder consists of one broad beam for the Asia Pacific region and one enhanced beam for South East Asia, suitable for video broadcast, VSAT networks, and cellular backhaul services. The Ku-band will cover the West Pacific and East India Ocean region providing DTH, VSAT, maritime and inflight connectivity services.

More info: www.apstar.com/
Editor's note: The photo at the top of this article shows APSTAR-9 during the Assembly, Integration and Testing (AIT) process, and is courtesy of APT Satellite.
Mr. Chen is responsible for technical operations and engineering of APT Satellite. In 2000 he joined the Company and has over 22 years' experience in both the satellite and telecommunications industry. Mr. Chen holds a Bachelor's degree in computer and telecommunications from Chongqing Institute of Post & Telecommunications and an MBA degree from the University of South Australia. Before joining APT Satellite he worked for China Telecommunications Broadcast Satellite Corporation.
---