SatMagazine (SM)
Please tell our readers about your Company's business focus, and history, within the various European market segments.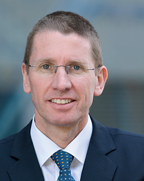 Dr. Peter Guggenbach
RUAG Space is Europe's leading supplier of space products. Our company has been a major industrial partner in European space programs from the outset, i.e. for more than 40 years. We have supplied the payload fairings and control computers for all Ariane rockets. Almost all ESA satellite missions have carried RUAG technology on board: for example structures, mechanisms, computers, or scientific instruments. For commercial telecommunications missions, we supply a range of technology, including receivers, converters and antennas.
SM
What European SATCOM sectors do you believe offer the most potential for Company growth and why?
Dr. Peter Guggenbach
We see long-term growth potential in all sectors of commercial telecommunications. Demand for telecommunications satellites may experience a temporary dip, but in the long run there is an ongoing need to send ever greater volumes of data via satellite—and that means growth. I think we are well positioned to benefit from this growth.
SM
How is your Company coping with the euro fluctuations?
Dr. Peter Guggenbach
Five of our seven locations are outside the euro zone. This means that a large part of our wages and invoices is paid in Swiss francs or Swedish kronor. However, many of our customers are based in the euro zone and contracts are often denominated in euros. This is a challenge for us, and we have made great efforts over the past few years to further increase our efficiency in order to compensate for the negative effects of the weak euro.
SM
How will the European markets impact global, as well as your Company's business opportunities?
Dr. Peter Guggenbach
Europe is our home market. We lay the foundations here for our market success further afield. Above all, it is European Space Agency (ESA) programs that enable RUAG Space to acquire the technologies and the know-how to go on to enjoy success on the commercial market.
SM
What obstacles do you see facing your Company in the European market? How do you plan on overcoming such challenges?
Dr. Peter Guggenbach
I don't see obstacles as such, but of course there are challenges. We've already spoken about the euro exchange rate, and the financial difficulties being faced across Europe are another challenge. Then there is growing competition—both within Europe and from new players in the market, from Asia for example. Yet a changing market environment always represents an opportunity, too—for those who take the lead instead of chasing after trends.
SM
What new technologies/products will your Company be working on and/or releasing over the next few months that will drive additional business in Europe?
Dr. Peter Guggenbach
Aerospace is a business with long timescales, where people tend to think in years rather than months. We are working systematically to refine and improve our existing product portfolio so we can better meet customer requirements. And naturally we also have various innovations in the pipeline, involving, for example, the receivers for satellite-based positioning in orbit, or in the field of optical communication.
About the author
Peter Guggenbach is CEO of RUAG Space, which has an annual turnover of around 300 million Swiss francs and 1,150 employees. He is president of the Swiss Space Industries Group (SSIG) and a member of the board of Aerosuisse, umbrella organisation of Swiss aviation and space related companies. Before Guggenbach joined RUAG in 2009, he held a variety of management positions at ABB, most recently as head of the local Automation Products division at ABB Switzerland. Peter Guggenbach studied electrical engineering at the Swiss Federal Institute of Technology in Zurich (ETHZ), then worked for many years at ETHZ as a researcher and mentor, and in 1997 was awarded a doctorate in power electronics. Guggenbach was employed by Mitsubishi Electric Corporation in Japan as project manager for an international fusion project and completed his executive MBA in 2003 at the International Management Development School IMD in Lausanne. For 25 years he was a helicopter pilot in the Swiss air force.