Arianespace Announces AVUM's Arrival
Only recently received at the Spaceport, is the liquid upper stage for a November flight that will use Arianespace's lightweight Vega vehicle.
This upper stage—known as the Attitude and Vernier Upper Module (AVUM)—arrived aboard the MN Toucan, a roll-on/roll-off sea-going cargo ship that is used by Arianespace for the transport of launcher components from Europe to South America.
The AVUM will help push Europe's LISA Pathfinder scientific spacecraft to a 500,000 km-by-800,000 km halo orbit around the first Sun-Earth Lagrange point (located 1.5 million km from Earth). Developed by Italy's Avio, the AVUM is the only liquid propellant system on the four-stage lightweight launcher and is stacked atop Vega's solid propellant first, second and third stages.
LISA Pathfinder's goal is to help test and validate the technology in space needed for detecting low-frequency gravitational waves, which are ripples in space-time predicted by Albert Einstein's theory of general relativity.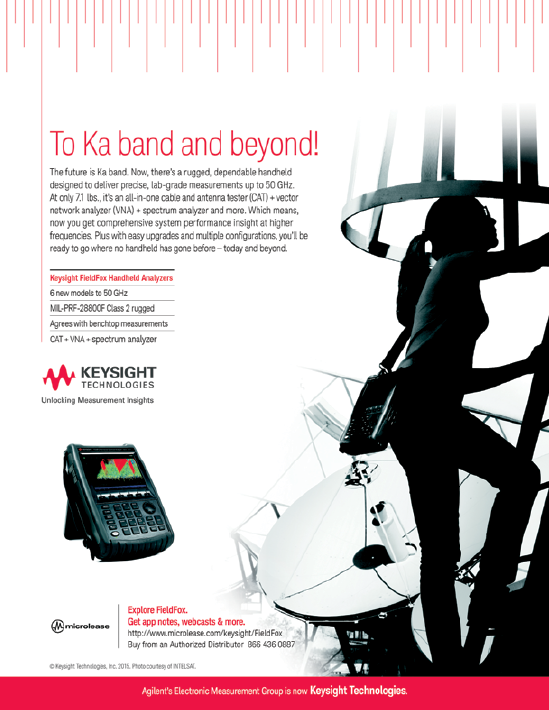 Test masses carried by the spacecraft will be put in a near-perfect gravitational free-fall, controlled by electrostatic fields. LISA Pathfinder's onboard sensors and systems will control and measure the masses' motion with unprecedented accuracy.
Vega is the smallest vehicle in Arianespace's launcher family, which is in operation from French Guiana along with the medium-lift Soyuz and heavy-lift Ariane 5. Production of Vega is the responsibility of industrial prime contractor ELV—a company jointly owned by Avio and the Italian Space Agency.
---
SSTL's DMC3/TripleSat's First 1 Meter High Resolution Optical Imagery Released
The first 1-meter high resolution optical satellite imagery from the DMC3/TripleSat Constellation satellites has been released.
This follows the successful launch of the three Earth Observation mini-satellites on an Indian PSLV in July and in-orbit commissioning and calibration by engineers from Surrey Satellite Technology Ltd (SSTL: www.sstl.co.uk/). The very high resolution imager on board the satellites provides 1-meter native ground sampling distance (GSD) in panchromatic mode and 4-meter GSD in multispectral mode with a swath width of 24km.
The Twenty-First Century Aerospace Technology Company Ltd (21AT), a commercial Earth observation satellite operator based in Beijing, has purchased 100 percent of the imaging capacity of the three satellites for seven years to provide their satellite data services from the TripleSat Constellation. 21AT will also create new applications for customers and business opportunities for worldwide partners through its operational information services powered by the TripleSat Constellation.
The wide swath width of the imagers combined with agile off-pointing will enable the TripleSat Constellation to target anywhere on Earth at least once per day and provides the best combination of spatial resolution and time resolution—aiming at stimulating operational monitoring applications, such as urban planning and intelligent management, based on changes detected by timely regular, cloud-free, very high-resolution imagery.
The DMC3 satellites were placed into a 651km sun-synchronous LEO by a PSLV-XL launch vehicle from the Satish Dhawan Space Center, Sriharikota launch site in India on July 10, 2015. The launch was provided by ANTRIX and the Indian Space Research Organization (ISRO).
The DMC3 satellites in the TripleSat Constellation are phased 120 degrees apart around the same orbit using their on-board propulsion systems. 21AT has contracted SSTL to provide satellite platform services for the Constellation in orbit.
The DMC3/TripleSat Constellation satellites use the 450 kg. SSTL-300S1 series platform, which provides 45 degree fast slew off-pointing and is capable of acquiring multiple targets in one pass using multiple viewing modes. SSTL has already manufactured a fourth SSTL-S1 Earth Observation satellite for another customer and has a production line ready to deliver further satellites of this type. In agreement with 21AT, future satellites may have the opportunity to join the TripleSat Constellation.
Sir Martin Sweeting, SSTL's founder and Chief Executive, welcomed a comment from Dave Parker, Chief Executive of the UK Space Agency, who said, "Congratulations to SSTL on the acquisition of these one meter resolution images of our planet from the DMC3 constellation—a real demonstration of technical precision. SSTL's expertise in small satellites plays a major role in the space sector's 3.6 billion euros contribution to the UK economy through exports."
---
More Launches For Arianespace
Arianespace announces the company has signed a contract with the Argentinean operator ARSAT (Empresa Argentina de Soluciones Satelitales Sociedad Anónima) to launch its next geostationary satellite, ARSAT-3, plus options on two more launches.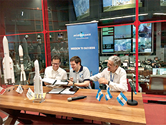 This strategic long-term agreement follows last year's successful launch of ARSAT-1 on October 16, 2014, and comes a few hours before the now-successful launch of ARSAT-2. The agreement will cover Argentina's satellite launch requirements until 2023.
With a liftoff mass of approximately 3,000 kg., ARSAT-3 will be the first satellite launched, delivered to geostationary transfer orbit in 2019. It will be injected by an Ariane 5 from the Guiana Space Center, Europe's Spaceport in French Guiana.
The two options involve two geostationary satellites that are similar to ARSAT-3, and for which their launches are planned for the 2020-2023 timeframe. These new ARSAT satellites will complement the services already offered by ARSAT-1 and soon ARSAT-2. They will provide a wide range of telecommunications services, including data transmission, telephony and television broadcasting.
Following the signature of this contract, ARSAT Chairman and CEO Matias Bianchi, said, "Today, we have once again chosen the world's most reliable launch service provider, Arianespace, to orbit our upcoming satellite, thereby strengthening Argentina's dual role as constructor and operator.
Through these planned new satellite, ARSAT supports Argentina's policy for the development of the national satellite industry, as expressed in the bilateral space cooperation agreement signed by the Argentine Minister of Planning, Mr Julio De Vido, and the French ambassador to Argentina, his highness Jean-Michel CASA.
---
Milestone: The One Hundredth 1300 Platform
Space Systems/Loral (SSL) announces the company has reached the milestone of 100 satellites built on the SSL 1300, a platform designed to accommodate evolving technology and innovation.
The 100th 1300, which was delivered to launch base on August 26, is a highly advanced broadband satellite that will provide fast Internet service to homes and businesses across the continent of Australia and its external territories.
The first 1300, called SUPERBIRD-A, was launched in 1989 for Space Communications Corporation (SCC), a Japanese provider of commercial satellite services that subsequently became SKY Perfect JSAT. Named after its original dry mass of 1,300 kg., the satellite platform evolved out of a project to develop a 3-kW satellite, which was the highest power ever achieved at the time. Compared to SUPERBIRD, today's 1300 provides eight times the power, 30 percent longer life, and can accommodate four times as many transponders.
As a company that embraces innovation, in the 1980s the engineering team was forward looking in creating a platform that allowed new technologies to be introduced incrementally. The success of this approach, which maintains heritage and carefully manages risk, can be seen in the fact that each generational change has proven to be more reliable than the previous generation. Today's 1300, while readily identifiable as a descendant of SUPERBIRD, is in fact, built on all new technology.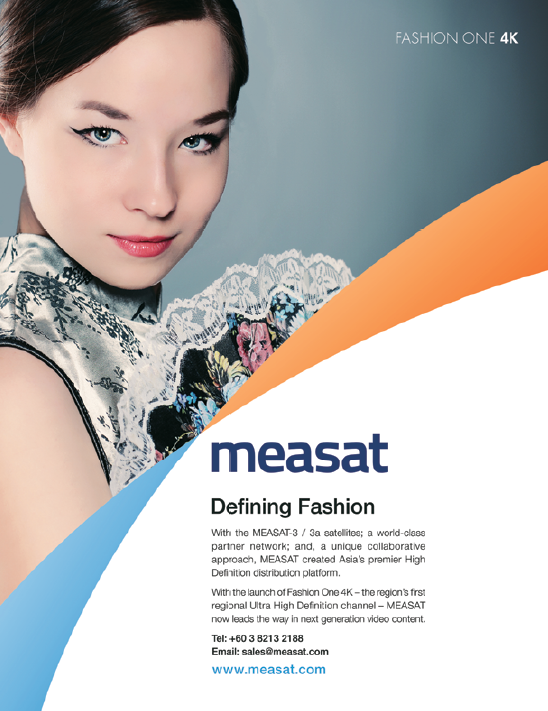 The SSL 1300 is one of the world's most popular satellites and there are more SSL 1300s currently on orbit and providing commercial service than any other model communications satellite. Over the years it was the first platform to incorporate many innovations.
• The first satellite to use a 100 volt bus and Direct Radiating Collector (DRC) amplifiers, providing the higher power needed for DTH television
• The first true high throughput satellite, an advance which now enables millions of people around the world to have access to high speed broadband
• The first to reach 20-kW of power, which enables satellite broadcast of today's HD and UltraHD television
• The first satellite to provide two-way ground based beam forming, which increases a satellite's flexibility to meet changing business requirements
Other advances...
• The 1300 was one of the first platforms to use shaped antenna reflectors, which enable precisely defined coverage areas
• The 1300 was the first Western satellite to use electric propulsion, which reduces mass allowing for more payload power or a less costly launch. Today there are 18 1300s with electric propulsion on orbit
• The 1300 was one of the first platforms to incorporate lithium-ion batteries, which have 50 percent less mass than the nickel-hydrogen batteries they replaced and helped to enable higher power satellites
• The world's two highest capacity broadband satellites currently providing service are built on the 1300 platform
The 100th 1300 for the new broadband network (nbn™) in Australia, exemplifies how the platform has evolved. It is the first 1300 to mount eight large antenna reflectors using a unique boom configuration providing 101 spot beams in two different sizes.
With more than 125 transponders, throughput capacity is precisely tailored to a highly varied geographic user distribution. Other innovations include advanced low noise amplifiers to improve RF performance and it is the first satellite to use a third generation high capacity battery for reduced mass. SSL continues to qualify advances for future use on the 1300 with a focus on adding flexibility and standardization.
The company is working closely with its customers to incorporate innovations that will support the high performance, better economics, and increased accessibility that will broaden the appeal of satellite-based solutions. The 1300 will continue to provide the value and adaptability that satellite operators need to support next generation applications and SSL is working to ensure that the next one hundred 1300s reflect dramatic improvements in cost, schedule, mass and flexibility.
"Over the 30 plus years that I have worked in the industry, the demand for satellite services has seen considerable growth," said John Celli, president of SSL. "At the time of the first 1300 we had no idea that there would be demand for high definition television, or that people on planes and ships would want to browse the web. The delivery of the 100th 1300 is tangible evidence of the success we have had in implementing new technology to serve changing markets, while at the same time preserving the heritage and on orbit performance that our customers require."
www.sslmda.com
---
Moving On Up @ ILS
International Launch Services (ILS) has appointed Jim Kramer as Vice President of Engineering and Mission Assurance and Thomas Carroll as Vice President of Sales.

ILS has implemented an organizational realignment to strengthen the critical functions required to re-establish customer trust and confidence in using Proton launch services.
As a result, ILS is expanding the role of engineering and mission assurance to directly address customer concerns relative to reliability, insight and oversight.
Kramer's appointment as Vice President of Engineering and Mission Assurance will leverage his 30 years of experience to focus on mission assurance, and technical insight of production processes, procedures and mission assurance initiatives.
Kramer will also be responsible for oversight and insight into ILS Proton and Angara product development activities at Khrunichev State Research and Space Production Center (Khrunichev). Kramer will be the primary interface with our customers and the insurance community to communicate the plans, status and progress of initiatives targeted at improving mission assurance and product improvements within Khrunichev.
Kramer previously served as ILS Vice President of Sales, Marketing and Communications and prior to that as the ILS Chief Engineer.
Carroll, as the new Vice President of Sales, is responsible for leading global sales of Proton and Angara launch services. Carroll joined ILS in 2000, and served in various roles, most recently as the regional sales director covering Asia, Australia, Africa, the Middle East, and the Americas.
Carroll has more than 30 years of global sales experience and well established relationships with our customer base. Prior to ILS, Carroll's sales and marketing experience involved working with regional and global satellite operators with Low Earth Orbit (LEO) and Geostationary Earth Orbit (GEO) satellites.
www.ilslaunch.com/
---