In keeping with its mission to"advance space-related endeavors to inspire, enable, and propel humanity,"the Space Foundation believes that future success in space depends on an educated and well-trained workforce, and now is the time to build that workforce through Science, Technology, Engineering, and Mathematics (STEM) education.
We focus on teachers because by training teachers we reach a much larger audience year after year," said
Space Foundation
education vice president
Iain Probert
. "The lessons we teach educators are integrated into their classrooms for lasting effect on their students."
Lessons in
STEM
can begin as early as preschool, and the Space Foundation instructs teachers to deliver STEM lessons to children in preschool through grade 12. With an interdisciplinary approach that fortifiesallcontent areas by linking lessons across the curriculum, the Space Foundation approach is highly replicable and a model for schools across the country.
This summer,the Space Foundation is presenting teacher professional development classes in its home city of Colorado Springs, Colorado, and across the country in Charles County, Maryland, the suburban Chicago area, and, for the first time, at
Colorado State University - Pueblo
. The Space Foundation has entered into a partnership with CSU - Pueblo to deliver a professional development class for teachers of very young children,"PreK-2 Early Childhood Space Exploration," held on the Colorado State University - Pueblo campus.

Chicago-Area Professional Development
Also for the first time,
Aurora (Illinois) University
is offering graduate credit for those enrolled in this summer's Space Foundation teacher professional development class, "
Astronomy Principles for the Classroom: Kinesthetic Astronomy
," delivered to seven school districts in the suburban
ChicagoLyons Township Consortium
.
The program is taught in a "two classrooms" approach for 24 teachers and 24 students. Teachers and students are taught similar content in rooms adjacent to each other and then brought together several times a day for key hands-on activities and design challenges.
In addition to Aurora University certification, Space Foundation education programs are also certified by the
University of Colorado at Colorado Springs
and by
Regis University
.
2010 Space Across The Curriculum Classes
In 2009, 17
Space Across the Curriculum
sessions were conducted in Charles County, Maryland, Colorado Springs, Colorado, and Omaha, Nebraska. This year, in addition to the educator professional development classes held out of state, four Space Across the Curriculum classes are offered in Colorado Springs at the
Space Foundation Discovery Institute
, which houses the Space Foundation education programs.
These week-long, intensive, graduate-level courses provide Pre K-12 educators with space-related STEM education knowledge and content that is instantly transferable to the classroom.
Participants can earn continuing education credits, graduate credits, or work toward a master's degree in multiple related disciplines. Master's degrees are offered to elementary, middle, and high school teachers through the
Space Foundation Educator Professional Development
, Regis University, and the
College of Education
at the University of Colorado at Colorado Springs.
This summer's Space Across the Curriculum classes at the Space Foundation Discovery Institute include:
Rocketry: The Future of Human Space Exploration
Biological and Physical Research: Long-Term Space Travel
Space Technologies in the Classroom: Imagery and High-Tech Science
Earth Systems Science: Our Earth Revealed
Jack Swigert Aerospace Academy and the AGI Space Missions Simulator at the Space Foundation Discovery Institute
The Space Foundation Discovery Institute occupies two buildings on the campus of the
Jack Swigert Aerospace Academy
, about seven miles east of the Space Foundation headquarters in Colorado Springs. Jack Swigert Aerospace Academy is a Colorado Springs public middle school that opened August 2009 with an aerospace-based curriculum. The Academy is a joint project between Colorado Springs School District 11 and the Space Foundation, and is named in honor of Colorado native and Apollo astronaut
John L. "Jack" Swigert.
The adjacent Space Foundation Discovery Institute provides targeted professional development, on-site teacher support, and student programs for the Academy.
Teachers attending Space Across the Curriculum classes this summer are among the first to use the new
AGI Space Missions Simulator
at the Space Foundation Discovery Institute. Thanks to a multi-million dollar donation from
Analytical Graphics, Inc
., (
AGI
), teachers and students have access to a state-of-the-art space missions simulator.
Students at the Jack Swigert Aerospace Academy have used the new missions simulator to complete their multi-curricular study of the
International Space Station
(ISS)
,programming a simulation predicting when the ISS would be visible over Colorado Springs.
Said
Bryan DeBates
, Space Foundation senior aerospace education specialist, "The students were able to doin two class periods what aerospace engineers do."
AGI
, headquartered in Exton, Pennsylvania, donated software, licensing, and new computer equipment valued at more than $3 million to establish the education lab, whichsimulates launch, flight, and landing of a variety of space missions. The lab runs AGI's STK,
Orbit Determination Tool Kit
(
ODTK
) and
STK/Astrogator
software,allowing students and teachers to learn about satellite orbits, design their own satellite orbits, track their satellites, and, eventually, help plan a simulated return mission from Mars.
The simulator includes 30 student stations and one teacher station and may be usedby any school district,when available.
"AGI is honored to be part of this exciting opportunity to educate the next generation of space enthusiasts," said AGI CEO
Paul Graziani.
"We applaud the Space Foundation for the important work it has done over the years, and look forward to the success of the new space education lab."
Educators National Science Standards Lesson Bank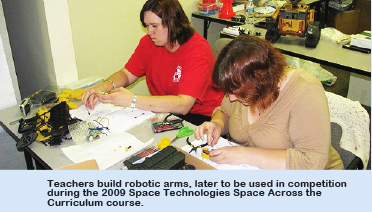 Another resource available to teachers is the
Educators National Science Standards Lesson Bank
, providing free Pre K-12 national science standards-based lessons, with around 10,000 lessons downloaded annually. The Space Foundation provides the free lessons at
www.sciencestandardslessons.org/
.
Space Foundation Teacher Liaisons
Serving as advocates for space science education,
Space Foundation Teacher Liaison
s represent all disciplines anduse Space Foundation-provided training and resources to further integrate space curriculum into the classroom.
The highly regarded Space Foundation Teacher Liaison program is in its seventh year and has more than 320 active participants. Selected by a panel of experienced Teacher Liaisons and representatives from the space industry and the military, they participate in workshops and education programs at the annual
National Space Symposium
and receive Space Foundation training and resources to further integrate space into their classrooms, such as: NASA workshops with optional graduate-level credit; exclusive STEM professional development experiences with optional continuing education credit; and special space-oriented student programs created just for Teacher Liaisons.
The Space Report
The Space Foundation provides previous-year editions of
The Space Report: The Authoritative Guide to Global Space Activity
as a resource to teachers and students. Certain non-profit organizations, schools, and libraries may qualify for donation of past editions as long as quantities last. These books contain valuable information that is still relevant for research, as well as diagrams, photos, and articles that can be used for classroom projects.
Published by the Space Foundation, The Space Report: The Authoritative Guide to Global Space Activity is the definitive overview of the global space industry and is the result of extensive research by the Space Foundation's Washington, D.C.-based research and analysis group and a team of independent research organizations, thoroughly examining the state of the space industry. The methodology, which is refined every year, involves identifying, gathering, analyzing, and synthesizing data from publicly available sources, as well as industry publications and reports.
The current 2010 edition is available for sale at
www.thespacereport.org/store/
.
To explore eligibility for donated past editions, contact
Space Foundation Education Partnership Manager
Margo Hatton
at
mhatton@spacefoundation.org
.
For more about Space Foundation education partnerships andSpace Across the Curriculumprograms, see
www.SpaceFoundation.org/education/
.