Imagine the challenges of setting up a sophisticated DTH payTV operation in just 90 days! That was the task faced by Astra Platform Services (APS) earlier this year. Their client was TopTV, a new multichannel operator based in Johannesburg, and set up to rival the local incumbent — and monopoly DTH player — Multichoice's DStv. In truth TopTV is looking not so much to challenge DStv head to head, but to create a new market in South Africa, targeting new viewers to DTH and a lower-priced bundle of channels.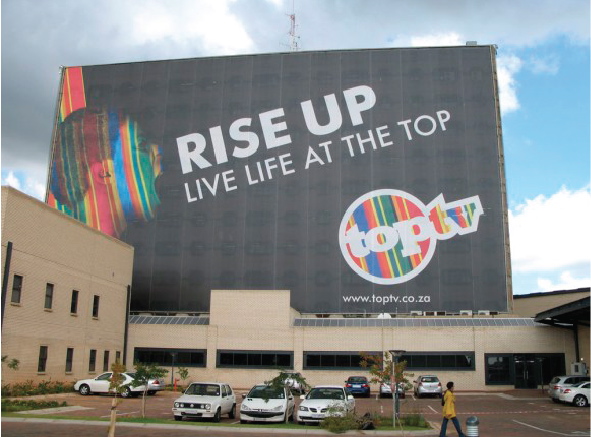 The
TopTV
offering has, in reality, been a very long time in the planning.
Vino Govender
, CEO, explains that getting the South African operating licence from the regulator took 18 months longer than anticipated.
"Oddly enough, that wasn't the biggest challenge. It was important, but securing funding through this long period was. We had a group of empowering shareholders prepared to take on the monopoly down here and this was the biggest challenge. We were starting off with a green field project and investors were not exactly queuing up to invest because few believed the monopoly could be broken or even taken on. That was the biggest challenge."
Helping the scheme along was satellite operator
SES
, which had taken a minority investment stake.
"They stood by us throughout this period, through every hurdle and together with the other partners, we have now managed to get it off the ground. Let me be absolutely clear, it was an amazing feat. When you bring a project of this size together, you have the additional task of keeping shareholders interested, in our case for a period of four years.
"From their point of view, it must have been like pulling teeth with them constantly asking, quite reasonably, when was this thing going to actually happen? They'd allocated the funds, they were keen to see the investment start working and we could do nothing. It's also very time-consuming having to deal with these institutions. Quite rightly, they need to be informed every step of the way.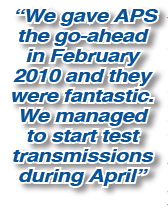 "Our partners are semi-governmental institutions and they have a raft of legal responsibilities so even though we had our approvals, invariably if there was a delay then we would have to wait for the next credit committee to meet and give us a fresh approval for the scheme and this happened over and over again. Like any public institution, these decisions were having to be made usually every quarter or six months. It was hard work."
Govender
and his team's hard work was made a little easier by deciding, quite early on in the scheme, to outsource as much as possible of the project's technical needs.
Frans Lindeque
was TopTV's CTO, and is now COO at the company.
"We gave APS the go-ahead in February 2010 and they were fantastic. We managed to start test transmissions during April. I started work with the company in March 2009. At that stage there were just seven people in the company so the transition was a major challenge. We had applied for our licences in 2007 and everyone expected the licences to be granted sooner than they were. It was in June and July 2009 that we sent out RFPs and asked for a prompt feedback, which we received.
"We then spent some time assessing those proposals and APS was one of the various options on my plate. Our final decision was to go for the 'best of the best' in terms of those offers. I told our CEO that it made sense for this 'best of the best' selection because at the end of the day, the proportional cost of that decision was very modest in comparison to the overall task involved. We agreed that we would not cut corners on the technology.
"What I can now tell you is that we have definitely got the best of the best. Everything we have here is the latest technology available, it's the latest compression technology, it's the latest in satellite modulation, the latest IT systems. We're transmitting MPEG 4 in its H.264 and using DVB-S2 and the latest audio compression to further maximise spectrum efficiency. There is nothing later than this available."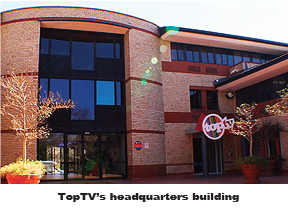 Lindeque
says that with all the content supply and play-out contracts in hand, the only remaining major obstacle was to choose the Conditional Access. "We went to the usual suspects, NDS, Conax, Nagra and Irdeto. Irdeto were polite but almost said they would not supply us, so it quickly came down to three finalists, NDS, Conax, and Nagra, and we spent a great deal of time and research work assessing these three options and I don't think there's much doubt that the best CA system today is NDS. It's never been hacked and we were very happy with the deal they offered us. As part of the package we bought into their middleware, their EPG option and of course conditional access itself. It meant it was a one-stop-shop."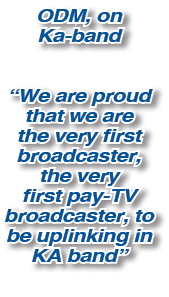 But the best facilities in the world are as nothing without a receiver set-top box (STB). "We again put out RFPs and people responded from all over the world. Ultimately we decided on a local company who are already skilled in supplying boxes into the European market. Some people might have thought this meant us avoiding an import tariff but this was not the case because the volumes picked up so quickly that we ended up importing boxes sourced from them but manufactured in China. The first 120,000 boxes came from China.
"Now the plant is in Durban and boxes are rolling off the line at about 10,000 a week. So in that regard, UEC has performed superbly. They are tiny boxes and it is lovely, inexpensive, small and very quick to respond. Now we are looking at a PVR, we have to. We have access to NDS's xTV technology and their road map and thinking in that area. In fact, part of the overall concept was to select suppliers who were prepared to work with us as technology partners and this was especially true of APS. They have walked the extra mile with us." As far as the broadcasting chain is concerned, TopTV is also making global history. Perhaps the whole 90-day set-up operation qualifies as a world record, suggests
Lindequ
.
"We are using an SES satellite and currently taking three transponders from them but thanks to MPEG 4 and DVB-S2, it means the capacity is incredible. The uplinking is done from APS at Munich. Then we will have our secondary uplink, our back up, in Nuremberg. But we are proud that we are the very first broadcaster, the very first pay-TV broadcaster, to be uplinking in Ka-band. We think this is a major, major achievement. Only the military have done this up until now and for contribution links, but not for broadcasting. The satellite then converts the incoming signal to Ku-band for transmission to our area."
TopTV ingests around 10 local channels on a 'must carry' basis and gets these signals to APS via GlobeCast. "The transponders are fully switchable," explains
Lindeque
. "We link from here direct to Europe using GlobeCast who are also a competitor to APS, but in this case we are using their fibre links and I have to say there has been excellent cooperation between GlobeCast, APS, and ourselves in getting these tasks completed. We are using the Seacom undersea cable and Sat-3, the other undersea cable, as a secondary and back up to the first. Should anything happen, we know about this within seconds and the switch is made automatically.
"We did have problems initially when Seacom went down for about ten days and everything was run through Sat-3 and again at the end of July Seacom suffered another failure where again we switched instantly to Sat-3. So at least we know our redundancy plan is working! We are using the exact same equipment as used by APS," says
Lindeque
. "This means Harmonic encoding kit and this is useful in that the equipment is well proven, well tested and understood by all parties. It also helped us achieve a very good deal in terms of pricing, because it was such a bulk buy. Cisco is looking after our IP side and I think we are one of the first companies in the whole of Africa to use Cisco Blade servers. We have a CIC-supplied call centre here in Johannesburg. We are using EMC for storage and back up along with HP for further back up. The end result is, if I may say so, rather fine."
In many respects, TopTV's launch challenges were only just beginning. While the technical headaches were speedily solved, the problem was a happy one in that consumer demand far exceeded their ability to supply. Lindeque said, "We have absolutely exceeded our initial plan, however, that gave us some complications. The very first month we had only provided for 35 call centre staff. We only planned for 250 installers so when the immense volumes came in, we simply were not prepared. It created a wonderful backlog but that's not good for customer relations. Our switchboard was flooded and that went on for more than a month. We had a backlog on installations.
"We can now handle more than 3,000 installations a day. We can now handle 200,000 interactions a month by way of telephone calls, text messages etc. In other words, we are now well equipped at the beginning of the sales season to handle whatever the market demands. We simply did not expect to be that successful so quickly. We planned for 2,500 calls a day but unfortunately there were coming in at 1,000 an hour. The plan allowed for 10,000 or so boxes [to be supplied] per month. This created a headache for marketing and we quickly had to issue apologies with advertisements in newspapers."
Vino Govender
takes up the story... "We certainly launched successfully, but when we start breaking even from a cashflow point of view, then I'll be happy to claim a degree of success. But launching successfully in such a short period of time was an amazing feat for all concerned. Given the time constraints that we have had to work under, we have essentially put up a pay-tv operation in three months. And this, I am convinced, is a world's first. I've never seen anything done as quickly anywhere else. We were overwhelmed by the initial response following our launch. We have shipped 115,000 boxes into retail and we have activated just over 50 percent of that."
His comment prompted an instant question as to why the slowness in activating boxes. "First, we had a bottleneck in the installer base, there weren't enough installers and, remember, they are also serving MultiChoice, so that skill is thinly spread.
"What we have done is to start a series of projects throughout the country training new installers, giving them the necessary equipment, such as field- strength meters to get them off the ground. For example, when we launched on May 1st, we had only about 250 installers that were trained and ready to take our product to market. Today we have about 1,200 and each of these installers consist of two teams so we can now manage about 2,400 to 3,000 installations per day. This boosts our capacity to serve the market tremendously.
"The other issue was our retail position on launch. The time available to us to get into the market was most limited. We had to get the message out there and build awareness but the physical distribution of boxes into retail stores was also a challenge and we've grown that from 1,500 locations to almost 2,500. So today there are about 1,000 additional retail points where you can get information and buy our equipment. Our current phase which we are busy working on now will take us to 4,000 stores and this should give us a position on every major retail point in the country."
September 1st saw TopTV initiate its Spring Special (see separate panel) on South Africa's first day of Spring. "In this country, Christmas time is when most large retail items are bought, whether it's fridges or TV sets, Christmas is a big sale period," says Govender. "We are anticipating a large update in the sales of units in the build up towards the holiday season. This year is obviously a little different for South Africa — the World Cup had a major impact here and might well have eroded a great deal of retail spend. People undoubtedly spent time entertaining themselves and their friends and family during the complete World Cup and for us the months of June and July, when the soccer games were on, were relatively poor for us, but we are definitely coming out of that now. July saw us averaging about 300 installs a day but we are now at the 500-600 level and our target is to quickly reach 1,500 installs a day. We would hope to see that number reached during the summer months.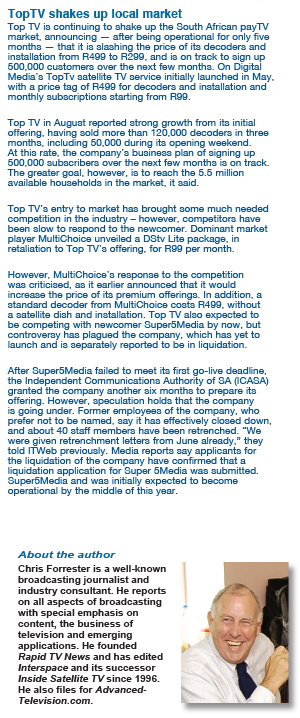 "Our marketing awareness campaigns will also be boosted at around that time. By the end of December, I'd like us to be at 200,000 subscribers so currently we are quite a way from that aim, currently we are 140,000 short and we have [until year end] to achieve that goal. Upon launch our entire call centre immediately fell down, we simply had not anticipated the market demand and that the demand would be so high, so quickly. It took us about three weeks to get our act together in the call centre so I have written off two weeks from the month of May. Then to make matters worse, in June, South Africa's ports went on strike. The ports were closed leaving with 40,000 to 50,000 boxes sitting at the port unable to be shifted. They were earmarked for retail customers who were screaming for supplies and there was nothing we could do so I say we lost another two weeks there. So out of the three months from May to July, we certainly only traded successfully for two of those months and 60,000 subscribers in two months is not bad. It is acceptable but we have no illusions, building this market is going to take a lot of hard work."
Govender
explains that 200,000 is a magic number for the broadcaster. "It rather depends on how people perceive break even. For me, break even is very straightforward: If I start selling a box into the market today, how many box sales do I need to pay for all of my costs? And that number is about 205,000, roughly. I believe we are leading the market. DSTV has definitely woken up but we are not going to stand still. We just do things differently. If one compares the two businesses, it is fair to say they are mammoths, they are huge, they have 4Bn Rand on call, they have a war chest. Our marketing spend is miniscule compared to theirs but one of the reasons we are able to do what we do is because we think out of the box.
"We do not do things in the traditional payTV way, we do things differently, we work harder, we work smarter, we do not use third-party agents and consultants, we know our market and our industry best and we do not need consultants to tell us what we already know. This philosophy has made a huge difference, which we estimate as being a 200-300 Million Rand difference. It is about getting out in the market, rolling up our sleeves and getting on with the job. This is what it's all about."