ESA + Airbus Cement Copernicus' Next Build
At the 36th International Symposium on Remote Sensing of Environment in Berlin, the European Space Agency (ESA) and Airbus Defence and Space signed the development and production contract for the Jason-CS/Sentinel-6A satellite.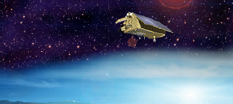 Jason-CS/Sentinel-6 is a mission to carry out high-precision measurements of ocean surface topography. The contract is worth 177 million euros. The implementation of the second satellite will follow the approval of the program by the Council of EUMETSAT, the European meteorological organization, in June 2015 and it is co-funded by EUMETSAT and by the European Union via the Copernicus program.
The satellites will measure their distance to the oceans' surfaces with an accuracy of a few centimeters and use this data to map it globally, repeating the cycle every 10 days. Observing changes in sea-surface height using such a high level of precision provides insights into global sea levels, the speed and direction of ocean currents, and ocean heat storage. The measurements made are vital for modeling the oceans and predicting rises in sea levels. This data will also be used increasingly for weather forecasts and storm surge warnings.
The Sentinel-6 mission is part of Copernicus, the European Earth observation program, and is a continuation of the program that was started in 1992 to collect satellite-based measurements of the oceans' surfaces. Weighing around 1.3 tons, the Jason-CS/Sentinel-6 satellites will ensure that measurements are carried out on a continuous basis from the years 2020 and 2026 respectively, at an altitude of around 1,350 kilometers. Operations for the missions, each running for five-and-a-half-years, will be overseen and managed by EUMETSAT in Darmstadt, Germany. Development of the satellites will be based on the highly successful CryoSat program.

As with CryoSat, Airbus Defence and Space in Friedrichshafen will be the prime contractor for the space segment and lead the industry consortium on behalf of ESA. Thales Alenia Space France will construct the main instrument, a radar altimeter, whose predecessor is already being used on CryoSat-2, Jason-3 and Sentinel-3. Further instruments are being developed by NASA/JPL in the USA. The American National Oceanic and Atmospheric Administration (NOAA) is also a partner of Sentinel-6/Jason-CS.
airbusdefenceandspace.com/
www.esa.com/
---
KORE Wireless' M2M / IoT Solutions In Australia
KORE Wireless, a provider of Machine to Machine (M2M) wireless data networks, presented its expert knowledge and a customer showcase to CeBIT Australia with their M2M / IoT Zone.

Director of KORE Asia Pacific, Thomas Mooney, said the M2M/IoT Zone was an opportunity to exhibit a diverse range of key customer M2M focused solutions, to highlight the many facets of the Internet of Things. "In our M2M/IoT Zone, KORE clients Pervasive Technology, Rallysafe, MT Data and mCare Watch, all exhibited their unique solutions hailing from different industry verticals, mHealth, the environment, fleet tracking and telematics and global race vehicle tracking. This gave attendees a greater depth of knowledge and understanding on how the whole M2M ecosystem works by being able to interact with the products, see them in action and talk to experts about how they work."
www.koretelematics.com/
---
Japan Awards Electric Propulsion Patent
The Elwing Company has been formally granted its second patent by the Japanese Patent Office (JP 5 561 901), joining more than 30 patents for its breakthrough E-IMPAcT satellite electric propulsion technology.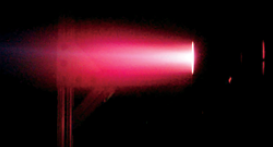 This new patent completes Elwing's intellectual property holdings in Japan, allowing Elwing to offer Japanese satellite manufacturers its most advanced propulsion system design.
Elwing's E-IMPAcT technology, which can operate without an auxiliary power source or the implementation of non-mechanical thrust vectoring or oxidizing propellants, has been tested and proven at the Electric Propulsion and Plasma Dynamics Laboratory at Princeton University (EPPDyL), and has undergone further testing at NASA's Propulsion Research and Development Laboratory, located at the U.S. Army's Redstone Arsenal in Alabama.
In early 2014, the technology underwent initial testing at the European Space Agency's ESTEC in Noordwijk, The Netherlands.
Gregory Emsellem, CEO of The Elwing Company, said, "We look forward to establishing our first cooperation with Japanese aerospace companies, who have clearly demonstrated their leadership in electric propulsion innovation with the record-setting Hayabusa mission, and recent contracts with Mitsubishi Electric in Qatar and Turkey."
---
SpaceX Launches TurkmenAlem52E/MonacoSAT
The TurkmenAlem52E/MonacoSAT telecommunications satellite was successfully launched on April 27th 2015 by a SpaceX Falcon 9 launched—the satellite was built by Thales Alenia Space as prime contractor, on behalf of the Turkmenistan Ministry of Communications.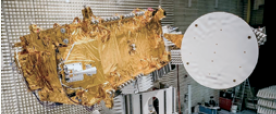 TurkmenAlem52E/MonacoSAT will allow Turkmenistan to operate its first national satellite telecommunications system, ensuring enhanced, secure telecommunications for the country. The satellite is built on a Thales Alenia Space Spacebus 4000 C2 platform, will weigh 4,500 kg at launch and offers a design life exceeding 15 years. Its coverage zone encompasses Europe, Central Asia up to the Chinese border and virtually all of Africa. The Turkmenistan Ministry of Communications will use Monaco's 52 degrees East orbital position, via the Monaco-based satellite operator, Space Systems International—Monaco (SSI).

Thales Alenia Space was in charge of satellite design and manufacture, along with the manufacture of ground support equipment for the two satellite control stations, all associated services, provision of launch services and insurance. The Turkmenistan team received intensive training from Thales Alenia Space engineers to ensure trouble-free satellite operation. The first Turkmenistan telecom satellite was produced and ready to ship in just 27 months, more than four months ahead of the contractual deadline.
---
Kratos To Support Thaicom 8 + Brings A Ground System To Hodoyoshi-3 + -4 Satellites
Kratos Defense & Security Solutions, Inc. has announced that Thaicom Public Company Limited (Thaicom), Thailand's satellite operator, awarded Kratos Integral Systems International (Kratos ISI) contracts for a Satellite Control Center (SCC) and a Tracking, Telemetry and Command (TT&C) Station.

Both will support the new Thaicom 8 satellite.
The projects, which are direct contracts with Thaicom, were awarded to Kratos under two separate procurements.
Scheduled for a first half 2016 launch, Thaicom 8 will have a total of 24 Ku-band transponders covering Thailand, South Asia and Africa and
will serve customers' needs for increased Ku-band capacity.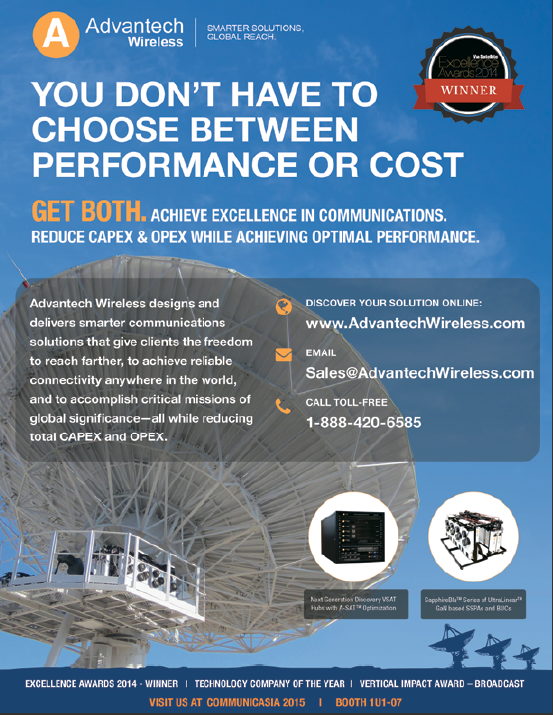 Thaicom 8 is a GeoStar2 telecommunications satellite built by Orbital ATK. This will be the 16th Orbital ATK GeoStar satellite that Kratos ISI has supported.
Kratos ISI will deliver a complete satellite control system for Thaicom 8 based on Kratos' EPOCH® command and control and OASYS® flight dynamics solutions, which are the flagship products of the EPOCH IPSTM Integrated Product Suite.
EPOCH IPS is an all-in-one satellite fleet management system with the ability to simultaneously control multiple satellites from different manufacturers from a single consolidated system.
EPOCH IPS presents a more efficient and economical alternative to costly stove-piped command and control systems and provides Thaicom a control platform that can scale to support any future satellite fleet expansion needs.
The TT&C station, provided by the Kratos ISI UK team, will be the primary TT&C Earth station for Thaicom 8 and will include an 11m C-band turning head antenna with a monopulse tracking system and fully redundant RF system.
The antenna offers continuous wide-angle steering combined with high-accuracy pointing and tracking from its precision drives system, while the RF system is fully frequency-agile.
As such, the system will support both nominal on-station and emergency TT&C operations.
"We are very honored by the trust Thaicom has shown in the quality of our products and services as well as our ability to provide the end-to-end satellite ground system that will help ensure safe and efficient operations of the Thaicom 8 satellite," said James Kramer, Senior Vice President at Kratos ISI. "It was an important milestone for Kratos ISI as we continue to support the Asian satellite market."
Additionally, the company has revealed that an EPOCH IPS ground system from Kratos Integral Systems International (Kratos ISI) is providing command and control for two micro-satellites.
Hodoyoshi-3 and Hodoyoshi-4 were developed by the University of Tokyo in the first program of the Cabinet Office of Japan and launched in June 2014—the satellites are now operational and transmitting earth observation images.
The EPOCH IPS system was provided under the contract with Fujitsu Limited Japan and Integral Systems Japan to support development and testing of the micro-satellites at the University of Tokyo and provide command and control for them once on orbit.
The program is under the direction of Professor Shinichi Nakasuka, University of Tokyo, School of Engineering/Department of Aeronautics and Astronautics.
The EPOCH T&C Server and the EPOCH Client modules provide command and control for the satellites. The Server provides complete off-the-shelf satellite telemetry and command processing for operations and test environments.
The Client provides complete operations capability for real-time monitoring and control of all satellite and ground equipment systems and functions.
Hodoyoshi-3 has 40m and 200m GSD Cameras and Hodoyoshi-4 has a 6m GSD Camera to capture earth remote sensing images.
Hodoyoshi-4's first wide-angle camera image was successfully down-linked. Newly developed advanced components such as a high speed X-band transmitter and an ion propulsion system will also be tested on Hodoyoshi-4.
A "Hetero Constellation" experiment using two satellites with different capabilities in the same orbital plane will also be carried out.
www.kratos.com/
www.orbitalatk.com/
---
New, Advanced Data For The Nepal Earthquake Disaster Provided By Caltech + JPL Scientists
To assist in the disaster response efforts, Caltech and JPL scientists have constructed a preliminary picture of what happened below Earth's surface during the recent 7.8-magnitude Gorkha earthquake in Nepal, using a combination of satellite radar imaging data, GPS data measured in and near Nepal, and seismic observations from instruments around the world.
The team's observations and models, produced through the Advanced Rapid Imaging and Analysis (ARIA) project—a collaboration between Caltech and JPL—include preliminary estimates of the slippage of the fault beneath Earth's surface.
The fault movement was responsible for the generating the April 25, 2015, earthquake that has killed and injured thousands. In addition, the scientists ARIA scientists have provided first responders and key officials in Nepal with information and maps that show block-by-block building devastation, as well as measurements of ground movement at individual locations around the country.
The modeled slip on the fault is shown as viewed from above and indicated by the colors and contours within the rectangle. The peak slip in the fault exceeds 19.7 feet (6 meters). The ground motion measured with GPS is shown by the red and purple arrows and was used to develop the fault slip model. Aftershocks are indicated by red dots. Background color and shaded relief reflect regional variations in topography. The barbed lines show where the main fault reaches Earth's surface.
"As the number of orbiting imaging radar and optical satellites that form the international constellation increases, the expected amount of time it takes to acquire an image of an impacted area will decrease, allowing for products such as those we have made for Nepal to become more commonly and rapidly available," said Mark Simons, professor of geophysics at Caltech and a member of the ARIA team. "I fully expect that, within five years, this kind of information will be available within hours of big disasters, ultimately resulting in an ability to save more lives after a disaster and to make assessment and response more efficient in developed and developing nations."
Over the last five years, Simons and his colleagues in Caltech's Seismological Laboratory and at JPL have been developing the approaches, infrastructure, and technology to rapidly and automatically use satellite-based observations to measure the movement of Earth's surface associated with earthquakes, volcanoes, landslides and other geophysical processes.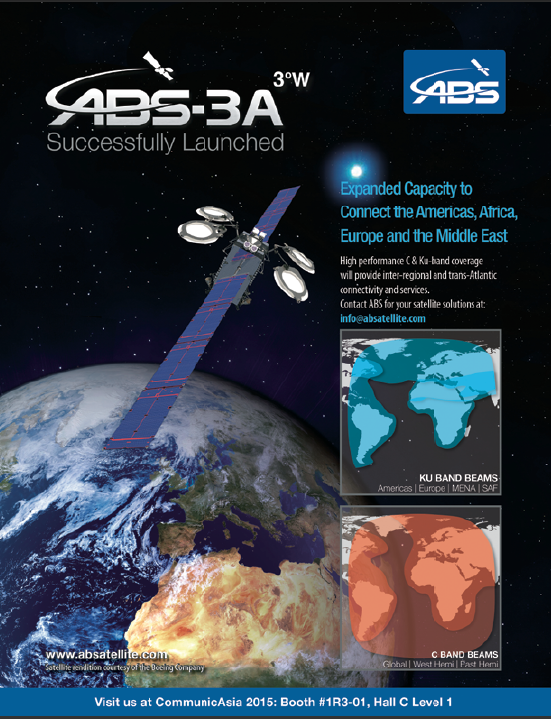 "ARIA is ultimately aimed at providing tools and data—for use by group ranging from first responders, to government agencies, and individual scientists—that can help improve situational awareness, response and recovery after many natural disasters," Simons said.
"The same products also provide key observational constraints on our physical understanding of the underlying processes such as the basic physics controlling seismogenic behavior of major faults," Simons added.
ARIA is funded through a combination of support from JPL, Caltech and NASA.
www.jpl.nasa.gov/
www.caltech.edu/
---
Turkey's Göktürk-1 Satellite Enroute To Ankara AIT Center... For Environmental Tests
Thales Alenia Space, Telespazio and SSM, have announced that the Göktürk-1 observation satellite for the Turkish Ministry of Defense has been shipped to Ankara AIT center to start environmental tests.
The global contract, signed by Telespazio as the prime contractor and the Turkey's Ministry of National Defense, comprises an Earth Observation (EO) satellite equipped with a high-resolution optical sensor, a satellite integration and test center to be built in Turkey, and the complete ground segment, in charge of mission control, in-orbit operation, data acquisition and processing.
Local industrial partners include TAI, Aselsan, Tübitak UEKAE, Roketsan and TR Teknoloji.
Thales Alenia Space built the satellite and developed the integration and test center in Turkey. Telespazio is the Prime Contractor and system integrator and, in addition is responsible for the ground segment, the satellite launch service and launch insurance procurement, the operations of the system including the Launch and Early Orbit Phase, In Orbit Test phase and the Integrated Logistics Support to the End-User.
Turkish industry has been involved in the system design and development, as well as supplying some Göktürk-1 system components: TAI provided elements of the
satellite payload structure, Aselsan is in charge of the ground segment components image data reception and processing, Tübitak UEKAE in charge of the telecommand and telemetry ciphering devices and TR Teknoloji of the AITC building.
Derived from the Proteus platform developed by Thales Alenia Space, the Göktürk-1 satellite is now assembled and integrated and has been shipped to the new satellite integration and test center in Ankara, which has been designed to be able to integrate several satellites concurrently.
Thales Alenia Space, in the frame of the Gokturk-1 contract with Telespazio, will be the first company in the space industry to deliver a turnkey integration and test center.
The Class 100,000 clean rooms, spanning more than 3,000 square meters, will house all the latest-generation equipment needed for satellite integration and testing.
Systems include a mechanical vibration test bench (shaker), a 950 cubic meter acoustic test chamber, a thermal-vacuum chamber measuring over 350 cubic meters, a compact antenna test range and supports for the deployment of solar panels and antennas.
Other resources include the system to test the satellite's physical properties (weight, center of gravity, inertia) and electromagnetic compatibility (EMC) test systems.
Prof. Dr. Ismail Demir, Undersecretary for Defence Industries (SSM), said, "Göktürk-1 Program is a very important milestone for Turkish space and satellite road map. So far, RASAT and Göktürk-2 satellites were manufactured indigenously, launched into the space and operating perfectly.
"Building on these heritage coupled with the experience gained over Göktürk-1 program, Turkey now intends to manufacture new Earth observation and communication satellite systems in Turkey within the state-of-the-art Assembly Integration and Test Center (AITC) facility in Ankara. AIT Center which is going to be operated under responsibility of TUSAÅž is intended to be used both for domestic and international programs."
Luigi Pasquali, CEO of Telespazio said, "Thanks to its wealth of experience in the Earth observation sector, Telespazio plays a leading role in the major international programs and, together with its partner in the Space Alliance can offer a wide range of state-of-the-art solutions to its customers.
"This was reflected in Göktürk-1, as prime contractor, in managing the entire system and allowing, through the involvement of Turkish Industries, the development of their expertize, thus paving the way for future cooperation in the export market."
Jean Loïc Galle, President and CEO of Thales Alenia Space, said, "Thales Alenia Space will be the first satellite manufacturer to have built a high resolution optical observation satellite to an export customer and to have delivered an AIT center abroad.
"This important milestone reflects both a new success of the Space Alliance offer and the capacity of Thales Alenia Space to be the natural partner to countries they want to expand their space program."
---