Technology managers at large organizations used to have few choices when it came to using satellite to connect geographically disparate facilities into a single network. It usually boiled down to deciding which satellite operator capacity and ground system technology to use.
---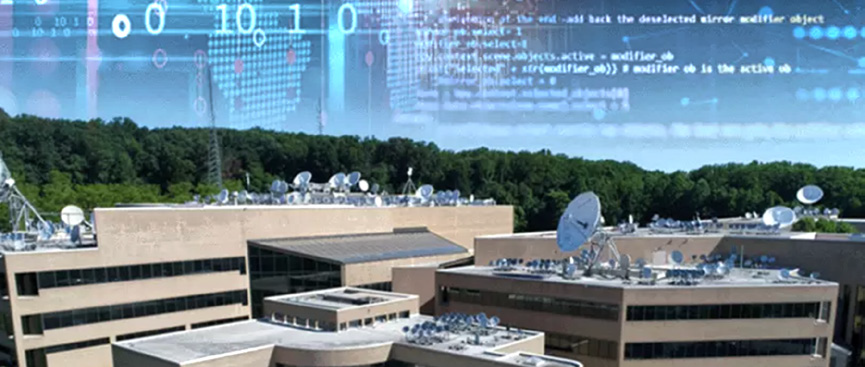 ---
But that has changed dramatically. Along with advances in information technology, rapid growth of cloud-based applications and an increase in employees working remotely, provisioning, managing and securing the enterprise network has grown vastly more complex and challenging. At the same time, organizations are faced with a daunting escalation in bandwidth demand, whether it comes from a hospital patient streaming a movie to her iPad, a shopper foregoing cash in favor of a credit card for every transaction, or a flightline manager keeping track of maintenance on a fleet of airplanes.
Today and into the foreseeable future, the best way to meet the changing enterprise networking needs with bandwidth when and where it is needed is with a hybrid network that integrates satellite, fiber and wireless transports into a seamless experience. Now, instead of making a decision to implement a single transport network, the enterprise IT team managing a hybrid network must manage various transports from different providers, optimized for each site and in a way that routes communications along paths that meet business priorities for cost, performance, security or a combination of all these factors and more. For enterprises in North America, South America, Brazil, Europe and India, Hughes Managed SD-WAN greatly simplifies this task... and just in time, as well.
Hybrid Satellite Options
As Low Earth Orbit (LEO) constellations come online and new antenna and gateway virtualization technologies proliferate, the hybrid connected landscape is about to get even more interesting — and vastly more complex. These constellations complement the ubiquitous, traditional GEO constellations with more capacity and lower latency. Add to that the usual wireless and terrestrial transports, and operators now have a variety of choices when it comes to delivering diverse connectivity options.
Bringing together those different transports into a unified network is a challenge. However, SD-WAN capabilities have evolved over the years to dynamically adjust performance across links based on cost, latency, bandwidth and security priorities, traffic load, and so on. Today, we're on the cusp of some new capabilities that will optimize network performance even further – maximizing the relative advantages of each type of transport to the greatest extent possible.
The Ultimate ESA
One of these capabilities is the antenna that has been elusive until recently. Advanced antenna systems — and specifically, the flat panel Electronically Steerable Antennas (ESAs) — are now a reality. The future is finally here, with several manufacturers offering sleek, flat devices that track and receive signals from the LEO satellites as they fly overhead. We've said for years that a low-cost ESA will unlock the power of the LEO constellations as LEO based satellite networks proliferate and enter into service. The newly developed Hughes LEO Terminal is a testament to attaining that vision. Its diverse applicability is proven by the fact that it has been selected for business aviation and OneWeb for enterprise and government implementations. But that's just the beginning…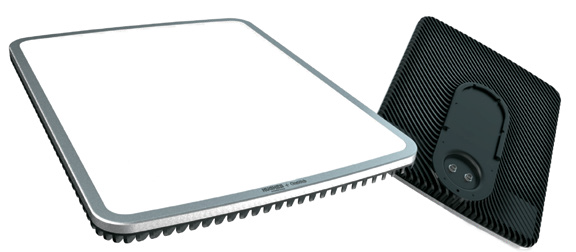 The Hughes LEO terminal
The next evolution of the ESA technology will enable antennas to switch seamlessly between satellites in different orbits, taking the greatest advantage of LEO space-based network assets. Hughes has demonstrated multi-orbit roaming on several occasions and even showcased a GEO-LEO hybrid experience for reporters at a major trade showin 2021.
It's not unfathomable to think that, in just a few years, users may be able to buy small, flat-panel antennas that can connect to any satellite in any orbit. Until then, multi-orbit networks are still quite feasible — if just a bit less elegant to deploy — with myriad terminal and antenna types integrated with network management and software such as Hughes ActiveTechnologies™. The ActiveTechnologies suite of software drives the company's new HughesNet Fusion™ service plans that blend GEO satellite with fixed wireless into a low- latency internet service.
Demonstrating capabilities that were truly unimaginable just a decade ago, the ActiveTechnologies software routes traffic over the most efficient path available based on real-time monitoring of the links. It can also detect and route latency sensitive applications over the lowest latency path while sending larger packets across a link with more capacity (such as a GEO satellite path). All of this is done without any human interaction and using sophisticated mechanisms to detect the type of application and the required performance.
Cloud-Based Ground Systems
Another technology taking hold in — and powering — our satellite-based, hybrid networks is the cloud-based ground system. Advances in ground segment platforms have yielded increased throughputs with smaller footprints — delivering ease of deployment and providing the scalability at the ground stations required to handle the ever-increasing flow of internet traffic. One driver of this capability will be the ability of the ground segment to leverage cloud-based services and the inherent advantages it brings to bear: virtualization, scalability, security, redundancy and cost control, to name a few. As for the call for standardization of ground segment platforms? Certainly, standards such as DVB-S2X and 3GPP Release 17 are essential to communication network interoperability and integration of various transports.
The Hughes JUPITER™ System supports more GEO implementations worldwide than any other platform — hence, it's the de facto standard. But above and beyond systematizing the entire ground segment, cloud capabilities and management software can — and do — enable hybrid networks today... and into the foreseeable future. In fact, the ability to quickly deploy ground segment systems in the cloud in a cost-effective manner will be critical to meet the needs for building out and supporting these new LEO constellations.
Together with the shift to the cloud, the advent of hybrid networks has increased network complexity dramatically, to the point that managing connections solely with one-time human decision-making has become ineffective in managing consistent performance. Implementing an effective hybrid network requires traffic and network management technologies in order to keep the network up and running while providing the highest level of performance without compromising end-to-end security.
Inter-Satellite Constellation Links
Another exciting evolution soon to enhance hybrid networking solutions: inter- satellite constellation links. The future is indeed upon us as we learn more about this promising, next generation satellite capability. Whether optical links or lasers, a promising advantage of the next generation of LEO constellations is that these satellites will soon have the ability to transmit data between them and/or across constellations. This will allow us to route data between satellites and constellations (and even orbits, someday) across the globe and land at virtually any ground station to interconnect with terrestrial transports. The next generation of satellites could have optical connections, which would allow for a vast increase in bandwidth volume to the tune of tens of Gbps of capacity — not just between satellites but also from satellites to the ground stations and back.

Whether across orbits and constellations or wireless, fiber and cables, connectivity is possible in more ways than ever before, exponentially so when these transports are brought together in a hybrid network. As just one example, Hughes offers services from over 450 carriers of all types in North America alone. The need for expertise in network and capacity management is growing more prevalent with fewer enterprises, government agencies and even mobile network operators purchasing capacity alone. Instead, "as-a-service" and managed broadband solutions with enterprise-grade features and stringent service level agreements are rapidly becoming the norm — and nothing short of a necessity to maximize the benefits of a multi-transport implementation. Finally, to power a hybrid network with optimum efficiency, performance, cost and security, enabling technologies such as artificial intelligence, machine learning (AI/ML)and innovations like ActiveTechnologies are essential. Altogether, these three elements — multiple transports, managed services and smart, enabling technologies — comprise the Hughes ActiveComms Ecosystem (ACE) that unleashes all the power of the hybrid network to meet business, government, military and consumer needs.
www.hughes.com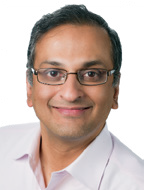 Author Kartik Seshadri is a vice president at Hughes Network Systems, LLC., (HUGHES) and leads the company's global service delivery of broadband products for international customers. In this capacity, he manages large networks for Hughes customers, bringing together end users, service operators and Hughes engineering teams to meet customers' evolving needs in global communications and networking.
---