Virgin Orbit and medical experts design a new, mass-producible, ventilator for COVID-19 patients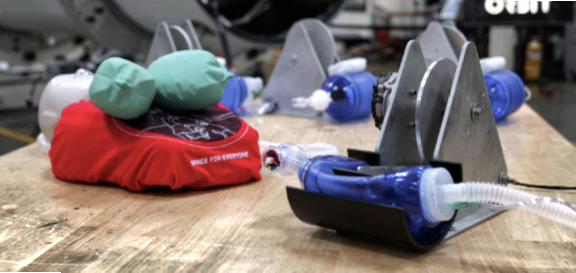 has developed a new mass-producible bridge ventilator to help in the fight against the coronavirus (COVID-19) pandemic. The Virgin Orbit team has been consulting with the Bridge Ventilator Consortium (BVC), led by the University of California Irvine (UCI) and the University of Texas at Austin (UT Austin), a group formed to spawn and nurture efforts to build producible, simple ventilators to aid in the current COVID-19 crisis.
Pending clearance by the Food and Drug Administration (FDA), Virgin Orbit aims to commence production at its Long Beach manufacturing facility in early April, sprinting to deliver units into the hands of first responders and healthcare professionals as soon as possible.
As the COVID-19 crisis worsens and the paucity of medical equipment becomes more and more clear, the Virgin Orbit team is strongly motivated to do all that we can to help. On a normal day, the firm is building rockets and other equipment for space launch; the company's teams are not medical doctors nor is Virgin Orbit usually a manufacturer of medical devices. However, the company does have a team of incredibly innovative and agile thinkers — experts in designing, fabricating, programming, testing — who are eager to lend a hand.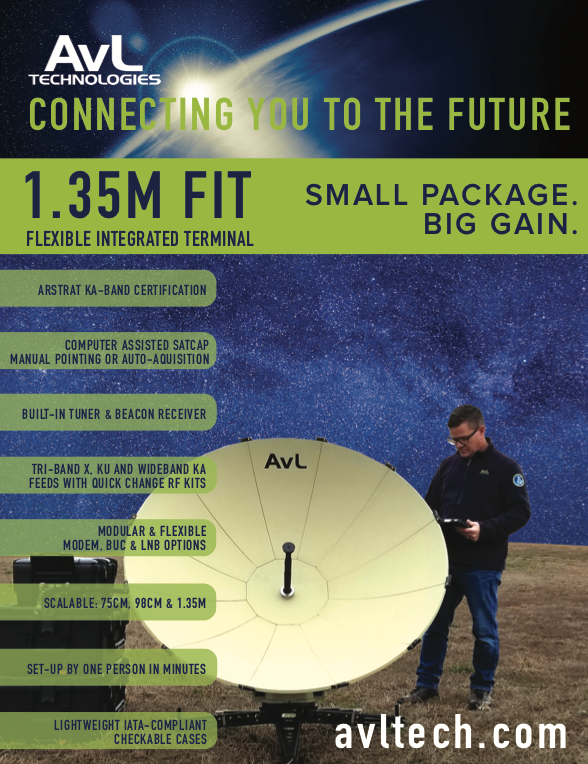 After contacting California Governor Gavin Newsom last week, Virgin Orbit was directed by his office to the California Emergency Medical Services Authority (CEMSA) and put in contact with the BVC. The BVC is a team of brilliant doctors, medical device experts, and researchers at UCI and UT Austin who are working around the clock, sharing ideas across a broad national and international network to share best practices and design insights and to accelerate progress on solutions to this equipment shortage.
Today, complex, high-end, ICU-capable ventilators are sometimes the only option available for moderate cases — for people who don't necessarily need intensive care or have partially recovered. By supplying "bridge" ventilators, Virgin Orbit's device can free up those critical resources for the most ill.
Virgin Orbit engineers have taken rapid scaling into account from the beginning of the design process, taking advantage of the most common and robust manufacturing and assembly processes. The company's aim is to have a functioning, deployable bridge ventilator in production in early April. Virgin Orbit would continue on to rapidly scale up to mass production in its Long Beach facility, in addition to potentially activating other manufacturers as soon as the new device is reproducible and production-ready.
Virgin Orbit CEO Dan Hart said that the company is heartbroken each night as the news is turned on and see the predicament facing doctors and nurses as they heroically work to save lives. Dan stated he has never seen the company's team working harder and has also never seen ideas moving quicker from design to prototype. Virgin Orbit is hopeful that this device can help as all prepare for the challenges ahead.
---
Approvals from SES and Inmarsat for two Intellian antennas
Intellian's recently launched 2.4m v240MT Gen-II antenna has achieved type approval from SES — the v240MT Gen-II delivers enhanced performance across C-, Ku- and Ka bands, providing customers with access to higher throughput and offering improved network efficiency to the operator. These advances were proven in partnership with SES, with the new system producing exceptional results during testing and sea trials.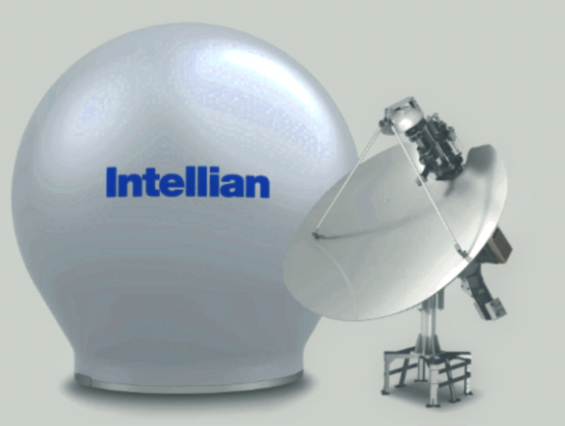 Intellian's next-generation v240MT Gen-II tri-band antenna.
In addition to the enhanced performance of the v240MT Gen-II, the new model offers greater flexibility and more features — paired with the new Intelligent Mediator solution, customers are now able to simultaneously manage as many as eight antennas.
This allows for seamless connectivity and the ability to maximize performance and throughput from the systems on board. Customers and partners also benefit from the capability to manage and control systems both on-board and remotely, allowing for cost savings through monitoring and maintenance.
Eric Sung, CEO of Intellian, said SES operates the industry's only multi-orbit satellite fleet, with a GEO and MEO constellation — the company believes that the v240MT Gen-II antenna system, with its tri-band and multi-orbit flexibility, constitutes a perfect fit. Both companies are focused on delivering innovative solutions to customers in terms of performance, reliability, flexibility and all-round user experience. It's exciting to know that Intellian is forging a new path for maritime satellite communications with valued partners.
Additionally, Intellian has also received product approval from Inmarsat for their new GX100NX antenna.
This announcement follows excellent results achieved during recent testing at Inmarsat's innovative, hi-tech facility in Ålesund, Norway, followed by a wholly successful sea trial.

The Ka-band GX network from Inmarsat is being enhanced and expanded at an extraordinary rate, with fully-funded plans to increase the number of GX satellites over the next four years from four to twelve. This is in response to rapidly increasing user demand for high speed data services across the globe, including the typically hard-to-reach Arctic regions.
The latest of the new satellites – GX5 – was successfully launched in November of 2019 and is positioned to cover the EMEA region.
Once in service later this year, GX5 will deliver twice the capacity of the entire existing GX fleet of four spacecraft combined.
Intellian's highly efficient, next-generation GX100NX antenna supports 2.5 GHz Ka- wideband networks out of the box and is supplied with a 5W BUC as standard, with the option to upgrade to a high-power 10W unit.
This makes the GX100NX upgradable and future proof for Inmarsat's next generation, high-capacity, high-speed constellation and future network upgrades.
Extensive sea trials demonstrated the significant advances over previous GX100 models, with faster satellite acquisition and a staggering 1dB (25%) signal increase.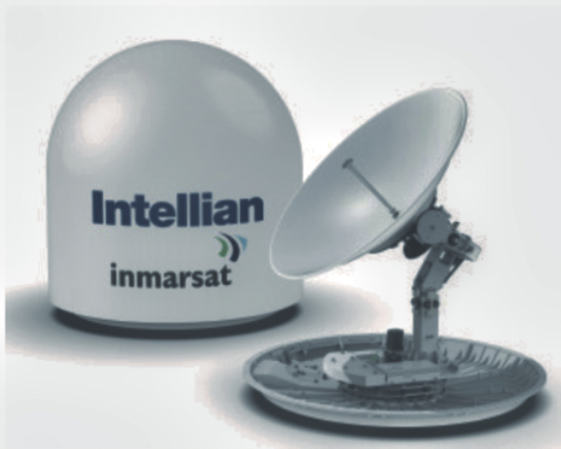 Intellian's next-generation GX100NX antenna has been
approved by Inmarsat.
These advantages combine to deliver substantial improvements in network efficiency and availability which, when combined with superior bandwidth, will introduce Intellian and Inmarsat's customers to a new era of reliability and value.
Terminal testing also proved the effectiveness of the GX100NX Below Deck Unit, which integrates the Antenna Control Unit, GX modem and mediator function for dual antenna configuration in a single unit.
Intellian NX antennas – including the GX100NX – feature a single cable design, along with new AptusNX software to enable fast commissioning and maintenance. This focus on streamlining installation and support processes delivers lower lifetime costs, without compromise on link performance. More savings come from the NX platform's modular design, allowing spare part stocks to be reduced by up to 40%.
Ronald Spithout, President, Inmarsat Maritime, added that Intellian's innovative approach to antenna design mirrors the company's strategy for the Fleet Xpress platform, which has been installed on more than 8,000 vessels and is now much more than a VSAT connectivity pipe, due to fast-growing value-added services such as Fleet Data, Fleet Edge and Fleet Secure as well as the rapid development of the firm's Application Provider ecosystem.
www.intelliantech.com
---
STS Global's completes two, major, 9 meter Ku-band Earth Stations for SES
There's more than sand at Sunset Beach in Oahu, Hawaii, thanks to STS Global which successfully completed two major 9 meter Ku-band Earth Stations for SES.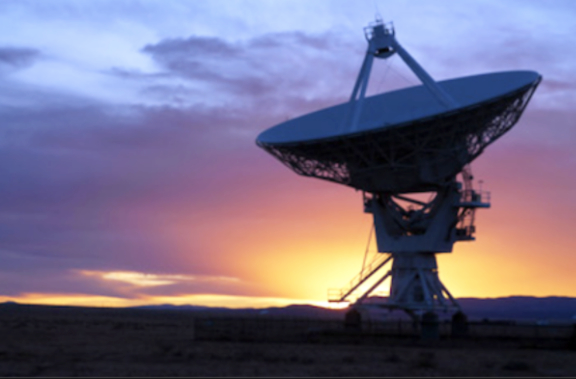 The Earth stations were unique in that they are a combination TT&C and communications channels.
Each antenna is equipped with four, 750 watt, Ku-band TWTA- HPA in a 1:3 redundancy configuration, which provides for communications uplinks on dual polarizations plus a satellite control uplink.
The antennas are equipped with dual jack positions that allow 200 degree Azimuth coverage. The down links are 1:3 dual band LNBs covering the full 10.75-12.75 GHz band.
Each Station is equipped with uplink power control, uplink and down link Matrix switches, high stability BUCs with external references.
The equipment is housed in a 30-foot shelter constructed and integrated in Saint Louis and shipped by land and sea to site. The system features a 150 KVA static switch on the technical power and an automatic transfer switch for dual utility power switching.
The environment is difficult due to high level salt atmosphere. Therefore the shelter is equipped with dual redundant 5 ton air conditioners that provide ample cooling without the benefit of outside air being exchanged.
Dual front end processors provide the interface for a comprehensive control and monitor system.
The installation was completed on schedule despite very challenging site conditions, which included unusually heavy rain and high wind conditions.
David Hershberg, STS Global CEO, said that they are pleased to work with SES, the leader in global content connectivity solutions, who owns and operates over 70 satellites. This project demonstrates their ability to deliver large complex network under a tight schedule.
stsglobal.com
---
Satcom Global's Aura VSAT Upgraded with Intellian NX Series
Satcom Global has announced that the company's flagship, high-speed, Aura VSAT solution now includes the latest Ku-band hardware from the future-proof Intellian NX series of maritime VSAT antennas, including the v85NX, v100NX and v130NX models.
Satcom Global made the decision to introduce the new and improved Intellian NX series to the Aura solution due to the industry leading RF design and 'best in class' performance for 85 cm., 1 m. and 1.25 meter. antennas.
As data demands continue to grow, the high performance systems will reliably deliver Satcom Global Aura VSAT connectivity to the maritime market enabling access to the high-speed connections, quality of service and global coverage widely associated with the Aura network.
Satcom Global has enjoyed a strategic relationship with Intellian since 2016 and last year were the recipient of Intellian Technologies 'Fastest Growing Partner' award. Satcom Global was acknowledged for the high volume and widescale distribution of Intellian's portfolio of Ku-band antenna systems which form a key component of Satcom Global Aura VSAT.
The Intellian NX series delivers a number of additional benefits to Satcom Global and its maritime customers including simplified 'dome-on' installation with single coaxial cable, supported by the new Intellian AptusNX platform, leading to a quicker and more efficient install experience. The NX series also boasts increased reliability with a reduction in components and necessary spares; up to 40% through common spare parts.
Dedicated stockholding across Intellian facilities in Seoul, Irvine and Rotterdam, enables Satcom Global to provide a fast and seamless global distribution service to meet short deadlines for installation and service activation. With growing affirmation of its high-performance capabilities, flexibility and value, Aura has become a communications service of choice for shipping, oil and gas, commercial fishing and yachting customers across the globe.
Eric Sung, CEO of Intellian, said the company continues to grow its business with Intellian through close collaboration and their commitment to providing market leading technology. The NX Series is the perfect product range for customers wanting to access the highest performance, while getting great value. The company's global presence and speed of delivery have helped enable the rapid deployment of their VSAT services to customers across all regions and are critical in meeting the maritime end-customers' business needs of today. Intellian is confident this partnership will continue to grow, with the new NX series products providing their customers with a future-proof and feature rich solution.
Ian Robinson, CEO of Satcom Global, added, this strategic partnership with Intellian has been integral to the development and growth of Aura VSAT and the company looks forward to continuing success as the firm moves forward with the NX series. The company was thrilled to receive the 'Fastest Growing Partner' award from Intellian last year, which is testament to the significant advancements Satcom Global is are making in the maritime VSAT market.
www.satcomglobal.com
---