There's a British saying, which uses as its basis that buses—to those patiently waiting in a queue—always come in threes! This does seem to be true recently regarding new satellite constellations.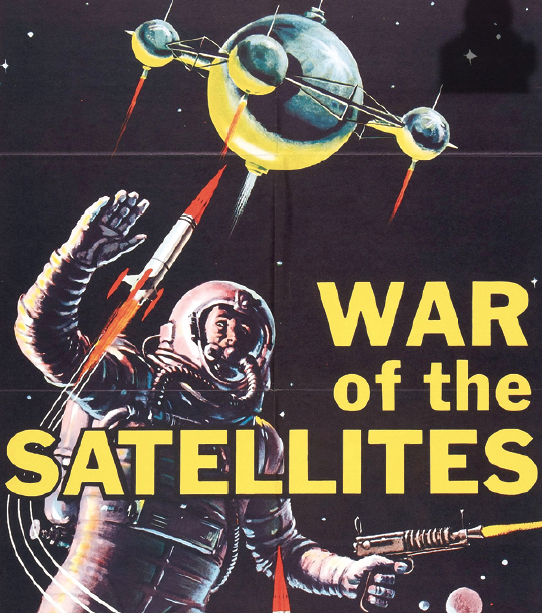 First, we had Sir Richard Branson, in a blog as well as in an interview on CNBC, citing his enthusiasm for Greg Wyler's plan to orbit 648 small satellites. Wyler's company WorldVu Satellites last week received backing from Branson's Virgin Galactic space-plane operation as well as from Qualcomm's Paul Jacobs. Branson and Jacobs will join the WorldVu/OneWeb Ltd. board of directors. Branson is reportedly tempting other large investment funds into joining the Wyler scheme. Speaking in Davos on January 21, Branson said the project was "Earth-changing" in its magnitude and importance, and that he was investing £2 billion "and "we are going to have a very good return."
Then we had SpaceX pioneer Elon Musk talking on January 16 of his plans to start building as many as 4,000 smaller satellites. Musk spoke in Seattle where he is building a new production facility. His scheme is quite separate from the Wyler/Branson/Qualcomm scheme. He said, "Our focus is on creating a global communications system that would be larger than anything that has been talked about to date."
The third slice of news concerned Google confirming that the company would be investing in Musk's SpaceX.
That both major schemes are seemingly well-funded is undoubtedly good news, but whether there's room for either project is a major question.
According to Musk, SpaceX will focus on making their own satellites for the time being, rather than competing with launch customers, although that could change over time. "I think we would consider building satellites for ourselves and for other people," Musk said. "We'll start by building ones that address the specific application that we are working on, and then we will be more than happy to sell to other people."
Musk is undoubtedly a serial disruptor, bringing fresh ideas and concepts to well-established business practices: in electric cars, in rocket launching, and now with satellite building. "We're going to start by building our own constellation of satellites, but that same satellite bus and the technology we develop can also be used for Earth science and space science, as well as other potential applications that others may have."
Musk said his was to be a $10 billion-valued project and would eventually help fund communities living on Mars—his ultimate goal. Musk spoke enthusiastically of 4,000 of these mini-satellites, each one orbiting some 900 km above Earth. However, there is no specific mention as to where the transmission frequencies will come from, nor of the transmission pattern itself, other than a statement from him that he has talked to "international regulators."
Speaking late on January 16, Musk seemed especially keen to distance himself from the Wyler project. He said, "Greg and I have a fundamental disagreement about the architecture. We want a satellite that is an order of magnitude more sophisticated than what Greg wants. I think there should be two competing systems." He further explained that he wanted his team to design and build a new satellite propulsion system based on all-electric thrusters.
The Branson/Virgin Group and Jacobs/Qualcomm pair are definitely investing in 'OneWeb Ltd.' and referred to the deal with Wyler as "the biggest order ever for putting satellites into space." and added "By the time our second constellation is developed, the company will have launched more satellites than are currently in the sky." WorldVu/OneWeb will use Ku-band transmission.
Branson told CNBC that he believed [his system] represented a very efficient way of getting satellites into space. "It's much more efficient than the big rockets of the past. We can literally take off every three or four hours." Branson said the initial investment for the first batch of satellites will be around $2 billion. "We can still be very competitive on prices, as far as the end-user is concerned. We believe that the break-even of this is not enormous. We feel it makes sense economically as well." He added that his space plane would be taking off every three or four hours or so, and could easily replenish satellites as they came out of orbit, and would, over time, be expanding the constellation to 2,400 units.
Branson took a dig at Musk's scheme, saying there was not space for another network. "If Elon wants to get into this area, the logical thing for him would be to tie up with us."
In his blog, Branson added, "Delighted to share news of an incredibly exciting project that could transform the world: we are creating a new constellation of satellites to make high speed Internet and telephony available to billions of people who don't currently have access."
Each LauncherOne mission will be capable of delivering as much as 225 kilograms to a low inclination Low Earth Orbit or 120 kilograms to a high-altitude Sun-Synchronous Orbit, for a price of less than $10M," Branson said in his blog.Virgin Galactic is working on a two-stage rocket ("LauncherOne") that would launch small satellites from his WhiteKnightTwo space-tourism aircraft at heights of some 45,000-50,000 feet. "LauncherOne will be built using advanced composite structures, and powered by our new family of LOX/RP-1 liquid rocket engines.
Wyler, on January 14, said he expected to start launching satellites in 2017. He issued an RFP towards the end of last year and official news as their manufacturer is expected by this spring. The WorldVu/OneWeb ITU frequency filings expire between 2018 and 2020, so launch timing is critical.
Wyler's team is also busy building the satellite receiver antenna, which reportedly will be a phased array dish measuring some 36 x 16 cm and would be designed to receive broadband Internet.
Whether the overall news from Wyler's team can be aligned to the Musk plan, only time will tell. Wyler has repeatedly stated that WorldVu wanted to co-own its satellite production facility.
Not everyone is as optimistic as Sir Richard Branson, or Greg Wyler, or Elon Musk, for that matter. Roger Raush of specialist consultancy TelAstra, and who has a wealth of experience and of seeing similar giant constellations burn up either through over-ambitious plans or poor timing. He said, "It's highly unlikely that you can make a thriving enterprise out of this," said Rusch. "It's inconsistent with experience. These individuals are up against the laws of physics."
Rusch reminds us that even those constellations that did survive the 2000 to 2002 'dot-com' boom and bust are still under threat. He says that even Iridium's fleet is now quickly aging (88 were launched between May of 1997 and November of 1998 and are reaching their end-of-life).
Set against this caution, there is no doubt that players such as California's Viasat (641,000 subs at mid-2014) as well as Echostar-Hughes' Jupiter-1 (935,000 as of July 2014) have carved out extremely valuable niches in supplying broadband-by-satellite to a growing number of perfectly content subscribers, and Eutelsat's Ka-Sat (166,000 as of November 2014) is doing the same for Europe. The same optimism extends to Inmarsat (for maritime/aeronautical/specialty users), and Telenor's planned Thor-7. Much the same optimism revolves around the SES-backed O3b mini-constellation now beginning to make real headway.
However, a pair of quite revolutionary projects from Wyler or Musk represents a quantum leap in next-generation services. We need more financial evidence. Of course, the likes of Branson, Qualcomm and, especially Google, can make multi-billion dollar investments. If the ROI is sound, great. If it doesn't work, then such becomes a tax deduction.
Northern Sky Research (NSR) last week hurried out a paper suggesting that the industry might well be on the threshold of a step-change in terms of available capacity. "If even half of the LEO constellations in the exhibit above see the light of day, we are looking at a subscriber and bandwidth landscape that is totally different from any projection that would be considered achievable in today's date.
NSR reminds us, as does Roger Rusch, that history is littered with high-flying projects that have fallen from the sky. More than just the challenge of building, financing and launching any of these constellations, this is also making a return on that investment. There are ARPUs to be considered, as well as the cost of receiving equipment.
"Cost of CPE today is around $250 to $500. Is an order of magnitude reduction expected here of $25 to $50? Even a terrestrial broadband connection needs $20 CPE in most parts of the world, so perhaps a 50 percent reduction at best is realistic? ARPUs today are in the range of $50 to $200. Another 10-fold reduction expected here to $5 to $20? Residential broadband in most parts starts at about $10 per month for a 2 Mbps connection so this, again, seems to be an over-reaching expectation," said NSR.
"If Elon or Richard or Google or Facebook want to connect the "next billion" people to a satellite based Internet solution, a lot has to change besides just cost of hardware and service. Other constellations that started with a similar vision soon ran into either costly antenna design, or the need to pivot to an enterprise market that made more sense in the longer term, or both.
"The recent shake-ups at the likes of Kymeta are not helping the larger ecosystem, and neither are the hurdles in terms of gateways required or landing rights in various countries. Global ISPs, while growing into behemoths of the likes of Comcast, AT&T, Verizon, Vodafone and others are struggling to expand their network infrastructure without adopting priority data pricing strategies that are the subject of Net Neutrality debates worldwide. Funding seems to be the least of the concerns for the satellite broadband entrepreneurs right now, and rightly so," said NSR.

Senior Contributor Chris Forrester is a well-known broadcasting journalist and industry consultant. He reports on all aspects of broadcasting with special emphasis on content, the business of television and emerging applications. He founded Rapid TV News and has edited Interspace and its successor Inside Satellite TV since 1996. He also files for Advanced-Television.com. In November of 1998, Chris was appointed an Associate (professor) of the prestigious Adham Center for Television Journalism, part of the American University in Cairo (AUC), in recognition of his extensive coverage of the Arab media market.
---