Orbital Sciences + Alliant Techsystems (ATK)—Major Merger
Orbital Sciences Corporation has entered into a definitive agreement with Alliant Techsystems Inc., the result of which will be to combine Orbital and ATK's Aerospace and Defense (A&D) Groups to create a $4.5 billion (combined calendar year 2013 annual revenue), 13,000-person space, defense and aviation systems developer and manufacturer.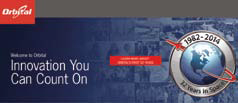 The new company, to be called Orbital ATK, Inc., will serve U.S. and international customers with leading positions in the markets for space launch vehicles and propulsion systems, tactical missiles and defense electronics, satellites and space systems, armament systems and ammunition, and commercial and military aircraft structures and related components.
As part of the transaction, ATK will spin off its Sporting Group, which focuses on commercial sporting equipment, to its shareholders.
The tax-free stock-for-stock merger-of-equals transaction, valued at approximately $5.0 billion based on Orbital's closing stock price on April 28th, will combine Orbital's small- and medium-class satellite and launch vehicle product lines with ATK A&D's rocket propulsion, composite structures and space power systems to produce even more capable and affordable space and missile defense products.

At the same time, it will enhance ATK A&D's strategic and tactical missile systems and propulsion, precision weapons and military armament, and commercial and military aircraft programs by leveraging Orbital's systems design, engineering and integration capabilities to provide greater value-added to current and future customers.
Orbital ATK will draw on a talented and experienced group of leaders from both organizations for key governance and management positions.
A 16-member Board of Directors will be led by Chairman Gen. Ronald R. Fogleman (U.S. Air Force, ret.) and will include seven directors from ATK's Board and nine directors from Orbital's Board.
Mr. David W. Thompson, Orbital's President and Chief Executive Officer, will be President and Chief Executive Officer of the new company; Mr. Blake E. Larson, President of ATK's Aerospace Group, will serve as its Chief Operating Officer; and Mr. Garrett E. Pierce, Orbital's Chief Financial Officer, will hold the same position in the new company. Other key management positions will be determined prior to the transaction's closing, with an equitable and balanced selection of senior executives from each company expected in the new organization.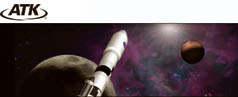 "This merger-of-equals combination of Orbital and ATK Aerospace and Defense brings together two of the space and defense industry's most innovative developers and cost-efficient manufacturers who have worked closely together for over 25 years. By building on complementary technologies, products and know-how and highly-compatible cultures, the new Orbital ATK will deliver even more affordable space, defense and aviation systems to our existing customers and be strongly positioned to expand into adjacent areas," said Mr. Thompson.
"The proposed merger will generate cost and revenue synergies and create a more streamlined and competitive operator," said Mr. Mark W. DeYoung, ATK's Chief Executive Officer.
"We see opportunities to build on ATK's success in Aerospace and Defense through a combination with Orbital's proven track record in creating new launch vehicles, satellites and other advanced space technologies. We are both focused on enhancing the capability of existing customer systems by developing solutions that can be more flexibly deployed to support their mission with enhanced cost-effectiveness. We also see significant opportunities for growth as new programs are initiated or begin to ramp up production."
Orbital ATK will employ about 13,000 people, including more than 4,300 engineers and scientists and 7,400 production and operations specialists, at engineering centers, research laboratories, manufacturing facilities, and test and launch sites in 17 states.
Employees will benefit from expanded long-term career opportunities and enhanced job stability by being part of a larger, more diverse and financially stronger enterprise dedicated to technological innovation, fast product cycles and operational efficiency.
The combined company will be headquartered at Orbital's existing Dulles, Virginia campus, with major employee sites in Utah, Missouri, Virginia, Arizona, Maryland, West Virginia, California and Minnesota.
Based on 2013 financial results, the new company would have combined annual revenues of about $4.5 billion, EBITDA over $575 million and total contract backlog more than $11 billion.
Net debt of Orbital ATK at closing is expected to be about $1.4 billion, after taking into account combined cash balances of approximately $300 million.
Annual revenue and cost synergies of $220-300 million are expected by 2016, consisting of $150-200 million of incremental annual revenue and $70-100 million of annual cost reductions.
In the merger, ATK shareholders will own approximately 53.8 percent of the equity of the combined company and Orbital shareholders will own approximately 46.2 percent.
The combination, which has been unanimously approved by the Boards of both companies, is to be effected in a tax-free "Morris Trust" transaction structure.
A spin-off of ATK's Sporting Group to its shareholders will occur immediately prior to the merger of the companies.
The merger is conditioned on approval by the shareholders of both companies, the receipt of regulatory approvals, and other customary closing conditions. The transaction is expected to close by the end of 2014.
Citigroup acted as financial advisor to Orbital while Hogan Lovells US LLP acted as Orbital's legal advisor.
The Orbital Sciences infosite is located at http://www.orbital.com/
* * * * * * * * *
ViaSat + Xplornet—Gaining Canadian Coverage
Xplornet Communications Inc. has contracted with ViaSat Inc. for all of the residential capacity covering Canada on the ViaSat-2 satellite.
Already offering high-speed satellite Internet on ViaSat-1, Xplornet will be able to offer faster speeds and more data throughput for its customers with the doubling of bandwidth efficiency expected from ViaSat-2, which is scheduled for a mid-2016 launch.
The commitment is for the life of the satellite and the value is up to $275 million depending on options. In addition to bandwidth capacity for ViaSat-2, Xplornet is purchasing network operations, annual network maintenance, gateways, and ground equipment.
The contract also allows Xplornet to order ViaSat Broadband System subscriber terminals.
Allison Lenehan, president of Xplornet Communications Inc., said, "Our investment in the ViaSat-2 satellite will allow Xplornet to meet the future Internet needs of our rural customers throughout the country."
"The Xplornet team has performed exceptionally in Canada and we are very happy to extend our relationship with them on ViaSat-2," said Rick Baldridge, president and COO of ViaSat. "Our new satellite is expected to approximately double the bandwidth economics of ViaSat-1 while simultaneously providing a coverage footprint that is seven times larger."
Boeing Space & Intelligence Systems is building ViaSat-2, which is based on ViaSat's next generation, Ka-band satellite technology and architecture. ViaSat-2 is expected to be, by far, the world's highest capacity satellite at the time of launch, achieving an unparalleled mix of capacity and coverage.
The new satellite is expected to approximately double the bandwidth economics of ViaSat-1 while simultaneously providing a coverage footprint that is seven times larger. The expected coverage area for ViaSat-2 includes North America, Central America, the Caribbean, a small portion of northern South America as well as the primary aeronautical and maritime routes across the Atlantic Ocean between North America and Europe.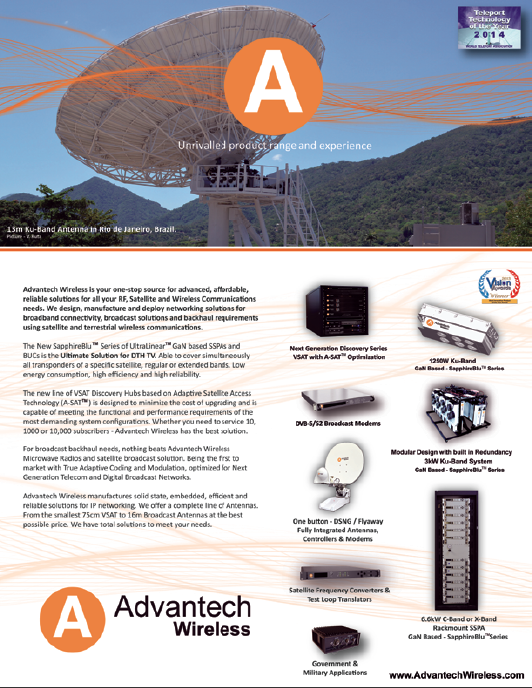 The ViaSat infosite is located at: http://www.viasat.com/
* * * * * * * * *
IDT—Providing Services To Grow The Market
With the world's eye drawn to Brazil for this summer's FIFA World Cup™, IDT's Jonathan Nierenberg says Value Added Services must be delivered to the maritime sector to secure potential revenues and to enable customers to fully enjoy the tournament.
Speaking at VSAT Latin America in Sao Paulo, he told attendees that defining and delivering value added services and transparent connectivity solutions are key to improved outcomes.
VSAT Latin America 2014 brings together leading satellite operators, systems integrators, VSAT service providers, analysts and regulators from across the Latin America region, covering the VSAT market in detail.
Jonathan Nierenberg, Senior VP, Business Development, IDT said, "The maritime sector has been getting stronger since 2009, so it is important that satellite companies look to grow revenues in this sector by providing vessel crew members with services that are better than what currently exist in the market. With the World Cup on the horizon, this is a fantastic chance for satellite companies to deliver new services, which allow these isolated vessels and offshore facilities to fully engage with and gain a better experience of the tournament.
To find out more about IDT, please visit http://www.idt.net/.
* * * * * * * * *
O3b Networks—Four To Ship
O3b Networks Ltd.has reported that its second group of four satellites have successfully completed all required ground testing and are now ready to ship—the satellites will be launched from LeCentre Spatial Guyanais (CSG), Kourou, French Guiana.
The satellites will journey from the Thales Alenia Space facility in Rome to Kourou, to be launched as early as the first week of June, pending final confirmation from launch provider, Arianespace. Following launch and with four more satellites in-orbit, O3b will start commercial service for all O3b customers on a global basis.
Telecom Cook Islands is one customer who did not need to wait for the second set of four satellites in order to introduce O3b services.
Telecom Cook Islands has been working with O3b to validate the system performance since launch of the initial constellation in June 2013 and have now initiated full commercial operation via the O3b fleet.
More info at http://www.o3bnetworks.com/
* * * * * * * * *
Iridium + Rutgers University—Challenger Glider Mission Partnership
Iridium Communications Inc. and Rutgers University's Coastal Ocean Observation Lab (RU COOL) have announced Iridium will be a key technology sponsor to the Challenger Glider Mission.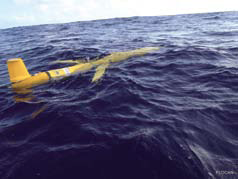 The project, a symbolic re-creation of the first global scientific ocean survey conducted by the HMS Challenger in 1872, is led by Rutgers' students and faculty.
The mission plans to "fly" 16 autonomous underwater gliders worldwide, covering all five ocean basins, collecting an unprecedented undersea dataset to better equip researchers with the tools to predict the ocean's future and its impact on global weather.
Iridium, through its global satellite circuit switched data service, provides primary two-way communications.
"The health of our oceans is truly an indicator of the health of our planet, and the Challenger Glider Mission will provide the kind of high-resolution data desperately needed by researchers to evaluate and assess the current ocean state," said David Wigglesworth, Vice President & General Manager, Americas and Global M2M Services, Iridium.
"We're thrilled to be associated with the project, and excited to provide connectivity via the Iridium® satellite network for this endeavor. Our products and services uniquely provide reliable and global coverage, with a small form factor, which are all obvious necessities for the success of this mission."
The Challenger Glider Mission will be conducted from 2014 to 2016 through coordinated flights of the core glider fleet plus volunteered gliders from other academic and government institutions.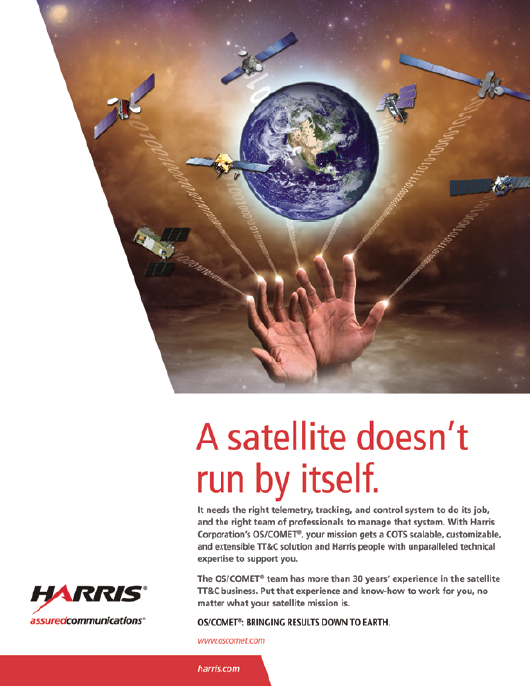 Each glider will fly a 6,000 to 8,000 kilometer leg following the ocean gyre circulation around the five major ocean basins.
The global-class gliders used in the mission—the Teledyne Webb-Slocum glider—is a 2.2 meter autonomous underwater vehicle that collects data as it moves through the ocean in a saw-tooth shaped gliding trajectory, achieving a forward speed of 25 to 35 kilometers per day.
The primary vehicle navigation system uses an onboard GPS receiver coupled with an attitude sensor, depth sensor, and altimeter to provide dead-reckoned navigation.
"We're pleased to be working with the Challenger Glider Mission and Iridium on what is an extraordinary project," said Bill Woodward, President and CEO, CLS America, Iridium's partner that provides the technical and administrative communications interface between the gliders and the Iridium system.
"The Teledyne Webb-Slocum glider, paired with the the Iridium satellite network, is a fantastic solution for this kind of research. The results of this mission will be invaluable to the research community, which in turn will have a profound effect globally on many industries. For one example, a better understanding of the changing oceans will benefit the maritime industry, as it could lead to improved weather and ocean condition forecasting."
Each glider will capture continuous readings of ocean temperature, salinity and currents. This data will be transmitted to researchers via the Iridium satellite network when the glider surfaces. Iridium's network is uniquely suited to these kinds of applications, given its low latency, superior availability and reliability. Furthermore, Iridium's near-polar orbit means it is the only satellite network to provide truly global coverage, an essential for projects that span the globe, such as the Challenger Glider Mission.
Additionally this is a great demonstration of the low power consumption of Iridium transceiver technology and its robustness in what can be an extreme environment.
"The technology underpinnings of this mission are truly enabling our researchers to gather more and better data than ever before, enhancing the basis of knowledge for future generations," said Scott Glenn, Co-leader of the Challgenger Glider Mission and Professor of Physical Oceanography at Rutgers University.
"Part of our goal with this mission is to increase global ocean literacy. This expanded dataset will enable students and researchers to focus on the science of their local waters, as well as be a part of a global research community, all working toward understanding the ocean's role in regulating the changing climate and weather."
For more information on Iridium and the Iridium satellite network, go to http://iridium.com.
More information on the Challenger Glider Mission can be found at http://challenger.marine.rutgers.edu/.
* * * * * * * * *
Superior Satellite Engineers, Viking Satcom + SES—A Proper Grounding For SES-6
Culminating a multi-year effort, Viking Satcom and Superior Satellite Engineers have begun deploying ground station equipment in support of SES's new satellite at 40.5 degrees West—SES currently operates 55 satellites.
The new SES-6 satellite is unique in that it transmits in standard 3.7-4.2GHz and provides an additional 10 transponders at 4.5-4.8GHz, for a total capacity of 40 available transponders in dual Circular-Pol configuration that covers the Americas, Europe and Atlantic Ocean regions.
Current equipment shipments are for Mexico, Brazil and Peru with more Latin America countries expected to sign on in the near future.
Superior Satellite Engineers, with electrical specifications and technical oversight provided by SES, developed a new Feed system that supports the modified 800MHz frequencies operations.
The LNB development and productions tasks were provided by Norsat of Canada under contract with Superior Satellite Engineers.
This new LNB accepts input frequencies of 3.625-4.8Ghz. The output frequencies are 900-1825MHz.
Based on their extensive history of program management with SES and Superior Satellite Engineers, Viking Satcom of Albion, Michigan, was selected as prime contractor to coordinate equipment in support of SES's antenna program associated with the new satellite.
"This is another exciting antenna program that combines efforts for SES and Superior Satellite Engineers and coordinated by Viking Satcom. We look forward to our continued partnership with SES and Superior Satellite to deploy the satellite antennas and ancillary equipment for the new satellite" said Steve Pokornicki, Vice President at Viking Satcom.
Complete electrical specifications for the modified-frequencies Feedhorn and LNB are available at http://www.superiorsatelliteusa.com/.
More information regarding Viking Satcom is available at http://www.vikingsatcom.com/