---
The last 12 months for NewSat have been busy and productive, with excellent progress made during the year on the Company's strategic growth project, the Jabiru Satellite Program.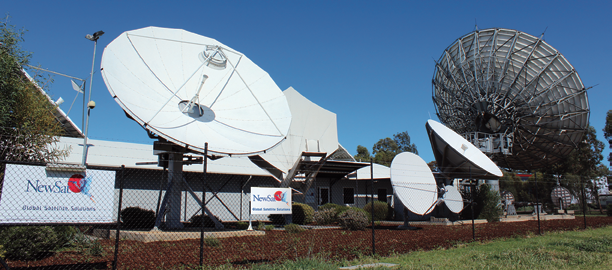 NewSat, Australia's largest pure-play satellite company, is a unique player within the industry. Our current journey from a "solutions provider", to a "teleport operator" and development into a "satellite operator" is an industry first.
The Jabiru-1 satellite achieved significant milestones in 2014. Led by NewSat's CTO, David Ball, the comprehensive technical review of Jabiru-1 was completed with Lockheed Martin, achieving Critical Design Review (CDR) of the satellite and each subsystem. With component manufacturing progressing, many of the key satellite components from numerous external suppliers across the USA, Canada, France, Germany, Italy and Spain have been delivered to Lockheed Martin in advance of spacecraft integration scheduled to take place at Lockheed Martin's facilities in Denver, Colorado, early next year.
NewSat also conducted mission analysis kick-off with Arianespace and Lockheed Martin, awarded General Dynamics C4 Systems SATCOM Technologies contract for four large antennas and associated electronics for Jabiru-1, signed a contract with GMV for the flight dynamics system, and signed on Kratos Integral Systems International (Kratos ISI) for the contract to provide the satellite command and control system for Jabiru-1.
As SVP, Kratos ISI James Kramer said, "The EPOCH IPS system will provide NewSat a full complement of satellite command and control capabilities to ensure safe and efficient operations for Jabiru-1, and the system will scale to meet the needs of the Jabiru fleet in the future."
To also support Jabiru-1, NewSat continued expansion on the Adelaide teleport which will house the Jabiru Satellite Control Centre and Jabiru Customer Support Centre.
The MEASAT-3b satellite, which hosts the Jabiru-2 payload, has officially commenced commercial service. One month after the successful September 12th AEST launch, satellite manufacturer Airbus Defence and Space has concluded the on orbit testing of MEASAT-3b and the satellite is now operational.
MEASAT-3b successfully launched as Flight VA218 via an Ariane 5 ECA launch vehicle from the European Spaceport in French Guiana.
This is the same launch vehicle procured for Jabiru-1 and was the 61st successful consecutive launch for the Ariane 5 launch vehicle.
This Ku-band payload provides fresh capacity to satisfy the growing communication requirements in and around Australia, as well as Papua New Guinea, Timor Leste and the Solomon Islands. With highly concentrated bandwidth, enabling high-quality communications ideal for government and enterprise requirements, Jabiru-2 will meet the demand of today, tomorrow and for years to come.
Commenting on this significant moment for NewSat, CTO David Ball said, "The big benefit of the Jabiru-2 program for us, compared to leasing capacity off an existing operator, is that we were able to work with MEASAT to design the beam exactly the way we wanted it to look, the coverage area, the power focus and the peak performance areas…it's a great opportunity for us to have design influence in the early days and our operations team is now scaling up their activity and their involvement to a greater degree than we have in the past. It's a good exercise for us to go through as we approach launch of Jabiru-1."
NewSat continued a number of key strategic partnerships throughout 2014, including MTN and ITC Global, confirming NewSat as a key partner in the Asia Pacific, supporting broad and unique network requirements.
With the objective of exceeding customer needs in terms of access and connectivity, MTN has selected NewSat to support their growing requirements today and into the future.
"We are excited about implementing this strategic partnership with NewSat as we think ahead of our customers' needs in these already growing regions," said Zafar Khan, vice president, systems and space engineering, MTN. "The markets where we lead—cruise, megayachts, ferries, oil and gas, commercial shipping and government—are growing in vessel count and in demand on our already robust network….MTN seeks to exceed their needs in terms of access and connectivity to more applications. So, this is a key move to continue to lead our sectors in network capabilities and in value-added services. In addition, it will add efficiencies to our network in the way we grow our future services."
The strategic partnership with NewSat and MTN considerably enhances the satellite coverage and throughput for MTN customers in Southeast Asia and Oceania. The agreement extends C- and Ku-band satellite coverage in these regions now, and puts MTN in a strategic position for future service launches, including Ka-band.
NewSat's partnership with ITC Global strengthened in 2014, with continued focus on opportunities in the global energy sector. The ability to connect multiple sites and offshore platforms inherent to the oil and gas industry on one network within the same bandwidth pool is a key factor in the design of the Jabiru Satellite Program.
"What we like about the Jabiru platform is that the EIRP and on the uplink the G/T ratio is being optimized not just for where there are population centers but rather where there are resource projects and energy or oil and gas projects," said Chris Hill, CTO, ITC Global. He also highlighted that NewSat's Perth teleport is a strategic benefit in serving Asia Pacific teleport growth
NewSat was reconfirmed as top teleport operator in Asia Pacific. Ranking 13th in the WTA Independent Top Twenty 2013, NewSat was also shortlisted as a finalist in the VSAT Service Provider of the Year at the 2013 VSAT Industry Awards and as a finalist for Satellite Provider of the Year in the ACOMMS 2014. New teleport business contracts was up 44 percent when compared to the last financial year, while the quality of NewSat's teleports was also recognized with a major US$13.6 million contract signed in June with a telecommunications company based in Asia to support growing connectivity requirements across the Asia Pacific. The contract will use steerable capacity on Russian Satellite Communications Company (RSCC) Express AM3 satellite, enabling the customer to provide cellular and Wi-Fi backhaul services across parts of Asia.
Looking ahead, 2015 will be another eventful year for NewSat as the launch of Jabiru-1 approaches, with more Jabiru-1 construction milestones with Lockheed Martin, such as spacecraft integration and assembly, and advancing construction of the Adelaide teleport. Jabiru-2 will be essential in supplying the required capacity across various industries as partners evolve and seek to successfully compete and create value in the Asia Pacific region which continues to dominate global economic growth.
---
By Serge Van Herck, Chief Executive Officer
Next year marks Newtec's 30th birthday and we couldn't have asked for a more buoyant year as we reach that milestone. This is especially true as we launched Newtec Dialog, our innovative multiservice platform that is equipped with a brand new patented technology, the realization of a new DVB transmission standard and strong financial growth, among the year's highlights.

As we move toward 2015, we are also entering the era of multiservice, with broadcasters facing numerous challenges. These include more complex workflows, the introduction of new services, increased user expectations for always-on connectivity and pressure on efficiency in both the space and ground segments. The importance of embracing the multiservice trend was emphasized by our recent comprehensive industry survey, aimed at addressing the key challenges for broadcasters.
In total, there were 270 respondents to the survey, with the findings revealing that 82 percent of broadcasters and broadcast service providers plan to launch additional services in the near future. If these services are launched on dedicated and inflexible networks, then CAPEX and OPEX will grow in tandem with the addition of new services. A single platform that is shared between multiple services, a "multiservice network," will help to address rising costs while increasing network flexibility.
Responding to this trend, and with the culmination of years of research and development, we believe Newtec Dialog® contains all of the traits broadcasters and service providers need in order to thrive in today's market—flexibility, scalability and efficiency. With Newtec Dialog, our customers can increase their operational efficiency and easily adapt their infrastructure to business or market changes. Meanwhile, our new, patented return technology, Mx-DMA™, incorporates the best features of MF-TDMA and SCPC technologies, solving the difficult choice of selecting one or the other. First seen at the SATELLITE show in Washington DC and CABSAT in Dubai, Newtec Dialog held its European launch more recently at the IBC 2014 tradeshow in Amsterdam.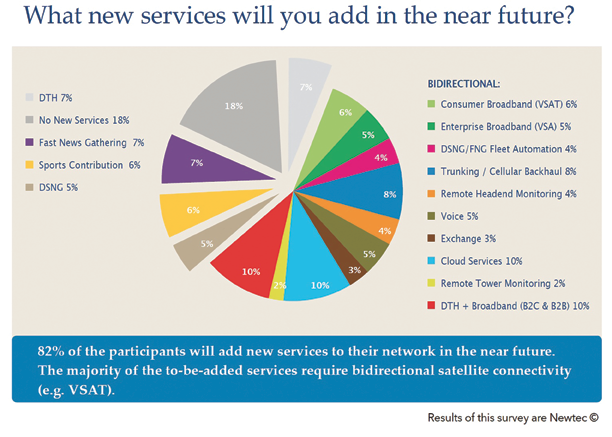 Even before the European launch, the multiservice platform had been selected by Airbus Defence and Space for their Terralink satellite connectivity service portfolio, which delivers reliable satellite connectivity to a large range of enterprise customers, including those operating in the humanitarian, mining and energy sectors. We are confident that Newtec Dialog provides the future proof solution to address increasing OPEX and CAPEX challenges, while remaining agile to allow for new satellite services in an ever changing world.
I am also proud to add that the Newtec Dialog® multiservice broadcast solution has also been provided to the European Broadcasting Union (EBU) to complement the full workflow automation in the newsroom environment, with a dedicated and flexible network infrastructure. The aim is to maintain the EUROVISION News Exchange as the world's leading platform for the exchange of quality news content by providing an efficient transport of video and really efficient end-to-end workflow support.
Another trend during 2014—UHDTV demos. This year has seen a new landmark established for the entire industry in terms of efficiency, with the introduction of a new transmission scheme, DVB-S2X. Newtec has been one of the greatest proponents of DVB-S2X and integral to rallying the industry to work together to create the new standard.
This year, we were the first to launch commercial products supporting the new standard across Newtec's entire portfolio (full solution including modulators, demodulators and modems). There have been a series of live tests using the new technology over satellite from companies that include Intelsat, Eutelsat, SES, MEASAT, Ericsson, Sony and others—remarkable how quickly the industry has come together to support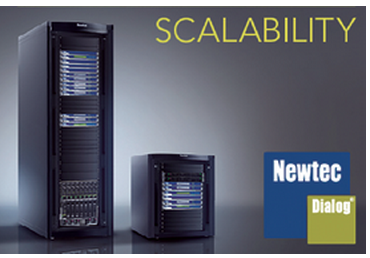 DVB-S2X. This standard will make the satellite communications industry stronger and we are proud to be a part of that technology impetus.
Bridging the digital divide also remains a key focus for Newtec. During the year, we have partnered with several new players to connect regions around the globe. Our latest project saw us carry out an installation in Asia, teaming up with First United Broadcasting Corporation (FUBC) to launch the new iGsat broadband service, which will deliver high-speed satellite broadband across the Philippines, which is comprised of over 7,100 islands.
The introduction of High Throughput Satellite (HTS) has also had a major impact on the business model and value chain in our industry. At Newtec, we have experienced two new important projects on HTS this year. The first was with SES, with our terminals being used to deliver the Astra Connect for Communities satellite broadband service to several German villages. Meanwhile, Bentley Walker, one of the world's leading service providers for broadband satellite VSAT services, extended its coverage using Newtec's Ka-band VSAT broadband platform and HTS Ka-band capacity on Avanti's HYLAS 2 satellite, which was launched in August 2012.
Our position at the forefront of the industry also saw some of Newtec's senior representatives invited to speak at the world's biggest and most important conferences. I personally was delighted to accept a request to speak at Satellite 2014, VSAT 2014 and the VSAT Latin America conference.
Finally, thanks to market evolution and our strong performance in Direct-To-Home (DTH), broadcast systems, consumer and enterprise network markets, Newtec experienced significant growth of 20 percent during 2014, for the financial year ending in September. We are thrilled with the strong figures, which absolutely underline that our strategic direction is on course to provide an extremely strong base for the future. As we enter 2015, we look forward to continuing to focus on our core markets, as well as placing a stronger emphasis on fast growing markets in the future, such as, oil and gas, HTS and cellular backhaul.
Serge Van Herck holds an electrical engineering degree from the University of Ghent and a MBA degree from the Vlerick Leuven Gent Management School in Belgium. With more than 20 years of experience in the satellite telecommunications industry, Serge worked for seven years as Head of Satellite Services at Belgacom and was a member of the Eutelsat Board of Signatories until 2001.
Before joining Newtec in 2003 he served for two years as Senior Manager in the Communications and High Tech practice of Accenture in Brussels. In 2003, he became Newtec's Director Business Development for Asia and General Manager of Skyware, a former subsidiary of Newtec in Germany. He was appointed CEO and Chairman of the Board of Newtec on March 1st 2006.
In 2008, he joined the WTA (World Teleport Association) and ESOA (European Satellite Operator Association) as a board member. He also serves as a board member at VOKA (Flanders' Chamber of Commerce and Industry) and Agoria (Belgium's largest employers' organization and trade association).
---
By Dr. Amiee Chan, President and Chief Executive Officer
In early 2014 we completed the final steps in incorporating our acquisitions, bringing together our divisions and building and growing the business across all three business units: Sinclair Technologies, Satellite Solutions and Microwave Products.

In April of this year, Norsat expanded its product offering and launched the ATOM series Ku-band Block Upconverters (BUCs) and Solid State Power Amplifiers (SSPAs). These BUCs and SSPAs are among the industry's smallest, lightest, and most power efficient available in the market, making them ideal for portable applications such as COTM, airborne, and broadcast. We completed deliveries of the new line of ATOM products to Harris Corporation and other customers
In the second quarter, Norsat demonstrated our redesigned TXC Series Combiners at the International Wireless Communications (IWCE) Expo in Las Vegas. The TXC combiners feature improved performance and are designed to allow a number of transmitters to share a single antenna. The design allows for easy expandability, enabling customers to purchase in single-channel increments and bolster their networks as demand arises. Customers can expand their current systems without increasing their tower loads by simply adding more radio room equipment due to the TXC Combiner's efficient use of rack space.
Norsat signed several significant deals throughout the year including:
• A 3-year National Individual Standing Offer (NISO) with Public Works and Government Services Canada ("PWGSC") for the supply of UHF/VHF antennas. Our products enable the critical communications within Canada's extreme weather conditions and terrain and met their stringent design criteria.
• A deal to provide marine VSAT (very small aperture terminal) units for use in naval ships. The units are built to withstand high impact shocks and vibrations that occur on military ships.
Norsat continues to execute a balanced growth strategy that incorporates investment in staffing levels, new product introductions, continued enhancement of existing product lines, greater diversification by geographic region as well as by industry verticals, and a broadening of the solutions we provide to customers. These strategies have resulted in improved revenue growth with less dependency on certain market segments, and improvements in operating profitability.
Our recently announced third quarter financials are showing solid revenue growth with a 20+ percent increase in sales of our microwave components which is driven by deliveries of our new ATOM series of products. We continue to receive strong interest in the ATOM product line and believe it will continue to provide long-term growth for years to come. We are very pleased that Norsat ended the third quarter with a net positive cash position; it's first in nearly four years. We anticipate that we will finish strong in the fourth quarter and our revenue is on track with our expectations.
Although revenue growth is positive, in 2014 we experienced some challenges due largely to a decrease in military demand and budget constraints among other non-military customers. Other service revenues were also lower year-over-year due to the non-renewal of significant airtime contracts. We are seeing continued softness within land mobile radio, which is affecting our satellite business, but anticipate the market will rebound during the coming year.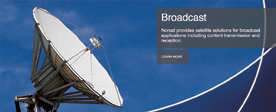 Operationally, we continue to maintain a strict cost discipline across our operations while ensuring we invest in R&D for future growth. To drive ongoing efficiencies, we balance cost reductions with strategic investment throughout our operations. We have also ramped up our LEAN manufacturing initiatives in order to streamline our material process and to continually improve our operational efforts.
Looking to the future, Norsat will continue to work closely with our customer base to ensure that new products we launch can be tailored to meet their specific needs. Norsat continues to diversify its business by broadening its product portfolio through research and development and the pursuit of strategic acquisitions, as well as expanding its customer base on a geographic and market sector basis. Specifically, Norsat is focusing on markets beyond the U.S., as well as on the commercial, resource, transportation and public safety segments that we believe will lead to growth for the company in the coming years.
Norsat International Inc., founded in 1977, offers products and services that include microwave components, portable satellite systems, maritime solutions, remote network solutions, and equipment financing. Through its Sinclair Division (www.sinctech.com), Norsat is a leading provider of antenna and RF conditioning products, systems and coverage solutions for public safety, defense and private wireless networks. Norsat also provides engineering consulting to meet customers' specific needs.

The company's products and services are used extensively by telecommunications services providers, emergency services and homeland security agencies, military organizations, health care providers, news organizations and Fortune 1000 companies. Customers include NATO, the United States Department of Defense, Marine Corps, Army, Navy and Air Force; FOX News, CBS News; Boeing, Reuters, Motorola, TESSCO, General Dynamics and others. The company's corporate office is located in Richmond, British Columbia, Canada and has offices in Aurora, Ontario, Canada, Hamburg, New York and Lincoln and Somersham, England.
Dr. Amiee Chan has more than 15 years of experience in executive management and research & development in the telecommunications industry. Offering a rare blend of technical and corporate strength, Dr. Chan's strategic vision has driven Norsat's innovative product development program and resulted in consistent revenue growth since her appointment as CEO in 2006.
Prior to joining Norsat, Dr. Chan worked at Creo Inc. where she guided the company through multiple product developments, beta programs, rollout strategies and product launches. Her strategic approach to business was reflected in the growth of Creo's $80 million consumables product division.
Dr. Chan's work has been published over a dozen times. She currently holds three US patents in satellite technologies and has been involved in high level research teams such as the NASA ACTS Terminal Program.
Dr. Chan holds an Executive MBA from Simon Fraser University where she majored in Strategy & New Ventures, as well as an Electrical Engineering; Ph.D. in Satellite Communications from the University of British Columbia.
Dr. Chan currently serves on the Dean's External Advisory Board for the Beedie School of Business at SFU, the Science World Board of Directors and the UBC Engineering Advisory Council.
---
2014 was an interesting year in many ways for the satellite telecom industry. On a macro level, it was a year in which investment and preparations were made for significant advancements down the road—both on the supply side with development of new High Throughput Satellite (HTS) systems, and on the demand side with the rollout of things such as UltraHD set-top-boxes (STBs) and content, and new applications such as in-flight connectivity taking off.
Beyond that, Gov/Mil remains in a difficult slump, with demand slackened due to withdrawal of troops and budgetary constraints. Moving forward, this is expected to rebound around the 2016 timeframe. Finally, "wildcard" technologies—such as O3b and the Internet of Things via Satellite—continued to move forward and unlock potential new markets for the industry.
The Supply Side
2014 saw many announcements of HTS satellite systems, both global and regional. However, in terms of actual in-year launches, there were only five satellites with any notable HTS capacity in GEO and most payloads were quite small. More significantly, O3b added four satellites to MEO with HTS capacity and the system went fully operational this year.
However, 2014 has been an important year overall in terms of the build up of HTS capacity for the coming decade. Companies with systems such as EpicNG, Global Xpress, O3b and others have revealed expansion plans. Many regional satellites over Latin America and Africa announced HTS capacity more tailored to these regional markets. On the whole, 2014 has set the stage for a huge influx of HTS capacity that is expected to be delivered in the 2016-17 timeframe and that has impacted the SATCOM data business at large.

The regions that saw the most FSS capacity launched in 2014 was Europe and the Middle East, largely dominated by Central and Eastern Europe. RSCC's Express satellites, Turksat and Gazprom, contributed significantly to these launches, although there were concerns related to the reliability of launchers and the health of satellites put into orbit. Asia was not far behind with AsiaSat, Thaicom and Measat adding substantial capacity over Southeast Asia. Sub-Saharan Africa and Latin America remained important regions from HTS capacity perspective with missions like Eutelsat 3B selling off entire HTS payloads before launch.
From a launch perspective, the year started off with delays and that, combined with technical issues on Proton and business challenges on Sea Launch, pushed back many launches to 2015 and perhaps beyond. Nearly every mission after May 2014 was delayed, if not significantly (greater than six months), then at least by a month or two. Some smaller missions, mostly PrideSats that relied on government backing, were also delayed, but that is a recurring trend more than being specific to 2014. Overall, expectations from new entrants such as SpaceX remain high, as both Russian and American launchers went through a tough year.
Finally, from a capacity perspective, 2014 was still dominated by traditional FSS Ku-band capacity. Apart from Inmarsat 5F2 and Thaicom 7, every satellite carried some form of widebeam Ku-band capacity in 2014. C-band was more sporadic, mostly prevalent in emerging markets such as Asia and Africa. Widebeam Ka-band was even more difficult to find, with ABS2 and Turksat 4A being the only notable launches with this form of capacity. On the whole, 2014 was a building year for HTS and business-as-usual for FSS capacity. The next two years are expected to see more focused and tailored HTS missions with 2016 being a key inflexion point.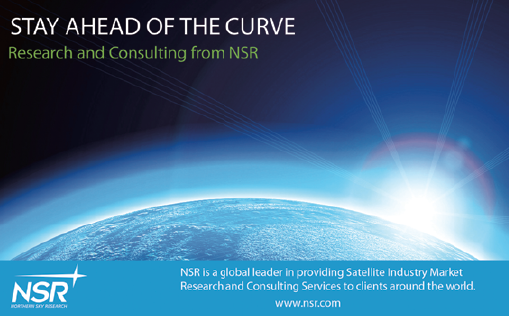 The Demand Side
When reviewing 2014 from a demand perspective, we believe this will have been a pivot year for the satellite telecom industry. As noted in our supply analysis, 2014 was a big year for HTS in terms of laying a foundation for future launches. On the demand side, this has led, and will continue to lead, to new applications that will drive demand for bandwidth moving forward. Consumer broadband witnessed healthy increases across a number of markets during the year, including the development of niche markets in places such as Russia and Brazil that we believe will prove lucrative in the long-term. Commercial mobility, in particular in-flight connectivity, will certainly agree that 2014 was a monumental year, perhaps ushering in the start of widespread aero connectivity use as we know it.
Beyond applications that are being spurred by the advent of HTS capacity, longtime bread-and-butter applications such as video distribution and DTH also saw a big year in 2014. Unquestionably, the biggest development in the demand picture for these two applications has been the continued investment and introduction of UltraHD. Corresponding to the in-flight connectivity market segment, we believe that, when looking back on the industry many years from now, we will say that 2014 was the year that UltraHD (UHDTV) really took off. Today, UHDTV is being broadcast selectively in a number of countries, including South Korea and Japan, and— more importantly—developing countries are already seeing significant buzz. Indian DTH operators have started to announce UHDTV set-top box (STB) rollout plans, while China is already the largest market for UHDTV compatible TVs in the world, despite having little UHDTV content as of this writing.
2014 was also undoubtedly a big year for frontier regions in general. Sub-Saharan Africa saw several major announcements, most notably a shared satellite deal between MultiChoice South Africa and Intelsat for the Intelsat-36 satellite which will be launched in 2016 and co-financed by the two companies. However, demand in the region during 2014 and beyond may be skewed by first-time customers signing on to HTS payloads as their first foray into communications via satellite, given the HTS capacity we've seen coming over the region in the previous year or so. Demand in 2014 saw solid and healthy growth across a number of applications, but perhaps the most major takeaway from the year was the laying of groundwork for new applications that will boost demand in the long-term. The infrastructural development during the year, whether penetration of UHD set-top boxes or installation of Wi-Fi onto airplanes, will be the biggest legacy from a demand perspective in 2014, and will cause 2014 to have been a major pivot year in the industry.
MSS
The novelty in 2014 for mobility via satellite is the aeronautical sector's use of HTS capacity, starting with JetBlue offering in-flight connectivity service on Viasat's HTS network. The install rate by Panasonic on long-haul aircrafts has also picked up this year and their intent to buy an HTS payload on Eutelsat 172B signals a continuing trend towards globally-available high-capacity IFEC services.
For maritime, O3b began testing services on Royal Caribbean and this year might be a record year in terms of contract announcements. However, even with signs of improving economic conditions, internal merchant maritime economics still remains tight—increasing pressures to reduce cost and improve efficiencies. Driving those improvements are larger, more efficient vessels in all maritime segments (from offshore support vessels to the latest containerized cargo vessels) as well as the steady migration from MSS to VSAT, C-band to other frequencies, and the integration of HTS services. Although the maritime market has fallen out of the limelight as the industry becomes aero-crazy, there is still plenty of life and ships to connect. On the land-mobile side, the almost simultaneous release of Sat-Fi, IsatHub and the GO Wi-Fi hotspot devices by Globalstar, Inmarsat and Iridium respectively was a timely reminder that MSS players are on a path to address the growing BYOD trend.
Government/Military
Ending 2013 on a low note after a series of highly successful years, the government and military SATCOM market hoped for a resurgence of demand and funding in 2014. This did not materialize and market struggles continued, with revenues continuing to decline. The U.S., by far the biggest market for COMSATCOM, lowered capacity procurement and paid less per transponder due to ongoing budget cuts. Compounded by the withdrawal of U.S. and NATO forces from Afghanistan, markets weakened across the board. We believe that 2014 might be more famously remembered as the mid-year in a multi-year slump in government and military markets, although the appearance of ISIS means that MEA demand may not fall off as much as previously thought post-Afghanistan.
Simultaneously, and bolstered by additions to existing MILSAT constellations, governments increased reliance on proprietary, 'paid-for' capacity in lieu of commercial procurements. Nonetheless, governments did engage in exploring the adoption of new services: MEO-HTS and Ka-band GEO-HTS systems are both undergoing trials and likely to see increased adoption in 2015. Airborne ISR missions, combat air support, and mobility continue to generate demand, opening the door to future growth. Finally, the mid-year award of US Pathfinder and French ASTEL S3 contracts signaled an interest in updating procurement practices, potentially leading to efficiencies that will benefit both operators and customers in the long-term.
Other Noteworthy Developments
On July 10th, 2014, O3b Networks successfully launched its second batch of satellites, commencing global operations to be further enhanced by a third launch on December 18th, 2014, expanding the MEO Ka-band constellation to a total of 12 satellites. O3b initially intended to provide broadband Internet to the "Other 3 billion," those in developing countries without Internet access. Strictly speaking, the company continues to follow through on achieving that goal—2014 saw them continue into other, higher-value applications, such as mobility. Specific niche cases such as the Cook Islands have provided exceptional results, with many times faster Internet access allowing for economic development. Moving forward, it will be interesting to see how far O3b is able to go in providing Internet access to markets such as this. RCCL, which has subscribed to the service and is in the process of implementing it, is looking to transform the cruise-line experience by upgrading to a shared downlink of 500Mbps, more than 20 times faster than their previous 22Mbps connection. In addition to setting new expectations for some mobile and fixed applications, O3b has initially performed more promisingly than other non-geostationary systems, such as Teledesic and Skybridge, propelling investments in new systems, such as WorldVu.
M2M/Internet of Things (IoT)
In the M2M/IoT sector, growth remained consistently strong throughout 2014—with the exception of the military and civil government applications—despite the increasing potential competition from the terrestrial side of the business. Competition is increasing with Thuraya and Viasat announcing a dedicated M2M/IoT platform for launch in 2015, and the acquisition of VARs from previous years are now increasing the usage of 'deep analytics' tools to optimize business, especially in the transportation and cargo sectors. This is a trend which NSR views will drive higher bandwidth solutions into the future, increasing the adoption of next generation L-band services and HTS offers.
Google/Facebook Market Entry
The early part of 2014 saw much speculation and mystery surrounding the potential entry of Google into the satellite telecom space, and with other companies such as Facebook generating rumblings. Then, in November, Elon Musk was reported to be planning to launch a 700-satellite constellation for global Internet access. Relatively little conclusive news has come about relating to the entry of companies from this sector, but it nonetheless poses the following question—as many satellite applications are beginning to converge into just one "flavor" or another of Internet access, is the playing field now wide open for other entrants, such as Google, Facebook, Microsoft or Musk, to come in and offer their own competing services? And if so, what does this mean for the greater Satellite Telecom industry?
Bottom Line
Indeed, 2014 was a non-standard year for satellite telecom. While FSS supply and demand was relatively business-as-usual, with heightened growth from emerging and frontier markets taking center stage, HTS and MEO-HTS continue to shake things up by allowing for new applications and uses for payloads that would have been more or less inconceivable a decade or so ago. Moving forward, the market will continue to see changes in the way that supply, which is increasingly HTS, meets demand, increasingly defined as "Access to the Internet."
---