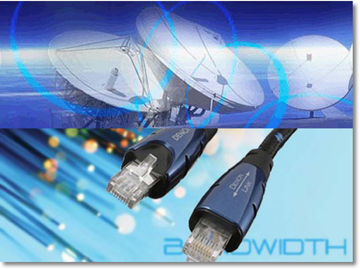 The consolidation of satellite uplink and antenna facilities as well as cable and DTH head-ends continues to be an industry trend, driven both by growth in channels and the opportunities to reduce overhead at 24/7 facilities. With this comes the need for robust, reliable and ever-higher capacity solutions for signal transport, switching, distribution and monitoring within the RF plant.
This article looks at an example of how the operator of one of the world's largest and most advanced satellite broadcasting centers was able to expand its facilities and connect two sites by fiber optics, to improve reliability for its L-band transmissions.
The Challenge: More and More Channels – One Uplink Center
ASTRA Platform Services GmbH
(
Astra
), is a subsidiary of
SES ASTRA
, the leading
Direct-to-Home
(
DTH
) satellite system in Europe. Their
ASTRA
satellite system delivers services to more than 135 million DTH and cable households and transmits more than 2,500 television and radio channels. SES ASTRA is part of SES (Euronext Paris and Luxembourg Stock Exchange: SESG), which provides satellite communications solutions via a global fleet of 44 satellites.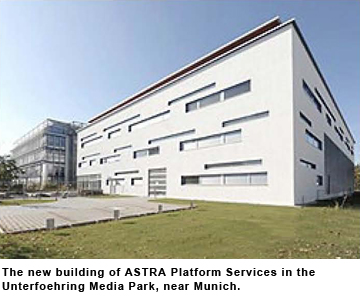 From its broadcast center near Munich, Astra provides technical support to broadcasters and production companies, offering a comprehensive range of services for the preparation and transmission of content for TV and radio channels, including HDTV playout, interactive and data services, as well as preparation and transmission of content via satellite, over the Internet or to mobile reception units. Clients include well-known broadcasters from the public and private sphere as well as Pay TV providers, rights owners, cable network operators, and global companies.
Making Two Facilities Into One
ASTRA Platform Services
'broadcast center reached its limit, the company acquired a plot of land and facilities on the opposite side of the street, and decided to connect the two sites via fiber cables. For the transmission of L-band signals, Astra selected equipment from Germany-based
DEV Systemtechnik GmbH & Co. KG. DEV
develops and produces a complete range of leading-edge, high-performance products and systems for the optical and electrical transmission of
Radio Frequency
(
RF
) signals via coaxial cable or fiber for satellite, cable, and broadcast television head-ends.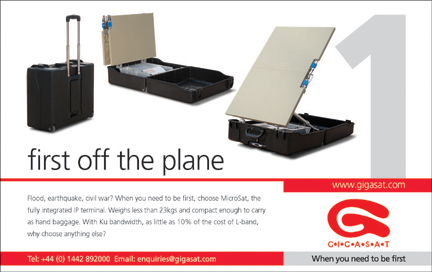 DEV products include distribution amplifiers, splitters and combiners, switching systems, distributing matrices, routing products, multiplexers, and fiber-optic RF signal transmission systems — all built to meet the highest standards of system availability, reliability and controllability. Subsidiary
DEV America
(www.dev-america.com)
serves customers in North America from Newport Beach, CA.
"We do have to send and receive 24 hours a day, no matter whether there are technical interferences, scheduled maintenance tasks, or changes of components to update or expand the infrastructure," said
Adrian-Johann Grama
, Senior Manager, RF Services for ASTRA Platform Services. These conditions brought ASTRA Platform Services and DEV together. When
Grama
looked for replacement of distribution amplifiers no longer able to keep up with growing demands, he visited DEV's booth at the IBC trade fair in Amsterdam and discovered DEV's L-band signal distribution system, the
DEV 2180
.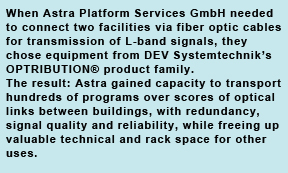 After field trials,
Grama
decided to replace the site's old distribution amplifiers with new equipment from DEV, accommodating up to eight modules 1:16 in one single 4 RU chassis. The change caused no problems. DEV pre-configured equipment was installed in only half an hour.
"We simply had to take the old hardware out and put the new one in." As a result, ASTRA gained excellent functionality in just one half the rack space needed before. It was no surprise that
Grama
thought of DEV first when it came time to equip Astra's new building with distribution amplifiers. Soon, the trusted DEV 2180 L-band distribution amplifiers were doing their job in ASTRA's new building as well.
Inter-Facility Links
For signal connection between the two buildings, there was no viable alternative to opto-electronics. "300 meter run length in three dimensions through the city's sewage system created problems hardly solvable with coax cabling," explained Astra's
Grama
. While discussing distribution amplifier configuration topics with DEV consultants, he became aware of DEV's
OPTRIBUTION
®
concept and decided to give his L-band distribution technology supplier's offerings a try in the optical transmission field.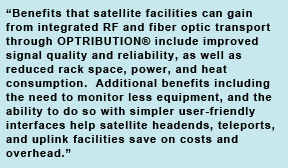 OPTRIBUTION
®
(
Optical Transmission and Distribution of RF Signals
) is DEV Systemtechnik's systematic approach to the ongoing development of the signal distribution infrastructure in satellite ground stations and CATV head-ends.
Four different form factors within the OPTRIBUTION
®
product line can meet a wide variety of signal transmission demands. Choice of the best-fitting OPTRIBUTION
®
product depends on the number of signals to be transported.
The 1 Rack Unit (RU) high
DEV 4000
series chassis, with two universal slots, accepts as many as four signals. The 3 RU
DEV 7000
series chassis with up to 20 optical slots can handle as many as 40 signals. The 4 RU DEV 7000 series chassis with 16 optical slots is additionally able to distribute (1:8, 16, 32, 64) or switch (4x8, 16, 32, 4x64) incoming signals. The new OPTRIBUTION
®
Outdoor Chassis can be installed near the antenna and converts the signals directly at that location. It offers four slots, enabling a 4+1 redundancy at the antenna. The wide operating temperature range from -30 to +60 °C allows for worldwide deployment even in extreme weather conditions.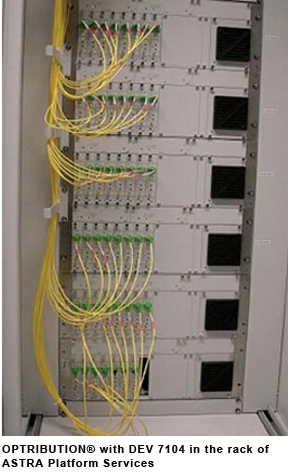 To equip the OPTRIBUTION series chassis, DEV offers a multitude of modules featuring high packing density and application-oriented options: Four new transmitter cards with up to 12 options, four new receiver cards with up to three options, four new redundancy options, and optical
CWDM
mux/demuxes. The newly implemented CWDM technology allows the user to transmit up to eight independent channels over just one optical fiber.
More Bandwidth in Fewer Racks
ASTRA started with 32 fiber links for signal transmission between the two buildings. Capacity was later expanded to 48 links in total. The signal input interface in the old building is performed by an Intelligent Optical Signal Transmission System
DEV 7103
, a 3 RU chassis providing a controller and accommodating up to 12 transmitter or receiver modules. ASTRA uses two of these chassis to convert the electrical to optical L-band signals.
Link termination in the new building is performed by a
DEV 7104
optical and RF transmission system. This 4 RU chassis combines signal transmission with distribution modules such as dividers and matrix switches. In the ASTRA Platform Services setup, the DEV 7104 receives the optical signals, amplifies them and distributes them into the system. The
DEV 7103
and
DEV 7104
optical transmission systems allow for integration of redundancy switches, offer redundant power supplies, and can be remotely controlled and monitored via a user-friendly web interface.
Discussing the project's success,
Grama
adds "We have been convinced of the quality and high integration level of DEV equipment since the beginning of our cooperation. With the new OPTRIBUTION® chassis, DEV again increased packaging density, enabling us to realize optical signal transmission starting with three 3 RU chassis in the old building and four 4 RU chassis in the new one, which greatly relieved our spatial situation. Since expansion to 48 links we operate four chassis in the old and six in the new part. The only open question in the whole process was availability. We were under enormous time pressure and had to confront DEV with a very tight delivery schedule. But everything arrived as it always should — just in time!"
The Payoff: Successful Growth
Demanding top-notch support and results from its technology suppliers like DEV and others has helped the talented team at ASTRA Platform Services successfully deliver high quality services for a growing list of customers. Over many years, Astra Platform Services has achieved a broadcast reliability in excess of 99.98 percent — the Company has been ranked continuously among the top playout centers worldwide, boasting more than 200 TV and radio programs.
About the author
Dan Freyer is the principal of AdWavez Marketing, a marketing firm serving the satellite industry, and can be reached at
dan@adwavez.com
. He is the author of
Liftoff: Careers in Satellite, the World's First and Most Successful Space Industry
(SSPI 2010), among numerous other publications and articles, and has helped top satellite manufacturers, operators, service providers, and equipment suppliers develop their businesses for over 20 years.