Mr. Makhnovskiy has been with Orion Express since 2011. He graduated from the Moscow Technical University of Communications and Informatics, where his area of study was in network and switching systems.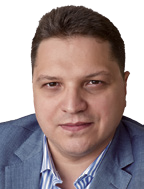 From 2004 to 2006, Mr. Makhnovskiy was the chief specialist for regulators at Moscow Cellular Communications Company. He then moved onto Sky Link as the head of the institutional control department, and then worked as the Deputy General Director of TelekomInfoProet. From 2008 to 2011, he was the Deputy Director for Government and Regulators in the Telecom Express Company.
SatMagazine
Mr. Makhnovskiy, would you please tell our audience about Orion Express and its business goals?
Kirill Makhnovskiy
Orion Express is a Russian satellite TV provider and one of the key players in B2B and B2C markets. We are the only operator with 100 percent coverage of the Russian territory and the Commonwealth of Independent States (CIS).
Orion Express is the most actively growing operator on the Russian payTV market. In 2013, the company's subscriber growth was more than 80 percent, when the industry average growth was approximately 13 percent. The Orion Express subscriber base up to May 1, 2014, amounted to more than two million people.
Today, the company is the leading media platform in Russia and CIS, as well as a leading media partner for Intelsat in Russia. Our Business-To-Consumer (B2C) market company works under the brand "Telekarta." For the Business-To-Business (B2B) market, we provide the most comprehensive range of services to Russian and foreign broadcasters with unique satellite media platforms located at 85 degrees and 140 degrees East. Apart from Russia, Orion Express also provides DTH services in Kyrgyzstan through our "Vision" company.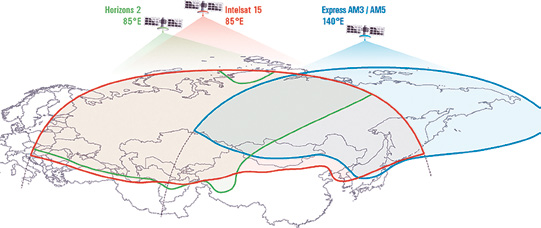 Our marketing strategy is based on offering subscribers the most interesting and affordable product. Our partners, distributors and the installers of satellite TV receive maximum support and benefits from working with us. We focus on available equipment, TV-balanced packages, which offer all a viewer could want, from Russian federal channels and its hour broadcasts, regional channels, thematic channels that deliver the most popular Russian and foreign program brands. The cost of entry for customers is low in relation to the quality equipment and programming received. These are the key advantages that distinguish Orion Express from competitors.
SatMagazine
Which satellites are involved in your company's content delivery for both Direct-To-Home (DTH) and your Enterprise customers?
Kirill Makhnovskiy
Orion Express broadcasts from three satellites: Horizons 2 at 85 degrees East, Intelsat 15 that co-resides at the same orbital slot, and Express AM5 at 140 degrees East. By the way, Orion Express is the largest Intelsat media partner in Russia—our work with that company allowed us to take a leading position in the broadcasting and DTH market.
SatMagazine
Please tell us about Telekarta.
Kirill Makhnovskiy
Telekarta is an independent satellite TV product of Orion Express. There are two basic TV packages available in Telekarta: Standard (more than 70 channels) and Unlimited (more than 125 channels). Telekarta has more than two million subscribers, and those numbers are increasing year by year.
Telekarta broadcasts via three satellites—the U.S. Intelsat-15, Horizons 2 and Express AM5. The broadcasting area covers the entire territory of Russia from Kaliningrad to Sakhalin. The connection cost at the moment is the most affordable in the Russian payTV market. Telekarta offers more than 100 channels (Russian and foreign), federal channels and their hour program versions, regional channels and popular thematic channels.
SatMagazine
The global payTV (DTH) market continues to experience significant growth—does this also apply to the Russian payTV market?
Kirill Makhnovskiy
According to the research of the J'son & Partners Consulting company, the Russia payTV market will continue to expand. In 2013, payTV services in Russia were enjoyed by 35.1 million households. That is 10 percent higher than in 2012. PayTV penetration was 64 percent in 2013. According to analysts, the payTV subscriber base will be 40.9 million households by 2018—that is 17 percent higher than the subscriber base in 2013. Penetration by 2018 will reach 75 percent, and the average market growth rate for the period 2014 to 2018 will be 3 percent.
SatMagazine
How does the Russian payTV market differ from the European and American markets?
Kirill Makhnovskiy
To begin with, I would like to note that, as of this writing, the Russian payTV market is the largest in Eastern Europe. Subscribers, who at the moment are more than 40 million in number (about 70 percent of the households in Russia), are offered more than 300 channels.
Unfortunately, until recently, the development of payTV, including DTH, was based on dumping and a constant decrease in ARPU. However, that trend is changing—the largest Russian operators are starting to offer so-called world premium content, whose popularity is growing year by year.
SatMagazine
Are western channels distributed via the Russian payTV market? If so, what are the most popular venues?
Kirill Makhnovskiy
Yes, Western TV channels are presented for the Russian market. The most popular are: Animal Planet, Discovery, TLC, Universal, National Geographic, Outdoor Channel, Viasat, Disney Channel, Mezzo and many others.
SatMagazine
Is Russia exporting their payTV channels to western as well as Asian payTV markets? If so, what programming is being exported to these various regions of the world?
Kirill Makhnovskiy
There are some Russian payTV channels presented for Western viewers. The larger Russian content producers deliver one channel from their portfolio to Europe. For example, the STREAM company presents the Russian Life channel; the TPO Red Media company offers the La Minor channel. Several companies are available for western viewers.
SatMagazine
The weather must offer a significant challenge for Russian broadcasters, considering rain fade, snow and ice storms, and so on. What contingency plans does Orion Express have to offset such delivery challenges?
Kirill Makhnovskiy
We give our customers a guideline to reserve 5db as an extra power margin for our nation's various weather conditions. When customers follow our recommendations, reliable signal reception is assured.
SatMagazine
Please discuss your services for Enterprise customers throughout Russia and your additional served regions.
Kirill Makhnovskiy
We provide the full range of services for broadcasters: channel uplink to satellite, content adaptation for the Russian audience, channel distribution in cable networks. This business model is also a great tool for suppliers of Western channel content, as the service allows them to earn on pay broadcasting in Russia. This range of services the company provides allows for contributions on more than 50 Russian and some foreign TV channels.
SatMagazine
How much independence does Orion Global Express have with its business operations, or is there severe government oversight in regard to content delivery?
Kirill Makhnovskiy
The TV market in Russia is regulated by several laws. The main ones are the "Communications Law" and the "Law on Mass Media". Orion Express is operating in strict compliance with those laws, holding all necessary licenses (Television Broadcast License, Service License for On-air Broadcasting, Service License for Communication Links, Telematic Services License, Service License for Data Transmission). According to the licenses, we can legitimately implement a full range of services for DTH broadcasting and for signal delivery to numerous channels.

SatMagazine
What advice do you have for content providers in the western world and the APAC region who might wish to distribute their programming in Russia through your company?
Kirill Makhnovskiy
My advice is that there should be no fear in entering the Russian market. This market certainly has challenges, but remember that the Russian market continues to develop and grow.
As for our company, we distribute satellite TV channels and have been doing it for the past seven years. From year to year, the number of subscribers continues to increase, as well as the number of our partners and their income has certainly increased.
Currently we are working with more than 360 cable operators across Russia, including all of the top operators (Rostelecom, ER-Telecom, MTS, Beeline, Megafon), which cover more than 20 million subscribers in cable and IPTV networks. For Western partners, we can offer a large pool of services: translation, registration services, uplink to the satellite, and distribution. We can run channels from scratch. Today, Orion Express is distributing more than 20 channels of various genres.
For further info: http://orion-express.ru/