LuxSpace—Continued Capabilities Proven
By Gianaldo Mantovani, left, Space Programs Director, and Dr. Thomas Görlach, right, Managing Director, LuxSpace


2017 has been another exciting and successful year for LuxSpace, featuring the successful launch of OHB's first SmallGEO satellite platform, the completion of the design phase for the ESAIL microsatellite, the initial development phase of LuxSpace's new and innovative multi-mission microsatellite platform "Triton-X", the establishment of Blue Horizon, as well as other important milestones in the expansion of the company's space services and applications business unit.
SmallGEO
Luxspace once again has proven their capabilities as a reliable subsystem integration partner for OHB Group. Launched at the start of the year, the H36W-1 telecommunications satellite supplied by OHB System AG has been handed over to Spanish satellite operator, HispaSat, following the completion of an on orbit test period of more than 80 days.
LuxSpace, as a member of the SmallGeo satellite platform core team, provided their subsystem expertise for the benefit of the overall OHB group consortium. LuxSpace was in charge of delivering the highly critical Telecommand, Telemetry & Ranging System which handles all communication between the ground station and the spacecraft such as the issuance of commands, collecting the spacecraft's status information as well as providing data about the satellite's speed and acceleration.
In addition, a satellite simulator was developed by LuxSpace to simulate the various operational phases of the Satellite and the craft's subsystems once in orbit. This facilitates mission planning and operator training. Those two elements were incorporated in the SmallGeo HAG-1 missions for HispaSat and are now being replicated for inclusion in the EDRS-C and ELECTRA satellites. The latter ones are slated for launch in 2018 and 2021.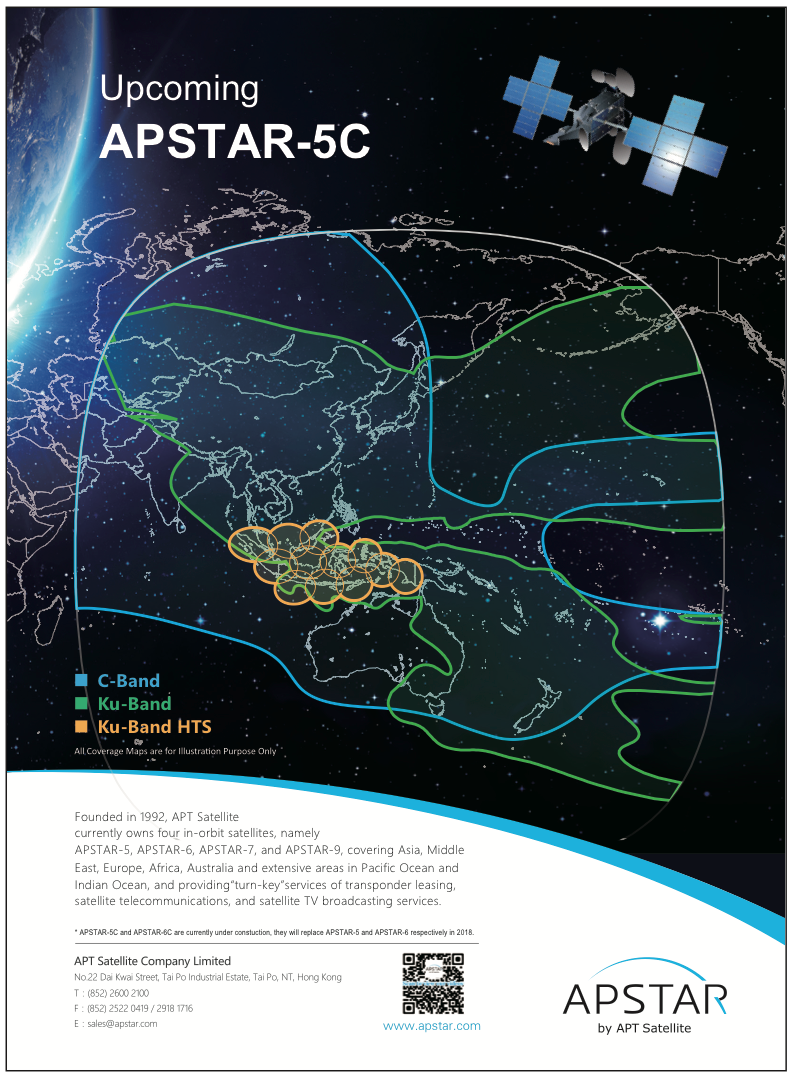 Esail
LuxSpace completed the design phase of the ESAIL smallsat. Developed under a Public Private Partnership among LuxSpace, ESA and exactEarth of Canada as a commercial customer, the ESAIL satellite is designed to support an Automatic Identification System (AIS) payload to allow for precise tracking of marine vessels from space, with additional on-board digital processing features and high data rate downlink capabilities. After completing the validation of all electrical interfaces in a Flatsat environment, LuxSpace will integrate and test the protoflight model for a final delivery currently scheduled for Q3 in 2018.
Smaller, Lighter, Cheaper
LuxSpace is entering the New Space market with the upcoming, new Triton-X platform.
The Triton-X platform is designed to be highly cost-competitive, fast to market and versatile. The platform can be used for both traditional and New Space commercial applications in the domain of satellite communications, Earth Observation (EO), situational awareness and the testing of new technologies in space.
"With Triton-X, we are able to offer inexpensive volume products that are available swiftly thanks to efficient production and testing methods. With Triton-X it is possible to make use of cost-effective launch capacity. The commercial platform is also ideal for assembling constellations of multiple satellites for joint missions," said Dr. Thomas Görlach.
With Triton-X and its enabled space applications and services, LuxSpace aims at serving the entire value chain, from space segment integration all the way up to added value service provision. Triton-X is not simply one isolated step forward for the company, but rather within the OHB group, the new smallsat platform is the key for New Space activities and commercial services and underscores the innovative work of the company.
Life Science — Blue Horizon
LuxSpace will explore new frontiers and the diversities of life science. Together with sister company OHB Venture Capital, LuxSpace established the Luxemburg based company "Blue Horizon".
Blue Horizon will cooperate closely with national and European research institutes to develop new life science products and services for use in space, as well as on Earth. Blue Horizon will be pursuing the vision of creating the necessary conditions for enabling sustainable life in space and for revitalizing ravaged landscapes on Earth by applying the technologies and processes of life sciences.
A preliminary development is already in the starting blocks: CUBEHAB will be able to create viable living conditions on the Moon as early as in 2020. By extracting oxygen from "lifeless" lunar rubble, it will be possible to grow plants on
the Moon.
Situational Awareness
Situational awareness is more than just a buzzword. LuxSpace made that term come to life with the firm's expanding space services and applications.
To name just one of the maritime situational awareness value added services, LuxSpace successfully brought to market a new service — monitoring fishing activities on a global scale in order to trace the whole food value chain of a fishery product literally from "catch to plate".
In addition to maritime services, other new and very promising projects have been launched. Within "AirTracks", the company and partners will develop, under a contract with the European Space Agency (ESA), new ADS-B based services for monitoring and tracking manned and unmanned aircraft, as well as several other space-based situational awareness projects in the domain of maritime safety and security and space weather. All of these projects demonstrate the company's agility, flexibility and high innovative power.
Outlook
LuxSpace has been providing innovative and affordable infrastructure products and solutions for space, as well as space-augmented applications and services for more than a decade now, and the company continues to grow its capabilities and product offering.
True to its heritage, LuxSpace embraces its pioneering role within the OHB Group in the creation of new services and applications for maritime security and New Space activities.
Delivering on the firm's vision, the company will become a pre-eminent provider of professional products, smart and affordable solutions for space missions and commercial space-based applications.
Additional information regarding the company may be accessed at www.luxspace.lu.
---
Marlink—A Year of Network Growth and Diversity
By Tore Morten Olsen, President, Maritime, Marlink
The insatiable demand for satellite capacity in the maritime sector continues unabated as more shipowners focus on digital transformation across their entire scope of operations.

Just a few years ago, smart shipping was a distant future ­— looking back at 2017, smart shipping has already arrived for a significant portion of the industry. New digital ecosystems for connected applications have been introduced by major maritime technology players, which has added to the growth in demand for bandwidth.
As the provider of one of the largest and the most diverse maritime SATCOM networks in the world, it is vital that these digital developments be followed. Much of the technology is being produced by established global players; however, there are hundreds of smaller enterprises developing software and operational systems that are helping ships to operate more efficiently through smart solutions.
Telemar, a sister company in the Marlink Group, is a maritime navigation and bridge systems specialist and this link has helped Marlink to get even closer to the world of operational technology. Today, the company's 'finger' is even more on the pulse of what is happening with operational technology and its further integration with digital solutions.
Marlink's response is to focus on the continuous
build-up of the firm's global multi-band network to ensure there is sufficient capacity for customers today and in the future. As this year closes, the Marlink network now stands at 25 satellites and 32 beams. This ensures the company can provide services to vessels anywhere across the globe.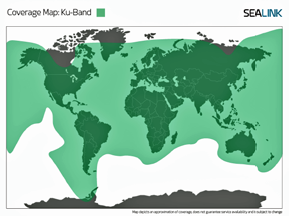 In May, the company added new Ku-band capacity to Sealink VSAT services that cover the Northeast Passage region, which connects the Atlantic and Pacific oceans north of Russia. It enables the growing number of Marlink customers transiting or working in the region above and below the Arctic Circle to benefit from reliable, high-speed maritime broadband to support safe and efficient operations.
The coverage expansion improves the reach of the global Sealink VSAT network, enabling the firm's services to continue meeting the changing needs of a diverse user base, especially within the fishery and offshore support sectors.
With Arctic adventure cruising growing in popularity, cruise lines are keen to provide the same levels of connectivity that are available through Sealink in traditional destinations, to ensure safety and enable guests to upload photos and videos to social media channels in remote areas.
For the offshore sector in the Northeast Passage, there is even more emphasis on safe operations due to the remote and environmentally sensitive location.
Further digitalization of operations to reduce the risk of accidents is vital for energy companies to gain exploration and production licenses in the region. In this context, the availability of high-speed Sealink VSAT will be a significant boost for the potential to exploit natural resources safely and with minimal impact on the environment.
At the same time as expanding Northeast Passage coverage, Marlink also added another satellite to transmit and receive data from one of the most congested areas in Southeast Asia — Singapore. This was an upgrade to existing capacity for Asian shipping and ensures that vessels have multiple satellite beams to provide coverage in this key maritime region. Later in 2017, Atlantic coverage was also expanded for thousands of yachting customers.
Diversity in services and frequencies is key to the leading quality of service available on Marlink's network and 2017 has also seen a product portfolio expansion.
In November, the firm added new Tampnet LTE 4G connectivity for customers in the Gulf of Mexico. This
high-speed and low latency service integrates seamlessly with the multi-band Sealink network, augmenting the already available VSAT and L-band services that Marlink operates in the region to ensure high availability of connectivity for ships and workboats in the region.
The integration of Tampnet 4G LTE on the Sealink network has already been tried and tested, with Marlink's Norwegian customer Simon Møkster's fleet of advanced offshore support vessels already making use of the unique combination in the North Sea. Its vessels use Skype for Business, a standardized collaboration and communication platform that enables telephony, video conferencing, instant messaging and data sharing, so reliable connectivity is vital. Tampnet was added to the company's existing high bandwidth VSAT, L-band and terrestrial 3G/4G on board, providing a low-latency link also well-proven to function in adverse weather conditions. These are both advantages that the company expects the Gulf of Mexico offshore industry to benefit from.
Global Xpress, another recent addition to the Marlink portfolio, has seen significant growth in 2017. Marlink is a primary Global Xpress partner with Inmarsat, having been the first to successfully achieve full integration with the network by establishing interconnection at all three 'meet me' points; one for each of the Global Xpress regions.
This means that Fleet Xpress — the Global Xpress maritime service — users can access a range of Marlink Value Added Services, including the Portal 360 online management system and the XChange centralized IT and communications management system, in addition to a unique set of Marlink developed network reporting tools.
With Fleet Xpress through Marlink, customers leverage the most extensive portfolio of business critical solutions available for maritime users. One such customer is Aker BioMarine, a fishing and biotech company providing krill products to the market. This year, Marlink migrated that company's Antarctic krill harvester fleet support ship, La Manche, to Fleet Xpress, which enabled a significant boost to crew communication facilities on board, as well as providing a platform for improved business intelligence and remote access to the vessel's IT network.
Fleet Xpress was the natural upgrade option on La Manche for reliable connectivity in the Southern Ocean, as coverage demand is satisfied over the vessel's operational area. The installation is based on a one meter Ka-band antenna with full integration to XChange. XChange has already simplified administration of Aker BioMarine crew internet and voice calling accounts, in addition to providing management functions for quotas and network access.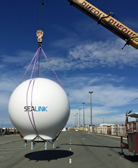 XChange is also the foundation of the unique Universal Remote Access (URA) solution, which Aker BioMarine uses to maintain La Manche's training network and servers, ensuring higher uptime for the crew training facilities on board. XChange URA is also used for general IT network troubleshooting and software updates, a capability that has already helped to reduce IT management related time and costs.
Early feedback on the project echoes the feelings of other Marlink Fleet Xpress customers. Aker BioMarine's IT Consultant David Cheyette said, "It has transformed our communication capabilities aboard La Manche. Reports from crew and captain are positive, with speed and availability highlighted as the biggest improvements. Marlink's portfolio of Value Added Services over Fleet Xpress was also attractive for us and has already paid dividends, especially in the context of La Manche's IT network management."
Marlink is excited about the growth of Fleet Xpress, but the firm's multi-band approach, including services on all satellite frequencies as well as Wi-Fi and cellular, is how real value in the maritime market will be provided. All customers have different requirements, so we continue to grow our network and add new services and solutions to meet the diverse nature of the market. 2017 has been another strong year in the world of maritime SATCOM and Marlink looks forward to seeing further developments to support customers' operations in 2018 and beyond.
Author Tore Morten Olsen is the President, Maritime, at Marlink. For additional information regarding the company and offerings, please visit marlink.com.
---
NanoAvionics—A Year of Big Ambitions
By Christopher Casper, Founder of www.smallstepstospace.com
Lithuania startup NanoAvionics has ambitions that go far beyond leading its country into space — the company's goal is to make the satellite market more affordable to organizations around the world.

Many have hoped that cubesats could make low-cost space applications possible through the development of satellite constellations that deliver communication, Earth Observation (EO), and many other applications to new markets.

However, as NanoAvionics Co-Founder and CEO Vytenis Buzas explained, "We have seen the rapid growth of the commercial applications market drive technical requirements beyond the cubesat's traditional capabilities."
These space applications companies need the extended lifecycles and tasking abilities of more traditional large and mid-sized platforms as much as they need the cubesat's
low costs.
"NanoAvionics' M6P platform," Buzas claims, "is uniquely positioned to fill that market gap with its combination of maneuverability and support for reduced-cost mission operations."
Vision supported by Innovation
The combination of technological and business innovations that NanoAvionics hopes will prove that case starts with a new "green" propulsion system, the Enabling Propulsion System for Small Satellites (EPSS). This propulsion system uses a non-toxic monopropellant to make smallsats maneuverable in ways few cubesats have demonstrated.
The M6P platform, pictured to the right, is a 6U cubesat with 4U payload capacity and will use the EPSS' capabilities to enable operational modes such as Earth-surface tracking and orbital maintenance. The high performance propulsion system promises to allow M6P-based satellites remain operational for several years longer than earlier cubesats. That will reduce the need for constellation operators to launch replacement satellites and will also lower overall constellation costs.
The second aspect of NanoAvionics' strategy targets a further reduction in customer costs through business innovations. The company can deliver an M6P
pre-integrated and pre-qualified for rapid payload integration. NanoAvionics also plans to offer customers turnkey launch and ride-share services. Together, the services promise to simplify the development cycle for satellite projects.
A Year of Change and Achievement
Founded only three years ago, NanoAvionics has seen dramatic developments over the past six months with a series of business and technical achievements that have accelerated the company toward its goals.
The company received 3.2 million euros from European grants programs to foster the firm's technological development and commercialization efforts. The EU/EC Intelektas LT fund for Lithuanian technology companies will allow NanoAvionics to refine the EPSS propulsion system, while a grant from the European Union's Horizon 2020 innovation program will help the company develop their customer base.
The financial awards came weeks after NanoAvionics moved the headquarters, R&D center and manufacturing operations to a new, larger facility. An incoming wave of new employees made the move necessary as NanoAvionics doubled staffing levels. People with experience on dozens of successful smallsat missions and R&D projects have joined the company's efforts to transform the space business.
The newly expanded team of 30 international individuals consists of junior as well as senior talent, whose combined experience includes more than 50 cubesat missions. Two of the most recent hires, taking prominent roles in the company, are Jesper A. Larsen, Head of Systems Engineering and the lead of one of the first European cubesat missions, and Christopher Promper, NanoAvionics' Propulsion Program Manager, one of the world's most acknowledged experts in the design of high-performance valves.
Promper and others will build on recent successes such as the LituanicaSAT-2, NanoAvionics' second satellite project, which reached orbit over the summer on a critical mission to demonstrate EPSS in the space environment. The new propulsion system successfully increased the satellite's orbit altitude, completing an important milestone in EPSS development.
Bringing the M6P to Market
That successful demonstration led directly to NanoAvionics' first commercial success, the award of a turnkey mission for Argentinian Earth Observation company Rupercorp, S.A. with plans to deploy a constellation of EO satellites to serve Argentina's agricultural markets.
The agreement with Rupercorp calls for NanoAvionics to provide turnkey integration, testing and qualification services from the firm's new facility as well as arrange for the launch itself. A precursor mission in 2018 will use NanoAvionics' 2U cubesat platform to gather remote sensing imagery and demonstrate satellite tasking. The deployment of a multi-satellite network based on the M6P platform will soon follow.
Another initiative unveiled in September will further accelerate the M6P platform's adoption in the smallsat market.
NanoAvionics will cover the costs of launch to Sun-Synchronous Orbit (SSO) for the first two M6P satellites purchased. The special offer opens an inexpensive path to get projects into space as early as the second half of 2018.
Anticipating Challenges and Opportunities
These and other successes of the past year have set the stage for a series of challenging objectives that NanoAvionics must achieve during 2018 as the company nears its goals in the world satellite market.
NanoAvionics must build the commercial case for the M6P platform and demonstrate that the company can deliver on the cost-reducing promises of fast development cycles and longer satellite operations. The company must also show that ride share and launch services can be delivered to a mix of companies from new entrants with little experience in the space industry to
long-standing incumbents who carry specific expectations from large satellite programs.
Finally, NanoAvionics must prepare the production infrastructure for serial manufacturing of small satellites.
Despite the many challenges, Buzas has confidence in his team's prospects. "This has been a year in which we laid the foundation for our future success. We have the facilities to support our growth. We have the in-house talent to exceed our customers' expectations. And we have Europe-wide support to see our development through to completion. We all look forward to 2018 for our exciting next steps."
NanoAvionics has ambitious plans to achieve big goals. If the firm maintains the pace of their 2017's achievements into the new year, NanoAvionics could well open a new era for smallsat operators around the world.
Author Christopher Casper is a freelancer and the founder of www.smallstepstospace.com.
To learn more about NanoAvionics, please visit the company's infosite at www.n-avionics.com.
---
ND SatCom—Installing Reliability in a Memorable Year
By Dr. Michael Weixler, Head of Product Management and Marketing, ND SatCom

Why was ND SATCOM so successful in 2017?
In a nutshell...
• Extended cooperation with tier one companies like AIRBUS Defence & Space on projects in Europe
• Framework contracts for integrated logistic support with different European armed forces
• Teamed with new technology experts in the 3G/LTE domain — in line with ND SatCom's cellular network vision — to build deployable network solutions using SKYWAN 5G modem technology for defense, NGOs and enterprises
• Implemented SKYWAN technology portfolio for Thales and various other companies at a level now dominating ATC network deployments across Africa
• Award for the delivery of 10 COTM systems for the South African broadcaster SABC
ATC News
"Installing Reliability" is ND SatCom's mission when it comes to this vertical market. With 99.95 percent TDMA channel link availability and master node redundancy, SKYWAN networks epitomize reliability.
ND SatCom is the supplier-of-choice for the Brazilian "System House" Atech, an Embraer subsidiary specializing in critical mission solutions for the defence and public safety, air traffic management and corporate market sectors. In 2017, ND SatCom provided for Atech a SKYWAN network with fixed and portable sites for building an ATC network for civil and governmental purposes.
The Thales group selected SKYWAN 5G to modernize Bolivian ATM telecommunications with a nationwide VSAT Network. For Air Traffic and Navigation Services (ATNS) and Agency for the Safety of Air Navigation in Africa and Madagascar (ASECNA), more ATC networks using SKYWAN are in the roll-out phase in Africa.
CBH News
In 2017, ND SatCom continued building and demonstrating solutions for 3G/4G cells with highly reliable connectivity to an MNO's core network or private enterprise network. For example, one demonstration at Pacific Endeavor (an event by U.S. Command for disaster relief organizations in the Pacific Region) featured rapid deployable LTE cells. Another was hands-on training exercises where Speedcast and General Dynamics used SKYWAN 5G as the satellite link. SKYWAN 5G was chosen due to its TCO savings and easy integration into flyaway terminals of major U.S. manufacturers.
Defence News
For the military sector, "Making Missions Possible" is the apt slogan for ND SatCom. The company's reputation for being a reliable long-term partner is underscored by serving as a reliable supplier and logistics partner for military ground units as well as for investing in the extension and expansion of existing ground infrastructure in the field.
New projects and upgrades are benefiting from ND SatCom's work ethic and customer-centricity: the firm's teams are onsite, they ascertain and understand the end users' needs and they ensure the products are 100 percent operational — where and whenever needed.
SKYWAN networks have been, or are currently, being deployed for: (1) a military project in India, (2) a SKYWAN COTM network for Myanmar and, (3) a network for MoD Oman with fixed, mobile, and maritime solutions based on SKYWAN 5G. ND SatCom won these large-scale projects after several months of testing and evaluation.
At AFCEA (April of 2017), ND SatCom presented their joint solution with RUAG Defence: RUAG ARANEA is a platform for tactical communication relying on SKYWAN 5G for voice and data transmission via satellite in the most efficient way for vehicles or portable stations.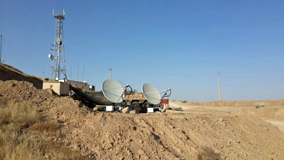 ND SatCom´s ground segment expertise is well positioned to the communication need of multinational forces, e.g., NATO. Due to upcoming demand for leadership support, ND SatCom was awarded a contract to deliver new systems and upgrade existing solutions for land, air, sea and Special Forces for rapid deployment.
Broadcast News
When a broadcasting company in a cost-sensitive region, such as Africa, invests in a Communication-On-The-Move (COTM) solution for media contribution, such is a bold and forward-thinking decision. Multiple new SNG vehicles are in the pipeline to significantly improve the daily workflow of newspeople in this region.
ND SatCom has orchestrated the world's first combination of the firm's Satellite-On-The-Move (SOTM)-capable VSAT technology — SKYWAN — a cost-efficient SOTM antenna and the satellite capacity-allocation planning tool Media Fleet Manager. This combination is also being rolled out for ND SatCom's customer SABC, a broadcasting company in South Africa. ND SatCom realized several SNG projects during 2017. The largest ones have been rolled out for Hungarian TV operator HDT and the Finish broadcaster YLE.
Many customers also took advantage from not only the products and engineering capabilities, but also from ND SatCom's RF test chamber. Near- and Far Field Measurements with High Frequency Range (2 – 100 GHz) can be expertly performed.
Also for fix uplink stations, ND SatCom has realized some interesting projects, such as ORS in Austria, Magyar Telekom in Hungary and a large teleport in Middle East.
Based on the space proven technology and attractive price points, ND SatCom could increase HPA sales by
32 percent. Some new developments were displayed during the IBC2017 exhibition in Amsterdam earlier this year. The positive feedback from the customers will lead to a further increase of these numbers.
Customer Perspective: 2017 Highlights
In mid-2017, SKYWAN 5G firmware release R1.3 introduced additional QoS mechanisms, node redundancy up to N+M, a doubling of the TDMA channel number for a network bandwidth up to 320Mbps, and an increased DVB-S2 receive data rate for the end-user to more than 80Mbps per remote station. For safety critical networks, this release implemented an open interface to external crypto devices for TDMA-layer payload encryption.
After intensive interop tests with 3G and LTE equipment, SKYWAN 5G nodes backhauled cell-to-core and interconnected cells-to-cells out of the box. eNodeB manufacturers experienced new network topology options with SKYWAN 5G — from simple point-to-point backhauling to meshed cell groups where topology limitations are in current eNodeB implementations. Additionally, LTE component manufacturers identified and are planning feature extensions in future firmware to benefit from OpEx savings and higher user experience in enterprise or closed networks with the use of SKYWAN 5G.
In November, SKYWAN 5G passed initial system tests — on time — for a military ground- segment solution. This is the first step towards more comprehensive field trials. The encryption plug-in card (field-upgradeable and announced for 1H2018) will make this product more secure and even more attractive.
BU Broadcast developed a new web interface for the company's antenna control units (ACU 50x0), which provides the possibility to more easily control the antennas through the use of tablets or smartphones.
ND SatCom's 2017 Business Overview
ND SatCom's formula for success keyed on highly reliable solutions at reasonable price points. The firm's revenue grew significantly in 2017, due in part to project wins for ATC networks. In Europe, especially in the military sector, the order backlog increased considerably, with major long-term maintenance contracts awarded until 2025.
In the North American market, SKYWAN 5G attracted new customers from the commercial and military (DoD) sectors. SSi Micro, a new Canadian customer, selected SKYWAN 5G to build a VSAT network, a decision likely influenced by both service and technology advantages of local on-site training and SKYWAN 5G's unique cascading capabilities. DoD customers are currently evaluating SKYWAN 5G's new bandwidth pooling capabilities and encryption features.
With its regional affiliates, ND SatCom significantly increased business successes. With a surge of almost 30 percent in revenue vs. 2016, the company's global sales team outperformed themselves.
The business unit "Defense" is partner for the German armed forces satellite ground network supporting with Integrated Logistic Support (ILS). ND SatCom is responsible for full lifetime maintenance of the many mobile ground station elements.
The business unit "Broadcast" surpassed its target and achieved 120 percent of last year's result. The driver for this success was the company's field proven technology, delivery on time and excellent corporation between customers and engineering and support teams
Based on the SKYWAN portfolio, the business unit "VSAT" won all projects it sought for ATC networks.
Company Goals For 2018
• Build on the achievement and momentum of 2017 with the continuing strong growth in all verticals through new business opportunities with the existing customer base and generating new leads
​• Continue to develop and enhance the company's organization by recruiting and retaining top talents to successfully serve international customers
​• Expand the business into new regions and territories that are fitting to the business model
​• Focus on driving forward the SKYWAN 5G product businesses for enterprise and cellular networks with a stronger focus on Africa
​• Continue successful partner strategy as a supplier of key components and integrated solutions
Author Dr. Michael Weixler is the Head of Product Marketing for ND SatCom. For additional company information, please access the company's infosite at www.ndsatcom.com.
---