With the increasing availability of sophisticated voice and data communications options in both land-based offices and domestic environments, businesses and employees are pressing for flexible, cost-effective solutions — wherever their location.

For those operating in remote parts of the globe on land or at sea, the ability to communicate with colleagues, friends and family has, until now been restricted, due to both affordability and a lack of communications channels.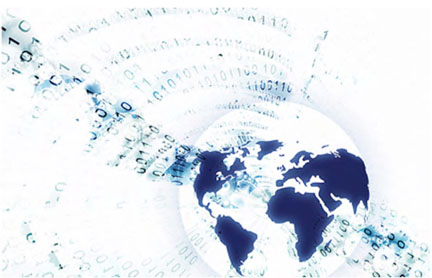 However, there is nothing less than a revolution currently occurring in the world of satellite communications. For the first time it is now possible for users in maritime, oil and gas, construction, government, emergency and first responder markets, who spend long periods of time in remote locations, to benefit from the high quality voice and data communications they have become used to at home.

In order to take a decisive step forward to provide high quality communications to meet today's needs, SatCom Global looked closely at what today's user requires from satellite-based solutions. A number of powerful drivers emerged from this analysis.

– At a time of continuing and professive economic constraint, there was a demand to give control back to the bill payer

– Customers wanted greater flexibility, with multiple and simultaneous voice connections over their mobile satellite communications network

– They wanted voice and data available in a pre-paid environment, especially important in enabling improved crew calling and soldier welfare

The Company's Horizon has developed as a suite of products designed to optimize and revolutionize communication via satellite. The suite consists of four primary elements:

– Voice over IP (VoIP) with SmartPacket™ technology — This includes peer-to-peer and PSTN calling, offering ultra-low bandwidth consumption of 2kbps and is available on Multi VoIP hardware and desktop software

– Mail — Provides compressed and optimized, header-less email with cost-based decision-making tools

– Text — Instant messaging is compressed and optimized for satellite use, this function is corporate data-retention compliant

– Surf — This web browsing application is optimized for low bandwidth consumption and includes such features as socket management, white-list and image dithering management

What makes Horizon different? In short, there are five core principles that underpin the engineering of the Horizon solutions. These include:

– Low bandwidth: Every part of the Horizon system is designed to use as little bandwidth as possible, including the creation of silence detection and choosing from three call quality settings during a call, as well as a unique code, emails and email header

– Data recording: Each service within Horizon, including phone calls, sending emails and even logging onto the system is recorded against the individual PIN code. This enables detailed customer data records and produces bills for each user rather than for the satellite communications terminal in total. This contrasts with other systems based on, for example, Inmarsat records based on terminal usage, where the bill payer then has to manually identify individual usage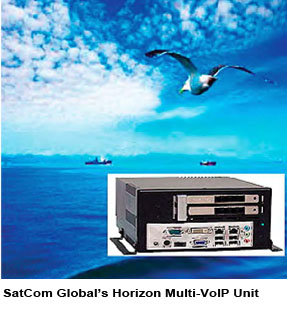 – Carve out: By recording everything, pre-paid and post paid usage can be carved out separately. This is especially valuable when using FleetBroadband or BGAN terminals in automatically distinguishing pre-paid expenditure for total satellite airtime

Own the solution: SatCom Global develops and owns the total solution, which enables rapid development response to evolving market demands and more effective ongoing technical support

– The 'follow me' principle: Horizon post-paid users are assigned with an eight-digit user extension for receiving VoIP calls and voicemail. The user extensions are associated with the individual, so that each user can move from device to device across the Horizon global exchange simply and easily, with no further configuration required. Personal settings and emails 'follow you' and personal data remains fully available, irrespective of location
Data Compression.
The key to this step change in communications capability is compression. Advanced data compression technologies within Horizon provide two major benefits which now makes the provision of advanced communications channels a viable proposition for business operators and their staff.

The adoption of an advanced, flexible codec delivers a new level of high quality two-way voice and data communications in a secure environment. This represents an entirely new approach, offering all the features and benefits of a VPN VoIP solution, all the while minimizing the use of valuable data. The limited availability of bandwidth and high cost of satellite communications make this an ideal ultra-efficient alternative for optimizing the management of voice and data communications.

Horizon's Multi VoIP technology provides a powerful example of how this works. The Multi VoIP unit provides eight analog phone ports. When set up at both remote and office locations, Horizon users can direct dial any Horizon registered handset without the need to go through the PSTN, which means even greater savings.

The technology enables ultra-low bandwidth voice and data usage, from as low as 2kbps, and its flexible codec allows users to choose from three call settings for optimum cost/quality voice delivery enabling phone calls at a saving of more than 50 per cent over standard satellite voice. A step-by step view shows how Horizon Multi VoIP Unit delivers these benefits:

1. The user lifts the handset and enters the PIN code. The call is then routed from the Multi VoIP terminal to the hub. The hub voice server completes a security check and sends the OK reply to the Multi VoIP unit. The user hears the dial-tone, indicating a call is ready to route. This security check takes just 60 bytes in total and is completed in two single TCP trips.

2. The user dials an international PSTN number, followed by #. The PSTN destination number is routed from the Multi VoIP terminal to the hub. The hub voice router opens a new PSTN connection using its least cost routing mechanism and sends the details of the connection to the Multi VoIP unit. This routing takes just 51 bytes and is completed in two single TCP trips.

3. The call connects: The Multi-VoIP unit establishes its UDP connection to the open PSTN call and the destination phone rings. The hub CDR server counts the UDP payload and packet data, to ensure full auditing of calls. The call is connected by default at call quality 2 (3.75kbps).

4. During the call: The caller can choose the voice quality in use as follows:
1* = 2.15kbps
2* = 3.75kbps
3* = 5.75kbps

5. The call uses asymmetric coding with silence detection to attempt to send minimum data with each call.

6. The call completes: The call is terminated by either party. The PRI (Primary Rate Interface) server hangs up the line and frees the PRI connection. The hub voice router marks the connection as closed and becomes available for another call, as the hub CDR server closes the CDR session.

Other Features
The Horizon Desktop™ compression technology provides an optimized email system for satellite communications. The unique three-stage usage decision at header, attachment and composed mail gives the user full control of incoming and outgoing email file size. Internet surfing is also accelerated, while minimizing costs by compressing data and downloading only the information required as well as providing full visibility of data usage.

The software incorporates instant text messaging, email compression, web acceleration, and software-based VoIP telephone with voicemail capability in one convenient application. For friends and family outside the Horizon network, the HorizonLite software interface enables registered users to communicate using low cost text and VoIP-to-VoIP voice communication.

Additionally, the Horizon SoftPhone provides an ideal example of how these benefits are delivered in a highly intuitive, user-friendly way, so maximizing accessibility and usage. The SoftPhone is, in effect, a telephone on a computer, with voicemail messaging making telephone communications easier and more affordable. Callers can use the SoftPhone for VoIP only calls to other Horizon users and calling to any PSTN numbers utilizing specially-negotiated low PSTN rates.

Typical VoIP data usage is more than 10kbps, with compression leading to quality issues. By contrast, in using the SmartPacket™ technology, Horizon delivers a new level of efficiency and quality, providing the ideal solutions for reducing high data costs associated with traditional 'on demand' satellite services.

As noted earlier, it offers three call quality settings so that, if the environment is noisy or the PSTN connection is poor, call quality can be changed during the conversation in order to maintain optimum performance at lowest cost. The SoftPhone screen is highly intuitive, with point and click options, and the personal head set and microphone is also inexpensive and easy to use, as Horizon uses standard Microsoft protocols. In addition, the Voicemail service is available to both pre-paid and post paid users — almost certainly providing pre-paid users in remote locations with the opportunity to enjoy voicemail messages from home.

Both the business and the individual end-user recognize that time is money — and here, visibility is critically important if communications costs are to be controlled. HorizonOut™ PSTN rates via a PRI interface substantially reduce the cost of calling from a satellite communication device. This unique service also enables VoIP-to-VoIP calling to other Horizon users, at less than 2kbps. An on-screen call history is provided of all inbound and outbound calls, showing both the numbers dialed and call duration, with an on-screen timer displaying the length of each call.

Horizon provides a pre-paid starter voucher, including a personal PIN and 100 units of usage. The starter PIN can then be topped up through a range of voucher denominations and can be redeemed through the Horizon Multi VoIP handset.

Reinforcing its intuitive design, pre-paid users can have the convenience of one personal PIN/voucher for all Horizon services and can take advantage of HorizonOut™ for cheapest possible call rates.

One World, One Network
In harsh, remote environments, the new product suite offers flexible and affordable pre-paid and post paid solutions helping individuals stay in touch with family, friends and business colleagues. Simultaneously, it gives full visibility and control of satellite communications expenditure to the bill payer. Horizon has certainly added to and changed the data optimization rulebook.
About the author
Sandy Johnson is the Chief Operations Officer and a co-founder of SatCom Global with Mark White ­— she has been in the industry since 1995 when she joined Next Destination Limited as Finance and Operations Manager. Sandy has played a key role in the implementation of SatCom's proprietary billing system, online technical support and airtime services websites. She has responsibility for the Sales performance and Operations in the Group.