DigitalGlobe and GeoEye are due to complete their merger in 2013.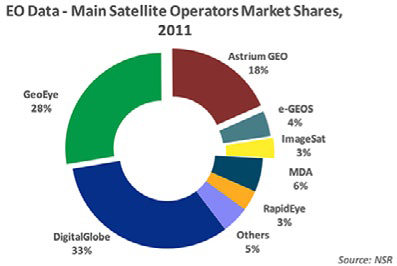 Separately, both companies were already the two biggest Earth Observation (EO) players, and the resulting entity will enjoy a very comfortable position. The merger being the result of the concretization of an overdependence-risk, the new entity now is tasked with diversification of its revenues. However to do so, it will have to deal with some issues related to Enhanced View (EV).
DigitalGlobe
and
GeoEye
together represented approximately 61 percent of the EO data market in 2011. However, in 2013, the new entity should represent 48.5 percent.
While down by more than 10 percent compared to 2011, one player will still represent almost half of the market. This will also occur in NAM as, while representing 20 percent less than in 2011, one player will represent almost 70 percent of 2013 NAM revenues.
This merger should give the new entity a much better position in Asia, LAM and Europe where the market share of
AstriumGEO
is much bigger than DigitalGlobe or GeoEye. In the Middle-East and Africa, where the three largest companies represented comparable shares of the market in 2011, the new entity should represent almost 40 percent of the market.
In terms of imaging capabilities, the merger will allow the new entity to manage both companies' satellites as a constellation. Due to GeoEye's SLA downsizing, only one satellite will be launched in the 2013-14 timeframe (likely
WorldView-3
); the other one will be retained as ground spare until 2016-2018, then launched to replace older satellites.
In terms of revenues, both GeoEye and DigitalGlobe had their "peak" dependence on the U.S. Defense & Intelligence (D&I) orders in 2009, when they represented 75 percent of DigitalGlobe's revenues and 67.1 percent of GeoEye's.
Since 2009, both companies have slightly diversified their revenues; geographically for DigitalGlobe (from non U.S. D&I) and, in terms of verticals, for GeoEye (from NAM-based but Non-U.S. Government organizations).
DigitalGlobe indicated that in 2013 the new entity should derive only 50 percent of its revenues from the U.S. Government. The other 50 percent would comprise revenues from non-U.S. governments (D&I and Civil) as well as from commercial organizations. Following EV's downsizing and spreading budgetary constraints, the new entity may decide to considerably increase its revenues from commercial end-users.
If it does, it will compete with the considerable new HR optical imaging capability launched recently, or waiting to be launched, by competitors (AstriumGEO, KARI, Deimos, etc.). This imaging capability is such that NSR estimates there will be overcapacity around 2015 and forecasts that HR optical imagery prices will decrease by more than 10 percent between 2014 and 2016.
Moreover, EV reserves an important amount of DigitalGlobe and GeoEye's imaging capabilities, complicating considerably smaller customers' access to their satellites. The guarantee of access to an imagery source has historically been a major driver for commercial end-users as they rely on satellite imagery for operational needs.
The Bottom Line

If the new entity decides to increase its commercial focus, it will have to deal with this guarantee of access issue. This difficulty may be the reason behind DigitalGlobe's focus on Direct Access Programs (mainly D&I customers) and long-term contracts. More predictable than one-shot orders, they are easier to integrate/combine with EV.
The extent of EV's downsizing will determine how much imaging capability will be available to address commercial end-users; perhaps it may prove necessary to launch additional capability and not keeping a satellite on the ground until 2016.
About the author

Mr. Gounari joined NSR in 2010 and supports NSR's senior analysts on multi-clients reports and consulting projects. Prior joining NSR, Stéphane worked on business development missions at Ad Astra Rocket Company where he identified new potential markets, provided necessary market information and proposed, designed and evaluated solutions to address based on the company's product. Stéphane obtained a Master of Space Management (MSM) degree from the International Space University (Strasbourg) during which he authored a report on Orbital Tourism. Stéphane also holds a Master in Risk Management from the business school of Marne-La-Vallée (Paris) and a Bachelor in Law from the University of Toulouse. Stéphane currently resides in France and is fluent in English and French.