Throughout the Atlantic Ocean lie some of the world's most seafood-rich areas, including prime spots for tuna. In order to meet the ever-growing demands for seafood, today's fishermen don't just cast a line or toss nets and then wait and hope for the best.
Instead, they communicate via highly-efficient ocean buoys with built-in echo sounders for locating and monitoring drifting devices that provide reports on water temperature and the volume or absence of fish within an immediate area. This information is received directly aboard a fishing vessel providing the skipper with GPS coordinates allowing him to head for the best areas to catch fish — saving time and fuel.
One of the world's major providers of these buoys is Marine Instruments, a research and development-oriented company founded in Nigran, Spain, in 2003. From its origins, Marine Instruments has experienced continuous growth and has become a recognized leader in the manufacture of products with a strong emphasis on positioning and communications systems for the marine and fisheries environment.
Marine Instruments also manufactures systems for monitoring the position of fishing vessels, scientific buoys for collecting oceanographic data, airplane-launched rescue and tracking beacons and geofence buoys that monitor the position of anchored fishing aggregate devices (FAD), such as mussel platforms.
In the open ocean, these buoys need to be ruggedly built and capable of withstanding fierce storms. To be of value, they have to dependably communicate with their users. In the heart of the Atlantic, terrestrial wireless networks are difficult, if not totally impossible, to maintain. Marine Instruments has found the only reliable method of communications takes advantage of satellites orbiting the Earth.
Communication between a buoy and a satellite and a vessel at sea requires modems capable of sharing necessary information in an often-hostile environment. For its line of buoys, officials at Marine Instruments selected modems from San Diego-based Quake Global. The modems are used in bi-directional onboard terminals to transmit GPS position and alarm distress for Marine Instrument's ship monitoring and tracking systems.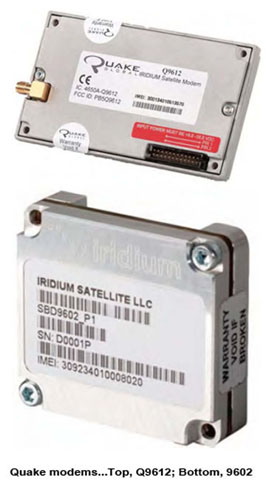 The buoy maker chose QUAKE's Q9612 and 9602 communicators that combine the low latency of the SBD (short-burst data) service with the global coverage of the Iridium satellite network. Paired with QUAKE's modems, the Marine Instrument buoys save time and fuel by helping fishing boats and vessels quickly locate seafood-rich locations, receive alarm messages when fixed platforms move and locate raft positions for rescue purposes.
The QUAKE™ modems also allow users to remotely change operating modes of the buoys and automatically change the frequency of messages depending upon a ship's speed or manually by remote control. Messages can be encrypted to protect privacy.
According to Polina Braunstein, QUAKE's president and chief executive officer, the Q9612 and 9602 modems allow Marine Instruments' customers to quickly track and monitor FAD assets anywhere in the world.
"Marine Instruments was the first manufacturer to develop and control satellite buoys for the tuna sector worldwide," she said. "Since then the company has become known in the industry for its continuous innovation and quality control."
Fernando Ferro, commercial manager for Marine Instruments, said the QUAKE modems are a good fit for his company's maritime monitoring systems. "Quake Global modems have the features we require along with the reputation for dependability and ruggedness that is vital in the open ocean," he said.
With some experts predicting the worldwide demand for seafood products to increase by 70 percent over the next 30 years, the partnership of Marine Instruments and Quake Global will help the fishing industry to monitor issues that affect the quantity of available fish in the wild, while being more fuel efficient in helping to meet that demand.
For additional information, head to Quake's website
http://quakeglobal.com/products/