---
CPI Has A Definitive Agreement For The Acquisition Of L3 ESSCO
Communications & Power Industries LLC (CPI) has entered into a definitive agreement to acquire L3 ESSCO, Inc. (ESSCO) from an affiliate of L3Harris Technologies, Inc. (NYSE: LHX).
ESSCO is a leading manufacturer of metal space frame ground radomes that support a variety of applications, including air defense, weather radar, air traffic control, and satellite telemetry and tracking. ESSCO also designs and manufactures specialty radomes and composite structures.
ESSCO complements CPI's existing radome business, CPI Radant Technologies Division, as well as the high-precision, large structure fabrication capabilities of CPI's Satcom & Antenna Technologies Division. The acquisition will combine ESSCO's proven capabilities in ground radomes with CPI's expertise in airborne and shipboard radomes, broadening CPI's existing product offering to include larger, sophisticated radomes and structures manufactured from alternative materials. Additionally, the transaction will enable CPI to offer customers a more diverse product portfolio using ESSCO's new radomes and advanced materials technology.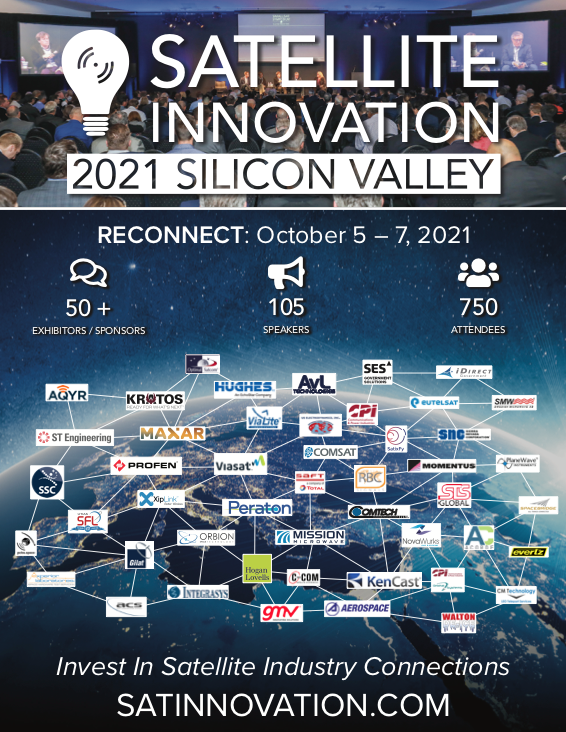 "CPI and ESSCO are an excellent fit. CPI offers a wealth of experience, knowledge and resources that have been focused on airborne and shipboard radomes for commercial and government customers. ESSCO brings new materials, processes and capabilities, primarily for ground-based defense and government programs, that complement CPI's existing offerings. The combination of our organizations will enable both businesses to grow and will enhance the portfolio of products and services we are able to offer customers for communications, radar and electronic warfare applications," said Andy Ivers, president and chief operating officer of CPI.
The acquisition is expected to close before the end of the calendar year 2021, subject to customary closing conditions. Financial terms of the agreement were not disclosed.
Communications & Power Industries Communications & Power Industries (CPI) is a global manufacturer of electronic components and subsystems focused primarily on communications and defense markets. With a heritage of technological excellence that spans decades, CPI develops, manufactures and globally distributes innovative and reliable technology solutions used in the generation, amplification, transmission and reception of microwave signals for commercial and military applications. CPI serves customers in the communications, defense, medical, industrial and scientific markets. CPI consists of Communications & Power Industries LLC, headquartered in Palo Alto, California, and Communications & Power Industries Canada Inc., located in Ontario, Canada.
---
BlackSky Has Completed Merger With Osprey Technology Acquisition Corp.
BlackSky Holdings, Inc. ("BlackSky") has completed its previously announced business combination with Osprey Technology Acquisition Corp. ("Osprey") to take BlackSky public.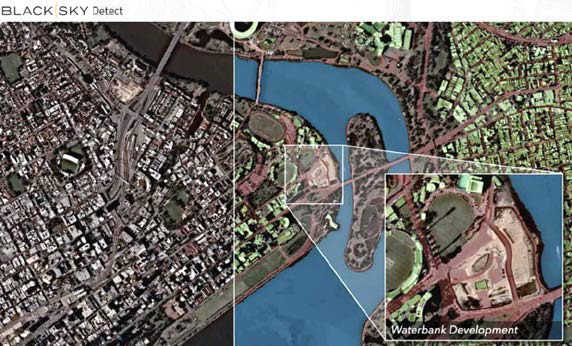 The combined company has been renamed "BlackSky Technology Inc." and its shares commenced trading on the New York Stock Exchange (NYSE) on September 10, 2021, under the ticker symbol "BKSY" for BlackSky common stock and "BKSY.W" for BlackSky warrants.
Upon closing, the combined company received approximately $283 million in gross proceeds, comprised of approximately $103 million in cash held in trust by Osprey and the proceeds of a $180 million PIPE. Osprey's shareholders approved the transaction at a shareholder meeting on September 8, 2021.
As a public company, BlackSky's position as a leading geospatial data, analytics and monitoring services company is further strengthened.
CEO Brian O'Toole will continue to lead the combined company with Will Porteous remaining as chairman of the board. In connection with the business combination, Magid Abraham, Timothy Harvey and James Tolonen will join BlackSky's board. David DiDomenico, a partner at JANA Partners who heads its SPAC initiative and, in such role, serves as president, CEO and a director of Osprey, will continue to serve on the combined company's board of directors.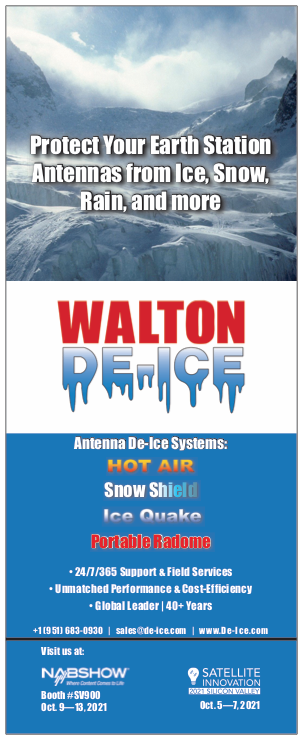 "Our team is excited that we have reached this major milestone on our first-to-know mission to lead a new era of real-time global intelligence. We are looking forward to this next chapter as a public company and the many opportunities that lie ahead in the new space economy," said BlackSky CEO Brian O'Toole. "We welcome our new shareholders to join our journey as we provide global customers with critical insights to see and understand important changes that impact their business."
"The Osprey team is very excited for Brian O'Toole and the BlackSky organization. We look forward to watching them execute on BlackSky's strategic growth plan as a public company," said Osprey Co-Executive Chairman Jonathan Z. Cohen.
---
Skykraft Set To Launch Their First Air Traffic Management Constellation Smallsat
Skykraft's recently revealed launch contract with SpaceX is a harbinger of change for the Australian Space Industry.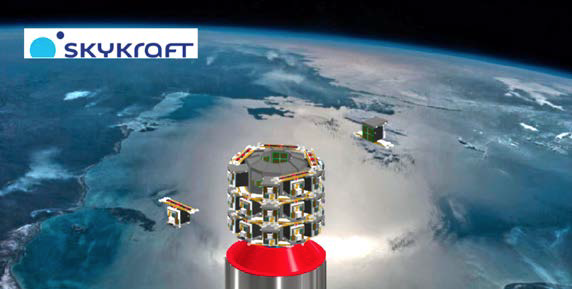 Just 10 months away, this single satellite is larger than all previous Australian-built satellites combined and will propel Australia into the global satellite market, with Skykraft's global Air Traffic Management constellation.
The satellite is designed and built by Skykraft in Canberra, Australia. Using manufacturers in places such as Albury-Wodonga, Melbourne and Queanbeyan, it will be launched from the USA on a SpaceX Falcon 9 in June of next year.

The smallsat constellation technologies underpinning the June 2022 launch positions Skykraft to roll out their commercial Air Traffic Management constellation and also offers unique value and truly sovereign, sustainable capability to upcoming Defence programs, such as Space Domain Awareness (JP 9360), Satellite Communications (JP 9102), and Geospatial Intelligence (Def 799).
Skykraft are bringing along the wider community by offering a program called Skyride that gives innovators, scientists and enthusiasts the opportunity to ride along on this and future launches. This can be for education in universities and schools, or to demonstrate systems in space for commercial or research groups. Demonstrating systems in space using Skyride is an accelerated pathway to attaining NASA Technical Readiness Level 7 or 8.
Skykraft Chief Engineer, Dr. Doug Griffin, said, "This is a great time to be an engineer working in space. We have the technology and tools to build and launch satellites in a much more streamlined way than the past."
---
Thuraya + Cobham SATCOM Sign An MSS Tech Provisioning Agreement
Al Yah Satellite Communications Company PJSC has selected Cobham SATCOM to deliver a comprehensive mobile broadband system, including ground infrastructure and products, to operate as part of its next-generation Thuraya 4-NGS system.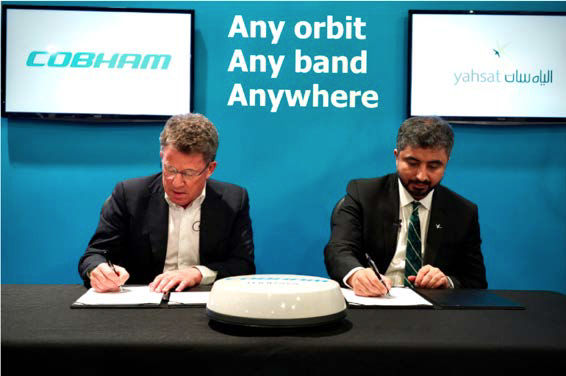 Cobham SATCOM's expertise and capabilities will further enhance Yahsat's Mobile Satellite Services (MSS) advanced broadband data services, enabling the Thuraya 4-NGS ground network with 4G and 5G capabilities and features. Yahsat seeks to increase its share in the global satellite data services market which is currently valued at more than $5 billion and is projected to reach more than $19 billion by 2027.1
Cobham SATCOM's solutions will also increase connection speeds, enabling integrated end-to-end customer solutions and expand Thuraya's ecosystem to provide pioneering features in the mobile SATCOM sector. The partnership will enhance Yahsat's services to several key customer segments in land, maritime and aeronautical, including military, government and enterprise.
This partnership agreement is transformative for the Group, its customers and business partners and will enable the provision of best-in-class solutions, delivery of mobile satellite connectivity at the highest speeds in the market and broaden Yahsat and Thuraya's product and service offering, creating a platform for further innovation and development of features and applications across a wide range of sectors. Critically, it further strengthens Yahsat's position as an industry leader and lays a solid foundation to support future growth.
The contract with Cobham SATCOM will specifically drive a range of commercial and government focused terminals for land, maritime and aeronautical applications. The award of this contract to Cobham SATCOM reflects its extensive 30-year experience as the global leader in L-band ground infrastructure, and further cements their leadership in L-band.
Yahsat and its subsidiaries continue to make further investments in its Thuraya 4-NGS system to create a diverse and agile platform to drive ongoing innovation across a broad suite of MSS products and applications. Thuraya 4-NGS is planned for launch in the second half of 2023, with operations commencing in 2024.
1 Applied Market Research, 'Satellite Data Services Market' – 2021
---
Kleos Space Secures A$12.6 Million For Smallsat Constellation Expansion
Kleos Space S.A. (ASX: KSS, Frankfurt: KS1) has secured A$12.6 million (equivalent to $9.3 million) from new and existing institutional and sophisticated investors in Australia and the U.S. via a Placement of approximately 14,823,529 new CHESS Depositary Interests (instruments traded on the Australian Stock Exchange (ASX)) over Kleos ordinary shares (CDIs) at A$0.85 (~0,63 USD) per CDI (Placement).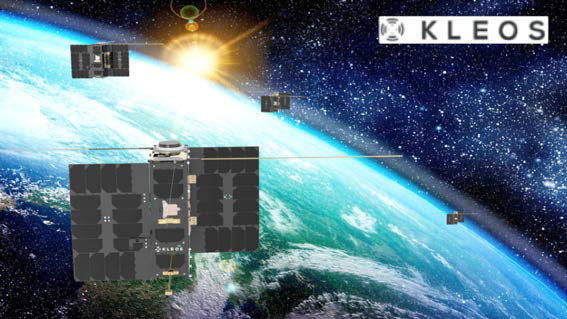 The Placement includes cornerstone investments from Perennial Value Management and Thorney Investment Group.
Commenting on the Placement, Kleos CEO Andy Bowyer said, "I am extremely pleased to welcome new high-calibre institutional investors Perennial and Thorney to the register. The strong support we have received from new and current investors reflects Kleos' significant technical and commercial progress that is accelerating rapidly."
The Placement proceeds will be used to fund the launch of future satellite clusters and to scale Kleos' data-as-a-service offering.
The 14,823,529 CDIs will rank equally with existing ordinary CDIs of the Company and will be issued under the Company's issuing capacity in accordance with ASX Listing Rule 7.1A. Settlement is expected to occur by September 10, 2021, with allotment expected to occur on September 15, 2021.
The 8,894,118 Options will be issued under ASX Listing Rule 7.1. The A$0.85 (~0,63 USD) Placement price represents a 9.6% discount to the 30-day volume weighted average trading price and is inclusive of three attaching options for every five CDIs issued, exercisable at of three attaching options for every five CDIs issued, ex A$1.20 and expiring three years from the date of issue.
---
Multi-Launch Deal For Rocket Lab To Deploy The Entire Kinéis IoT Satellite Constellation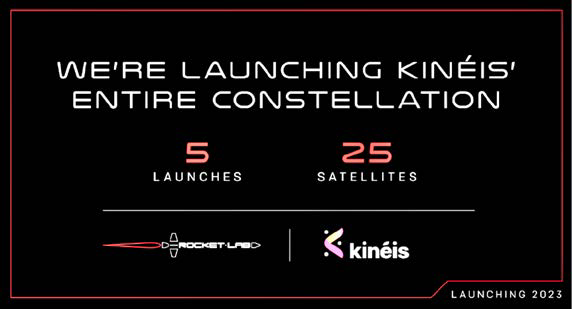 This multi-launch contract finds Rocket Lab contracted to deploy 25 Internet-of-Things (IoT) satellites across five dedicated missions via the company's Electron launch vehicle for Kinéis, a global Internet-of-Things (IoT) connectivity provider.
Scheduled for launch beginning in the second quarter of 2023, the constellation will enable Kinéis, a company backed by private and public investors that include the French government's space agency CNES (Centre National d'Études Spatiales) and CLS (Collecte Localisation Satellites) an international space-based solutions provider, to improve its global IoT connectivity.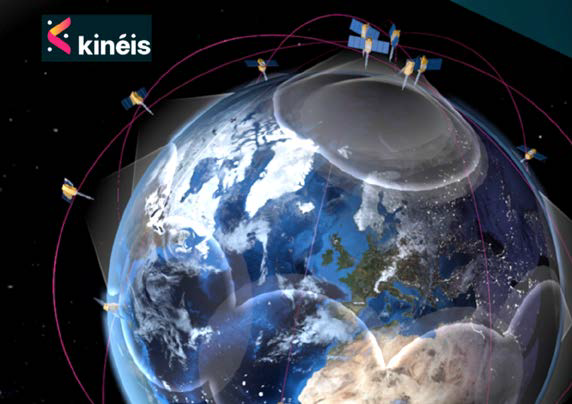 The multi-launch contract with Kinéis, which is subject to standard termination and launch rescheduling provisions, follows a similar bulk buy of launches earlier this year to deploy nine satellites across five dedicated Electron missions as part of a constellation for BlackSky, a provider of real-time geospatial intelligence and global monitoring services.
The proven accuracy and reliability of Electron's Kick Stage in successfully deploying 100+ satellites to date was a decisive factor in Kinéis selecting Rocket Lab as its launch partner. The Kick Stage will act as an orbital transfer vehicle to deliver each satellite in the Kinéis constellation to their precise orbital planes at a 650 km altitude, allowing Kinéis to avoid sacrificing spacecraft mass for propulsion and to begin a fully operational service as quickly as possible.
Kinéis currently operates the Argos system, an international scientific collaboration between CNES, the National Oceanic and Atmospheric Administration (NOAA), the European Organization for the Exploitation of Meteorological Satellites (EUMETSAT) and the Indian Space Research Organization (ISRO), to monitor wildlife, fisheries, and to collect data about Earth's climate and environment through CLS. Kinéis' new constellation will complete the current system with more powerful 30 kg-class smallsats that integrate IoT technology and a ship-tracking Automatic Identification System (AIS). Once deployed, this technology will allow Kinéis to expand across multiple industries and scale from 20,000 devices connected to millions.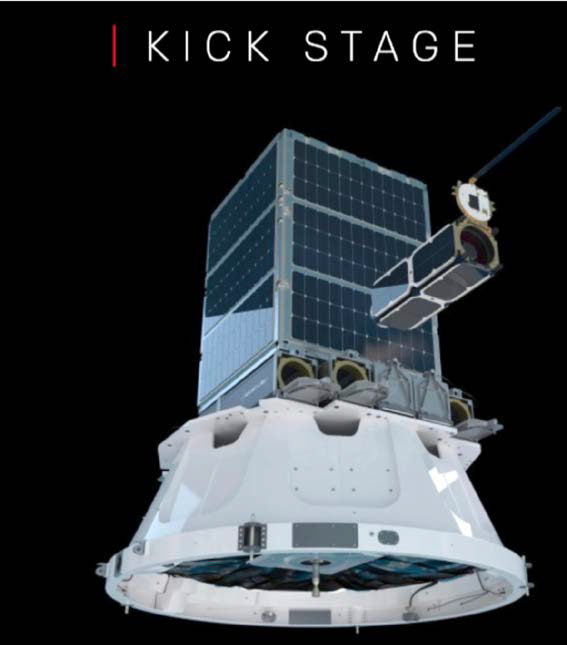 In addition to these missions, Rocket Lab will further contribute to the international Argos system with another upcoming Electron launch. Rocket Lab is the launch provider for the Argos-4 mission for General Atomics, which is developing the satellite for the United States Space Force on behalf of NOAA. That mission is currently scheduled to launch early 2022.
Kinéis CEO, Alexandre Tisserant, said, "We are glad to entrust our constellation of 25 satellites to Rocket Lab. They are the leaders in small satellite launch and the obvious choice as launch partner to activate our constellation at such a pace. We designed and developed our 25 satellites in record time with the support of CNES, Thalès Alénia Space and HEMERIA in order to deliver a full new operational service to our existing and future customers – we are now eagerly counting down to first launch in 2023."
Rocket Lab founder and CEO, Peter Beck, said, "We're thrilled to be Kinéis' launch partner and look forward to delivering their constellation across five dedicated missions in quick succession. Deploying an entire constellation and having it operational quickly requires each satellite to be deployed to exactly the right orbit. Rocket Lab's track record of exceptional orbital deployment accuracy provides Kinéis with that assurance. By taking care of in-space transport, the Kick Stage makes life much easier for satellite constellation operators, enabling them to maximize spacecraft mass for their payload."
---