It's no longer just about connecting to the rest of the world it's also about how fast, where and at what cost you can do it. One company that wants to keep you competitive and up to speed anywhere and at any time is Pactel International.
Pactel International
is the premier satellite Internet and voice provider in the Pacific region. The Company provides satellite Internet trunks, VSAT solutions; TOIP services and other associated value add products to telecommunication carriers, governments, NGOs, and corporates across the Pacific region.
In a time when many companies have been forced to cut back on investment, Pactel International is moving from strength to strength. They remain focussed on their long term strategy to advance their global presence while continuing to maintain a strong focus on the pacific islands.
Pactel International (formerly
Pacific Teleports
) was founded in July 2003 by
Andrew Taylor
and
Steffen Holzt
. Between them, they have more than 40 years experience in the satellite and telecommunications industry.
Andrew
's career experience includes tenure in senior commercial and engineering roles at
PanAmSat
,
Comsyst
,
Optus
, and
Telstra
.
Steffen
embarked on his career in satellite communications with
AntenneCal
based in Noumea. In 2000, he became the founder and director of
Pacific IP Services
in New Caledonia, which in turn was merged into Pacific Teleports.
The company's' original objective was to provide satellite Internet services to the Pacific Islands, which were initiated with the Company's first link, a 4/2Mbps trunk on the
Intelsat 701
satellite. The business grew steadily from that point on, as companies and carriers started contracting with Pactel International's IP services. In June of 2004, Telephony over IP (TOIP) was delivered as a service. From the first voice connection, the network rapidly grew to its current membership of more than 20 carrier interconnects.
In 2007 Pacific Teleports merged operations with the New Caledonia-based Pacific IP Services, Pactel International continues to deliver innovative, forward thinking, and flexible telecommunication solutions. Working closely with clients, the Company applies a very hands-on approach during all design, implementation, and delivery of all projects to clients.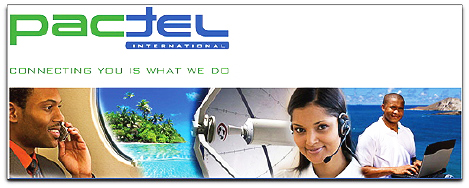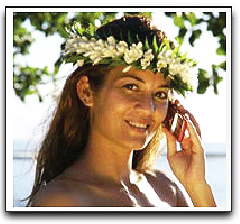 In addition, Pactel prides itself on its ability to understand customers' unique connectivity requirements, providing bespoke solutions guaranteed to meet individual needs and budgets. From point to point links to fully managed networks, the firm ensures high quality solutions and service at highly competitive rates. What sets Pactel apart is its expertise in using satellite based technologies to provide telecommunications solutions at these appealing rates. With the corporate office in Sydney, Australia, and a regional office in Noumea, New Caledonia, Pactel International offers support to customers within similar time zones.

Coming Up...
As the market moves into 2010, mobile telephony is expected to continue to outpace fixed-line connections growth. Pactel Mobile (Part of Pactel International) intends to take full advantage of this market by continuing the roll out of its mobile system throughout the South Pacific.
Recently, Pactel Mobile was appointed by
Tuvalu Telecom Corporation
to install a replacement mobile phone network to operate on the main Island of
Funafuti
. The existing network was damaged by a storm, leaving the Island's customers without mobile phone coverage. Pactel will install a 2.5G mobile network system, which will allow prepaid customers to access normal mobile services at extremely reasonable rates.
The Pactel Mobile system is an effective gap filler that allows a low cost network to be rolled out in markets such as Tuvalu where the total populationis about 12,000 in number. Current technologies do not make commercial sense in markets of this size — this gives Pactel the edge. In the past, the costs of mobile equipment would have prevented such a service rollout.
Less than half of all Pacific Islanders have a phone, and generally only one supplier for any particular fixed, mobile, or Internet service. Pactel can provide a system to equip existing carriers in the Islands to be better prepared for the onset of competition without putting a strain on capital expenditure budgets.
Pactel intends to continue to partner with like minded companies, (
e.g.
,
Shiron
,
SES New Skies
,
Intelsat
) delivering high speed bandwidth throughout the Pacific region, including vessels at sea.
For the Company's satellite IP solution, their services are available on several satellites including,
Intelsat 602
,
NSS-9
,
Intelsat 701
,
IS-8
,
IS-2
,
Apstar-6
, and
GE-23
. With this diversity of satellites, coverage and frequency bands, a solution for most Pacific ops can be customized for any need.
Pactel and partner systems will ensure additional competitive solutions for rural, remote, and maritime markets, where prices are increasing due to the scarcity of satellite capacity.
Pactel's plans are quite simple — to grow from being the premiere satellite Internet provider in the Pacific to a true, global presence.